The ongoing adventures of Molly and Lilly, 11 week old English golden retrievers puppies.

The Week in Review.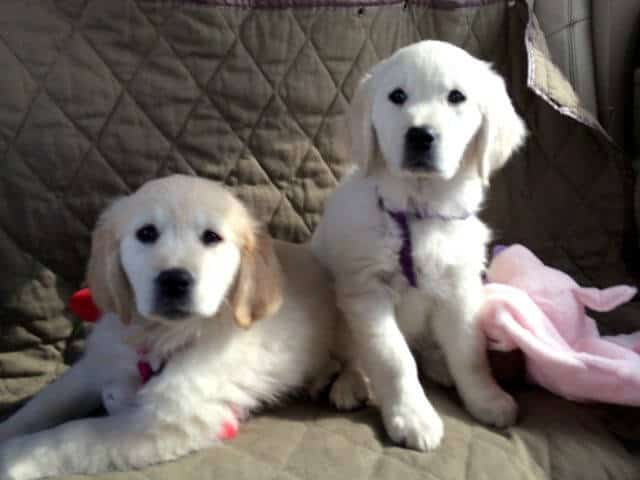 We had a car outing on Saturday. We have a "ride in the car" set up now. A seat cover with a very short leash thorough a seat belt attached to a leash extension for two dogs then attached to the harnesses. It works quite well.
First stop, Tractor Supply for dog food where we got lots of attention from staff and customers.  We got our dog food but the variety of harnesses was disappointing.
So off to Petsmart for our now duds (harnesses). While TSC was fun, they really loved Petsmart. Lots of attention. Lots of dogs and just generally a good time. We got to meet Shelby, a five month old golden, and generally had a great time. We also found our new fashion supplies, new harnesses, in the same colors and the same brand so daddy and mommy will not have to figure out a new type.
We have also learned new skills. We can walk up and down stairs very well and go to our cage. We go for daily exercise walks with mommy. On the down side, we are "scaredy cats" even though we are dogs. Any sound makes us want to run home.
Bow Wow Wednesday #1 – Introducing Molly and Lilly
Updated
September 4 2014