NOTICE: The link to this page is now in the footer of every page on the site. In addition to that link, all recipe cards have a link. The link in the recipe index was removed on June 1, 2022.
Instructions
You may access this recipe collection page directly from the Recipe Index page.
Selecting "+Collection" in the recipe card on any recipe will add that recipe to the inbox here.
The number of recipes you have in each collection at the end of that line.
Select add collection if you have none, or if you have collections, Edit to add, rename existing collections, or delete collections you don't need anymore. Think of it as a file drawer for recipes. It can have zero or a hundred recipes. You can move new recipes in or take them out.
Create a new collection if you want. Name and stop editing to return to the main page.
Select the collection you want to add to.

Choose Add Item to move a recipe from the inbox to that collection.
When you see two lines on the left of a recipe or a collection, that is where you grab it to move it around. (The Handle) You can change the order of things or move a recipe onto a collection.
Once you've added more collections, you can drag them around on this initial page using the handle on the left.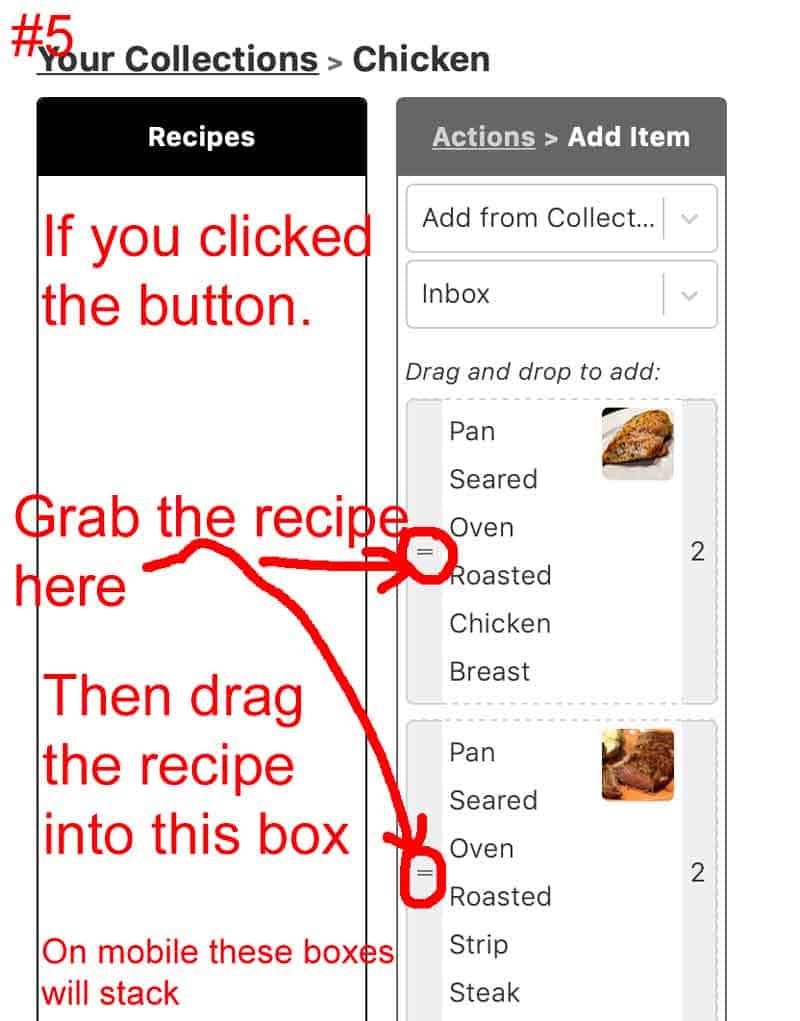 If you use the Add Item in the collection box, you will use the plus signs.
The recipes may be in as many collections as you want. It will stay in your inbox until you delete it there. But deleting it in the inbox does not delete it from your collections.
Use Columns and Groups to organize the recipes within your collections further.
Remember that a small amount of data is stored in your browser. So, if you delete your browser data, you will delete your Saved Recipe Collections. I don't have this data; only you do.