I'm DrDan. Welcome to 101 Cooking for Two. I have been exploring the art of cooking for over 40 years and created this site to share those skills and many great everyday recipes with you. But also to guide you to improve your cooking skills in your smaller household.
My real name is Dan Mikesell, and I'm a retired board-certified pediatrician in West Michigan with over 40 years as a physician providing care for children. Cooking has always been a passion and love of mine.
I created 101 Cooking for Two in 2010 as an outlet for that passion for cooking, which I have had for 40 plus years and includes some culinary training. Blogging combines my cooking expertise, my old computer background, and my budding love of photography.
But this is also about my love of teaching. As a three-time Educator of the Year at our local hospital system for teaching medical students and young physicians, I have honed my teaching expertise my entire life.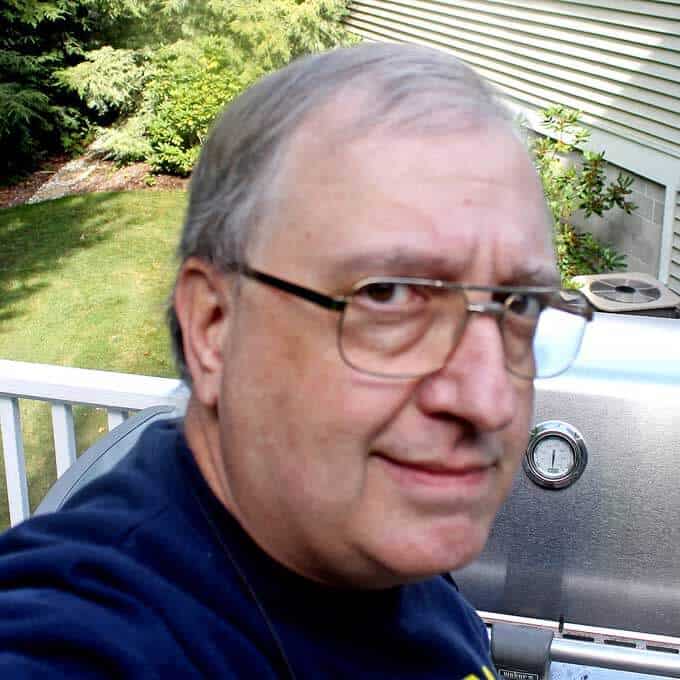 Now I'm devoting all my energies to creating a cooking blog to help you with the skills and knowledge I have cultivated over 40+ years as a cooking enthusiast and the bit of formal training I have received. As with medicine, I bring a scientifically critical eye to cooking.
Combine my award-winning education expertise with years of cooking experience; I believe I'm uniquely qualified to help you and work with you in an encouraging and helpful way.
Why Cooking for Two?
This site is about the type of cooking I have done for many years, and I believe many others may struggle with, how to cook for a smaller household.
While some will think "cooking for two" only means two servings, I disagree. We are cooking for the smaller household. That may be one, two or more people.
Cooking only two serving all the time would be very limiting, and it is not realistic to how most smaller household function. The selection of food you could cook, and the work involved would not be reasonable.
So you will find many recipes here for more than two servings. See The Recipes – What and why not always for two? for more discussion.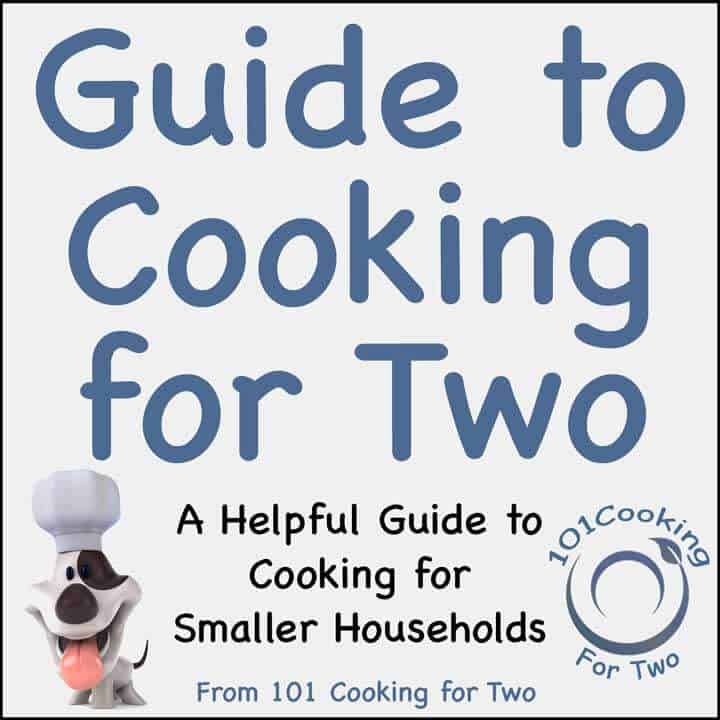 Check out the Guide to Cooking for Two that will help you get successfully started cooking for your smaller household.
Testimonials from the Last Few Months
Selected comment from just a few months.
From Sheree McMahon on April 27, 2019
" My family is beginning to think I can actually cook and have just been hiding it for many years lol."
From Mark B on March 26, 2019
" As always Doc, you have a lot of amazingly simple recipes that are easier and better tasting than the so-called "pros". Thanks again."
From Heather C on March 24, 2019 " And now I'm a huge fan and follower of your 101 cooking for two page! So, on behalf of my husband and I, thank you so much for spreading your amazing cooking tips that will last me a lifetime!! xoxo"
From Tim Meehan on March 9, 2019
"Pure joy, love it! Great, practical advice. All worked like a charm."
From Lisa on March 8, 2019
"I enjoy the dogs and the recipes equally! Love that sweet picture with all their lovies. Thanks for all the work you do, your recipes are dinner staples for my family"
From Marcia on March 3, 2019
"Dr Dan,
I love your recipes. Keep 'em coming! I am cooking my way through your website. Your dogs are so smart!! They are beautiful & funny too.
God Bless"
Sites that I work with or have had recipes featured or referenced
I will try to explain things and give you options that will work in your everyday kitchen. I have an obsessive personality, so I will be working hard to get things just right for you.
The recipe posts include detailed step by step photo instructions. These are designed to help you visualize creating the recipes yourself.
Broken down into easy to do steps, you will know you can do this. The ultimate goal is to get it perfect the first time and every time.
Posts titled with "How to…" will provide the most detailed discussions. As with my years of teaching medical students and young physicians, I also want to show you "the why" not just "the how."
Have a look around. I'm sure you will find something you like. Feel free to share with your family and friends with the social media links.
Leave a comment or ask a question. I'm always open to questions, suggestions, and welcome ideas that might help this community.
Finally, relax and enjoy your cooking. I don't believe you should do things you don't enjoy. I want you to cook with a smile on your face and in your heart. And I hope my enthusiasm to help you improve your cooking skills will be contagious.
Frequency of Posts
I'm concentrating on "rewriting" the entire blog of  450+ recipes to add more cooking and food information for you.
100+ of 450+ recipes have been completed as of September 2018. It seems to be a never-ending process, like painting the Golden Gate Bridge. Most will be rewritten with new material, improved photos, and better step by step instructions for you. A few will be deleted or redirected to better newer content.
New recipes will be less frequent going forward than over previous years. I'm only doing new recipes that I really like. Generally, they will be longer "how to" posts that I enjoy doing, and I feel you will find more useful.
Final Words:
While I'm a board-certified pediatrician, Dan Mikesell, DO with many years of formal medical training and experience, I will only rarely make medical comments. And then only to counter misconceptions or point somebody in the right direction.
This blog is for education and entertainment. Any dietary, medical, or nutrition information is for general information only and would be incomplete in this setting due to the nature of a blog.
If you need advice in these areas, you need to see your primary care provider (PCP). For a discussion on how I feel on common health issues, please see The Doctor Talks – The Annual New Years Post.
Good starting places:
Recipe Index – All recipes by category
Some Other Discussions You Might Find Interesting

How to Start a Food Blog – The Real Story
The Doctor Talks – The Annual New Years Post
The Recipes – What and why not always for two?
Business Information – Money, Links, Content, Advertising, etc.
Molly's and Lilly's Offical Dog Page
So how is a recipe like the Pirate's Code?
Boring Stuff
Contact Information
Most current contact information at Contact Me.
DrDan @ 101cookingfortwo . com (Remove spaces to use)


Do you want recipes from 101 Cooking for Two? Sign up for the newsletter and get all posts delivered straight to your inbox!


Last Updated August 10, 2019