Cook your strip steaks like the best steakhouses. A little pan sear on the stovetop, then cook your steak in the oven to your taste. The best results are easy with these simple step by step photo instructions.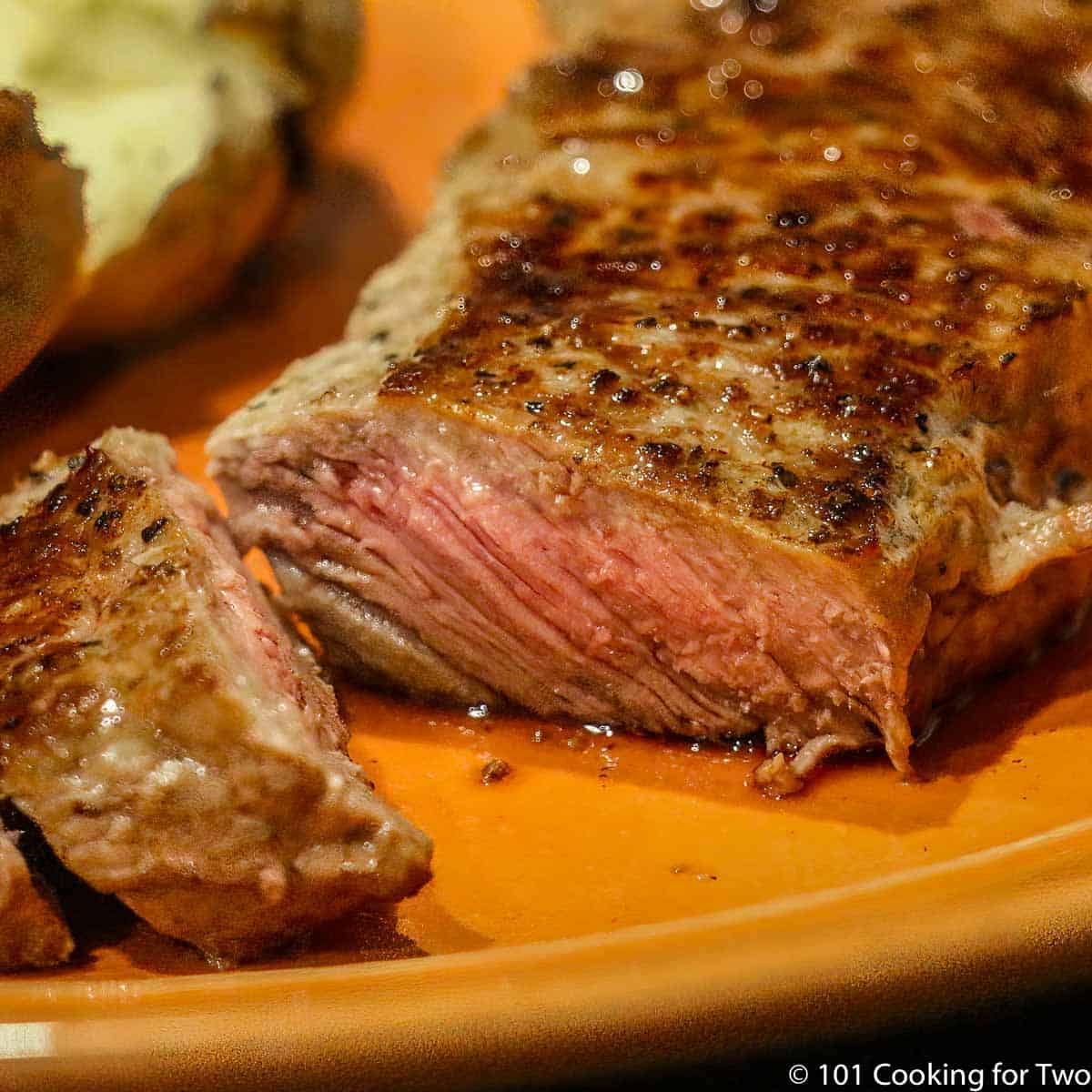 Introduction
Let's learn to cook a strip steak and make it perfect the first time and every time. Start with a couple of good quality strip steaks AKA New York Strip Steaks.
The technique is simple. Allow the steaks to rest at room temperature if you have time. That will make it easier to get the internal temperature you want without adversely affection the surface. Trim any chunks of fat.
Season to your taste. Just some salt and pepper will do nicely or fancy it up some.
Give each side a nice sear in some butter or oil for a few minutes to get a nice browning, known as a Maillard reaction, which will add a ton of taste.
Then finish by baking the steak in the oven to your preferred internal temperature. Don't forget to let them rest for a few minutes before serving.
My Rating

A good steak is always a five.
🐄What is a Strip Steak?
Strip steaks are cut from the short loin of a cow, which is located behind the rib area with the tenderloin.
Also called a New York strip, or a Kansas City strip steak, they come from the longissimus muscle that does little work but has a fair amount of fat that help make them tender.
The strip steak is the bigger side of the t-bone and porterhouse steaks. The only difference between the t-bone and porterhouse is the amount of beef tenderloin included in the cut.
If you buy cheap steaks, you may well get what you paid for. Choice or Prime only, please. And since Prime will cost more, get a nicely marbled choice unless it is a special occasion.
You can buy the whole strip loin and cut your own steaks. Also, you can occasionally find the "bone-in" which is then just a t-bone steak without any tenderloin section.
You may run into something called "first cut," which may sound great, but it is not. It is closer to the ribeye and only worth about half the cost of the prized "center cut."
Steak Thickness
Some people will equate thickness with quality, but they are not related. A 1 ½ inch thick strip steak is a good pound plus of meat. An inch is a nice 10-12 oz. But will still be too large of serving for many people.
If you want that 1 ½ inch thick steak, this will still work well, but be sure to rest to room temperature first. Over 1 ½ inch thickness requires a different method.
👨‍🍳Method
The pan does not have to be cast iron. Any oven-safe pan that can move from stovetop to oven will do.
If you don't have that, sear in a stovetop pan and move to a different oven-safe pan to finish. If using the later technique, I would preheat the oven pan with the oven, so the steak goes in a hot pan.
⏰Oven Temperature and Time
I suggest a 400° oven. For a final internal temperature of about 145°, it usually takes 7-8 minutes. However, you can use a little lower or higher oven temperature, with or without convection, and get about the same results—remember, you are cooking to a final temperature, not by time.
For rare, it may be almost no time in the oven if you did a strong sear with a rest to room temperature or if you steaks are thinner.
If your steak is thicker or was not rested to room temperature, or you want it more in the well-done range, it may take 12-15 minutes.
There are several variables that will determine the cooking time. The initial temperature of the steak, the thickness of the steak, the temperature of the oven, the length of the sear, and your desired finish level.
A final word to the wise, NEVER COOK BY TIME ALONE, cook to your target internal temperature.
🌡️Final Temperature
A strip steak has a fair amount of marbling so can tolerate overcooking a bit, unlike something like top sirloin. But also is not as tender as a filet. I like about 140° to 145° final internal temperature. My wife is more of a 150° person.
So pick the internal temperature you want. Remove the steak a few degrees less and tent lightly with foil.
The temperature will continue to rise a few degrees when tented, and more importantly, the fluid that escapes the cells during cooking will migrate back into the cells and make for a moist and tender steak.
Remember, you can cook it a bit more if needed, but you can not uncook the steak.
✔️Tips
Trimming
I like to trim as much of the solid fat off the edges as reasonably possible. You won't eat it, and it will interfere with your enjoyment of the steak. Get rid of it.
Seasoning
Just a good sprinkle of coarse salt and pepper is all you really need. We like to use our All Purpose Seasoning - 7:2:1 and 7:2:2, which adds garlic to the mix.
Others like to use commercial mixes like Montreal Seasoning. Just season to your taste.
The timing of seasoning is important. Salt will pull fluid out of meat, but it will reabsorb in about an hour. So if you add a salt containing seasoning, do it an hour before cooking or immediately before cook. In between will pull some moisture out of the meat and not leave time for reabsorption.
Oil vs. Butter
Butter can smoke if overheated. I don't seem to have a problem with that, but some people do, especially if their burner is very hot. You can use vegetable oil if you have that issue.
If you want a middle ground, use oil in the pan then add some butter on top of the steaks as they go in the oven.
📖Steak Recipes
How to Grill a Strip Steak on a Gas Grill
How to Grill a T-bone or Porterhouse Steak – A Tutorial
Pan Seared Oven Roasted Filet Mignon
How to Grill a Filet Mignon on a Gas Grill
Or see all my steak recipes plus some steak enhancements at the Father's Day Steak Recipe Roundup

🖼️Step-by-Step Instructions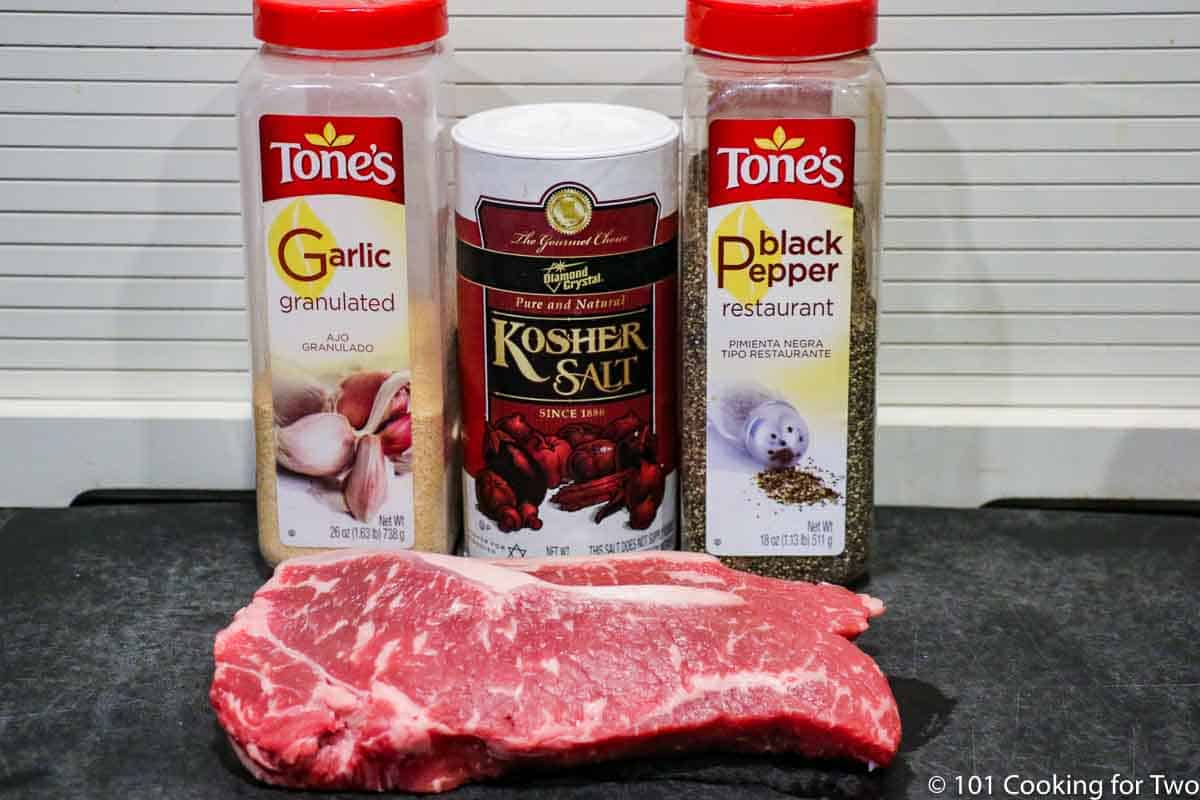 Allow the steaks to rest at room temperature for 30-60 minutes if you have time—Preheat oven to 400° convection or 425° conventional.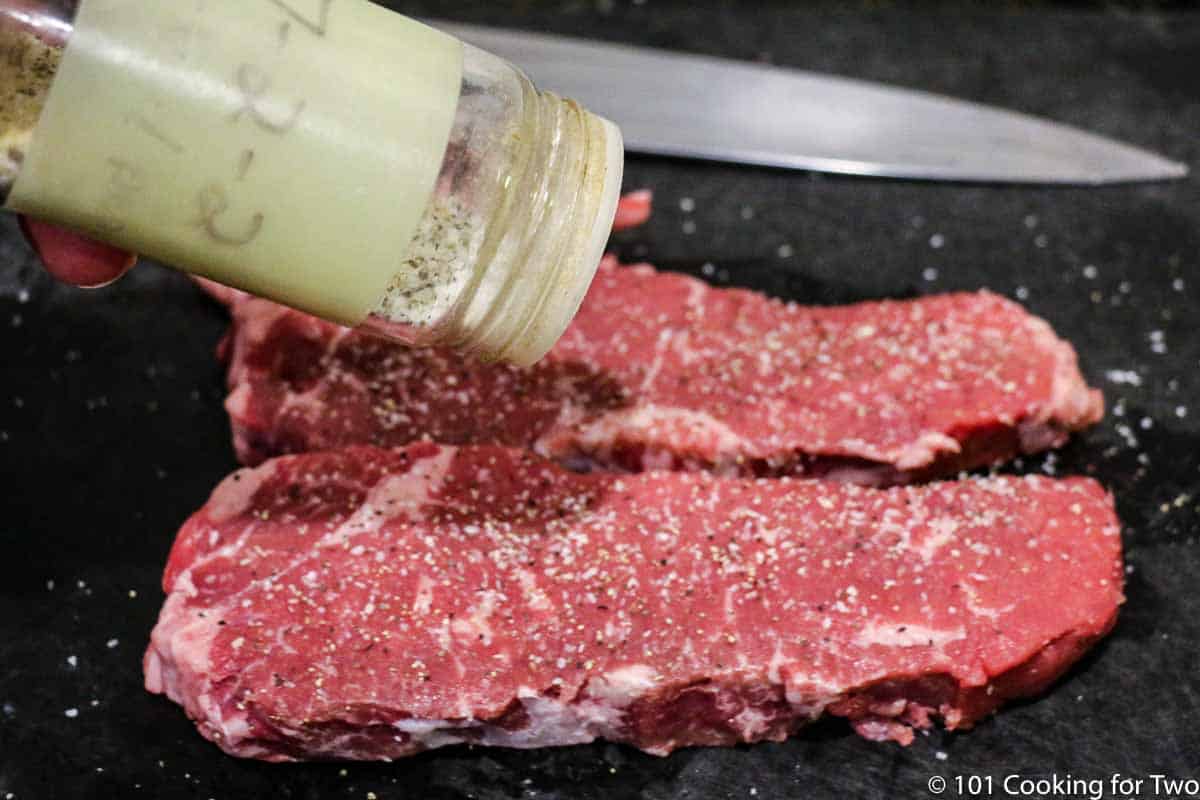 Trim and season steaks to your taste. I use 7:2:2 (my homemade seasoning). If you don't have that, you can season with a little coarse salt, pepper, and granular garlic powder. Or any way you want.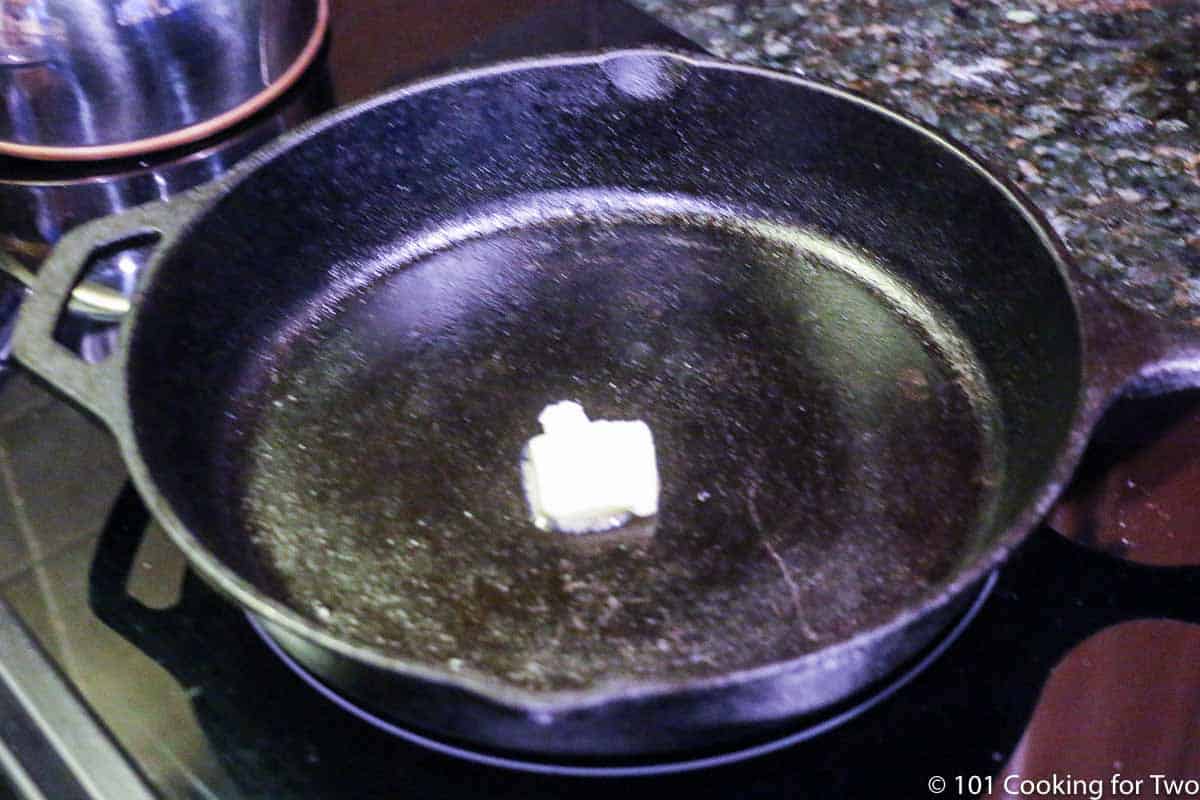 In an oven-safe pan (I used my 10-inch cast iron) over medium-high heat, melt one tablespoon of butter or use oil. Some prefer oil at this point due to the lower smoke point of butter, but I have never had a problem.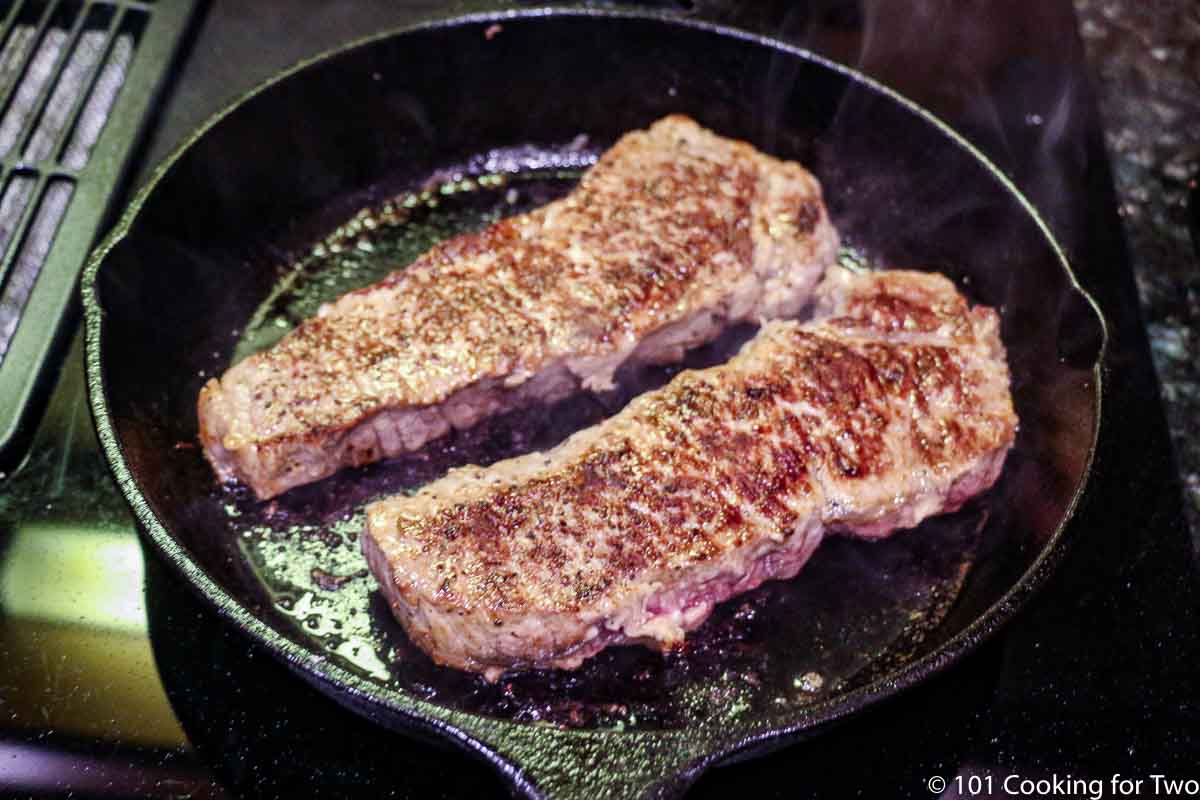 When hot, sear both sides of the steaks for 2-3 minutes. Sear close to the final color you want.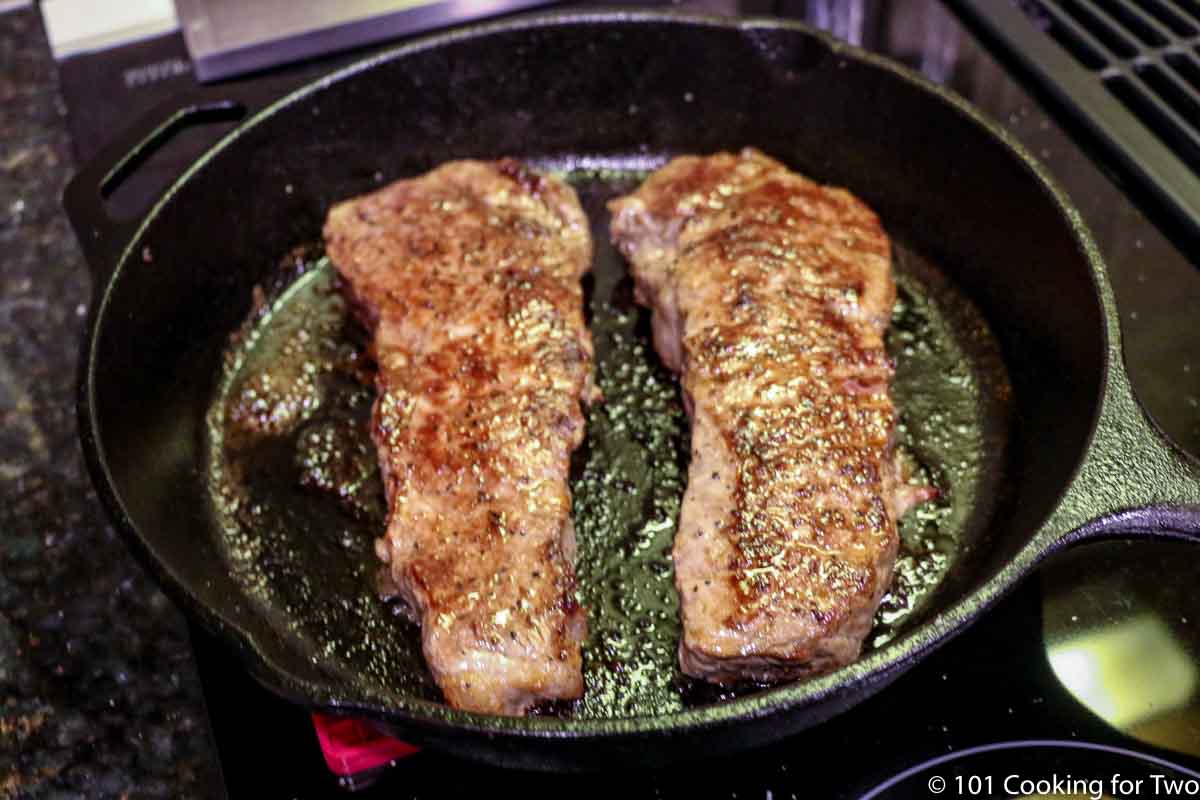 Transfer pan to the preheated oven. Now comes the variables. The steak thickness, how long you seared, and the true temperature of the oven. Cook to the final temperature you want. Remember that you may get a few more degrees after removal from the oven.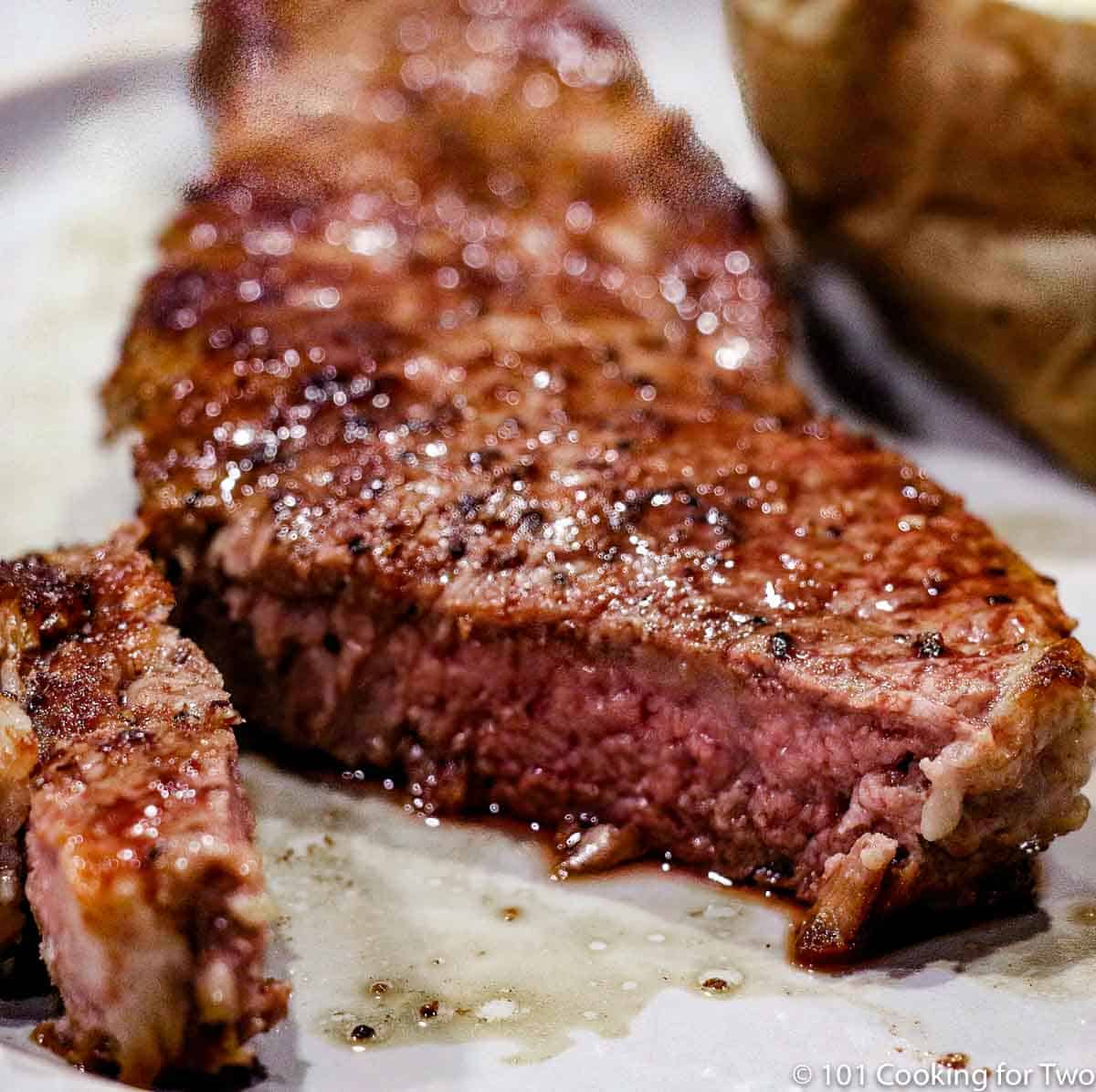 It took 7 minutes to get to 145° (medium). Remove from the oven and allow to rest for a few minutes before serving. COOK TO THE TEMPERATURE, NOT BY TIME ALONE.


Do you want more recipes from 101 Cooking for Two? Sign up for the newsletter and get all posts delivered straight to your inbox!
📖 Recipe
Editor's note: Originally Published February 20, 2015. Updated with expanded options, refreshed photos, and a table of contents to help navigation.