No matter the size of your smaller household, we have filled this guide with tips and strategies to help you be successful to make cooking both easy and enjoyable.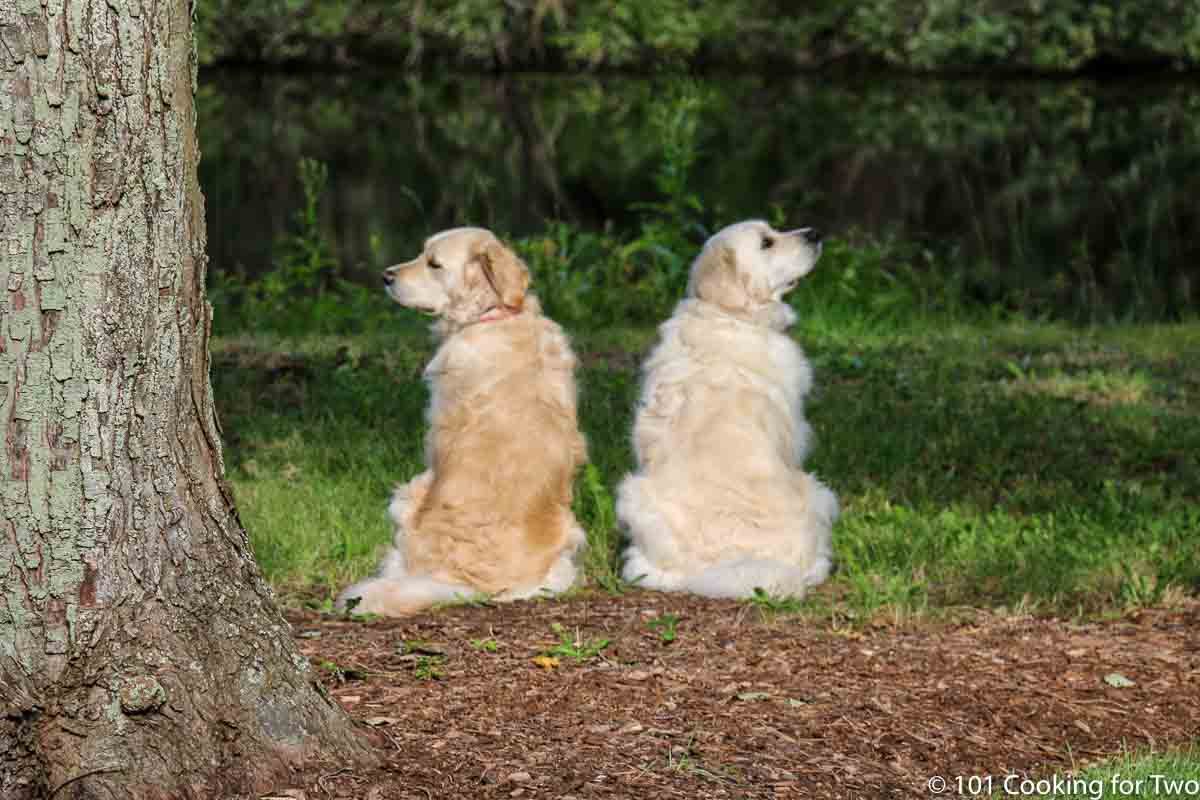 Jump To:

Hi guy; welcome to my online Cooking for Two Guide. While most bloggers want to publish a book or at least entice you with a small PDF cookbook to signup for their mailing list or something, I'm not going to do that. It will stay at this link for your easy reference.
I will try to bring together practical suggestions and helpful advice for you. Please realize that these are my (educated) opinions of what can help you get started and succeed at providing for yourself and your smaller households.
The Three "Rules" to This Guide
I will provide what I think will benefit most smaller households. Your needs may well be different. If something works for you, do not trash it for my recommendations.
I recommend things, but there will NOT be affiliate links within this guide (but are in The Cooking for Two Shop.) You do not need to buy it through my shop. It is there for your convince and reference to see what I use and recommend.
While I will try to keep costs in mind, I will sometimes suggest more expensive things like good pans.

Shopping Tips for Smaller Households
When cooking for one, two, or other smaller households, you must be careful when shopping, or you can waste a lot of money and still not get what you want or need. Let's learn a few points to help you.
Pick Your Market Wisely
Your local grocery store may be your enemy or your friend. There are structural issues in how they are designed and run that are against what you need when shopping. They are a business, after all.
They route you through the store and arrange the isles to help you buy more than you need. You may need to work to overcome this.
They price in multiples. Three for a dollar will usually be 34 cents for one in most stores (not all), But buy one, get one free is probably not good for most of us.
They package larger quantities cheaper.
So, by their structure, they make it hard to shop without waste. You will not change this, but pick the best store for you. Don't be afraid to use more than one market but remember your time has value, and traveling 10 miles to save a few dollars may not make sense.
So accept that you may pay a bit more for a potato, but it is better to spend a bit more than lots of waste or drive a long distance—not real savings.
The Produce Section
Most stores route you through this area first, so I'm starting there.
This is perhaps our discussion's biggest "your mileage may vary" area. What you will find depends on the store chain and the produce manager. Again, things you can not affect.
Look for bulk-sold produce so you can buy just what you need. I tend to buy my tomatoes and potatoes this way. In the long run, it is cheaper and better for me than buying too much.
Sometimes you will find smaller packaging or bulk products in the organic section. I'm not getting into the organic vs. non-organic discussion, but you may pay more to have less waste and a fresh product.
Don't forget the local farmers market, which will always be a good choice.
The Deli
This seems to be the next section in most stores. I love this department. You can buy precisely what you want from an actual human—so old school.
Double bonus point if your deli has a salad bar. They generally put the best things out to entice people to buy. Load up with chopped pepper or onions, strawberries, chicken, or ham, and if all else fails, buy a salad.
The Meat Department
Meat is the next major department in our route through the local market. Almost as good as the deli, but you need to press the button for help, and to do that, you need to during the day.
They will let you buy a half-pound of hamburger or cut up a pork loin for you. You will love these people. Always say thank you for the help; it will make their day.
It is easy to be carried away here. Take into consideration what you can use and your storage capacity. See FDA Food Storage Recommendations Chart.
The Frozen Food Department
Frozen fruits and vegetables can be a mainstay of your cooking strategy. You can take out the amount you need for a meal.
Frozen meat, shrimp, and fish are also great finds here. And pick up a pint of ice cream while you are there.
Bulk Foods
If you are lucky enough to have this, you can buy only what you need from common stables, usually at a lower cost per weight.
Large markets, natural food, and health food stores may have these sections.
Packaged Foods
Those cans and packages are in the center of the stores. Be away that the high-profit items are at eye level and end displays (usually at full price.) Try only to buy a month or so of these things, but you need to balance convenience, cost, and storage capacity.
Most products will have use-by dates. I usually watch those since that is safe. Realize that many dates don't have much meaning, so that a Google search will answer many questions.
Products: Kitchen Hardware You Need
How do you equip a kitchen for a smaller household? Here are my suggestions for the equipment that you will find helpful. You will find links in The Cooking for Two Shop.

Thermometers tips
As they say, knowledge is power. A good thermometer will take you from an OK cook to an excellent cook. Accurate thermometers are a must for accurate cooking.
I love my Thermapen, but it is expensive. A cheaper thermometer will be a bit slower but will still be fine. A good thermometer (like the Thermapen) will outlast a cheaper thermometer many times and save you lots of money in the long term. Both will prevent the heartache of improperly prepared meat.
To grill well, you need to know the surface temperature of the grill. See A Beginners Guide to Grill Temperature on a Gas Grill. Don't spend a lot on this since they discolor and don't last long.
An oven thermometer should occasionally be used to check the accuracy of your cooking. The oven is one of the most common inaccuracies people have with cooking.
Link to The Cooking for Two Shop.
Knives tips
Good knives are a must. Dull cheap knives are much more likely to injure you and will make your cooking experience frustrating. There are many excellent brands.
I hate to say something like, "You get what you pay for," but it is somewhat true in knives. The major brands will have multiple lines so that you can have a good name but a cheap knife.
Talking about knife brands is like talking about car brands. Mine is the best, and yours is not. Our edge is better than theirs. It goes on and on. You don't need a high-priced ceramic or top-of-the-line knife to do a good job. I don't need a Ferrari. But a nice Ford will do the job.
Get good knives and keep them sharp.
What knives do you need? I use a lot of knives. Here is what I use, but you need a chef, paring, and serrated knife.
A good chef knife - I like a 10-12 inch chef. I have three, a
Victorinox 12 Inch, a Misen 10 inch, and WÜSTHOF 10 inch. You only really need one. I use the Victorinox mostly, which is frequently top-rated by Cooks Illustrated and relatively cheap. (link in the shop.)
A paring Knife
A serrated knife - I use a 10 and a 6-inch.
A Carving Knife - I have one, and when you need it, you really need it but not used much.
I also have a set of 6 non-serrated steak knives I use a lot, like bigger paring knives. They are great for trimming meat and vegetables on a small scale.
Link to The Cooking for Two Shop.
Kitchen Electronics
We are talking about what you need for your everyday kitchen. I only have two suggestions. You can spend a lot of money here but will that $200 electric pressure cooker or the $500 stand mixer change your daily cooking? No, they won't.
An electric hand mixer. So handy and will save you a lot of work. You can get one for under $20 that will last for years.
A crockpot. I have three, but one will do. If you are truly cooking for 1 or 2 people, a 3-4 qt crockpot will fulfill most of your needs. A 6-7 qt crockpot is more versatile. I don't recommend 2-quart crockpots. You will spend all day cooking two servings. You want the leftovers. A slightly bigger slow cooker will give you more versatility.
Pots and Pans
Modern cookware will conduct heat much better than in the old days. I use mostly All-Clad, but Calphalon and many others make excellent products. The copper bottom stuff you grew up with will NOT do.
Now, go to the William-Sonoma website and sign up for the mailing list. The daily emails are good, but they have an unbelievable deal about once per month.
Lastly, you must have some cast iron. It is cheap and lasts for generations. I like Lodge if your mother won't give you hers.
Suggested Pans:
Fry Pans—Nonstick 8, 10, and 12-inch models.
Sauce Pans—A small 1 ½ to 2 quart and a 3-4 quart. Again good nonstick.
A Dutch Oven—6 quarts (not required)
Cast Iron Skillet—10 inches is usually fine for 1-2 people. 12 inches is more versatile.
Baking Products
You may not be baking a cake, but you still need some things here. We are talking about using your oven. It may be for chicken or something else. But a few simple tools will may the oven your best friend.
I love Corning Ware. It's cheap and great for both the oven and storage. Buy a set that meets your needs.
The second thing will be a few sheet pans. The "half" sheet pan is 11.5X16.5 inches which is big. You may or may not want this size. I use my "quarter" size a lot. I suggest two of each size.
Sheet pans are "generic" things, so get them anywhere. But restaurant supply stores are great "toy shops"— cheap and good quality.
It would help to have a baking rack or two to fit your sheet pans. Be sure you get "oven-safe" and not just cooling racks. But they can be used as cooling racks if needed.
If you are baking, then a couple of pans are needed. These can also double for cooking meats: a full-size cake pan, a nine-inch round or square cake pan, and a loaf pan. I favor nonstick here. A couple of pie pans also will be useful.
Link to The Cooking for Two Shop.
Kitchen Accessories
This is the "kitchen junk" section—things you need available. Your mother has multiple of these and may share. Or a trip to that restaurant supply store I mentioned before.
Oxo and CDN are reliable brands for most of these things, in no particular order.

Wooden Spoons
Spatulas - metal, rubber, and for nonstick cookware
Tongs
Slotted spoon
Ladle
Measuring cups and spoons - Double this up if you are going to do much in the kitchen.
2 cup Pyrex measuring cup
Brush
Scrub brush - Think baked potato
Vegetable peeler
Garlic press
Whisk
Can opener
Colander
Mixing bowl set
Stainers
Oven pads
Grater
Sealable storage containers
ZipLock type bags—small, medium, and large
Aluminum foil, parchment paper, and plastic wrap
OPTIONAL SECTION
Rolling pin
Salad Spinner
Potato masher
Meat hammer
Pantry Supplies
Here is my essential pantry list. Of course, it is your pantry, not mine, so stock what you need for the dishes you enjoy. But it is a good starting point. Having a well-stocked pantry can make cooking much easier and more enjoyable—no running to the store.
Refrigerator / Freezer Supplies
Milk or soymilk - Keep dried milk if rarely used.
Butter or substitute
Sour cream
Parmesan cheese
Sharp Cheddar cheese
Mozzarella cheese
Eggs
Lemon juice
Mustard
Ketchup
Mayonnaise
Salad dressing
Frozen vegetables- your favorites
Pantry Supplies
Extra-virgin olive oil
Canola or other vegetable oil
PAM cooking spray
Vinegar: cider, Others (optional): balsamic, red-wine, white-wine, rice
Reduced-sodium soy sauce
Worcestershire sauce
Peanut butter
Dried pasta: spaghetti, penna flat noodles, etc
Rice
Onions - do not store near potatoes
Potatoes
Fresh garlic
Flour: All-purpose flour and others if you want
Sugar: Granular, powdered, and brown sugar
Bread crumbs: plain and Panko
Nuts: I like to keep walnuts, Pecans, and almonds
Honey
Pure maple syrup
Cocoa powder
Vanilla
Cornstarch
Baking powder
Baking soda
Yeast
Spices and Seasonings
SPICES:
I like to buy most of my spices at Penzey's, a large chain of spice specialty stores. They also have an online service. I find their spices the freshest and also cheaper than your local market.
Suggested Pantry Spices—you don't need everything but consider them and what you might use.
Black pepper or peppercorns
Allspice ground
Basil
Bay leaves
Cayenne pepper
Chili powder
Cinnamon ground
Cloves ground
Cumin ground
Curry powder
Ginger ground
Italian seasoning mix
Mustard dried
Nutmeg ground
Oregano
Paprika
Red pepper crushed
Rosemary
Sage
Seasoning Salt - Lawry's or similar
Thyme
Try to store spices in a cool dark spot. I date the jar when opened and replace ground spices in about a year and whole spices in about two years.
Salt notes:
1 teaspoon table salt = 1 ¼ teaspoon Morton kosher salt = 2 teaspoons Diamond Crystal kosher salt. Have both Kosher and table salt.
Food Storage Recommendations
Here is the FDA Food Storage Recommendations (from Aug 2023-click to check the current version.
Other Pages You May Find Interesting
About DrDan and 101 Cooking for Two
The Recipes – What and why not always for two?
The Recipe Index
Thanks for the visit. Feel free to ask questions in the comment section. Please obey the comment rules about links.