Learn to cook the best baked pork chops that are tender and moist. With a little searing and minimal time, they are juicy and favorable. It doesn't get better or easier than this.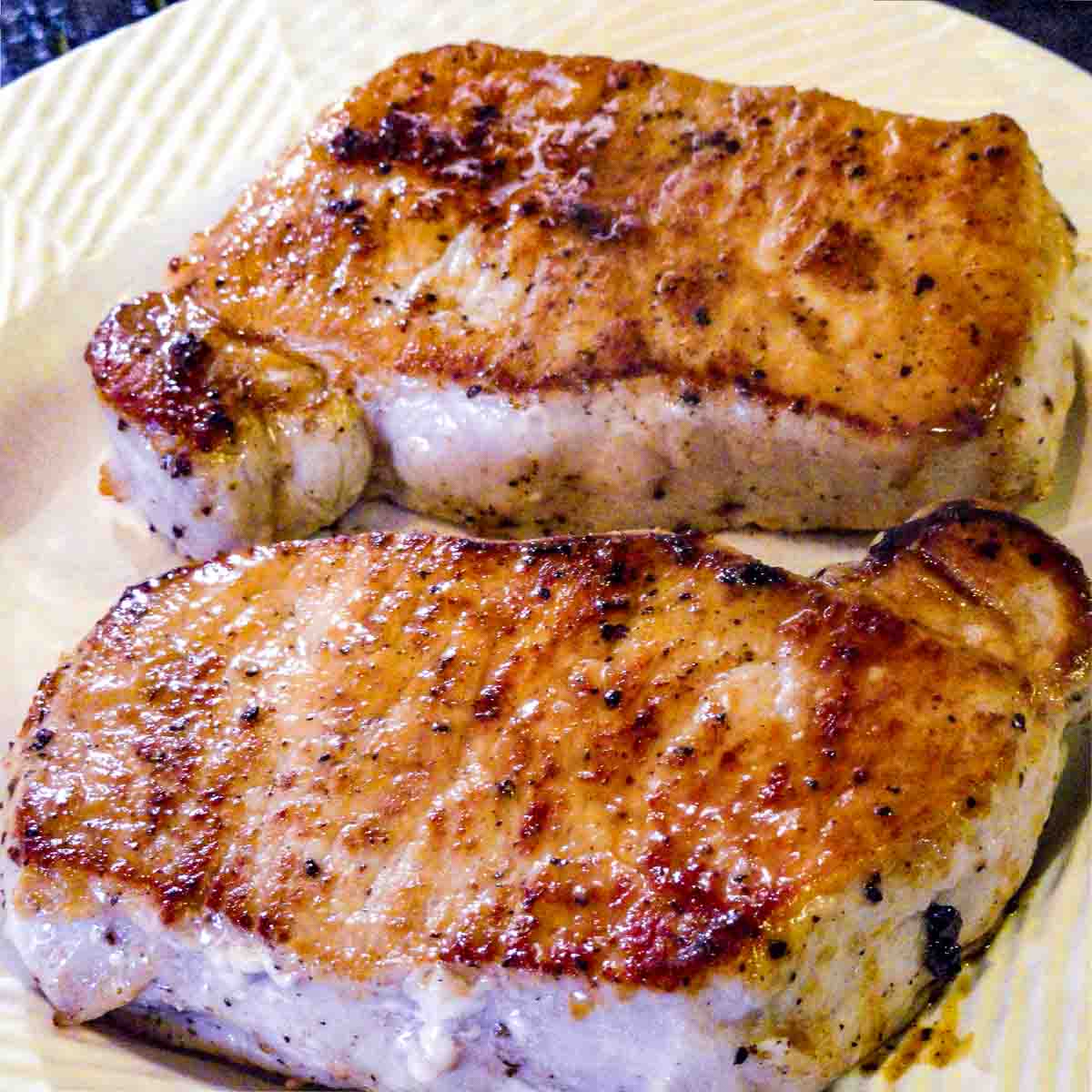 Introduction
Simple, moist, and tasty are all good words. In cooking, I love these words, and here they are all in one place with these great baked pork chops.
We all love a good pork chop, and they make an excellent weeknight dinner. So let's make them as good and as easy as possible.
My Rating

A solid high 4. And a low five if you brine.
🐖Pork Chops
What is a pork chop?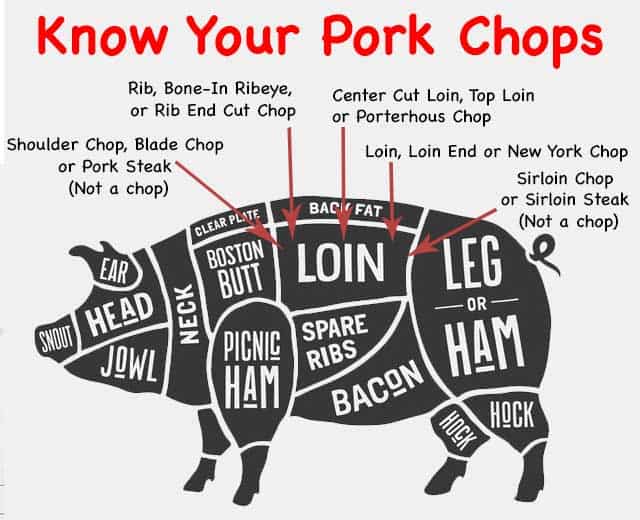 Let's talk about pork and pork chops. First, pork is not graded like beef. There is no prime, choice, etc. unless made up as a marketing gimmick. There are multiple names for the same cut only for marketing.
A pork chop is from the loin of the hog. If there is a bone, it is usually the same bone, as you will find in baby back ribs.
I have listed five chops in the diagram, but only the middle three should be considered "real" chops and will all cook the same. The other two "chops" do not cook the same, and, to me, should be avoided.
Boneless or bone-in?
It doesn't matter to me. Some people feel bone-in will be more flavorful, but if that is true, it is minimal. The bone can slow cooking a small amount.
Our favorite chop is a center cut boneless, which I usually cut myself from a whole pork loin. I buy a whole pork loin and cut it as thick as I want easily, freezes great and great for other things like my Mexican shredded pork. I like to cut mine about 1 inch thick to cook well but still be moist.
♨️Cooking
The Pan
Cast iron work great. I generally use a 10- inch cast iron skillet if I am cooking two or the 12-inch for 4.
The preferred pan is safe on the stovetop and can go directly to the oven. Most skillets can do this, but not all. If you are unsure if you pan is safe used this way, then preheat an oven-safe pan in the oven. Then sear in a stovetop pan and transfer to the oven pan after searing.
Pick Your Chop
This is good for ¾ to 1 ½ inch pork chops. I generally use a center cut 1-inch boneless chop I cut myself.
The Searing
The searing creates a Maillard reaction, which is the scientific name for the browning you will see. It adds lots of flavors to enhance the final results. It is this searing that will get you the outstanding flavor you want.
The first thing is wet meat does not sear well. Pat dry the chops before searing.
Generally, sear for about 3-4 minutes per side. It will vary a bit you the temperature of the pan and the meat. Get the meat to almost the final color you want.
Also, I like to flip the meat one final time just as the meat goes into the oven. This puts the coldest side of the meat on the hot pan for the final cooking.
Gravy Option
You can easily make gravy in the pan after done cooking. See Fried Pork Chops with Gravy and How To Make Gravy at Home.
🌡️⏰Temperature and Time
I like to sear over medium-high heat. I prefer a higher oven temperature, and the recipe calls for 400° convection or 425° conventional. You can use lower temperatures, but it will take a bit longer and may dry some.
The searing time is generally about 3-4 minutes per side. The time in the oven varies by the thickness, the amount of searing, and the exact oven temperature. Also, a bone-in chop may take a few minutes longer.
The 1-inch thick chops I suggest will take 8-10 minutes to get to 145°-150° internal temperature.
If you do ¾ inch thick, it will be in the 5-7 minute range. And if you don't sear, it will take a few minutes before reaching your final internal temperature.
And the usual reminder- never cook by time alone. You are cooking to a final internal temperature and not by the clock. The time estimates are provided for your planning.
Final Internal Temperature
For many years, due to the fear of trichinosis, which was a parasite found in undercooked pork, pork was cooked to 170° by common wisdom. However, with modern farming methods, that has not been a risk in the USA for decades.
The FDA went to a recommendation of 160° for a number of years. Then in 2012 went to the current recommendation of 145 with a 3-minute rest.
Taste and moisture wise, 145° is correct. There will be a little pink left in the pork at 145°, and if you are like my wife, who wants no pink, you will be more comfortable at 150° or even 155°. Please do not go over 155° for this cut, or it will begin to dry.
🥣Should I Brine?
Yes, if you have time. But fresh pork chops cooked quickly will generally be moist and tender anyway. I feel that a pork chop that has been frozen is a bit drier, and I like to brine those chops.
Skip the brine if you want, and I think you will only have a little effect if you are careful not to overcook but do it if you have time.
📖Pork Chop Recipes
How to Grill Pork Chops on a Gas Grill
Pan Seared Oven Roasted Thick Cut Pork Chops

🖼️Step-by-Step Instructions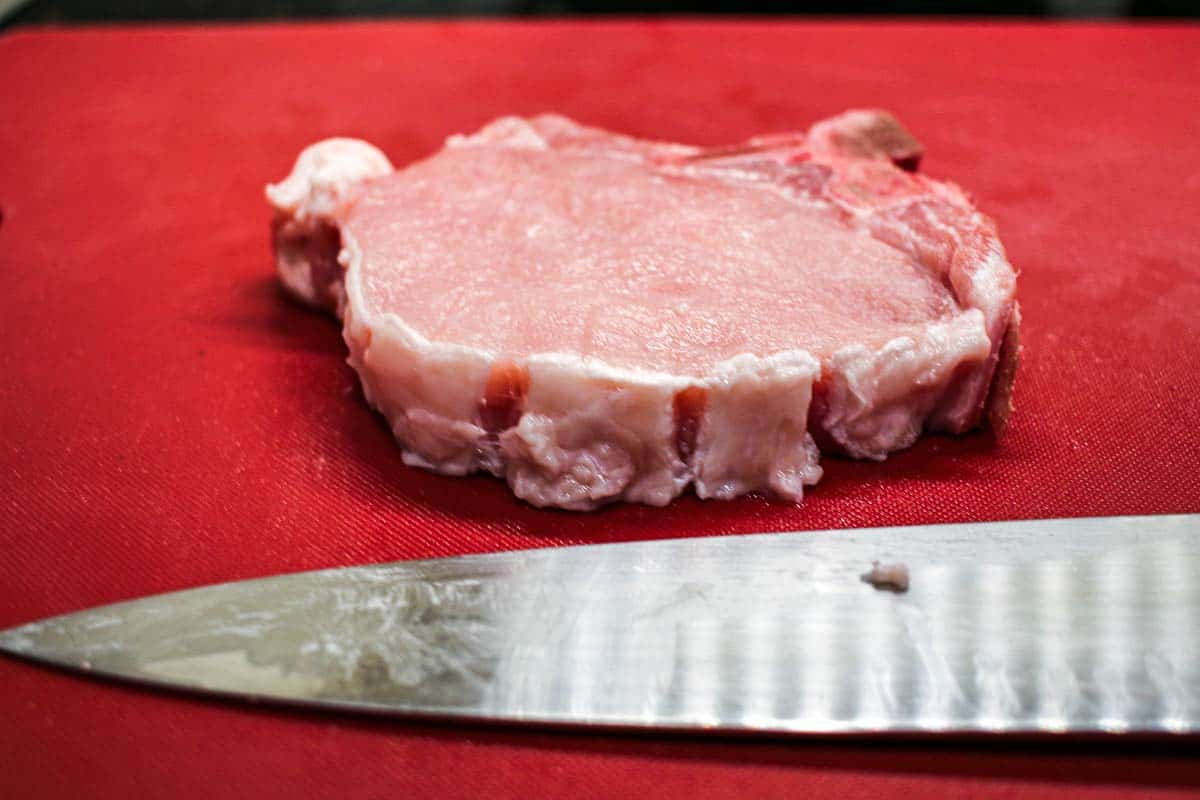 Use the pork chop of your choice. If there is a fat rim over ½ inch thick, then trim it down. Then notch the fat through to prevent cupping.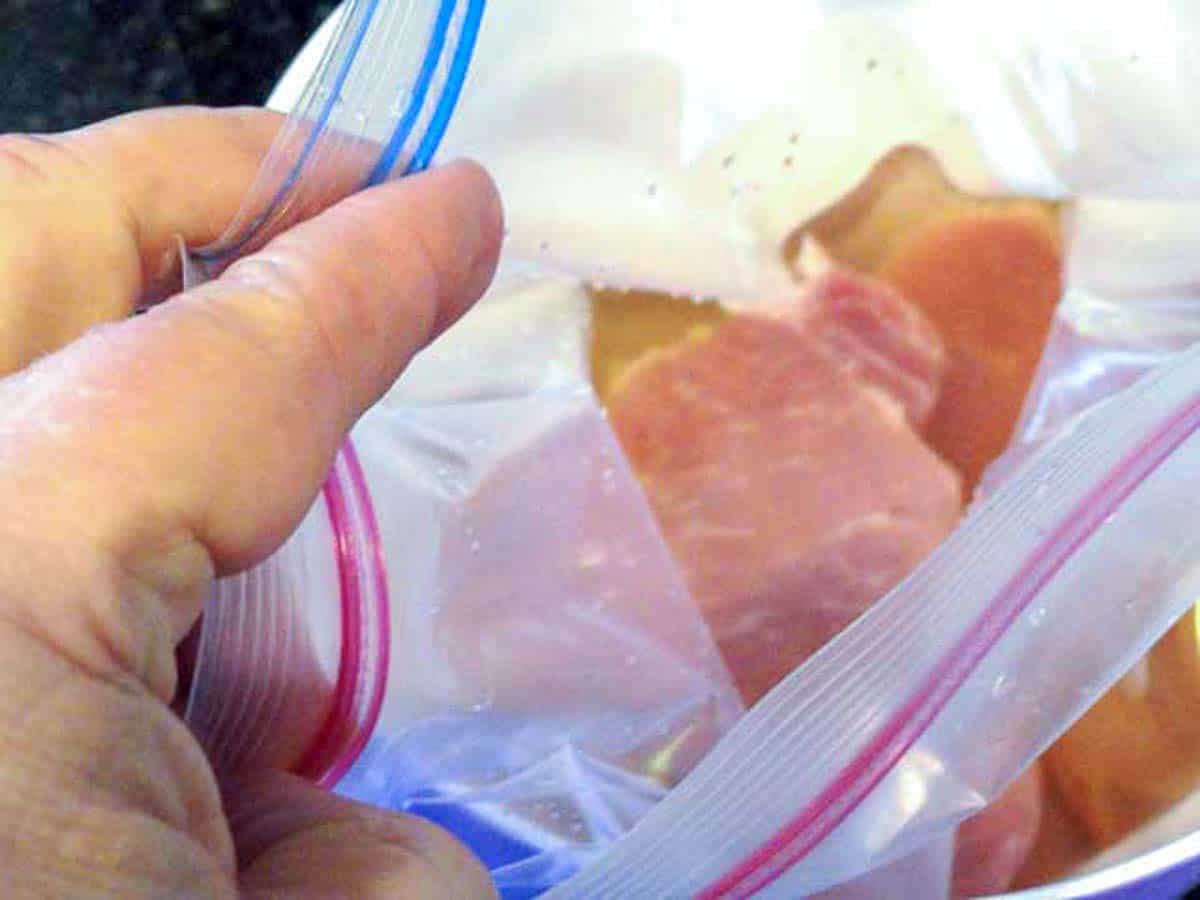 If brining, mix brine in 1-gallon freezer bag, place bag in a bowl, submerge chops and refrigerate for 1-2 hours. Then lightly rinse and pat dry.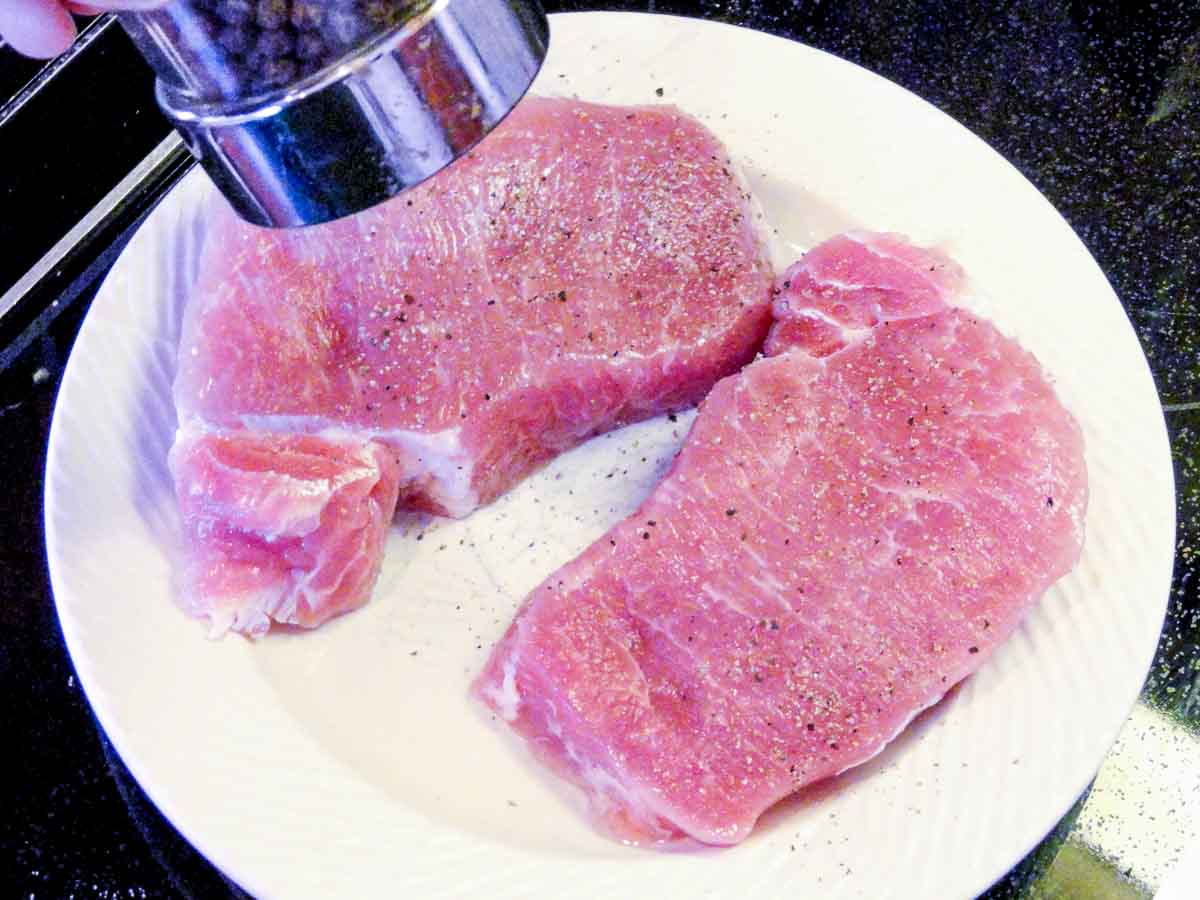 Preheat oven to 400° convection or 425° conventional oven. Pat dry the chops with a paper towel. Salt (only if not brined) and pepper to taste.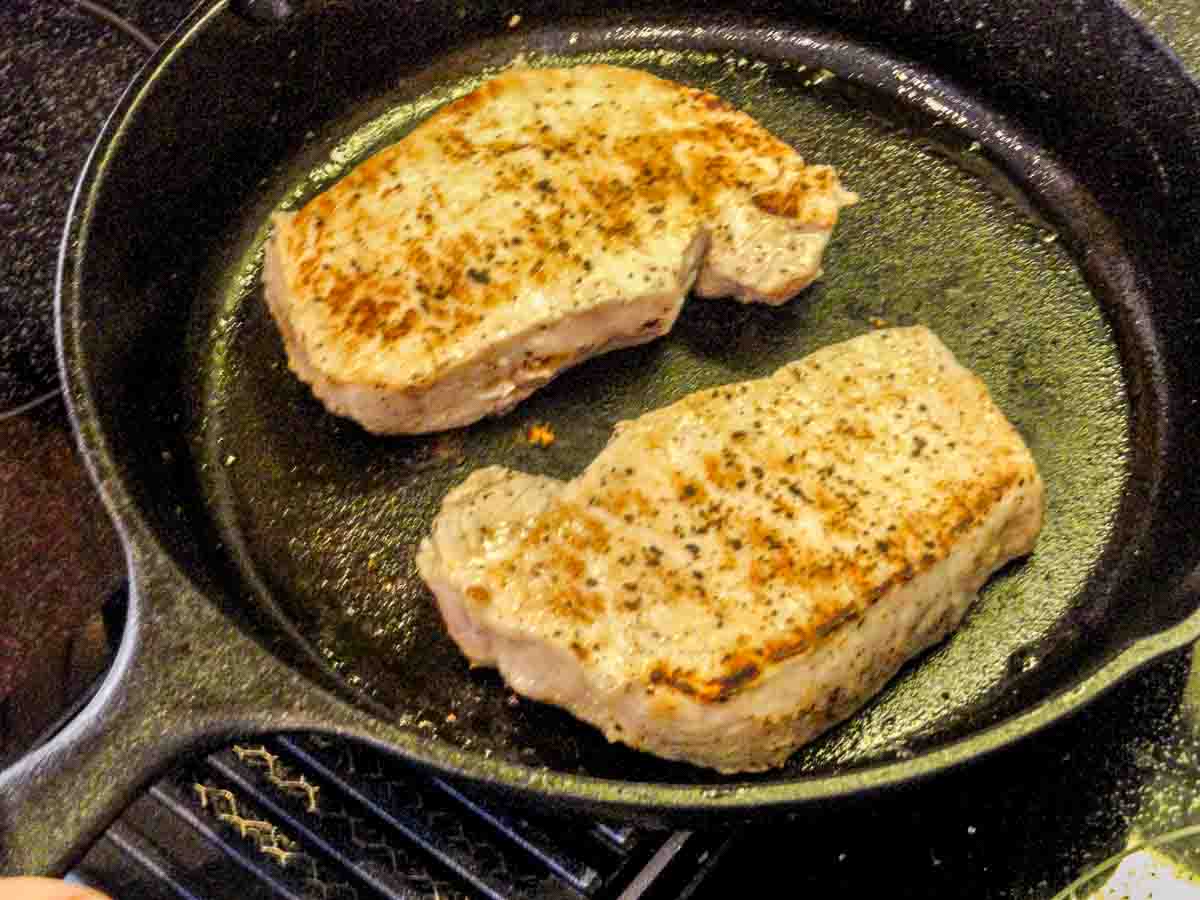 Heat oil in an oven-safe pan over medium-high heat until shimmering. Brown both sides of the chops to the point you might call done—about 3 minutes per side. Flip one final time and place in the oven until the internal temp of your choice. I did 150° degrees, and it took 10 minutes.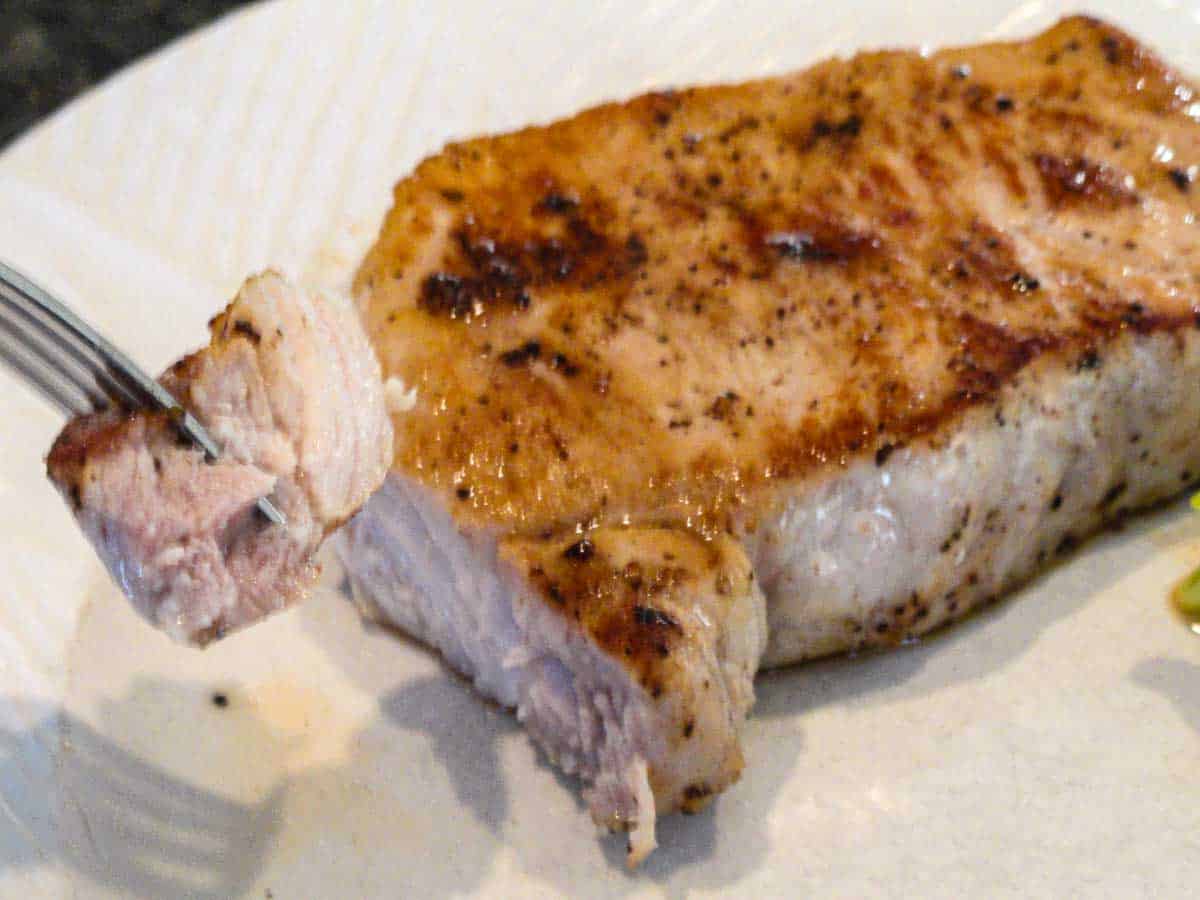 Do you want more recipes from 101 Cooking for Two? Sign up for the newsletter and get all posts delivered straight to your inbox!
📖 Recipe
Editor's note: Originally published April 6, 2011. Updated with expanded options, refreshed photos and a table of contents to help navigation.