Moist and tasty country-style BBQ boneless ribs in only 30 minutes. A little pan-searing, coat with BBQ sauce, and finish in the oven. A great easy dinner recipe.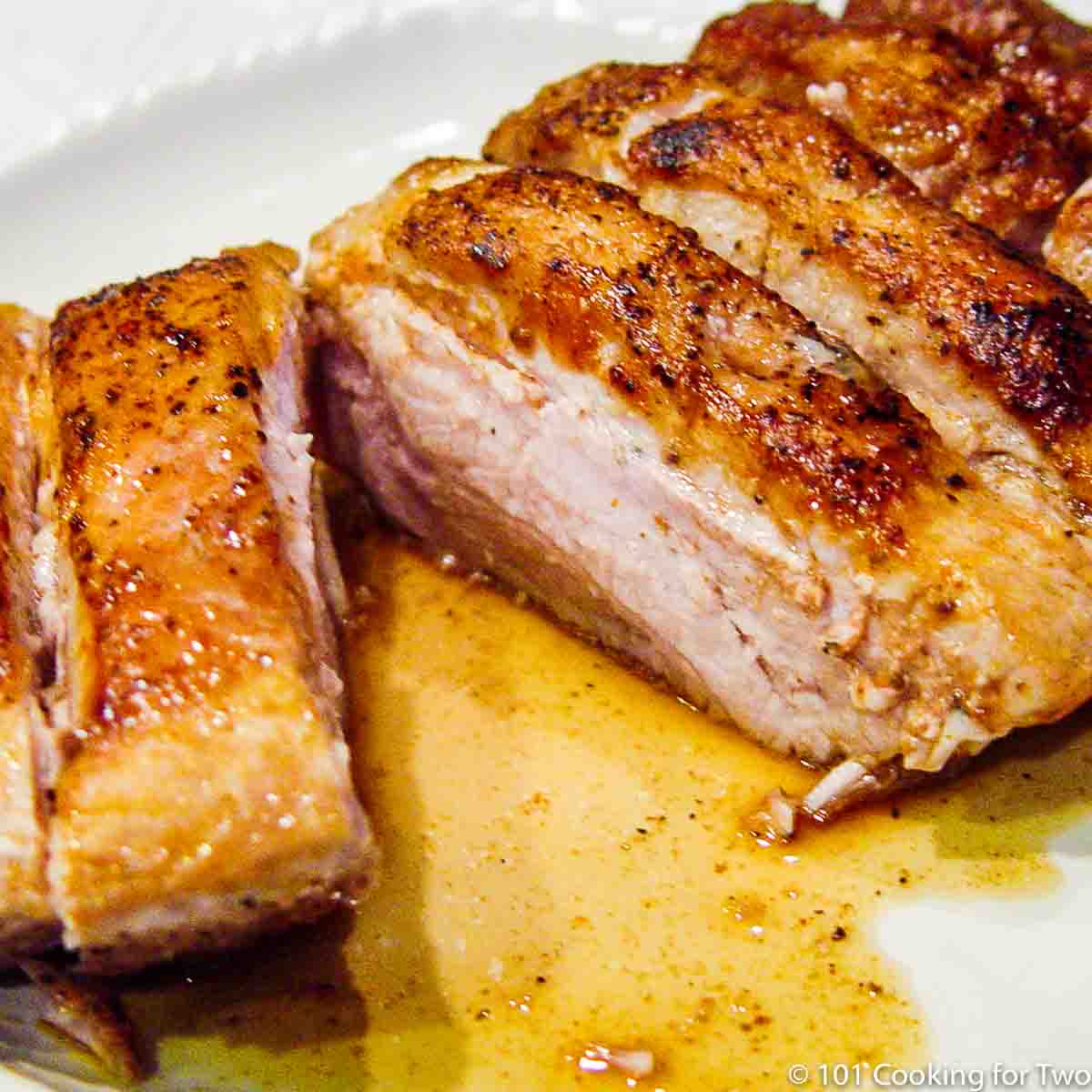 Introduction
Another weeknight recipe with one of my favorite "Cooking For Two" types of meat, boneless country-style pork ribs which will be 2-4 servings depending on size of your appetite.
Unlike other pork ribs, boneless country-style "ribs" are very much like a pork chop. They are lean and should be cooked rapidly, not low and slow.
The method is simple: preparing the boneless ribs, season, pan sear, a brush of your favorite BBQ sauce then finish to final temperature the oven.
After a short rest, dinner is served with moist and tender BBQ ribs. All in under 30 minutes. And it is so easy with these step by step photo instructions.
My Rating

A very nice low 5 to high 4. Now you can have fresh hot BBQ on a weeknight without much fuss.
🐖The Ribs
What are Boneless Country Style Pork Ribs?
For those of you unfamiliar with the cut, it is the tail end of a whole pork loin cut in half and scored to make "ribs." So, think of the boneless country-style ribs as lean pork chops in a funny shape. Due to that, they should be cooked rapidly.
There is a "fat cap" that I usually trim off. Many times the scoring is not very deep, so I usually deepen the cut to a little over half the thickness of the meat. I consider this to be more surface area for seasoning.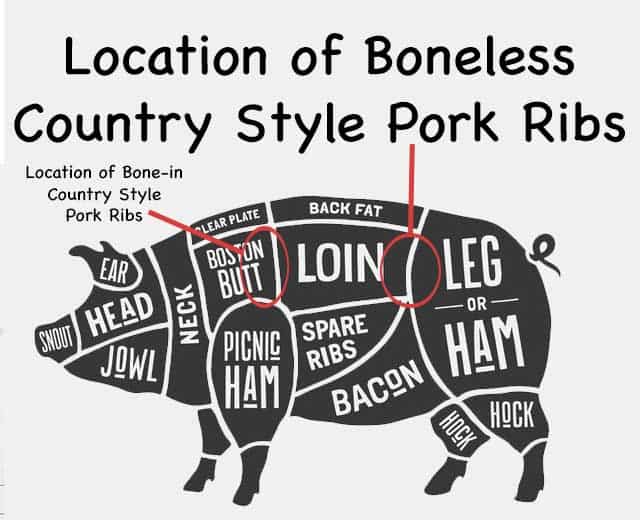 Unfortunately, there is also "bone-in country-style pork ribs." They are NOT the same. Or even close to the same thing.
The bone-in variety is a cut from the pork shoulder; it needs to be cooked more like a pork shoulder (AKA pork butt), meaning low and slow. They cannot be cooked in similar manors, or the results will be very bad indeed.
And if you haven't figured it out, neither is related to real ribs. Although a pork loin is right next to baby back ribs. The boneless variety should be thought of as lean pork chops in a funny shape.
Preparing the boneless ribs
Many times there will be a large amount of fat attached to the backside of these ribs. It interferes with browning, seasoning, and cooking the meat. You will not be eating it, so cut most of it off. You don't need to be a perfectionist, but get most of it gone.
The second step is to deepen the "rib cuts". Many times they will be less than 25% of the thickness. I like to get it to 50% or even a little more. It evens out the cooking and adds more seasoning area.
♨️Pan Searing
This recipe depends on an old but true method. First, sear the boneless ribs creating flavor by causing the Maillard reaction. Dry them well and season. Sear for a few minutes per side in a bit of oil over medium-high heat. Get them close to the color you want when done.
A brush of BBQ sauce, then finish cooking the ribs in an oven to bring it up to the final internal temperature.
What Pan to Use?
I like to use a cast-iron skillet for this but any pan that can go from the stovetop to the oven will do.
If you don't have that, add an oven-safe pan to the oven while preheating. Sear with a stovetop pan then transfer the ribs to the preheated pan to finish in the oven.
🧂Seasoning
Just salt and pepper are fine. But I like to use our All Purpose Seasoning - 7:2:2 which has a good amount of garlic powder in addition to the salt and pepper.
The second part of the seasoning is a light coat of BBQ sauce. Use the one you love. I love Gates BBQ of KC sauce but have used Bulls Eye Original, which Cooks Illustrated likes. My Memphis BBQ Sauce would also be great.
⏰🌡️Time and Temperature
I like to use 375° convection for about 15 minutes to get an internal temperature of 150°.
Your time can vary by the thickness of your ribs, the pan, the oven temperature and how long you seared. So cook to the final internal temperature you want.
The final internal temperature for these ribs should be about where you like your pork chops. So 140° is the low end. 145° is the most common. We prefer 150° with almost no pink. Over 155° will start to dry and toughen your meat and is not recommended.
Allow to rest for about 5 minutes before cutting and serving. The temperature may rise a few degrees so account for that. If longer than 5 minutes, then lightly tent with foil.
📖Boneless Rib Recipes
How to Grill Boneless Country Style Pork Ribs
Grilled Memphis Boneless Country Style Pork Ribs
30 Minute BBQ Boneless Pork Ribs

🖼️Step-by-Step Instructions
Preheat oven to 375° convection and heat a cast-iron skillet or another oven-safe pan with a teaspoon or two of oil over medium-high heat. Trim one slab (about 1 ½ lb) country-style boneless pork ribs of fat cap and any silverskin.
Deepen the cuts to a little over half the thickness of the slab.
Before seasoning, dry well with a paper towel. Give a good sprinkle of salt and pepper or 7:2:2 seasoning.
Place in the pan and sear for 2-3 minutes per side. Get near the final color you want when done.
Remove from heat and brush the top (not the bottom) generously with BBQ sauce of your choice. Be sure to get the slices.
Place in the oven and bake until internal temp of about 145°-150°. About 15 minutes but time will vary some. Let rest for 5 minutes before cutting.


Do you want more recipes from 101 Cooking for Two? Sign up for the newsletter and get all posts delivered straight to your inbox!
📖 Recipe
Originally published March 31, 2012. Update with expanded explanation and discussion. Photos are refreshed. A few photos are from different photoshoots and have different color cutting boards.