Learn the secrets to juicy and tender grilled pork tenderloin with this super easy tutorial. A properly grilled pork tenderloin will make you look like the grill master. Just don't tell them how simple it is.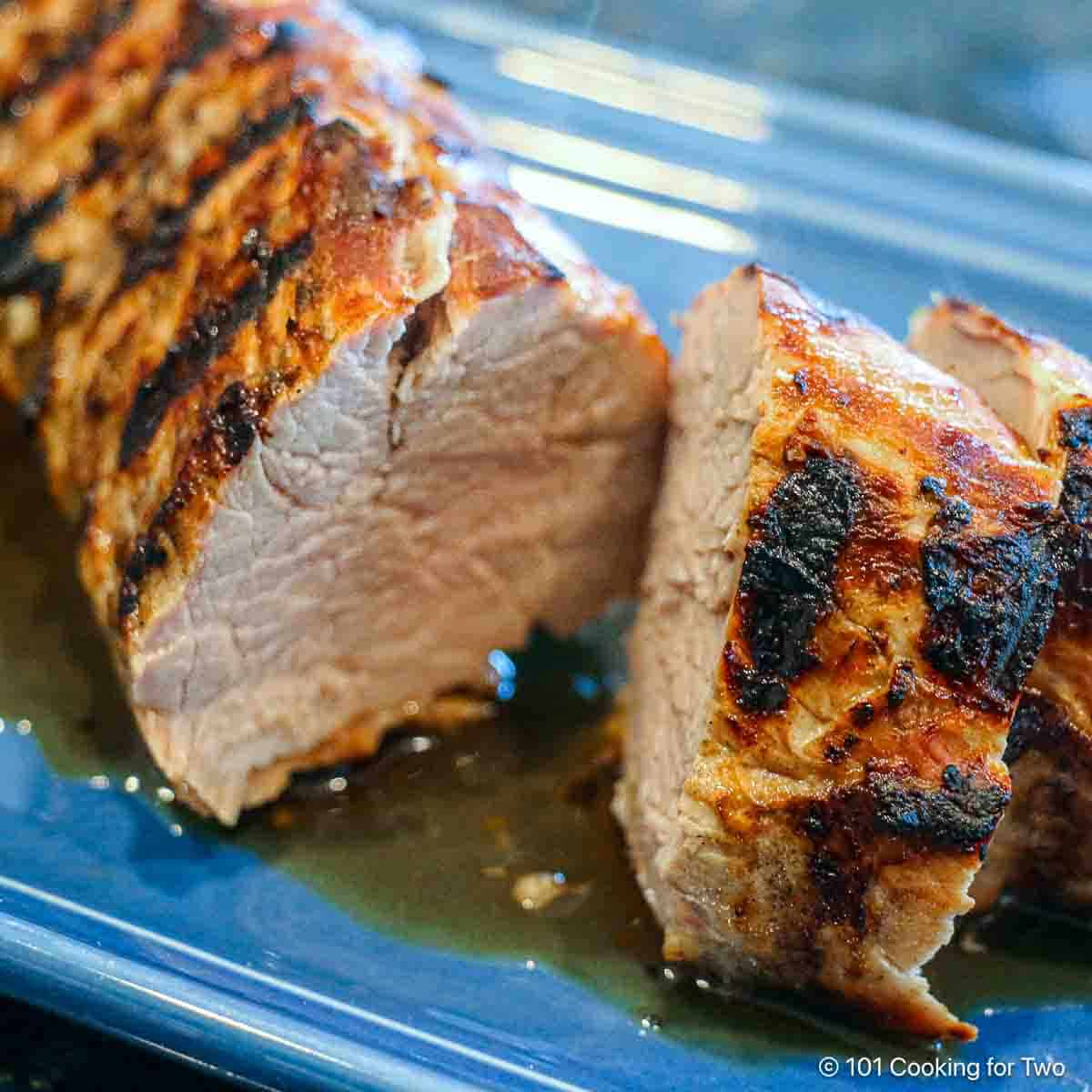 Introduction
We all know that pork is "the other white meat." What a great marketing phrase.
Pork tenderloin may be the perfect meat for grilling. It can be elegant or casual to fit almost any occasion. It's cheap and healthy, plus its smaller size makes it near perfect for smaller households. But easy to double up for larger needs.
My Rating

Always a nice solid high-4 to mid-5. This is the basic technique and produces great results.
🐖Pork Tenderloin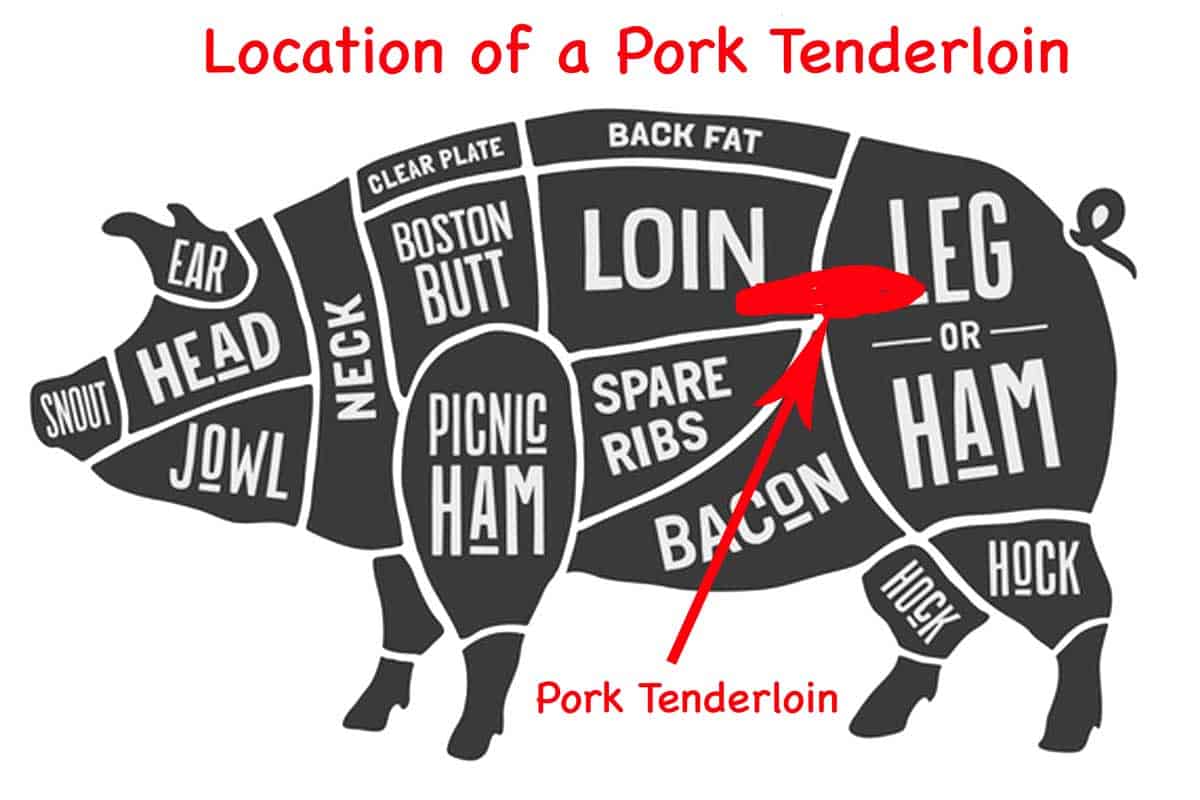 The tenderloin refers to the psoas muscle along the lower back. It is chicken tenders in the chicken or beef tenderloin (filet mignon) in cattle. The psoas is generally the most tender cut since it is not used for movement.
A Pork Loin is NOT a pork tenderloin!!!!
Over the years on this blog, many commenters seem to get pork loin and tenderloin confused. It is obvious when they have a "4-pound pork tenderloin". No, they do not.
The tenderloin usually weighs about 1 to 1 ½ pounds. A very large one could push towards 2 pounds. PLEASE BE SURE YOU HAVE A TENDERLOIN AND NOT A LOIN.
♨️The Grill
Almost any gas grill will do. We want a grill surface temperature of 450° to a maximum of 500°. For me, I use a super-duper Weber that can get very hot, and that will be a small amount over 50%. It will be at about 75% on most gas grills, and an el-cheapo may be close to max.
Investment of $10 in a grill surface thermometer is always a good idea. DO NOT look at the thermometer on the hood of your grill; it is not even close.
For help on grill surface temperature, please see my A Beginners Guide to Grill Temperature on a Gas Grill.
Charcoal should be fine. Just don't crank up the heat all the way and watch the temperature.
Of course, preheat, clean, and brush with vegetable oil.
🖊️ Tips
THE BIG SECRET
This is simple. It is not round, flat, nor even square. It is a triangle, so there are three sides. So, whether cooking on a grill or in a pan, cook three sides and don't force it into a shape that is not natural.
To brine or not
A brine is not really needed but will add more moisture and tenderness. But realize it is already very tender and moist. A good starting point is for every cup of water, add 1 tablespoon salt.
You can fancy up your brine, some with sugar or brown sugar. Use about the same amount of sugar as salt. You can add some garlic or other things for flavor. An hour or two is enough time.
Of course, refrigerate during the brining and rinse the tenderloin with running water, and pat dry at the end. DO NOT ADD ANY MORE SALT if you brine.
Dry rub and marinades
Tenderloin takes flavor very well, so dry rubs and marinades work great. Today I will just use some salt, pepper, and garlic (my 7:2:2 seasoning), but the tenderloin accepts flavors very well.
Basic BBQ version
Just brush with a light coat of BBQ sauce about 5 minutes before reaching your final temperature. Then a second coat when removed from the grill to rest.
📖 Related Recipes
The Best BBQ Pork Tenderloin - Memphis Style
Grilled Bacon Wrapped Pork Medallions
Grilled Honey Garlic Pork Tenderloin
Oven Fried Pork Tenderloin Sandwiches
Alton Browns Chipotle Lime Pork Tenderloin

🖼️Step-by-Step Instructions
Editor's note: Some images from different grillings and may not match exactly They are provided to illustrate the instructions.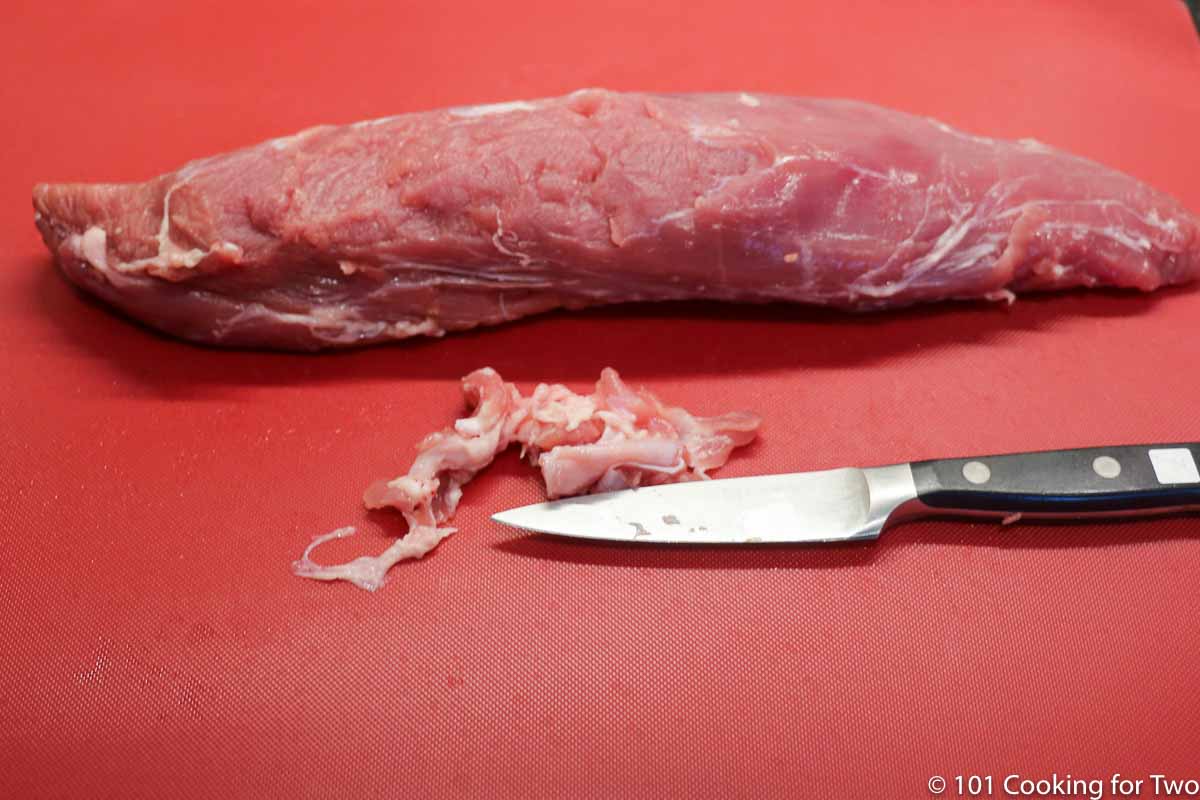 Trim the tenderloin of any excess fat and the silverskin.
This is the point to brine if you wish. Start with 4 cups of water with 4 tablespoons salt. Add 2-4 tablespoons sugar if you want. Refrigerate for 1-2 hours. When done with the brine, remove from brine, rinse under running water, and pat dry. Salt and pepper or other seasoning at this point, but DO NOT ADD SALT if you brine.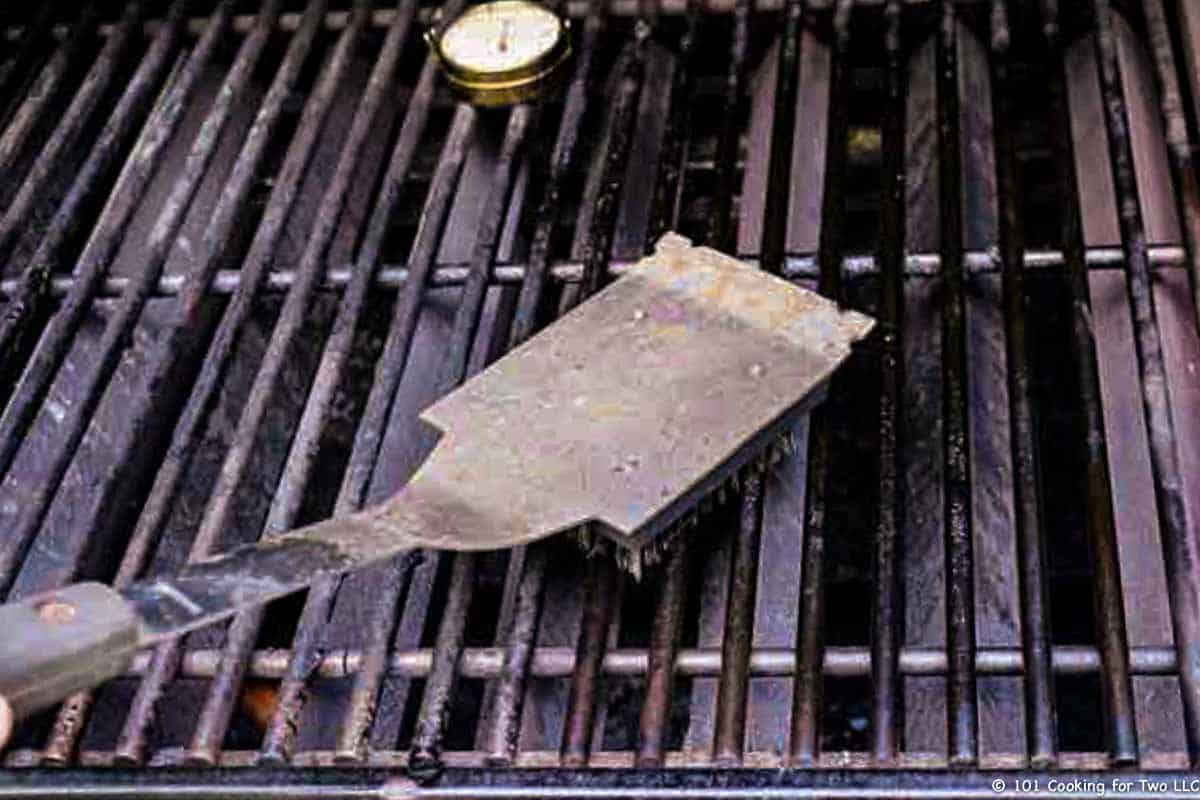 Preheat grill to a surface temperature of 450° to 500°. Medium on my super-duper grill but medium-high on lesser grills. Clean and oil.
Place over direct heat—close lid. Rotate ⅓ every 5 minutes until done to your liking. About 25 minutes for 140°. About 30 minutes for 150° (my wife's favorite). Remember, do not cook by time alone. Use a thermometer. The time to get to your final temperature varies by weight and the exact surface temperature of the grill.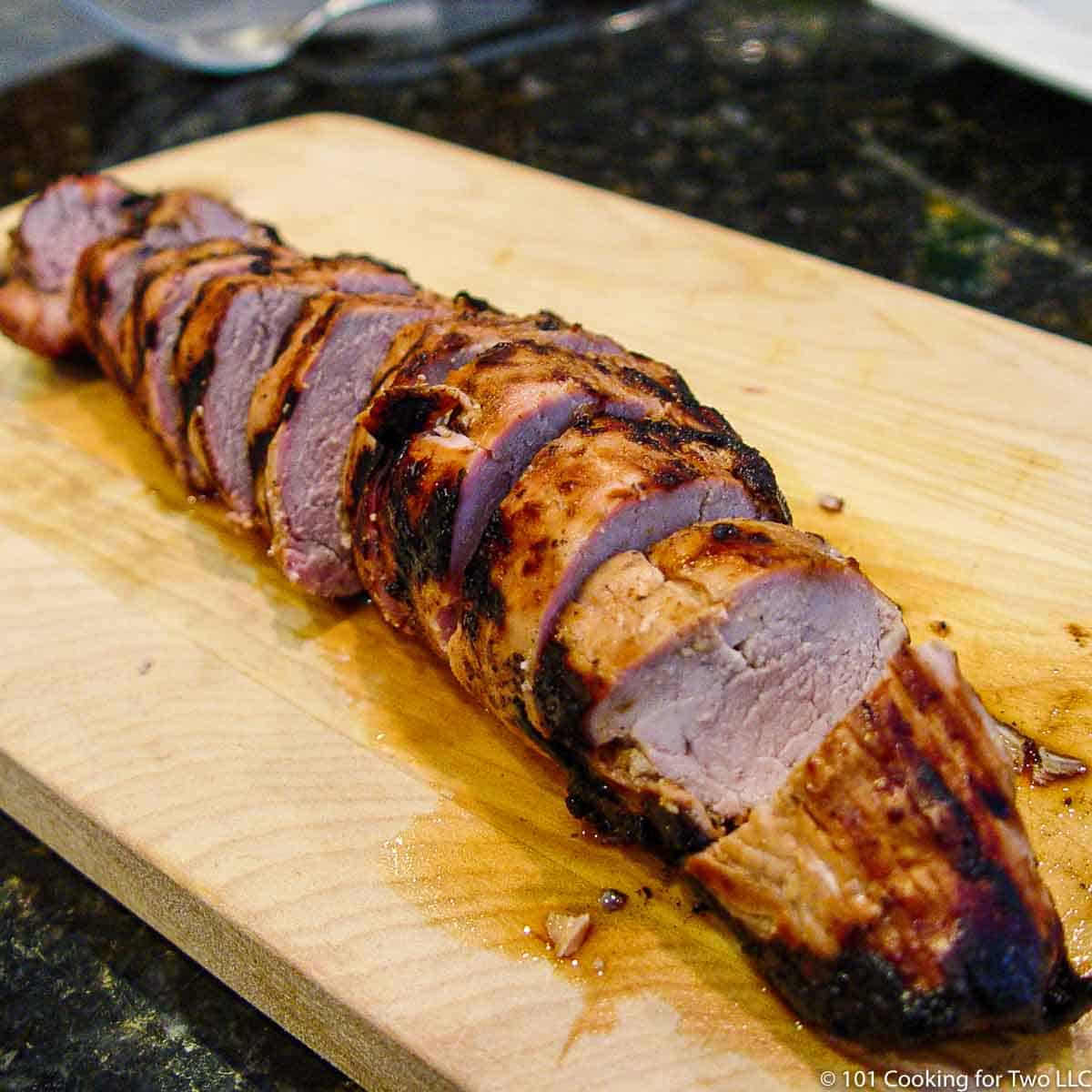 Remove from the grill a few degrees less than your desired final temperature. Tent lightly for 5 minutes before serving.


Do you want more recipes from 101 Cooking for Two? Sign up for the newsletter and get all posts delivered straight to your inbox!
📖 Recipe
Publisher note: Originally Published May 21, 2017. I have re-used pictures from other posts. This is really a total rewrite of a guide I published the first year of the blog that was in great need of a re-write.