Learn how to grill a filet mignon on a gas grill. A very special meal for very special times or as an everyday surprise. As good as it sounds and it can be yours with this simple technique.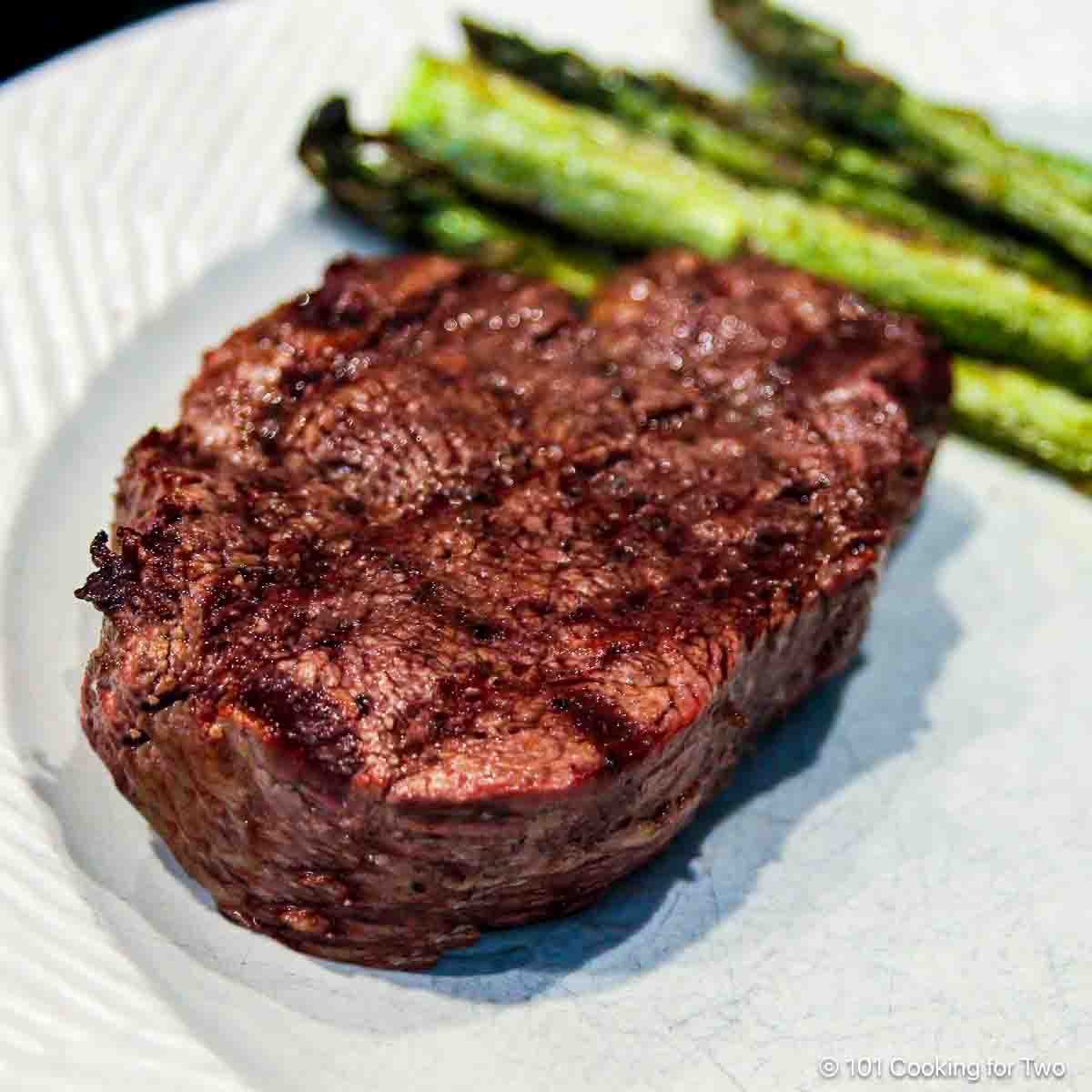 Introduction
This exceptional meal is easy with these simple step-by-step photo instructions.
I consider filet the king of all meats. If I want something very special, this is it. I usually buy the whole beef tenderloin, and a 6 to 8 oz filet will only really cost you about $6-8, which is less than a fast food trip.
My Rating

An absolute 5. The filet is always a five, but this is a great 5. As good as it gets.
🐄Filet Mignon
Since this is a "how-to" post, we will start with how to buy the meat. For those not in the know, a filet mignon is cut from whole beef tenderloin AKA a pismos.
You can buy pre-cut, and it will be a bit more expensive, but I usually buy the whole tenderloin and cut my own. There are many methods of trimming. Here is a YouTube Video. I like about 1 ¼ to 1 ½ inches. It does freeze great.
How to Buy
QUALITY DOES MATTER. It is all about quality here. Prime is the top 2%; it is harder to find it (it goes to the absolute best restaurants), and you don't want to pay the price usually.
Next is USDA Choice. About half the beef sold in the USA is choice, and this is what you will usually buy. It will be about $10-15 per pound for the whole tenderloin.
USDA Select is next but just say no. And if no grade is given, assume the worse.
♨️The Grill
Filets should be cooked on a medium grill with a surface temperature of 450° up to but not over 500° with direct heat.
You need to know your grill. On my grill (which is very hot) that is just above 50% burner power. On more normal grills it should be about 75% but get a $10 grill surface thermometer and get to know your grill. I always use a surface thermometer.
See A Beginners Guide to Grill Temperature on a Gas Grill for more details on grill surface temperature.
⏰How Long
Generally, 12 to 15 minutes to get to medium-rare. But, your endpoint is the internal temperature you want minus a few degrees. DO NOT COOK BY TIME ALONE.
There are several variables. The exact grill temperature, the meat temperature when placed on the grill, and the meat's thickness. So cooking by time CAN NOT WORK.
Once removed from heat, the internal temperature will still rise 2-4 degrees more. Take that into account, please.
WARNING FOR RARE. It is hard to hit exactly what you want, so watch carefully and remove it a bit early. You can always cook it a bit more later.
🧂Seasoning
Just a good shake of salt and pepper is enough. We like to use my All Purpose Seasoning - 7:2:1 and 7:2:2. This is a bit salty for some people.
Do not overdo the seasoning. You can always add more later, but it is impossible to remove.
The timing of the seasoning is important. Do not put salt on the meat for more than a few minutes before cooking unless you will do 60 minutes or more. Between those times, it will pull water out of the meat and not allow enough time to reabsorb back into the meat.
📖Related Recipes
Pan Seared Oven Roasted Filet Mignon
Pan Seared Oven Roasted Strip Steak
How to Grill a Strip Steak on a Gas Grill
How to Grill a T-bone or Porterhouse Steak – A Tutorial

🖼️Step-by-Step Instructions
Start with quality filets. I like a 1 ¼ to 1 ½ inch thick that will be 6-8 ozs. each.
One of the most important steps is resting the filets at room temperature for 30 or so minutes. This raises the temperature of the meat, making getting your desired internal temperature much easier.
While it is resting, get your grill temperature of about 450°. Just over medium for me but more medium-high on lesser grills. Of course, clean and oil the grill.
Give the filets seasoning of your choice. Do it just before grilling. I use a nice sprinkling of my 7:2:2 seasoning, but just a nice sprinkle of coarse salt and pepper will do.
Place the filets on the grill. Close the lid. Grill on the first side for 6 minutes. Rotate half the way through for these nice crossed grill marks. Flip and grill until you reach the correct internal temperature for your taste. For me, I do another 6 minutes (with the rotation) and get 140°-145° internal temperature.
Remove and rest for 5 minutes minimum. A light foil tent is a good idea here. The internal temperature will rise a few degrees.


Do you want more recipes from 101 Cooking for Two? Sign up for the newsletter and get all posts delivered straight to your inbox!
📖 Recipe
Editor's Note: Originally Published June 1, 2014. Updated with expanded options, refreshed photos, and a table of contents to help navigation.