Another grill season is upon us so let's have a discussion about grill temperatures on a gas grill. The most basic measurement to help you master your grill.
Introduction
Judging from comments, it seems to be a major problem for many readers. This is what I will call a beginners guide, and I'm aiming for gas grills, but many of the tips will apply to charcoal grills.
If you are an experienced, accomplished griller, you can just move on now.
Many people have a propane grill from the big box store and are trying to learn to grill more than hot dogs. They just want to cook a burger or chicken until done, safely without making hockey pucks.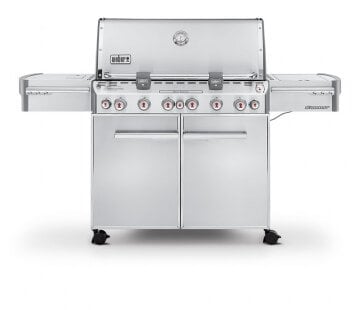 Unfortunately, the manuals are not very helpful and who want to read that thing anyway. Here I'm just going to discuss what to measure and how.
🌡️Hood Thermometers are Evil

First and most important is that great looking thermometer in your grill hood is useless other than in a binary way of "is the grill hot, yes or no?" The numbers are meaningless.
That thermometer is a cheap thermometer that has a tube probe. It will give an average reading along that probe. So it measures the air temperature near the top of the hood (remember heat rises). But it can't even measure that accurately. Never rely on it.
🌡️Surface Temparature
You need to know the temperature at the grill surface where the food is actually cooking.
Some grill experts say you can tell the temperature by putting your hand 3 inches over the grill and counting until you have to remove your hand. High is 1-2 seconds 450-600, medium-high is 2-3 seconds 400-450. Blah blah blah. Not accurate enough for me. If you want more information, Google it since I consider not accurate enough to recommend.
🌡️Measuring Temperature
Grills vary greatly, so dial setting doesn't work well either. A grill surface thermometer is required. You can get one for about $10 from Amazon, Home Depot, Lowes or most hardware stores (link at the end of post).
They will get grimy, and after 2-3 months of use, they need to be replaced so you can read it. I have gone through about 20 of these, and only one didn't work well.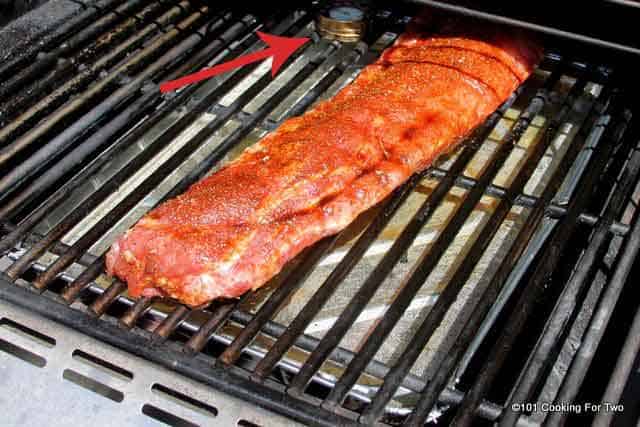 Image from How to Grill Baby Back Ribs on a Gas Grill
I now use a Thermoworks ThermoQ (link at the end of post) which is a remote monitor. IR thermometers are fine, but you will get the grill metal temp, not the air temperature, you need to hit the metal with the beam, and you may need to leave the hood up longer.
🔥What Temperature To Use?
In most of my grill recipes, I give a range, and many others also do. This is not a kitchen oven so you can't be real exact. Just opening the top of a grill releases lots of heat. All this means is it is a little more an art than a science.
I like to think of three levels of heat I usually use. These are my arbitrary divisions, and I'm sure others may disagree. And there are many times you should deviate from this, admittedly. An example would be my Grilled Whole Chicken where I used indirect heat in the 350 range.
High- this is as hot as it goes. I can get to 700 degrees plus and lesser grills may only get 550, but this is where I cook things like burgers and steaks. It will make chicken a hockey puck.
How to Grill a Strip Steak on a Gas Grill
How to Grill a Hamburger – A Beginner Tutorial
Medium- this is 450-500 to me and where I cook chicken, most pork, and veggies usually.
How to Grill Chicken Breasts on a Gas Grill
Grilled Chicken Drumsticks; The Art of Drummies
How to Grill a Pork Tenderloin on a Gas Grill
How to Grill Pork Chops on a Gas Grill
Low - 225 up to 300 this is the low and slow cooking for ribs, pulled pork, brisket, etc. It is usually done by indirect cooking.
How to Cook a Brisket on a Gas Grill
Pulled Pork on a Gas Grill – Not That Hard
There are lots of variations. If I'm grilling a 1 ½ inch thick steak, I won't be using high. I might use a reverse searing or I would sear on high then move to a lower indirect heat to finish.
ALWAYS REMEMBER TO NEVER COOK (OR GRILL) BY TIME ALONE. FOR MOST GRILLING, AN INSTANT READ THERMOMETER IS ALSO REQUIRED.
Do you want to do Low and Slow Smoking?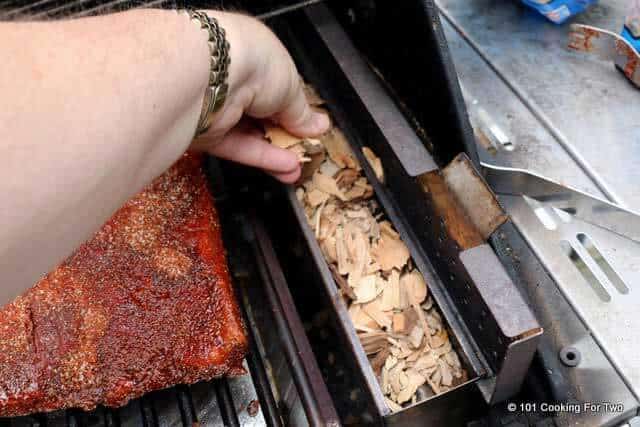 How To Set Up Your Gas Grill for Smoking and Low and Slow Cooking
Grill Hood - Open or Closed?
Usually closed unless stated otherwise. Things less than ½ inch thick can usually be grilled open. Between ½ to 1 inch thick, open is possible but harder to control. Over 1 inch, definitely closed. Low and slow, always closed
Final words: This is a beginning guide. It is not comprehensive or even close. But I want to get you away from thinking that hood thermometer is useful.
If you want to improve your grilling skills, it takes some practice, but it requires knowledge of the surface temperature and an instant-read meat thermometer. Those two things will improve your grilling skills 1000% instantly. Otherwise, it is like driving a car with your eyes closed and hoping to get where you want to go. Let's open our eyes.
Stuff I Recommend
Note: All links below are affiliate links meaning I do make a small profit from your purchases. Your price is not affected by this commission. We are a participant in the Amazon Services LLC Associates Program, As an amazon associate I earn from qualifying purchases.
First, Cheap but Effective

A Great Grill Toy

My Everyday Work Horse


Do you want more recipes from 101 Cooking for Two? Sign up for the newsletter and get all posts delivered straight to your inbox!
Editor's Note: This is a republishing of a very useful and timely post. Originally published on August 21, 2017. Only minor updates in the text today.