Learn the secrets of grilling an excellent burger on a gas or charcoal grill in your own backyard. It is so easy if you know a few tricks. Great burgers can be yours every day with almost no work.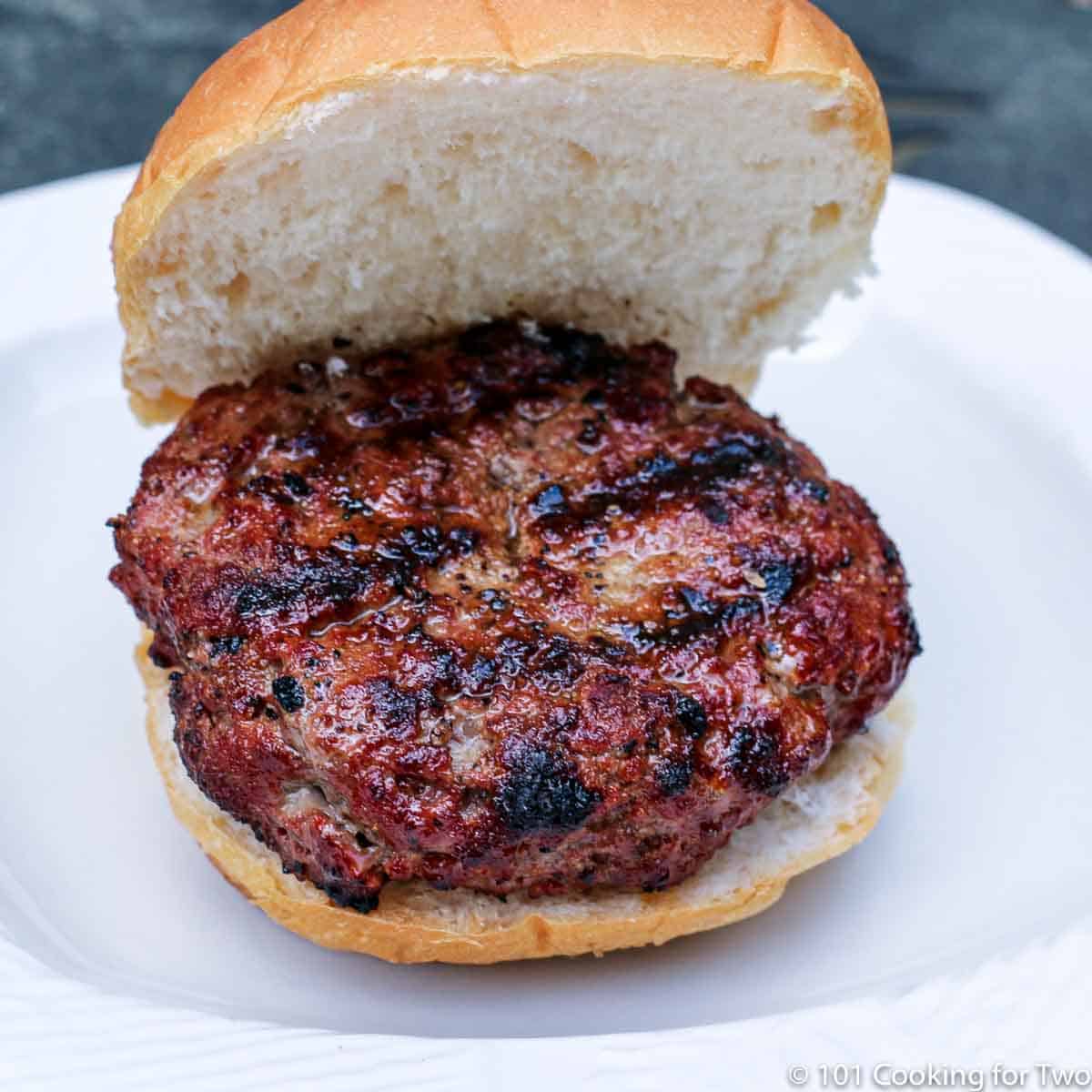 Introduction
This is a technique I use almost weekly. The burger goes from refrigerator to your mouth in less than 20 minutes. So please enjoy learning how I frequently cook at home.
If you're an accomplished griller, just move on. This is a tutorial for newbies and those who just can't seem to get it right.
This is not the gourmet burger. I'm not grounding meat. I'm not stuffing the burger, and I am not mixing in various things. We are going to learn to grill store-bought ground beef and make a darn nice meal easily in a way you don't have to keep looking back at a recipe. How is that for a goal?
Like many things, once you get your basic method down, then the variations can flow. This is a darn good burger as made and is basically what I have done a thousand times. Not to say it is not a special meal, but it is an excellent quick everyday type of meal.
I won't tell you this is the greatest burger in the world, but it is a very good everyday meal. So let's do our burgers right. You will be glad you did.
Funny story (skip this paragraph if you just want to get on with it).
In Lee Iacocca's autobiography, there is a section that talks about the Ford Motor Company executive dining room having the best burgers ever. When the chef was asked about his technique, he demonstrated the method starting with a whole beef tenderloin going into the meat grinder.
Great starts will give great results. I don't start that way, and I assume you won't either.
My Rating

I love this. I'm sure I have done this a thousand times.
🐄The Meat
Most of us will start with store-bought ground beef, which is fine. Use 80/20 ground beef is an easy answer. Skip to the next section if you want.
There is a difference between hamburger and ground beef. Ground beef has a variable amount of fat, but the fat is from the beef being ground. Hamburger can have up to 30% fat and fat, from trimming other cuts can be added. Please choose #1, not #2.
Most burger gurus suggest 20% fat for the moistest, tasty burger. I think they are right. Fat does taste good. You can sneak that amount of fat down a bit to 15% fat and still come out good, but less than 15% requires some special treatment.
You can go lower fat by adding something to retain moisture like my Healthy Low Fat Burgers or American Test Kitchen, adding a panade of milk and bread.
♨️The Grill
Your grill can be a gas grill or charcoal grill. It does not matter for this to work. Just get it as hot as you can.
You are cooking a relatively thin patty of meat rapidly, so direct high heat is correct. While my very hot Weber runs 650° plus surface temperature and you might "only" get 550°, the results will be about the same.
Some gurus suggest you must use charcoal. If true, I can't grill a burger since I don't have a charcoal grill. Use what you have. Just get it very hot, cleaned, and oiled.
Since the meat is under 1 inch thick, you can grill with the hood open but I prefer to keep the hood closed to keep the temperature high.
Cook for about 5 minutes (I use a watch with a second hand) on the first side, flip and cook another 3-4 minutes on the second side. I then check the temperature and will add cheese in the last 30-60 seconds if you want.
Three Secrets
Do not compress the meat. Pat it into shape. If you use a burger press, just use it to shape.
Indent the center of the burger to prevent "puffing." This seems strange, but it is a must-do. Without this, the center will puff up thicker, and it will be hard to get to the correct internal temperature. The outside will almost burn and will dry out — all bad things. I'm starting with a ¾ inch thick burger and compress a 1-inch diameter area about ¼ inch.
Flip once. Don't play with your food, and don't keep poking it to check the temp when you know it's not done. I think the more you flip, the more juices drain and the more flare-ups. The more pokes, the more moisture drains.
⏰Time
8 to 10 minutes is the best answer for cooking time. There is no exact answer. But the real correct answer is as long as it takes to get to 160° internal temperature.
But there are lots of variables: The size and thickness of the burger, the start temperature of the meat and the grill, and how frequently you open the grill and flip are the most important ones.
🌡️Temperature
The minimum safe internal temperature for ground beef is 160°. I like to go to 165° to be sure all areas are done but not much higher, or you have a hockey puck.
I'm playing the Doctor's card here. You will not eat or serve ground beef that has not reached 160°. No discussion allowed.
A good thermometer is a must. I use a Thermapen, and it is worth every cent of the almost $100 it cost. But you can get good results for $15. You can see specific models in The Cooking for Two Shop.
🖊️Tips
Buns, seasoning, and add-ons
I'm a big fan of good baked goods. A cheap bun will ruin your great grilling. The meat needs to fit the bun.
I'm OK with the burger overflowing the bun some, but I don't like a large bun and smaller burger. Since we are learning the basics, a standard burger bun fits a ⅓ to ½ pound burger well, and that is what we will do here.
Seasoning, just some salt and pepper will do. I'm using my homemade All Purpose Seasoning - 7:2:1 and 7:2:2 since we love some garlic. But season as you wish.
But I Need a Vegetarian Option: When ready to cook, the grill should be on high. This recipe fits quite well with my Grilled Portobello Mushrooms
📖Burger Recipes
Smokehouse Burger on a Gas Grill

🖼️Step-by-Step Instructions
Note: Some images from different grillings so images may vary some.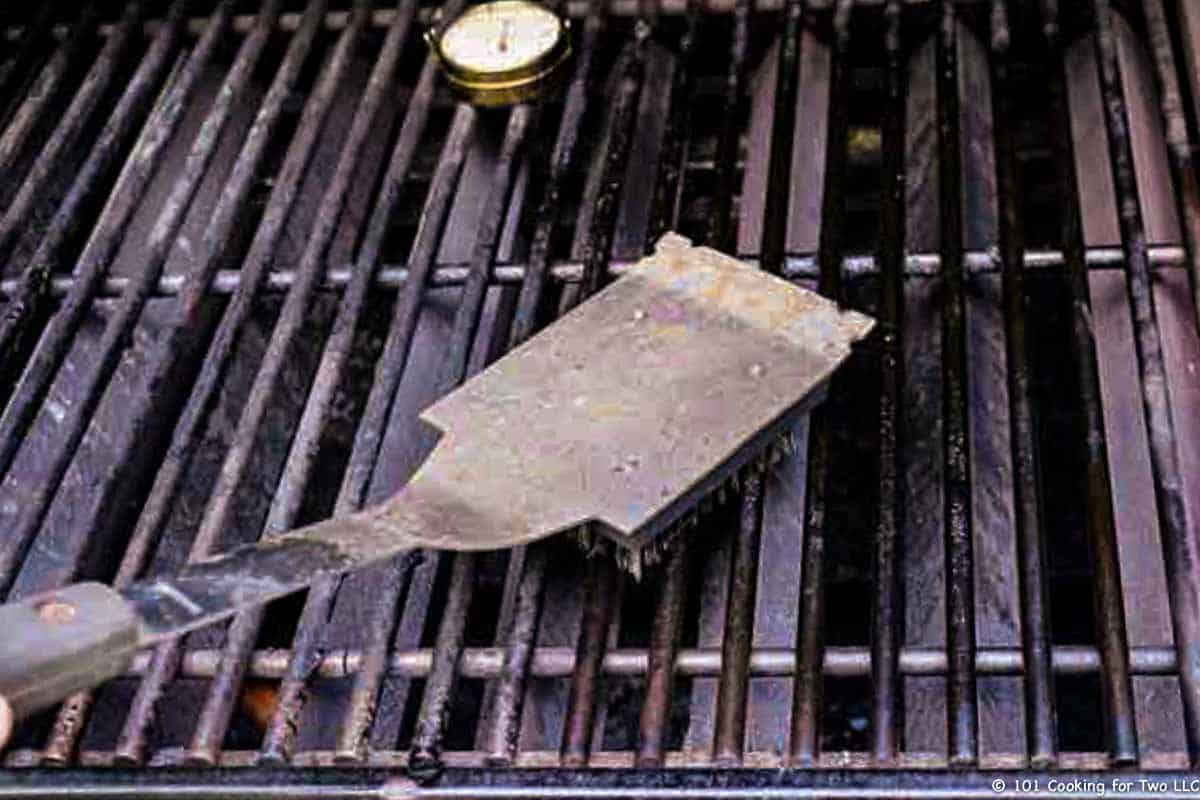 Preheat grill on high. Clean and oil.
Start with 80/20 burger and divide into ⅓ to ½ pound balls. They are the size of a tennis ball then form into patties about ¾ inch thick and about 4-inch diameter. Safety note: Always wash your hands for safety before and after touching ground meat.
Give them a good sprinkle of salt and pepper on both sides. I'm using my 7:2:2 (salt, pepper, garlic).
THE BIG SECRET TO GOOD RESULTS. Press one inch round ¼ inch deep indentation into the center of one side.
Grill over direct heat with a closed lid preferred, but you can do open grilling if you want. Flip after 5 minutes.
Grill another 3-4 minutes and check the temperature. Get to 160° to 165° then add cheese for about 30-60 seconds if using cheese.
I don't feel a great need to rest the meat before serving. By the time you place it on the bun and do things to it, it has been enough time.


Do you want more recipes from 101 Cooking for Two? Sign up for the newsletter and get all posts delivered straight to your inbox!
📖 Recipe
Editors Note: Originally published August 17, 2013, Updated with expanded options, refreshed photos, and a table of contents to help navigation.