Learn How to Grill a Ribeye Steak on a Gas Grill with these easy to follow step by step photo instructions for delicious results. You can be the grill master, too.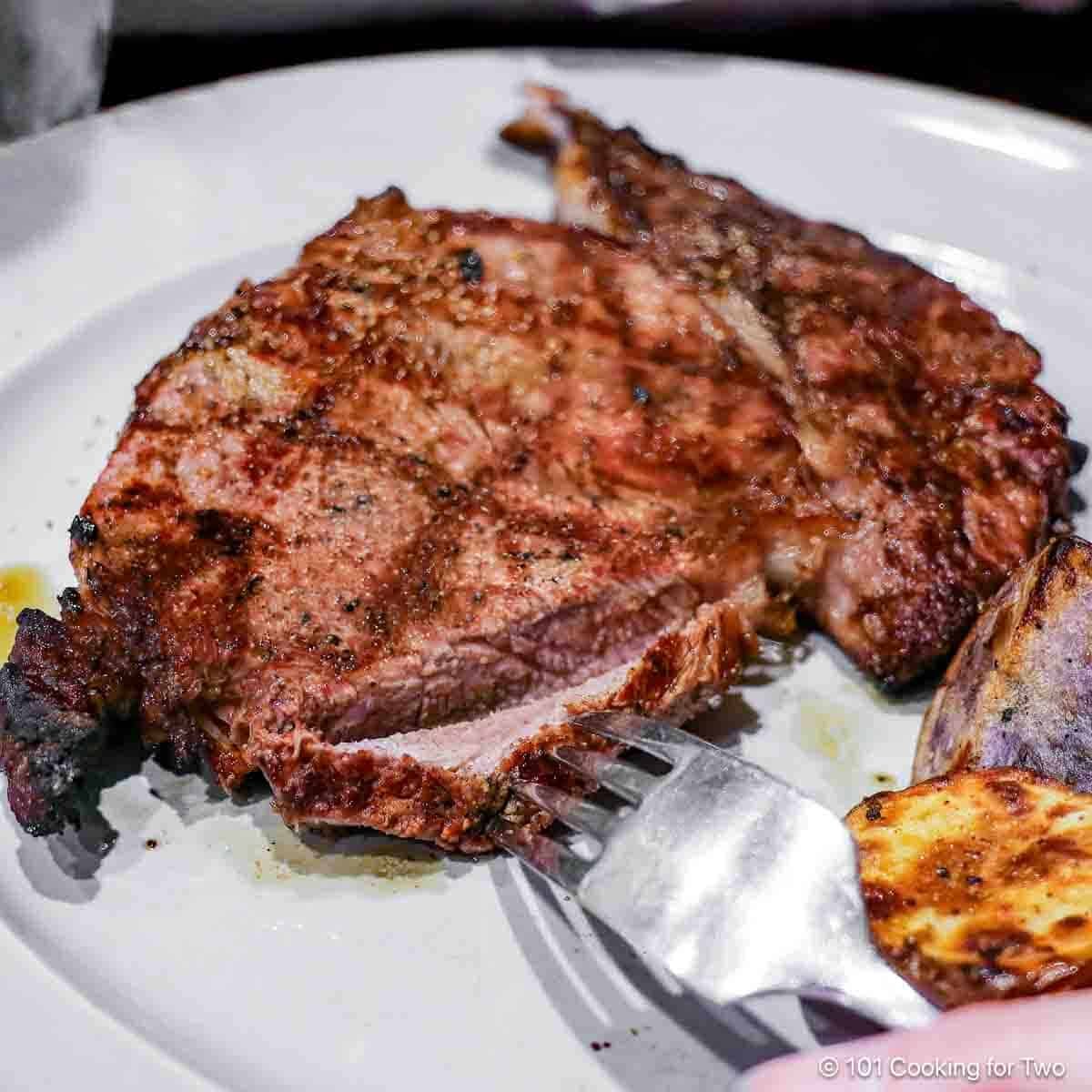 Introduction
A very special meal for special occasions or as an everyday surprise. Ribeye steaks contain great marbling which makes them one the most delicious steaks to grill. A little bigger than a filet but in the same class as one of the top steaks available.
This steak is really a cut of "prime rib roast" that most people love. By cooking it as a steak, you can trim some of the irritating fat and enjoy some great Maillard reaction to add even more taste. So good in so many ways,
My Rating

A high 5.
🐄Ribeye Steak
Think of a ribeye steak as a slice of a prime rib roast. It can come with the rib or boneless. Sometimes the bone in variety is referred to as a prime rib steak, but they are the same cut of meat. The boneless version is much more common.
Some people believe that the bone will add some flavor and it even will sell for a little more. I'm not a believer, and I'm generally going for boneless and consider the bone as paying a premium price for some waste.
I like about 1 ¼ to 1 ½ inches thick. You can get thinner, but I don't suggest not going under 1 inch thick. Over 1 ½ starts to get into well over one pound of meat which I consider too much for a serving.
QUALITY DOES MATTER
It is all about quality when buying ribeye. Prime is the top 2% of the beef in the United States. Most people don't want to pay the price for prime.
Do not confuse the term "prime" and "prime rib." Prime is referring to a grade of meat while the term prime rib is a cut of meat that can be various grades.
The next step down is Choice. About half the beef sold in the USA is choice, and this is what you will usually buy and is an excellent choice. Look for a nicely marbled piece that is well trimmed if you can.
Select is next step down but just say no.
♨️The Grill
You need to know your grill. We are going to use direct heat here with a grill surface temperature of about 450° up to but not over 500°. On my grill (which is very hot) that is just above 50%. On more normal grills it should be about 75% but get a $10 grill surface thermometer and get to know your grill.
For more details on grill temperature control on a gas grill, please see my Beginners Guide to Grill Temperature on a Gas Grill
Your endpoint is the internal temperature you want or a little less. DO NOT COOK BY TIME ALONE.
My suggested 450° to 500° surface temperature will take a bit longer than maximum heat, but it is more controllable for the more fragile steaks like filet and ribeye. You can cook at your grill maximum, and it will cook faster and be just fine, but you will have less margin for error.
It is very easy to overcook this expensive meat, and I suggest leaving yourself a little margin for error and taking a few more minutes.
Remember, you can always cook it a bit more later but it is impossible to uncook a steak.
⏰🌡️Time and Final Temperature
A rough estimate to get to a 140° internal temperature with a 450° grill will be 10 to 14 minutes. But this is highly variable due to the exact grill temperature, the thickness, and initial temperature of the steak, and your desired final internal temperature.
So, when is it done for you? There is a lot of snobbiness about this. The "rare" people will unfriend you on facebook if you disagree. Most of the pink will disappear at about 155°.
You like what you like. But if you haven't tried your steak a little rarer, I suggest trying to "work your way down" on good filet or ribeye. Don't jump from well done to rare. Go down by five degrees at a time.
I like 140°-145° now after growing up in a "burn it to black" family. I doubt I will go lower. I like "hot" steak, and below 140°, the steak is only warm to me. Remember you can always toss it back on the grill for a few minutes.
The rest period after removing the steak from the grill, which is needed for the meat to reabsorb some moisture back into the cells, will increase the temperature 2-5 degrees.
Next, please do not cook by time only. The times are provided to help with your planning, but you MUST use an instant-read thermometer to get things right. A good thermometer (like my thermapen) will improve your grilling skills by 100% instantly.
The following links are affiliate links meaning I do make a small profit from your purchases. Your price is not affected. They are products that I own and use, and are provided for your convenience.

Thermapen from Thermoworks
My one must have tool.
ThermaQ Blue Kit
Dad will love this.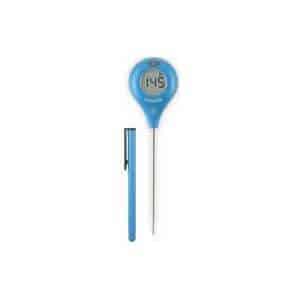 Thermopop by Thermoworks
✔️Tips
If there is a layer of trimmable fat along the edge, remove it. It does not add flavor and will cause trouble when it melts and cause flare-ups.
The timing of the seasoning is important. Do not put salt on the meat for more than a few minutes unless you are going to do 60 minutes or more.
And finally, no steak sauce or marinade allowed.
📖Steak Recipes
How to Grill a Filet Mignon on a Gas Grill

Pan Seared Oven Roasted Strip Steak

How to Grill a Strip Steak on a Gas Grill

How to Grill a T-bone or Porterhouse Steak – A Tutorial

Pan Seared Oven Roasted Filet Mignon

🖼️Step-by-Step Instructions
Start with prime or choice ribeye steaks. I like a 1 ¼ to 1 ½ inch thick that will be 12-16 ozs. each. One of the most important steps is resting the steaks at room temperature for 30 or so minutes. This raises the temperature of the meat making getting your desired internal temperature much easier.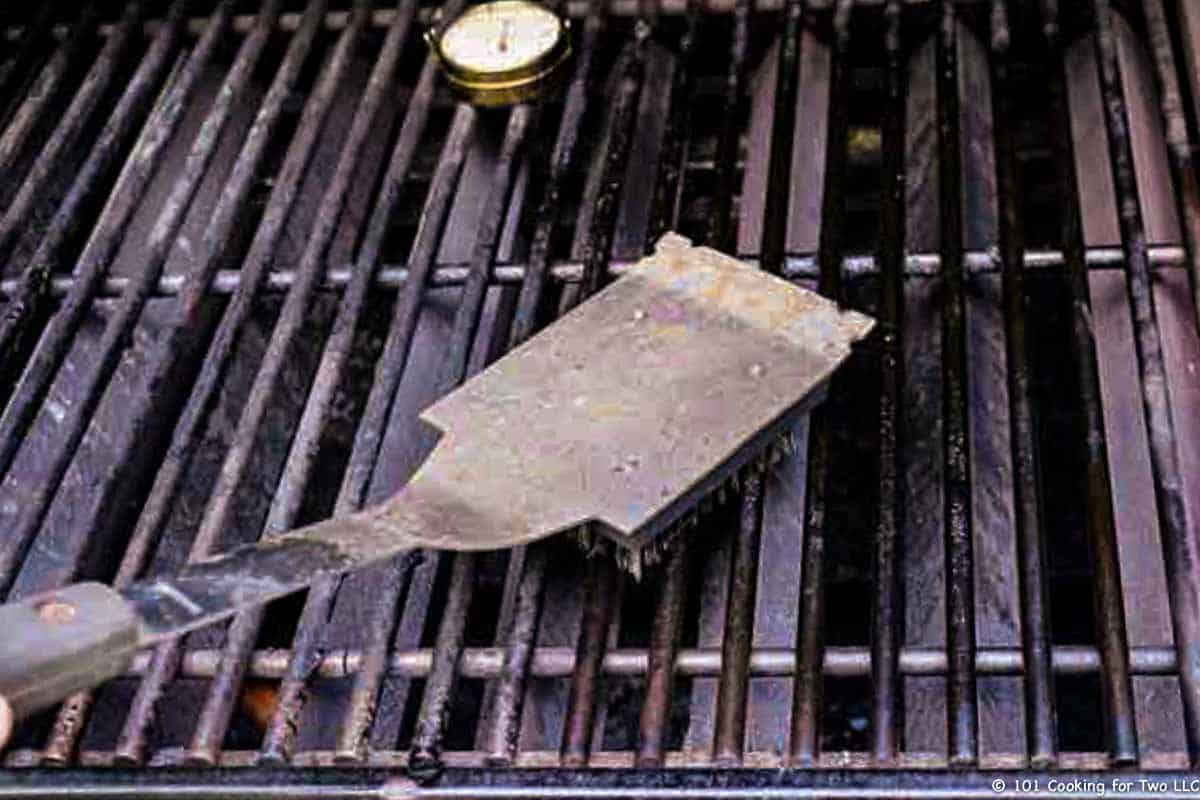 While the steaks are resting, get your grill temperature about 450°-500° about medium-high on most grills. Of course, clean and oil the grill.
If there is a layer of trimmable fat, remove most of it. Give the steaks seasoning of your choice. Do it just before grilling; I use a nice sprinkling of my 7:2:2 seasoning but just a nice sprinkle of coarse salt and pepper will do.
Place the steaks on the grill. Close the lid. Grill on the first side for 6 minutes. Rotate half the way through if you want these nice crossed grill marks. Flip and grill until you reach the correct internal temperature for your taste. For me, I do another 6 minutes (with the rotation) and get a 140°-145° internal temperature.
Remove and rest for 5 minutes minimum. A light foil tent is a good idea here.


Do you want more recipes from 101 Cooking for Two? Sign up for the newsletter and get all posts delivered straight to your inbox!
📖 Recipe
Originally Published June 23, 2018. Updated with expanded options, refreshed photos, and a table of contents to help navigation.