Super easy, never fails, grilled chicken legs for the whole family. Pat dry, spice, and cook over medium-high heat. Then you will have crispy goodness for all.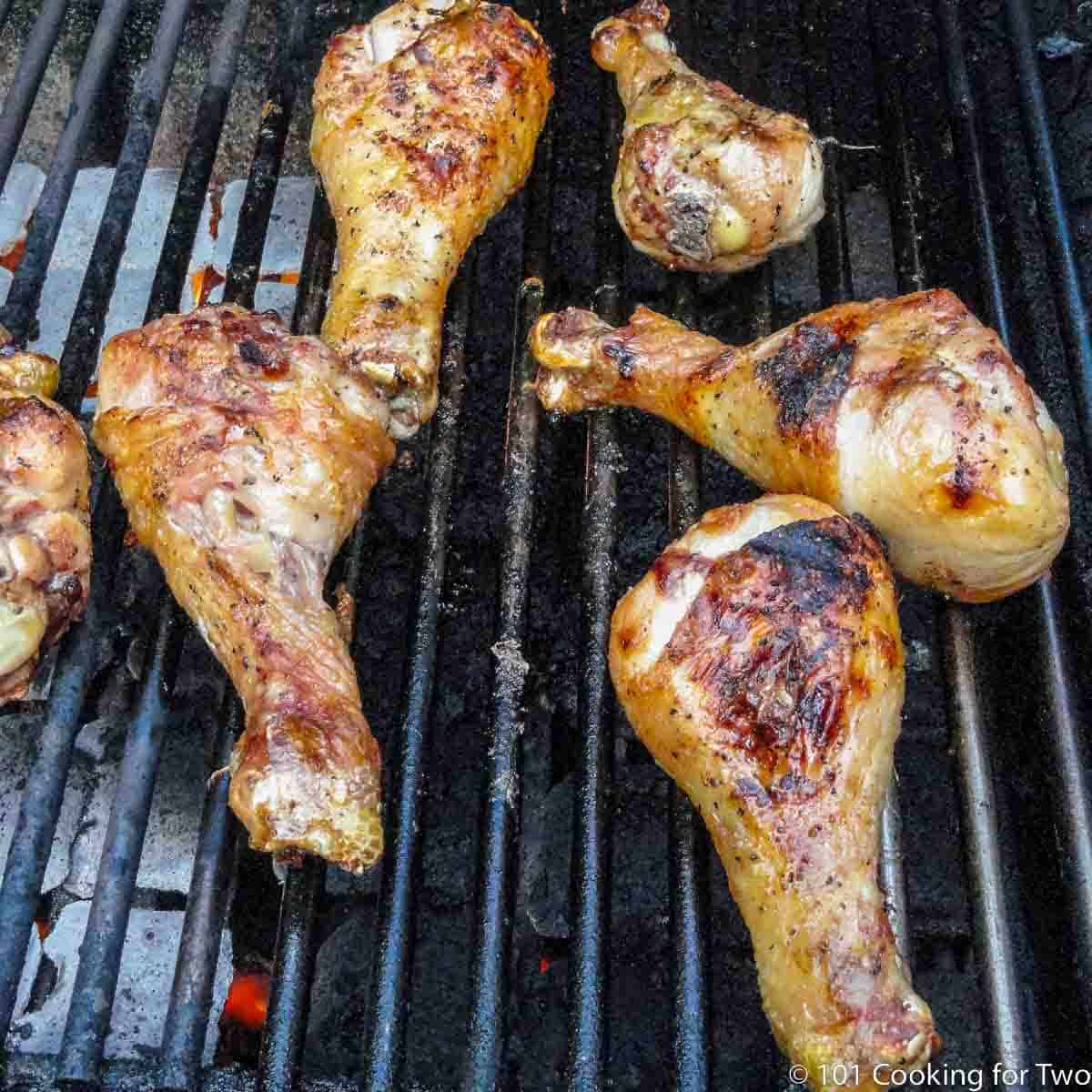 Introduction
The "art" of the grilled chicken legs (drumsticks)... that is what I have been working on for several weeks.
All the recipes I looked at said things like until "fluid runs clear" or 30 minutes over medium-high heat. I need more precise instructions. Plus overnight marinades and lots of other magic cooking stuff. Not good for me.
My mistakes or at least the ones I remember. First, I cooked them to 165° just like I love chicken breast. They weren't done. They were tough and stringy.
Then I went to 180°-185°, yep just the right temp. But I cooked it too fast on high heat. Burnt skin. Char is good, burnt is bad.
I tried several spice mixes and settled on the one below. Just some kosher salt, pepper, garlic powder, and cayenne pepper (but not too much of kids but just enough for the taste for adults). But just a sprinkle of salt and pepper is fine.
My Rating

An easy and tasty 5.
👨‍🍳Method
DO NOT SKIP PAT DRY or you will not have crispy skin. (See https://www.101cookingfortwo.com/chicken-rinse-not-rinse/)
Check the cut joint area for loose parts. You may be handing this to a child and don't need loose bone aspirated.
You must use a thermometer to be sure you get to 180

°

plus. Do not guess.
Spice as you want. I frequently add the Cayenne but if you have little ones, skip it.
Scale to any amount you need
Skip the seasoning and brush with your favorite BBQ sauce the last 5 minutes to make great BBQ drumsticks.
♨️The Grill
Gas Grill
The grill should be 450°-500° surface temperature. That is usually a bit above medium on most gas grills. If you have questions about grill set up, see A Beginners Guide to Grill Temperature on a Gas Grill.
Charcoal Grill
In the interest of helping you charcoal people, this comment was posted by Craig on Nov 8, 2016. I believe you will find it helpful
"I've made these several times on a charcoal grill. I use about 4 lbs of charcoal (~50 briquettes) and distribute them on one-half of the grill. Cook the drumsticks over the direct heat, but use the other side for any flare-ups or if you have smaller drumsticks that cook faster.
I've never measured the surface temp, but rotating every 5 minutes to get a good char until the temperature is right, seems to work out perfectly. I usually end up with 40 min of coin time and apply BBQ sauce liberally in the last 10 min.
We've only had success with this recipe, and we've found it's hard to overlook the chicken, just avoid flames and burning early on!"
⏰Time
Chicken drumsticks, like all chicken, should generally be grilled over medium heat on the grill. That would be a surface temperature of about 450° and will take 30 to 35 minutes.
They will need to be flipped every 5 minutes or so to prevent burnt skin and to a final internal temperature of 180°-185° which is best for drumsticks and thighs.
You can use a lower surface temperature, but it will add time and tend to dry more. Again, cook to the correct final internal temperature. You can not get acceptable results with a grill temperature of 500° plus.
And finally, remember that the size and thickness of the drumstick is a big variable.
🌡️Temperature
Many recipes suggest cooking chicken drumsticks to 165° which is the minimum safe internal temperature for chicken for the FDA. There is a difference between safe and done. Pork is safe at 145°, but you sure won't want your pulled pork to be cooked to 145°. It would be terrible.
Also, some recipes call for cooking "until fluids run clear" or "no pink at the bone." How are you supposed to do that? Also, I suspect that it may even be below the safe minimum temperature since the pinkness disappears at about 155°.
While I cook my chicken breast to 165°, there is way too much fibrous tissue in chicken drumsticks and thighs. They will be tough and stringy. Just plan not done. Please use 180°-185° as you finish temperature. Check the comments if you need confirmation.
📖Related Recipes
Oven Baked Chicken Legs – The Art of Drummies
Crispy Oven Baked Chicken Thighs

🖼️Step-by-Step Instructions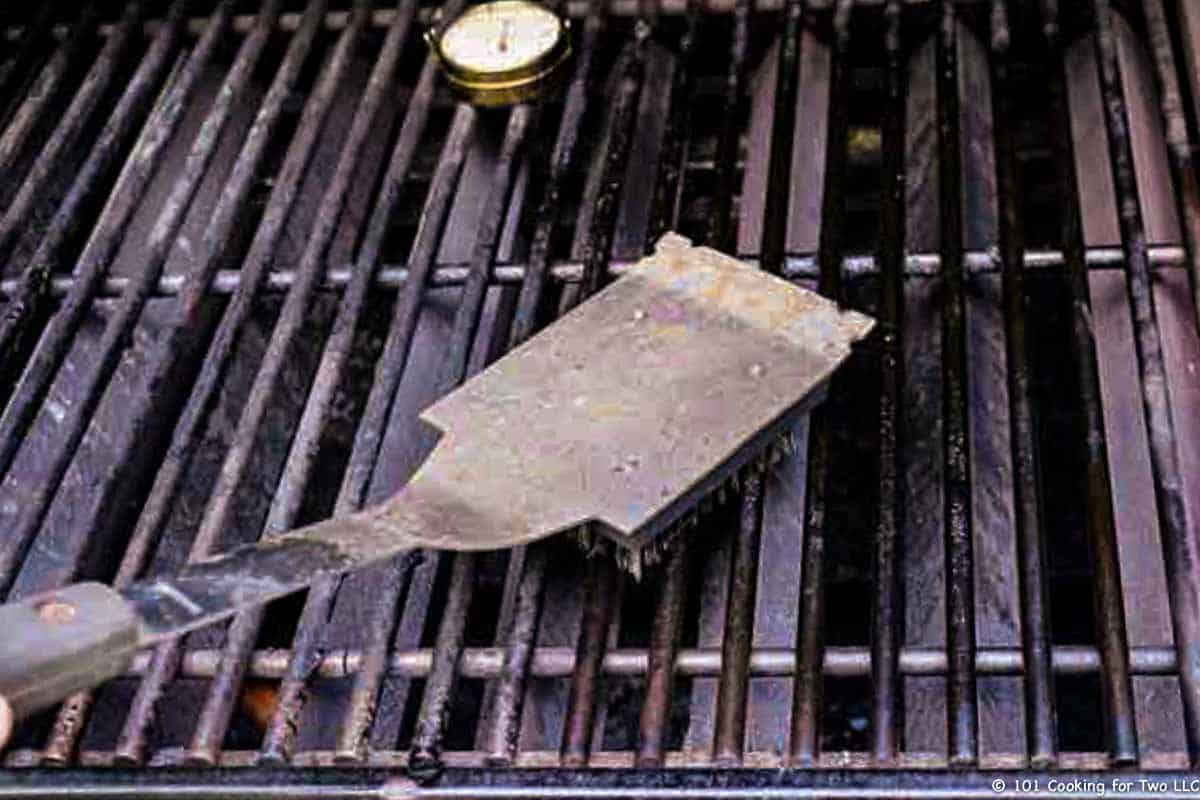 Preheat grill to get a surface temp of about 450°. That is medium-high on a standard gas grill and medium on a hot gas grill. Clean and oil.
Pat dry the drumsticks.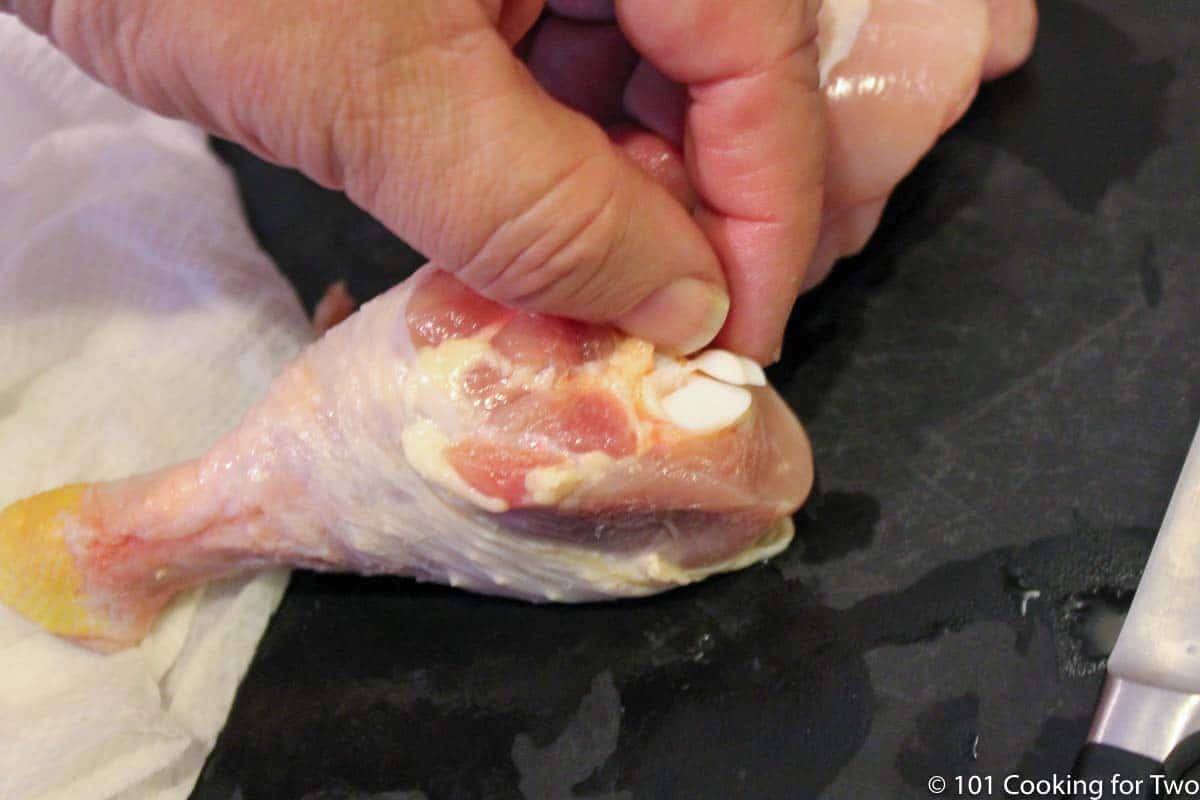 Trim off excess skin and any loose bones/tissue especially in the joint area.
Season to taste. You can use my 7:2:2 spice mix. A little cayenne is nice. You may want to skip the cayenne if cooking for little ones. Or use the seasoning of your choice.
Lightly sprinkle chicken on all sides to taste. Let rest at room temperature until grill is ready.
Check grill surface temperature and place chicken on the grill. Flip about every 5 minutes until internal temp of 180°-185° degrees. About 30-35 minutes.
Let rest for 5-10 minutes before serving. They are way too hot anyway.


Do you want more recipes from 101 Cooking for Two? Sign up for the newsletter and get all posts delivered straight to your inbox!
📖 Recipe
Editor's Note: Originally published June 26, 2011. Updated with expanded options, refreshed photos, and a table of contents to help navigation.