This is a hard post to write. We lost a much-loved member of the family last month when Jake, our 12 ½-year-old golden retrievers died of osteosarcoma of the jaw. Jake had served as the unofficial mascot of this blog, and you will find his pictures scattered around where I needed a picture for various reasons.

Jake had a hard life in many ways. He had a congenital eye issue that eventually after multiple surgeries left him blind. While going blind, he tore his ACL and needed that repaired. But ultimately he was done in by cancer. He lived an average life span for a golden and died of a common cause for golden retrievers.
We bought Jake from a back yard breeder. We were unaware of many the health problems associated with the breed and were overruled by puppy love. We have paid the price with both emotional and financial pain. Jake received all possible treatments for his ailments but better not to have the ailments to begin with.
His death has left a huge hole in our "for two" household hearts that we needed to fill. We are a "dog" house, and we are not ready to give that up. While there will never be another Jake, we are moving on. We have done our research on the health issues and have checked breeding lines. Jake's personality and temperament have converted us to golden retriever people for life.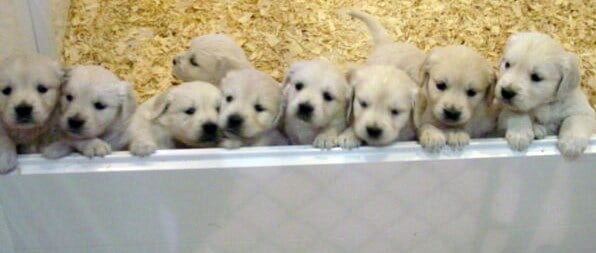 So the puppies are on the way. Two English Golden Retriever puppies, Lilly and Molly, will arrive home in a few days. We are busy getting cages, puppy toys, dog food, dog treats and the list goes on and on. It takes a lot of energy and time to raise one dog and more than double that initially for two. But we are determined to have two wonderful dogs with separate personalities.
So to our local friends, it is socialization time. Visit this summer, just drop by for a puppy fix and some great pond fishing for the kids. Visiting dogs welcome after we are fully vaccinated.
To my blog friends and readers, you get puppy pictures... lots of puppy pictures. On one of my favorite blogs, Plain Chicken, Stephanie has Meow Monday every week. While I may not do Bow Wow Wednesday (or maybe I will), it may seem like it. Puppies and pictures do go together.
Blog notes: there may be fewer recipes for a while.
Updated
March 14, 2017