Let's use that leftover ham bone to make a great hearty and delicious ham and bean soup. There is nothing much more traditional than this classic soup. Please enjoy one of the best soups you can make at home.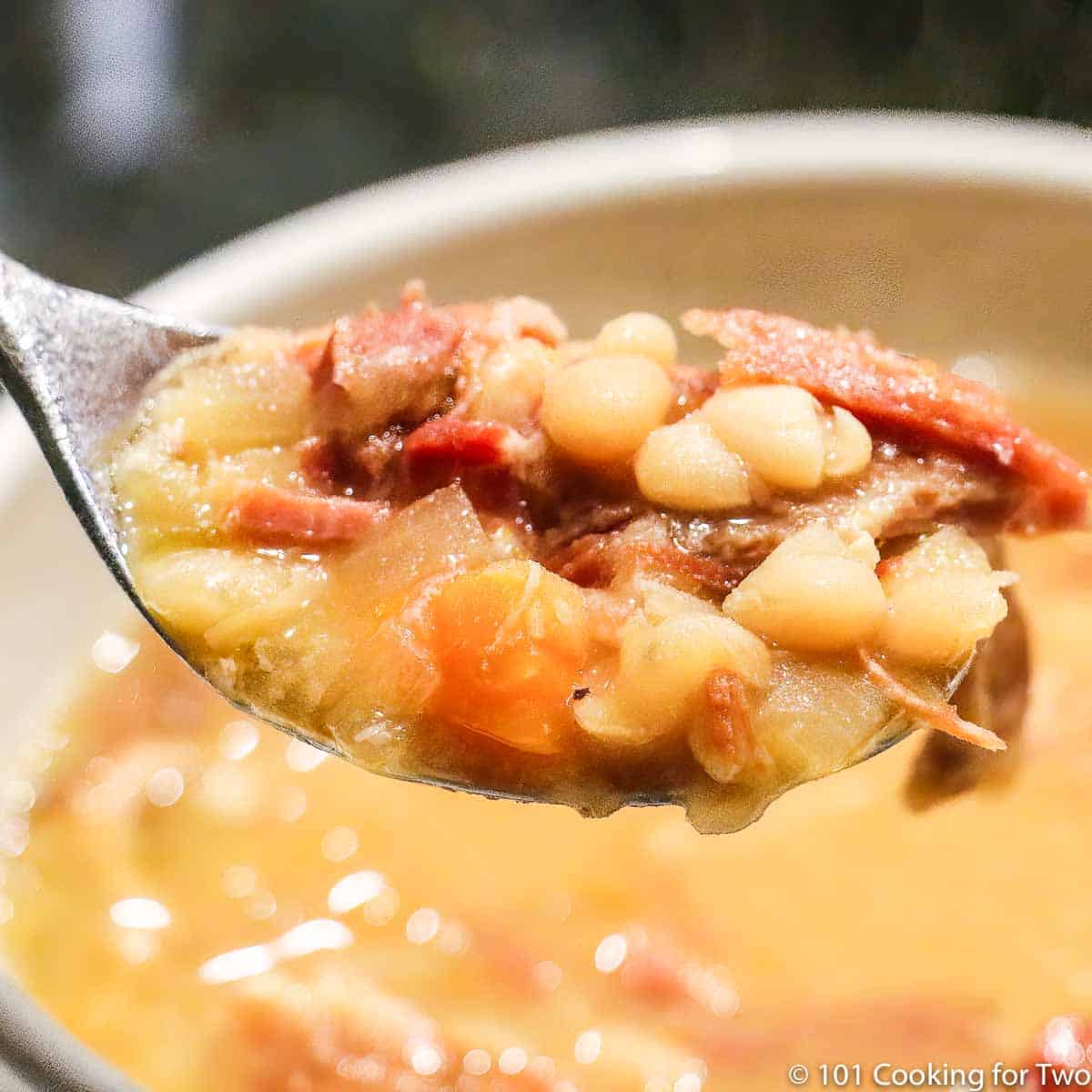 Introduction
This is my take on traditional Senate Bean Soup. It is a simple soup made with navy beans, ham hocks, and onion. It is always on the menu in the dining room of the United States Senate. There are two versions with one using mashed potatoes to thicken the soup.
I combined about five recipes and methods, so no specific inspiration piece other than the Senate recipe. Most recipes use chicken broth for all or part of the liquid, but by using the ham bone, we won't need the broth.
Some of the recipes suggested 8 hour cooking times on low even with non-soaked beans. It took the full 10 hours with the overnight soaked beans to be the right consistency.
Lastly, the amount of liquid varied from 6 cups to 12 cups. Many commenters thought the high end was just too much liquid. I suggest 6 cups. It did not completely cover the ham but was just right. They, like me, want a thicker bean soup.
My Rating

A low five for us ham and bean soup lovers. A nice 4 for everybody else.
🐖Ham Bone
The ham in the recipe is THE huge variable. Start with a "meaty" bone. If you stripped it, you would have no meat.
All hams have a huge amount of salt. Many hams have been covered with honey or other sweet products. Also, you have a large amount of fat, much of it on the surface.
All those things are a problem that could ruin your soup. So the preparation of the ham is critically important.
Use running water to remove surface sugar. Scrape off any fat that you can. And be careful with adding any sodium.
What if you don't have a ham bone?
You can use about 2 cups of diced ham, and instead of water, use chicken broth.
The Beans
The beans can be either navy or great northern beans. The navy beans are smaller and more traditional for this soup.
Either dry or pre-cooked beans will work fine in this recipe. But, this was a great recipe to start using dry beans. And if you're on a budget, it makes this soup extremely cheap considering you were going to toss that ham bone.
Precooked Beans
You should drain the beans and rinse them well to decrease any added salt. Of course, use low sodium products. The cooking time will decrease a few hours with precooked beans vs. the dry beans.
The 1 pound of dry will equal approximately three cans or one 48 oz jar of precooked beans.
Dried Beans
Generally, dry beans should be soaked before cooking. It was always done in the "good old days." A nice overnight soak was always done. Also, picking through the beans for pebbles and rocks was important. We frequently found them.
You will find recipes that don't soak. There is also a "rapid soak" method that involves bringing them to a boil for a few minutes then allowing them to rest for an hour (Check Epicurious.com).
So does soaking the dry beans do anything?
The no-soak crowd apparently think soaking is a waste of time. Tradition says less gas and more even cooking.
Well, our friends at Cooks Illustrated in The Science of Good Cooking have done some testing and find that there is less gas.
Let me explain. There are some simple carbohydrates in beans that humans can not digest. But your intestinal bacteria can digest them which produces a lot of gas.
Soaking decreases these carbohydrates some but the rapid method even more. But neither method comes anywhere close to eliminating them. Now, don't you feel smarter?
✔️Tips
A Final Note on Salt
So just as a reminder, if you didn't read all the above, most hams have LOTS of salt. Don't add any until you're sure you need it.
The Vegetables
The carrot and celery are an option, but I thought they made it more interesting.
A diced potato added halfway through cooking will help thicken some. You can also add a half or a full cup of mashed potatoes near the end to thicken.
Storage
Good refrigerated for 3-4 days. Good in the freezer for 3-4 months.
📖Ham Recipes
Old Fashion Scalloped Potatoes and Ham
Puerto Rican Chuletón Soup AKA Xmas Ham Bone Soup
Ham Bone Vegetable Soup – Crock Pot Edition

🖼️Step-by-Step Instructions
A nice meaty ham bone and some simple ingredients are all that's needed. Dry beans are in the picture, but you may use 48 oz. of pre-cooked navy or great northern beans.
Rinse 1 pound of navy or great northern dry beans. Pick through the beans for any stones or pebbles. Cover with water and allow to soak overnight.
Under running water, rinse any coating off a meaty ham bone. Also, scrape off any surface fat that you can. Add to a larger crock pot.
Dice 2 medium carrots, two ribs celery, and one medium onion. Carrot and celery are options but recommended.
Add the beans, carrots, celery, and onion to the crock pot. Add ½ teaspoon garlic powder, ½ teaspoon pepper, and one bay leaf. Add 6 cups of water.
Cook on low for 8 hours total if precooked beans and 10 hours for dry beans. Two hours before the end of cooking, remove ham bone to a cutting board. Allow the bone to cool for 10-15 minutes. Then remove all meat from the bone. Discard bone and any fat and waste.
Place meat back into the cooker and finish cooking. This is a good point to taste test for adding salt if needed.


Do you want more recipes from 101 Cooking for Two? Sign up for the newsletter and get all posts delivered straight to your inbox!
📖 Recipe
Editor's Note: Originally Published December 13, 2014. Updated with expanded options, refreshed photos, and a table of contents to help navigation.