As easy as fudge recipes gets. With just a few ingredients and 5 minutes, you have great homemade fudge. Just follow these simple step by step photo instructions.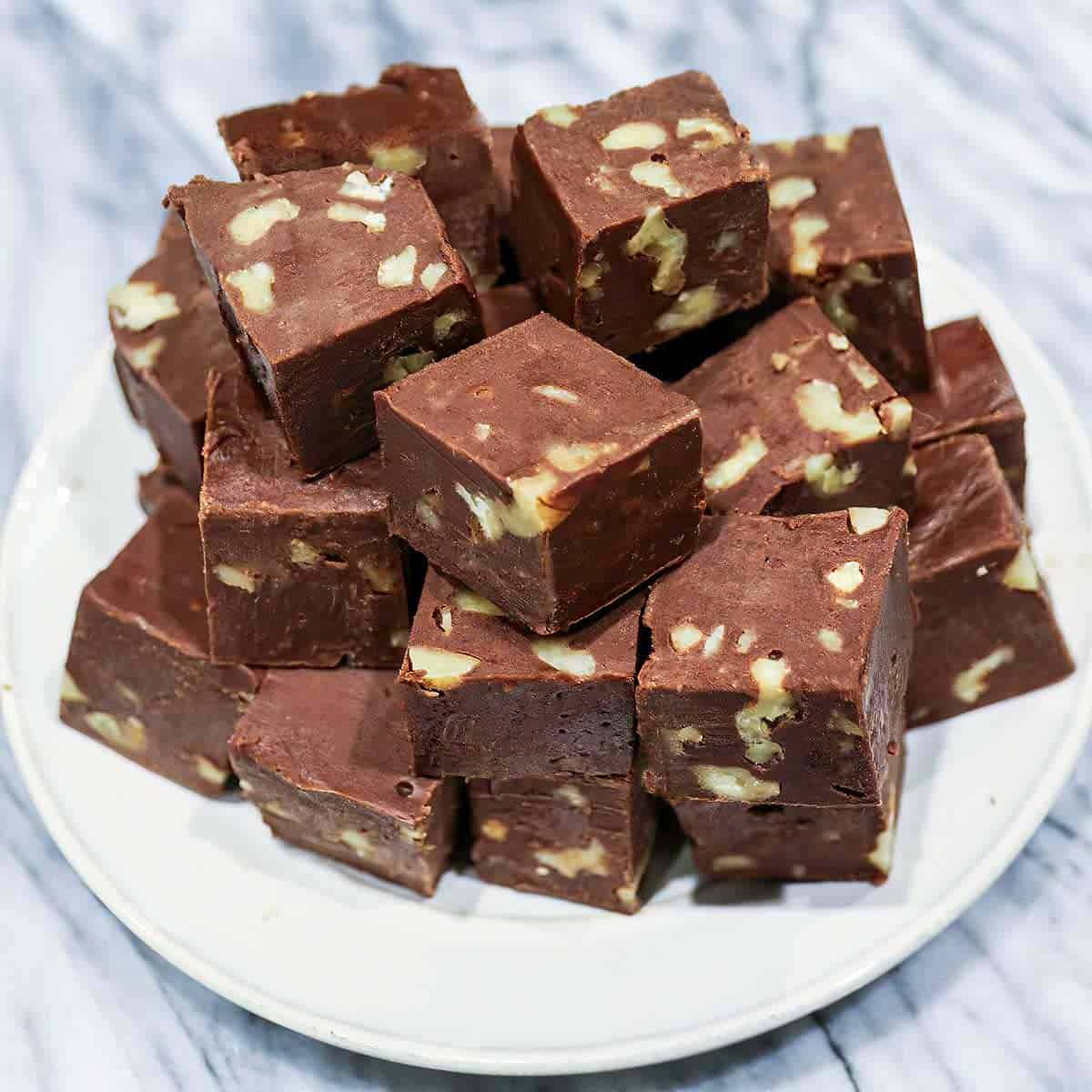 Introduction
An excellent and easy fudge for the holiday season. Everybody will ask for the recipe.
While this recipe seems to be all over the internet, we first saw it when Rachael Ray was on Oprah, and Rachael Ray Throw a Holiday Party many years ago. So we frequently call it Rachael Ray's 5 Minute Fudge
Since then, this easy fudge has been a Christmas tradition at our house. It's been made for presents and cookie exchanges along with extra for the family.
We usually create Christmas Wreaths as gifts with it. But it is equally great standard fudge.
My Rating

A very easy five.
📋Ingredients
Originally this recipe calls for a bag each of chocolate chips and butterscotch chips. This is my preferred version, but you may use all chocolate if you wish.
Butterscotch chips seem to not melt as well as they did years ago. So if you go with butterscotch chips, at the end you will need to spend a few minutes smashing them to get the last few to combine.
In this recipe, quality matters so use chocolate and sweetened condensed milk that you trust.
Making a Fudge Wreath
You can make a fudge wreath by using a 9 inch round pan. Butter the pan will then place the can from the condensed milk in the center covered with plastic wrap.
Add the fudge. Decorate as you want. Let cool then remove from pan. You may need to set the pan in warm water to loosen the fudge.
Decorate as you wish. Some candied cherries in red and green are nice. I put some walnuts on top along with some red and green sprinkles.
♨️The Stove and the Pan
The original recipe used low heat. Low on my stove is very low, so I used medium-low.
A non-stick pan is highly recommended.
Of course, you don't have to make a wreath, a 9X9 pan works fine. I like to line my dish with crossing parchment paper but a good coat of butter will work. You might need to set the dish in hot water for a few minutes to remove the fudge.
📖Candy Recipes
Easy Oreo Fudge

Crock Pot Fudge
This recipe is part of Christmas Candy Recipes. Check out other easy candy recipes.

🖼️Step-by-Step Instructions
Start with a medium non-stick saucepan over low or medium-low heat. I have both chocolate and butterscotch chips pictured. Two bags of chocolate chips will be what most people will use but I suggest one chocolate and one butterscotch.
Add two bags of chips and one 14 oz can of sweetened condensed milk to a non-stick pan, Stir continuously until all is melted and mixed.
While the mix is melting, prepare a pan for the fudge. You may use a 9X9 square pan with some parchment paper.
When fudge is completely melted (about 5 minutes) remove from heat. If you used butterscotch chips, you may need to smash a few that did not melt completely. Add one teaspoon vanilla and mix. Add 1 cup of chopped walnuts. Other things can be substituted or added here.
Place into your prepared pan.
Allow to cool. Then cut into serving pieces.


Do you want more recipes from 101 Cooking for Two? Sign up for the newsletter and get all posts delivered straight to your inbox!
📖 Recipe
Originally Published December 21, 2011. Updated with expanded options, refreshed photos, and a table of contents to help navigation.