Let's make some great fudge with this super-easy recipe. Have fun making fudge with your child or just by yourself. This crock pot fudge recipe is just what you need for the holidays.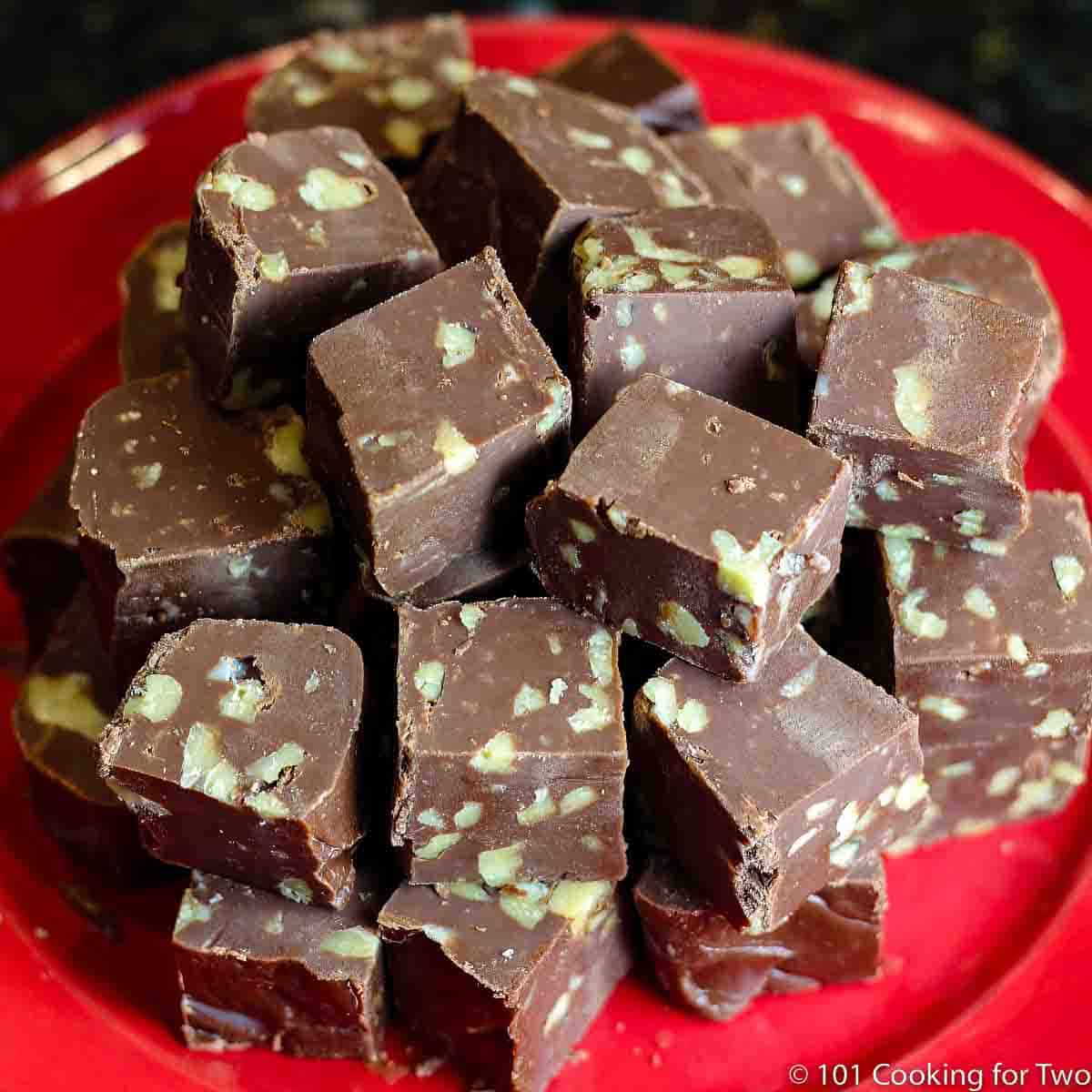 Introduction
A slow cooker is perfect for making fudge because it decreases the chance of scorching or burning on low. With the top off, the kids can watch the "action" as the ingredients slowly melt into the fudge they are "helping" you make.
You and the kids can add your choice of nuts like I did. You could top with candies like sprinkles, M&M's, or Reese's Pieces.
There are lots of slow cooker fudge recipes out there. There were very few surprises. Some recipes are far from the mainstream, but most use chocolate chips and sweetened condensed milk like my 5 Minute Fudge.
My Rating

A nice 5. There is better fudge, but this is very nice.
The Chocolate
You can use either semisweet or dark chocolate chips. I suggest a good name brand. Generic/store brands tend to be lower quality chocolate with less cocoa butter.
Butterscotch Chips Option
This recipe gives you an option to use two bags of semisweet or dark chocolate chips or one bag of chocolate and one bag of butterscotch chips. While all the other recipes use just chocolate, I like my fudge with some butterscotch.
But the butterscotch doesn't melt quite like the chocolate chips. It likes to maintain its shapes even when melted. When doing a stovetop fudge like my 5 Minute Fudge, you are standing there stirring the pot but not so much here.
So the answer is fairly simple, stir well several times and at the end, stir aggressively and mush any remaining chips against the side to make it combine with the chocolate. Not hard, but just be aware of it. Also, I would not even try the generic butterscotch chips.
♨️The Crock Pot
Crock Pot Size
This recipe fits nicely in a 3-quart crock pot but could use a bigger pot. It might melt a little faster. You need to have the chocolate melted well, and if using butterscotch chips, they need to be soft enough to combine. So you need to know your pot and pay attention.
Low Vs. High
Why low for the fudge? Can I just turn it up since I have the top off? No, please don't do that.
On low, most crock pots get to full temperature over 5-6 hours degrees. On high, some may run up to full temperature in under 2 hours. Neither low nor high should go above 211°, but some older ones or malfunctioning pots will—they shouldn't, but some do. That is just too hot for fudge and will ruin the texture.
If you want to hover over the crock pot, stir frequently, and stop when melted, you can use high. But with low, you can dump and come back later. Even if you skip the stirring, it should be fine.
Why is the Lid Off?
The first and most obvious thing about this recipe is cooked in an open crock pot with the top off. Yep, no top.
Why? Water is the enemy of fudge, and with the top off, all moisture is vented. Several recipes (usually British if I remember) were very emphatic about this, and I believe they were right.
An added plus is if the kids are "helping" they can look at the cooking and see its progress.
Just leave the top off. Your slow cooker will be slower, but that is fine. I tried just leaving it ajar, and it was not the same. Moisture still accumulated on the lid and dripped back in.
✔️Tips
Pan Size
I used an 8-inch square pan. A 9-inch would also be fine. Or make a wreath like my Easy Fudge.
Storage
Fudge can be stored airtight at room temperature for about a week or a bit more. It can be refrigerated airtight for 2-3 weeks.
Fudge can generally be frozen for up to 3 months but may lose a bit of texture. If you are planning on freezing, use real, not imitation, vanilla.
📖Candy Recipes
Crock Pot White Chocolate Almond Clusters
Crock Pot Chocolate Peanut Clusters

This recipe is part of Christmas Candy Recipes. Check out other easy candy recipes.

🖼️Step-by-Step Instructions
Start with a smaller crock pot. A 3-quart cooker is fine but a larger pot will work. Give it a heavy spray of PAM. The larger pot may cook a little faster.
Combine one 14 oz can sweetened condensed milk, two 12 oz bags of chips (one chocolate and one butterscotch), and 1 teaspoon vanilla. You can substitute more chocolate chips for the butterscotch chip if you wish.
Cook in the crock pot on low for about 2 hours with the lid OFF. Stir halfway through. And then check occasionally.
Remember TOP OFF and on low.
Prep an 8 by 8 or 9 by 9 pan with crossing sheets of parchment paper. Also, butter corners well to prevent sticking. I like to just a touch of butter under the parchment paper to hold it in place.
You can just butter the dish if you wish. If you do this, then after cooled, set in warm water for a few minutes to release the fudge.
When the fudge combines easily, mix in ¾ to 1 cup of chopped walnuts if you wish.
Pour into the prepared pan and smooth. You may add other toppings at this time. Refrigerate until firm (at least 2 hours).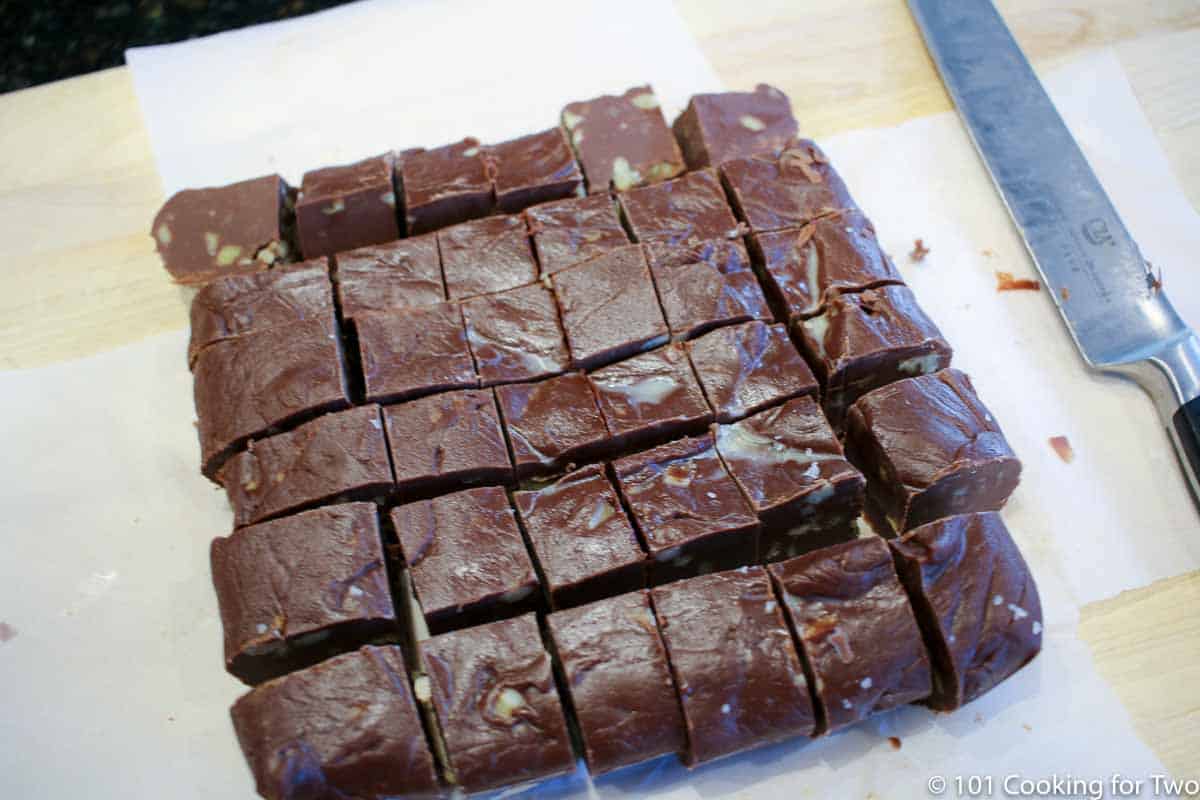 Remove from pan and cut into serving-size pieces.


Do you want more recipes from 101 Cooking for Two? Sign up for the newsletter and get all posts delivered straight to your inbox!
📖 Recipe
Originally Published November 12, 2017. Updated with expanded options, refreshed photos, and a table of contents to help navigation.