Kid-friendly healthier baked homemade chicken nuggets are great for lunch or weeknight meals. Done in 25 minutes. No mystery ingredient; know what's in your nuggets.
Introduction
I wanted a health kiddie meal that you could do over and over. I wanted a simple cook that used ingredients that can always be on hand have minimal prep and cook quickly. For the kids, I wanted great taste.
Don't go for the fast-food version of this great finger food everybody loves. You and your's deserve better.
My Rating

Really that good.
🐓The Chicken
I started with skinless boneless chicken breast and cut them into nuggets. I used egg whites as the base and then bread crumbs with Parmesan. A lot of taste there.
This is the place for skinless boneless chicken breasts. The skin has no place in a chicken nugget. You could use skinless chicken thighs but I prefer to cook thighs to 185 degrees.
👨‍🍳The Coating
The coating is mainly bread crumbs with some Parmesan cheese.
Most recipes recommend all Panko breadcrumbs. I feel that is a bit "rough" for nuggets. All regular bread crumbs will be very smooth. I mixture of regular and Panko fixes those issues. I suggest about ⅓ Panko and ⅔ regular flavored crumbs.
Seasoning
The Parmesan cheese adds most of the taste you need. I like to use flavored breadcrumbs. Usually, Italian or cheese flavors work well.
You can add another seasoning like some basil, garlic or Italian mix.
Getting the coating to stick better
There are two to do that will help the coating stick better.
First, nothing likes to stick to wet surfaces. Dry the chicken completely,.
Second, let the nuggets set for 5-10 minutes before cooking. It will glue itself to the surface better.
❄️Freezing and Storage
With the combination of egg and chicken, I don't feel comfortable refrigerating or freezing these uncooked. While" safe", I consider it is something that is a with a smaller margin for errors higher risk than other foods. Let's just not do that.
Post cooking to an internal temperature of 165, they should be good refrigerated for 3-4 days or 3-4 months frozen.
You may officially call me "chicken."
📖Kid-Friendly Chicken Recipes
Oven Baked Chicken Legs - The Art of Drummies

🖼️Step-by-Step Instructions
Preheat oven to 375° convection (400° conventional oven).
Prep a baking tray. Line with foil for clean-up. A rack will make the nuggets crispy all around. And then a good spray of PAM. If you don't have the rack, you will need to flip the nuggets after 8-10 minutes.
Pat dry and trim two medium skinless boneless chicken breast (about 1 pound). Cut the breasts into nuggets of 1 to 1 ½ inches, 6-7 nuggets out of each breast. Pat dry again.
Whip two egg whites or one whole egg in a shallow pan or bowl. In a second shallow pan, mix 8 tablespoons total of bread crumbs with 2 tablespoons grated Parmesan cheese. Salt and pepper to taste. I used ½ teaspoon salt and ¼ teaspoon pepper.
Breadcrumb note: use what you have but ¼ to ½ being Panko will add some texture and crispy taste. Also, I like some Italian flavoring but your choice.
Put the chicken in the egg mixture and stir to coat. Pick up the nuggets with a fork and shake off excess egg. Move the nuggets individually to the bread crumb mixture and coat well and place on the rack. You could use a large baggie here and shake them in the bread crumbs instead.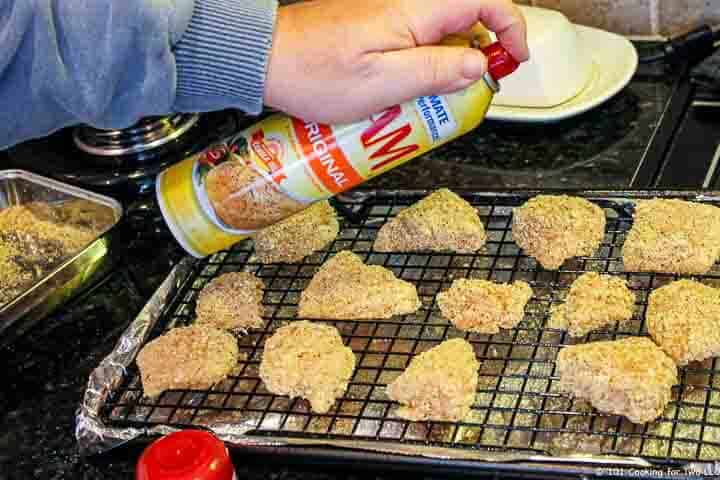 Give the coated nuggets a light spray of PAM to prevent them from drying too much in the oven. If you have time, let sit for 5 minutes before place in oven. It will help the coating adhere better.
Bake until golden brown and the thickest is 165° temp about 15 minutes.


Do you want more recipes from 101 Cooking for Two? Sign up for the newsletter and get all posts delivered straight to your inbox!
📖 Recipe
Originally Published February 9, 2013. Updated with expanded options, refreshed photos, and a table of contents to help navigation.