Super easy and delicious white chocolate almond clusters are the perfect gift for the holidays or for any special occasion. Simple with these step-by-step photo instructions for the perfect white chocolate candy.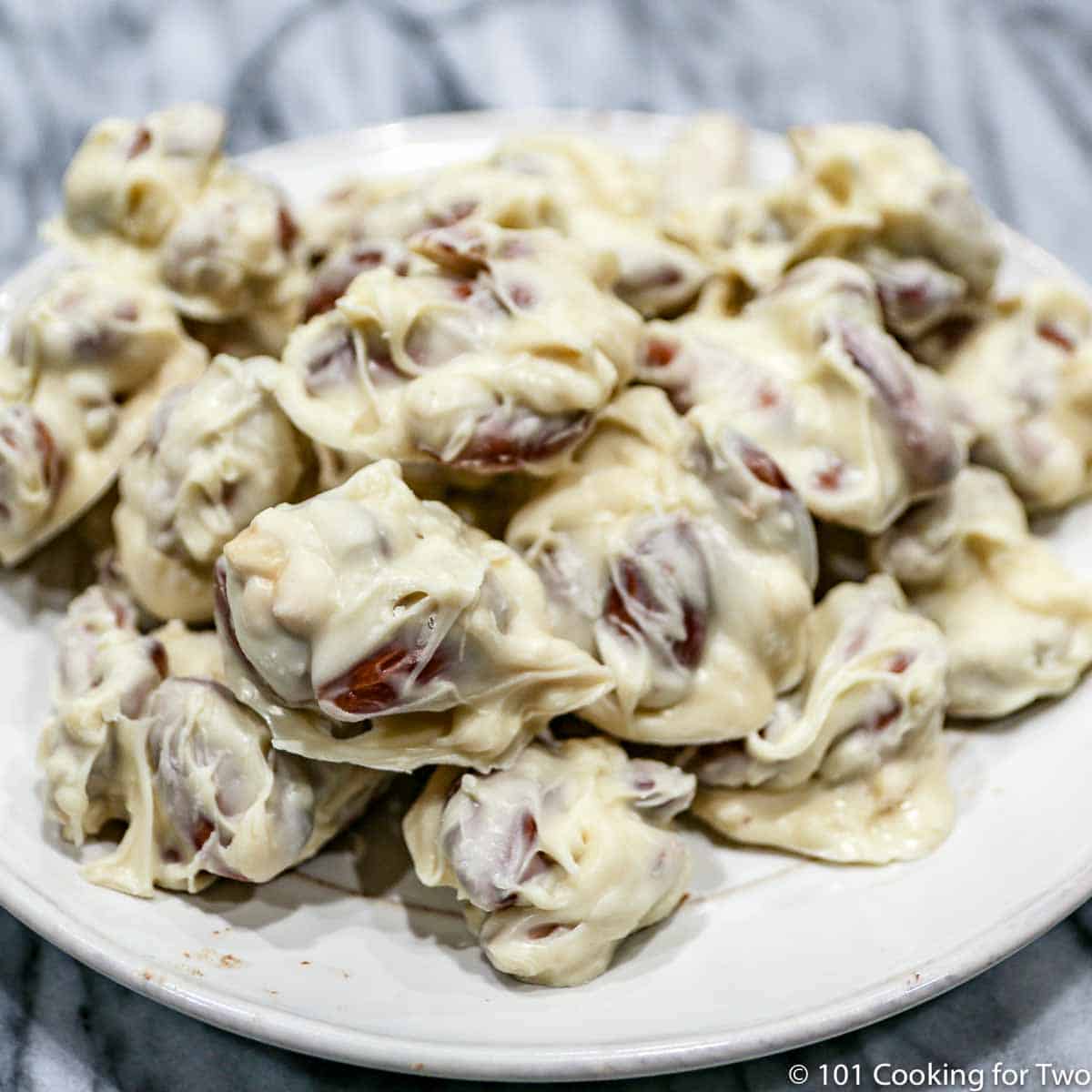 Introduction
Everybody loves great candy, and it makes awesome gifts. What would be better than to give great candy that you made yourself? Just don't tell them how easy it is to make.
I have a wonderful chocolate peanut cluster recipe that many people use for holiday gifts, but it is time to change it up a bit. This kicks up that recipe a few notches.
My Rating

This is the easiest 5 rating of the year.
What is White Chocolate?
The FDA said to be called white chocolate; a product contains at least 20% cocoa butter, 14% milk solids, and 3.5% milkfat — and no more than 55% sugar or other sweeteners. There is a bit more to it, but that is enough for us. FDA Offical Definition
Note that there is no cocoa powder in white chocolate. Obviously, that would no longer be white. Some will argue it is not chocolate without cocoa powder. That is an argument for another day.
Almond Bark vs. Candy Melts
Candy Melts, candy wafers, chocolate coating, and almond bark are products made for coating without needing to temper chocolate or other special handling.
Almond Bark (which does not contain almonds) is a bit old school, and in recent years, we see more "candy melt" products available. These candy making components will have partly hydronated oil that will firm up the coating and have no cocoa butter.
Think of them all as interchangeable. They will help you produce excellent results with no fuss.
Some people like the results with just almond bark/candy melts and only use these for all the "chocolate" in a recipe like this. I want better.
What "chocolate" to use?
White cooking chips are almost never labeled as chocolate since they don't meet the minimum requirements. Many are just downright bad.
Since the main "feature" of this recipe is the coating, I went with one of the top-rated chips from Ghirardelli. I added a bar of white cooking chocolate for more cocoa butter. I also used some "Almond Bark."
NOTE: This is NOT a sponsored post, and I have no relationship of any type with Ghirardelli. I mention them by name since it is a commonly available good quality brand. There are other excellent choices also. But the quality of the components is important for top quality results.
✔️Tips
The Nuts
I used roasted almonds this time, but you can add almost anything. Since we are using a closed crock pot, you don't want anything with significant water.
Chocolate to Nut Ratio
You will want about 1 ½ pounds of "chocolate" to 1 pound of nuts. It can be a little more or a little less.
I used an 11 oz bag of chips, 4 oz of white chocolate baking bar, and 10 oz of almond bark (5 squares of the brand I used). So 25 oz of "chocolate."
The serving size is about one tablespoon, which is about one heaping kitchen teaspoon. Make them a little small says the guy who has eaten hundreds of these.
❄️Storage
These candies are good at room temperature for about 5 days. I do not suggest freezing chocolate.
♨️Cooking
I prefer a crockpot for this. It can be done on the stovetop, but you will need to be very careful about overheating, or there will be texture issues.
Crock Pot
As written, this needs to be made in a crock pot of 3-quarts or bigger. A double recipe will fit in a 6-quart cooker.
If you use a large crock pot for the smaller recipe, it can heat faster, so be sure to check at 60 and 90 minutes into cooking–but it will probably still take the full 2 hours.
The crock pot needs to be on low. This is not a recipe to be cooked on high. On low, most crock pots slowly will get to 200° over 4 or more hours. So a great slow heat to melt chocolate.
On high, some crock pots may run 250°+. They shouldn't, but they do. Also, the run-up to full temperature is much faster on the high setting. This adds a good chance to overheat the chocolate and "scorching" the chocolate.
Stovetop
You can do this in a large, heavy pot on the stovetop over low heat. You will need to add everything but the nuts. Stand there and frequently stir until the chocolate melts and comes together completely. This will take about 15 minutes to complete. Stir in the nuts at the end.
The crock version takes only a few minutes. Then you come back when done. I always do the crock pot method.
📖Crock Pot Candies
Crock Pot Chocolate Peanut Clusters

This recipe is part of Christmas Candy Recipes. Check out other easy candy recipes.

🖼️Step-by-Step Instructions
Decide on the "Chocolate" you are using. I use 11 oz. of Ghirardelli chips, one four oz bar of Ghirardelli white baking chocolate, and 10 oz. of white almond bark.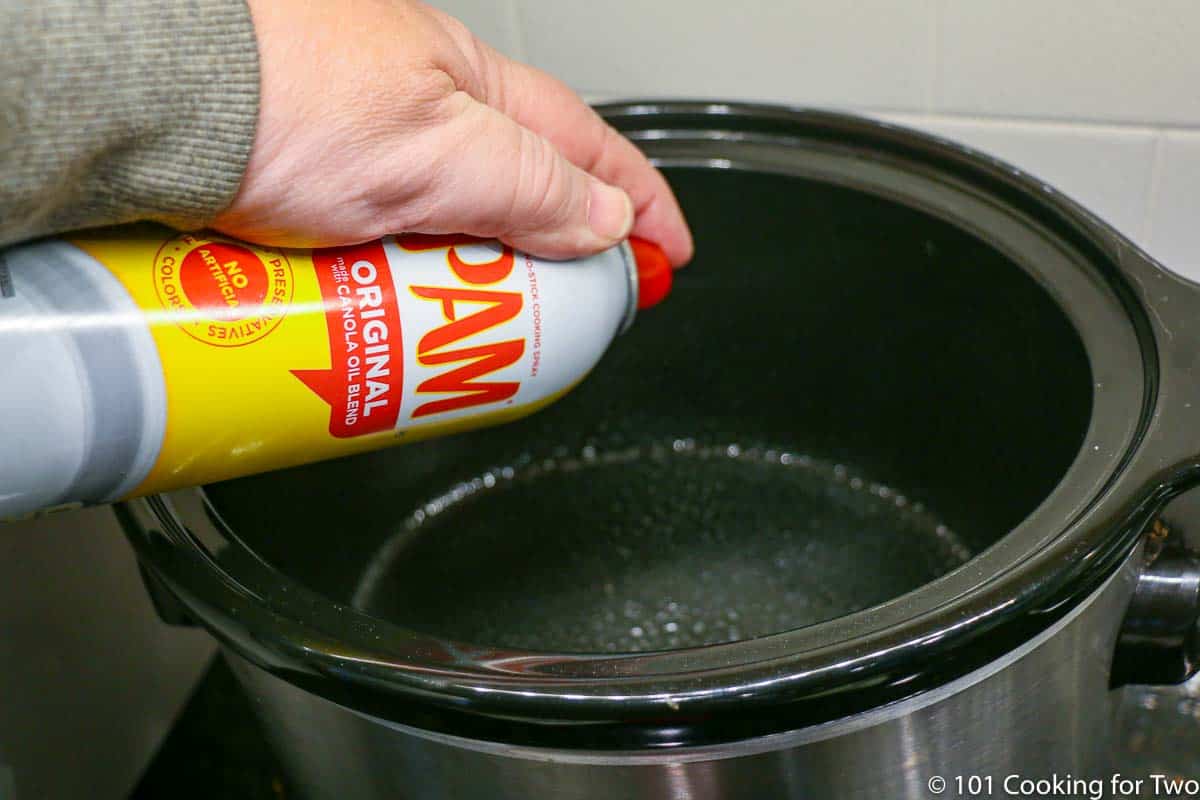 Spray a smaller crock pot with a good coat of PAM.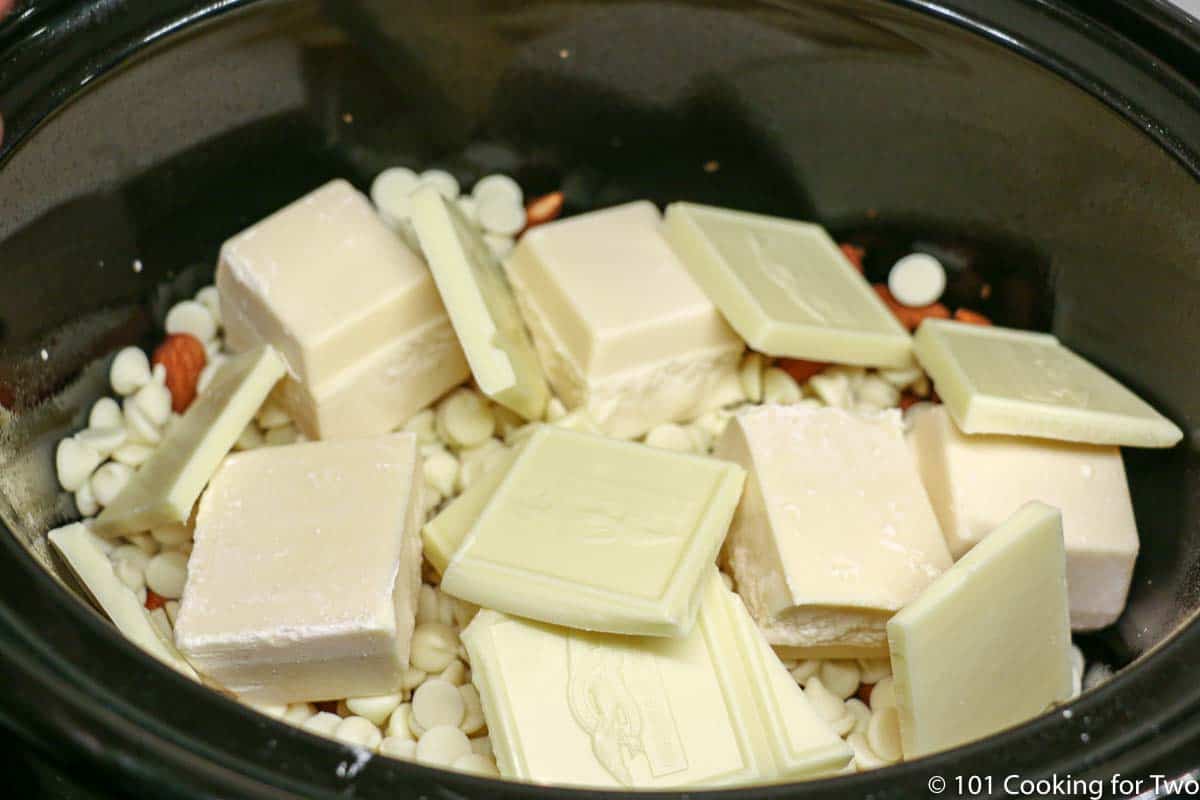 Add 1 pound of almonds to the crock pot, then top with all the "chocolate." Cover and cook on low until the chocolate melts enough to mix together.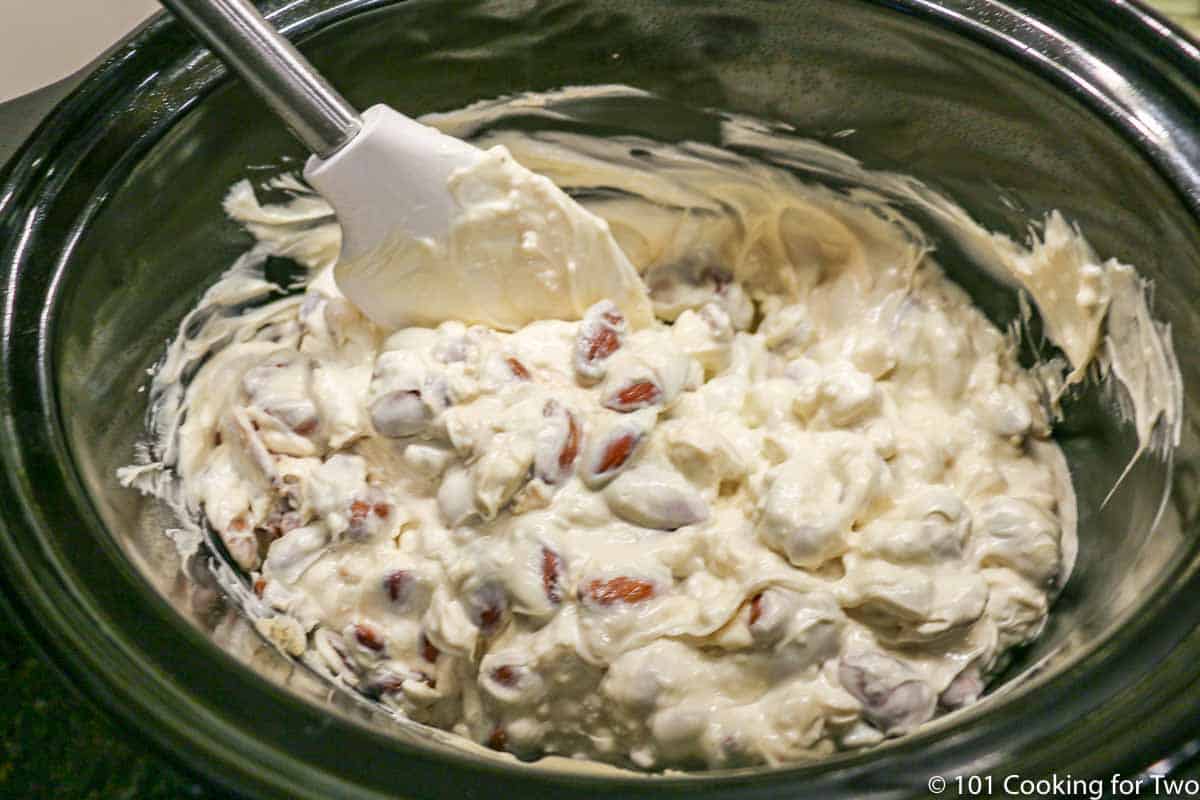 In most crock pots, that should be about 2 hours, but some crock pots are a bit hotter and may have a hotter area. Stir and check at 60 and 90 minutes. When it is melted and combines completely, you are done.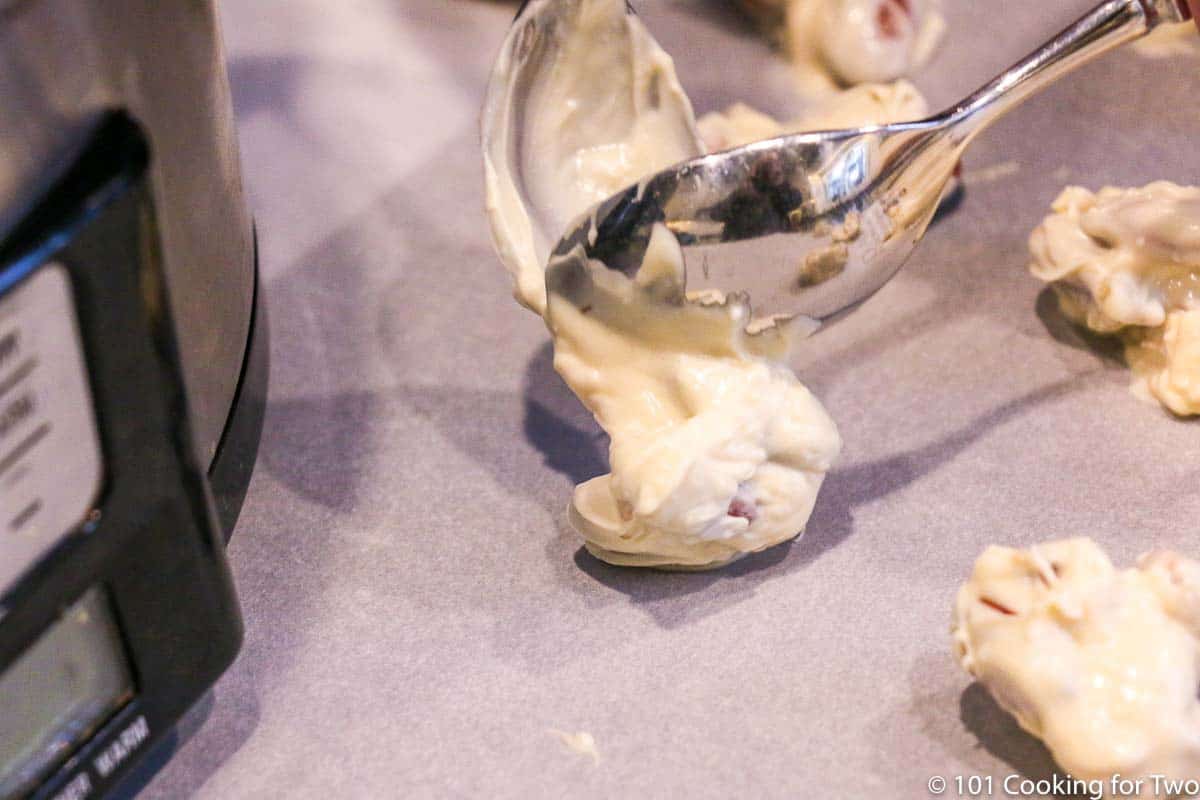 Mix well, then spoon out onto parchment paper. The serving size is about one tablespoon, which is about one heaping kitchen teaspoon. I like to use two spoons: one to scoop and one to push it onto the parchment.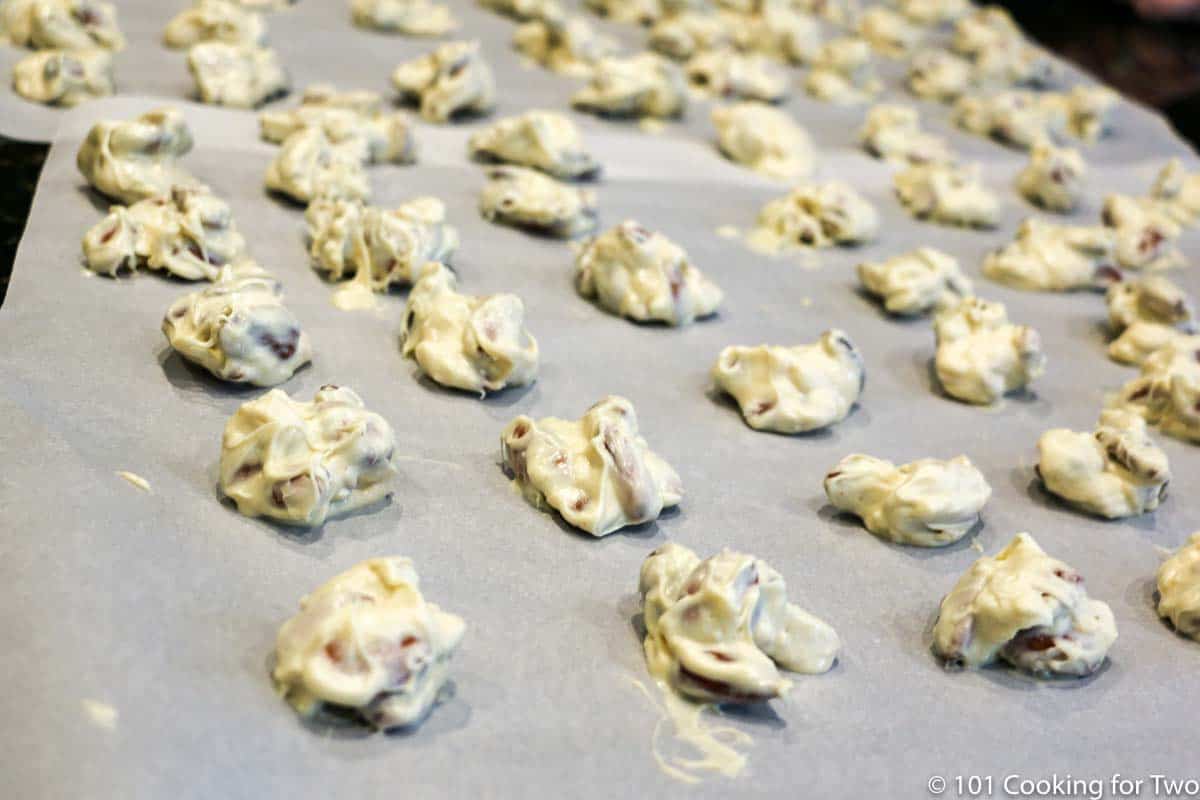 Make them a little small with 3-4 almonds each and mix the crock pot occasionally while spooning.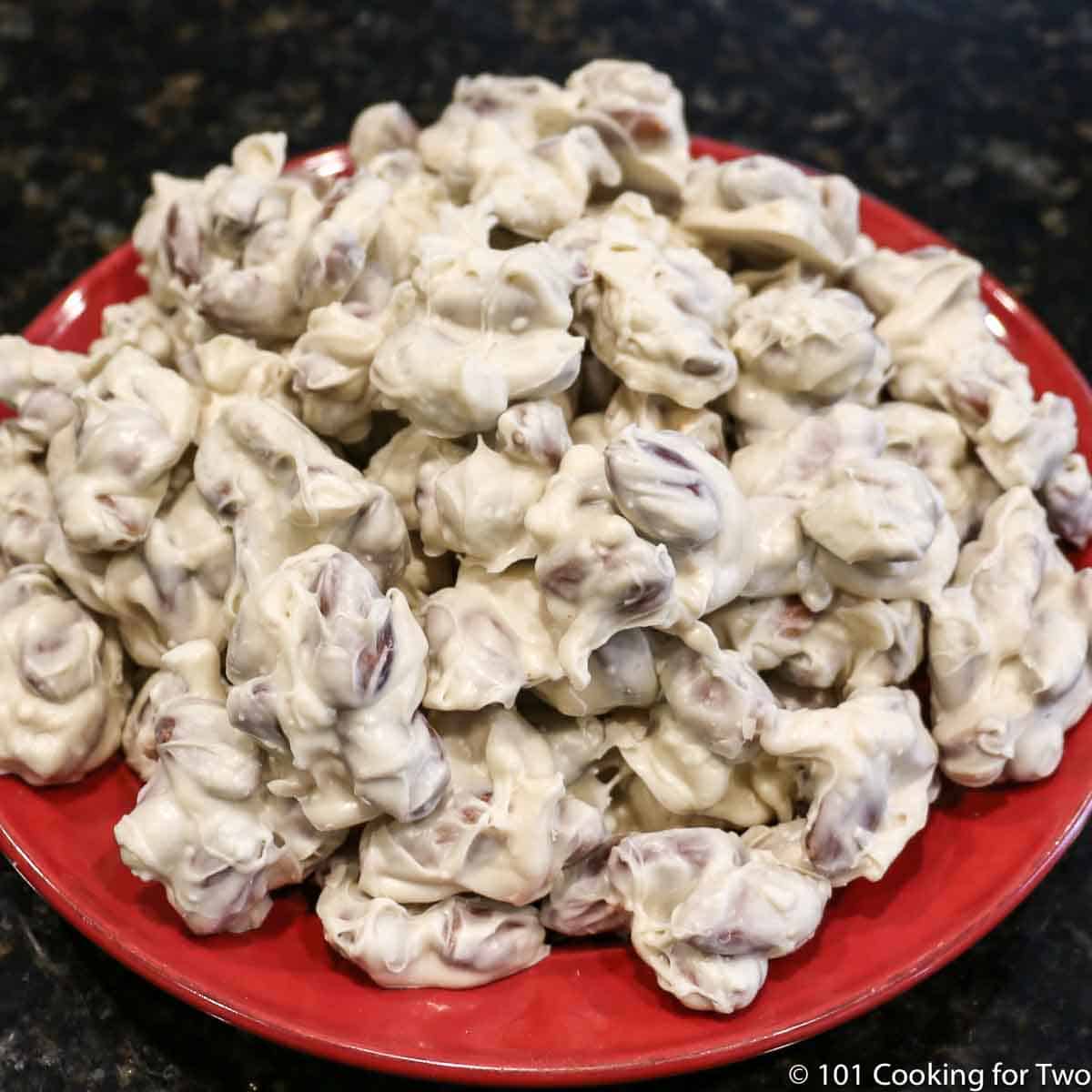 Allow to cool for about 30 minutes.


Do you want more recipes from 101 Cooking for Two? Sign up for the newsletter and get all posts delivered straight to your inbox!
📖 Recipe
Originally Published December 2, 2018. Updated with expanded options, refreshed photos, and a table of contents to help navigation.