Super easy dump and go chunky stew meat chili. Think of it as almost a Texas chili but with beans. This wonderfully tasty chili brings multiple levels of taste with the optional use of different types of chili peppers. Tender chunks of beef will make this chili a favorite.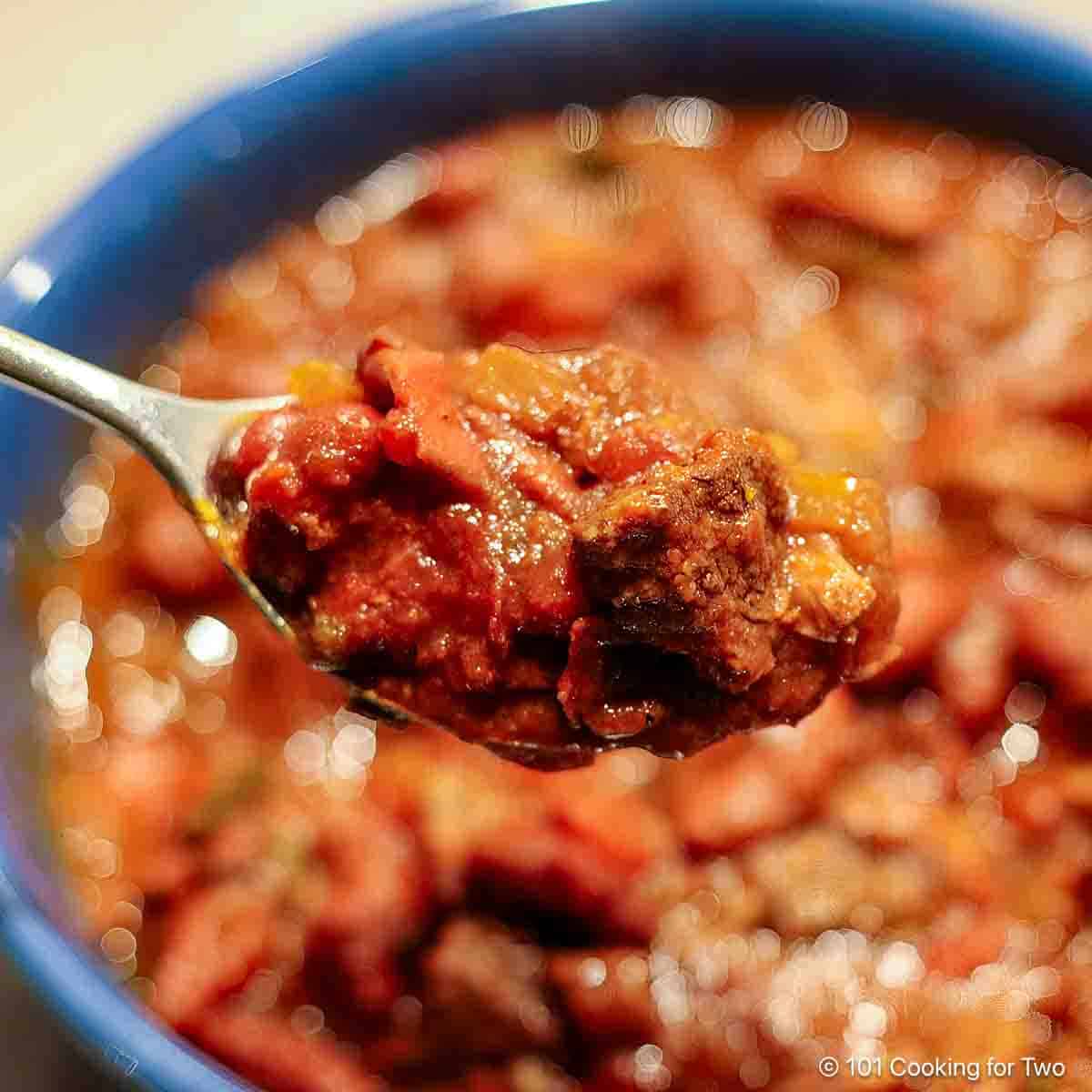 Introduction
It's chili season, but truth be told, every season is chili season. But chili can get a little boring. Chicken or ground beef over and over. I have lots of excellent chili recipes, but one more is always good.
This chili is tending towards a Texas chili with chunks of beef and different fresh chili peppers, but I wanted some beans, also. So not quite a Texas chili if you're a purist. PS- Texas chili does not have beans.
My Rating

A nice solid four. Perhaps a five on certain days. This is a great hearty chili.
🐄The Beef
I like to use a well-marbleized chuck roast for this recipe, but many other cuts of beef will work fine. When doing a double recipe where I need about 3-4 pounds of meat, I usually do the chuck roast. But for a single recipe needing only 1 ½-2 pounds, I will cheat and use precut stew meat.
I do like to brown the trimmed meat before going into the crock pot. That will add some nice extra flavor, but you can skip that step if you want.
t store has excellent stew meat. I'm so lucky.
🌶️Chili Peppers
I chose to use a combination of fresh chili peppers here. I have Crock Pot Texas Chili, which had jalapenos, Anaheim peppers, and Poblano peppers, but I don't want to quit that far here. So only the jalapeno and a Poblano. Feel free to add a chopped Anaheim if you have one.
If you don't want the Poblano chili, just skip it. I do suggest you keep the jalapeno.
✔️Tips
Other Ingredients
The rest of this chili is basic chili stuff—diced tomatoes for thickness. I add tomato paste for a more intense tomato taste and some sweetness.
I like my chili thick; if you are more of a thinner chili person, then a cup or two of beef broth would get you where you want to be. Use low sodium broth, please.
This is not a very spicy chili. A second jalapeno or a little cayenne pepper would take care of that — only 3/10 hot.
Crock Pot Size
This makes about 12 cups of chili. A crock pot should not be filled over 75%. A half recipe will fit nicely in a 3-quart crock pot. A full recipe needs 4-quart or larger.
Storage
Good in the refrigerator for 3-4 days and good in the freezer for 2-3 months.
📖Crock Pot Chilies
Salsa Verde Chicken Chili a la Crock Pot
Ultra Simple Crock Pot White Chicken Chili

🖼️Step-by-Step Instructions
Use pre-cut stew meat or a chuck roast trimmed and cut up would be good also.
Chop one large onion. Dice one Poblano pepper and mince one jalapeño pepper. Skip the Poblano pepper if you want.
Trim 2-pound chuck roast or 2 pounds of pre-cut stew meat. I always go through the stew meat for any additional trimming and to cut bigger pieces in half.
Drain and rinse two 14 oz cans of light kidney beans.
Add meat, onion, peppers, and beans to a larger crock pot. Add two 14 oz cans diced tomatoes, one 6 oz can tomato paste, 2 tablespoons chili powder, 2 teaspoons cumin, 1 teaspoon garlic powder, 1 teaspoon salt, and ½ teaspoon pepper. Mix well.
Cook on low for 7-8 hours or high for about 4 hours. You may add some low-sodium beef broth to thin if you which but wait until near the end of cooking.


Do you want more recipes from 101 Cooking for Two? Sign up for the newsletter and get all posts delivered straight to your inbox!
📖 Recipe
Editor's Note: Originally Published February 15, 2018. Updated with expanded options, refreshed photos, and a table of contents to help navigation.