These quick and easy banana muffins are incredibly moist with delicious intense banana flavor. Add a little crunch with some nuts to make them extra special.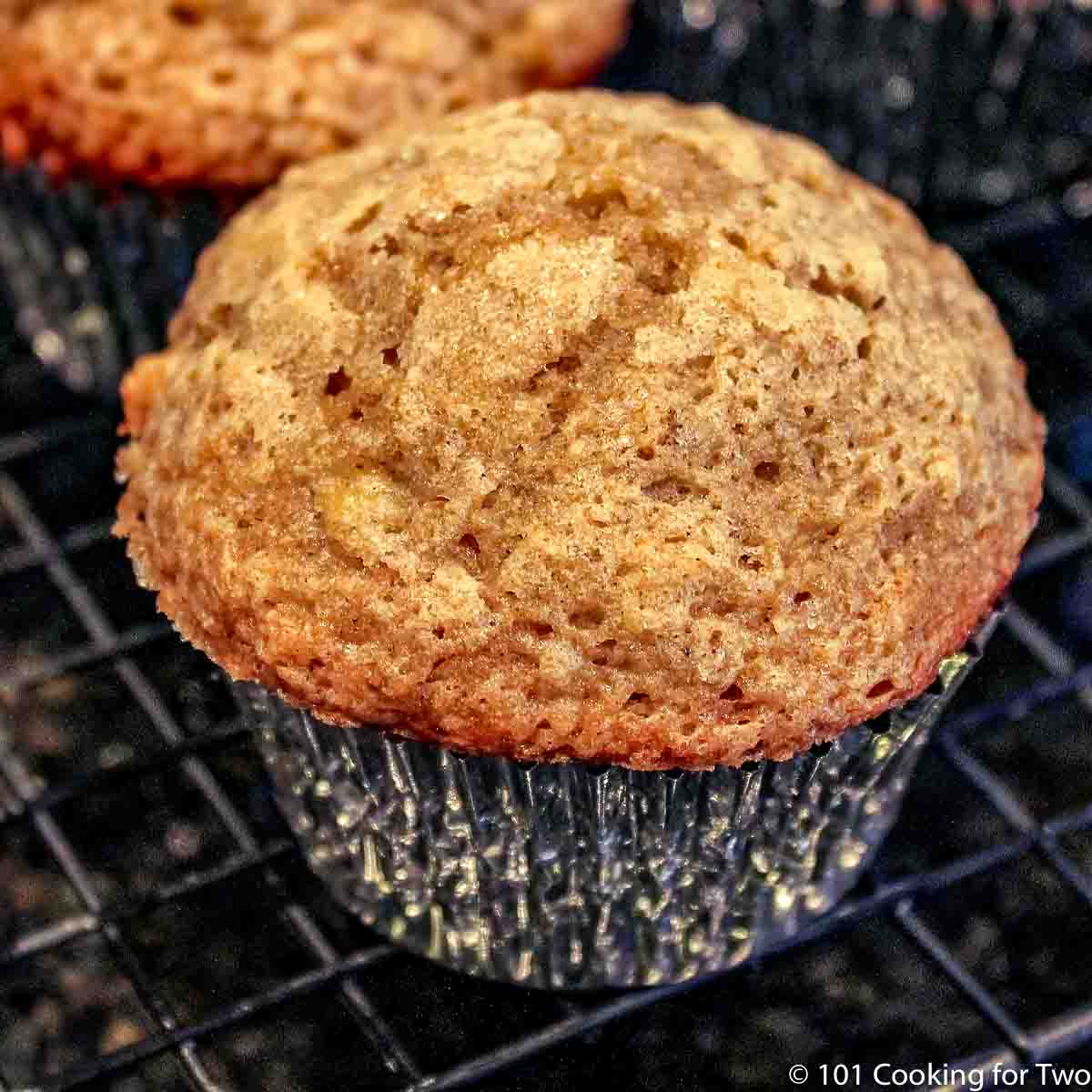 Introduction
Banana muffins are one of my all-time favorite things, and these are a great tasty muffin. Good enough to hide a couple of bananas just to use for muffins later. Just follow the simple step by step photo instructions.
This recipe is an easy bake (3/10) with only a bit of hand mixing. Use two ripe bananas along with some kitchen staples you already have on hand to whip this up. You will have a great start on a healthy breakfast, a special snack, or just freeze them for later.
These muffins are soft, buttery, and spiced with cinnamon. Make them your own with a touch of nutmeg or add some nuts, berries, or chocolate chips.
My Rating

We loved them. Enough said.
🍌Bananas
As bananas ripen, they convert some of the starch to sugar. This is what makes for great sweet banana bread and muffins.
Amylase is the enzyme that breaks down the starch in bananas into sugar, making the bananas sweet. Another enzyme will break down cell walls and soften the banana. And a third enzyme will change the color of the banana peel.
Freezing Bananas
If you don't have time with them now, simply peel and freeze until you are ready to bake bread or muffins.
👨‍🍳Baking
The liquid volume
The ratio of liquid (wet) ingredients to dry ingredients can really throw recipes like this way off, and the number and size of bananas just scream they will make your muffins fail.
The solution is to use a large measuring cup to mash the bananas and then fill the remaining volume out with the remaining liquid ingredients to a specific amount - 2 cups here.
So use two or three bananas.
Other ingredients
Nuts: This is the most common addition and is a personal taste question. Use the nuts you like. You will need ¾ to 1 cup. You can sprinkle some on top with the sugar for a nice touch. Walnuts or pecans are good choices. Or you can skip the nuts.
Other things to add: I don't usually add anything else. But common suggestions are blueberries, cranberries, and chocolate chips.
Topping: I suggest a simple sprinkle os sugar, and that will give a nice crust on top. You can make a streusel topping, but I don't feel it is needed.
Oven temperature
I (and most recipes) suggest 350° and not convection. Like most baking recipes and unlike casserole and meat recipes, I suggest you stick with that.
How long and when are the muffins done?
There are a few variables like your exact oven temperature, your pan, and how full you fill the liners.
Standard size muffins will take 20-25 minutes. Start checking at the low end of the range.
End Point: There are two common ways to check the endpoint of baking your muffins.
First, you can press lightly on the top of the muffin, and if it pops back quickly and leaves no indentation, it is done.
The second and my favorite, it the toothpick test. Just insert a toothpick in the top to about the center of the muffin. It is done when the toothpick comes out clean. Yep, it is old school.
Jumbo and Mini Muffins
This recipe is for 12 standard size muffins, but you can make different sizes. Make them like you want: mini, regular, or jumbo just cook to the endpoint and not by time along.
Generally, bake mini muffins for 10 to 15 minutes, and large muffins for 25 to 30 minutes.
🖊️Other Tips
A tablespoon or two of strong coffee may increase the "banana taste." Add it in the liquid before topping off with milk.
Never use baking powder with aluminum.
The nutmeg is optional.
Good at room temperature for 3-4 days and will freeze nicely for 3-4 months.
📖Banana Recipes
📖Muffin Recipes

🖼️Step-by-Step Instructions
Preheat oven to 350° (not convection this time).
Mash the bananas well in a 2 cup measuring cup.
Melt ⅓ cup of butter in the microwave. About 25 seconds depending on your microwave.
Add one egg to the banana and mix until well combined. Add the butter, 1 ½ teaspoon vanilla, and add just enough milk to make 2 cups of the "liquid."
Optional Nuts: You need about ¾ cup of chopped nuts. I use walnuts but use pecans, or other nuts are fine.
Combine the dry ingredients in a larger bowl; the nuts with 1 ½ cup AP flour, ¾ cup sugar, 1 teaspoon salt, 2 teaspoons baking powder, ½ teaspoon each of baking soda, cinnamon, and nutmeg (optional).
Mix the wet into the dry and only mix until all the dry is incorporated. Do not over mix.
Prepare 12 cupcake baking cups. I gave the pan a good spray of PAM, so they won't stick. Pour the batter into the cups.
Sprinkle the tops with a generous amount of sugar. Spray the sugar with PAM.
Bake for 20-25 minutes. There are some variables, so be sure to check the endpoint. Just insert a toothpick in the top to about the center of the muffin. It is done when the toothpick comes out clean. Or you can press lightly on the top of the muffin, and if it pops back quickly and leaves no indentation, it is done. Cool on rack.


Do you want more recipes from 101 Cooking for Two? Sign up for the newsletter and get all posts delivered straight to your inbox!
📖 Recipe
Editor's Note: Originally Published November 2, 2012. Updated with expanded explanation and options along with refreshed photos and a table of contents to help navigation.