One of the easiest recipes ever, roasted red potatoes comes with incredible guaranteed results. You get a great taste in a side dish to go with any meal including that special holiday spread. Scrub, cut, shake and bake. This is a 1/10 on the skill level but a 10/10 on the useful scale.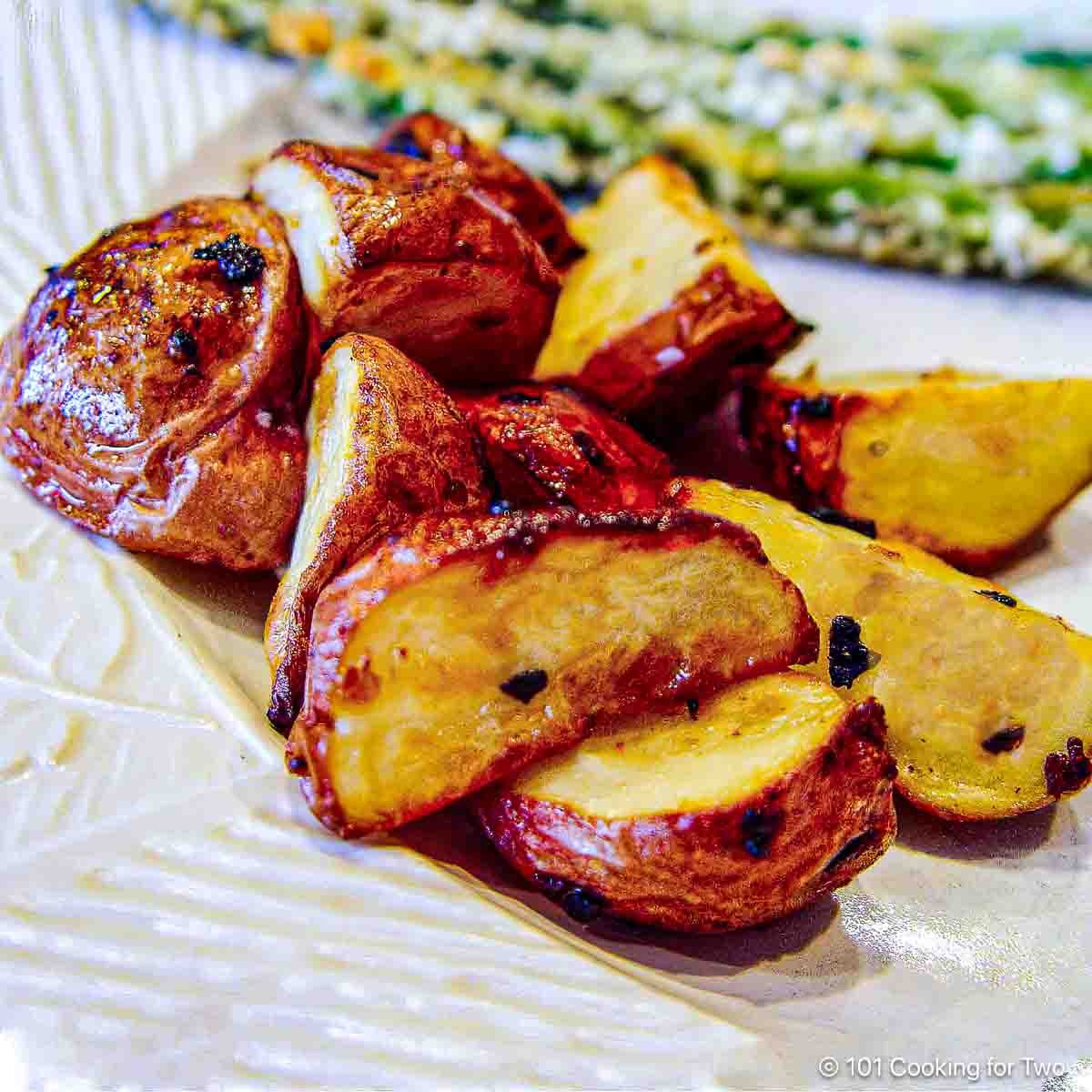 Introduction
This is a formalization of a "recipe" we have used for 30 plus years. You start with a heated oven. Any temp will do just adjust the cooking time to compensate.
Scrub your potatoes. We like using small red potatoes, but larger ones are ok but be sure to cut them into pieces that are about 1-inch max.
My Rating

Always a 5.
🥔Red Potatoes
This is for red skin potatoes, While this is basically roasted little chunks of potatoes, there are some differences in potatoes.
There are several hundred types of potatoes, but I like to divide them into russets potatoes and thinner skin types. Russets are picked when mature and tend to have more starch, but for a recipe like this, it is the thick skin I prefer not to have.
I think any thinner skin potatoes like Yukon Gold, young or baby potatoes would be fine in this recipe. Red potatoes are commonly available and do very good in this recipe.
⏰🌡️Time and Temperature
This is a great recipe to cook along with something else and just vary your timing for the potatoes. Remember, potatoes can stay hot for a long time tented with foil.
In the recipe, I suggested 400 degrees in a convection oven for 30 minutes. That would translate to 425 conventional. BUT this is not written in stone. I have done this as low as 350 degrees conventional which took about 45 minutes to 425 convection which took about 25 minutes.
Here are some approximate cooking times. The size of your potatoes will affect the timing and see the next section about the endpoint of cooking.
350°F conventional – about 45 minutes -I like higher temperature but this works.
350°F convection or 375°F conventional – about 40 minutes
375°F convection or 400°F conventional – about 35 minutes
400°F convection or 425°F conventional – about 30 minutes - Preferred
425°F convection – about 25 minutes - I don't suggest 450°F conventional, do 425°F conventional and add a few minutes)
When Are Potatoes Done?
With this recipe, just going by the browning is fine and seems to always work.
If unsure, check the internal temperature. I like to use 210°. Cook's Illustrated recommends 205° to 212°. Potatoes are very forgiving, so a little over is better than under. 200° is usually ok, but 190° is not done.
🧂Seasoning
Martha Stewart likes to add some rosemary but takes out the garlic.
Paula Deen uses both garlic and rosemary. The rosemary would be a tablespoon of fresh or a teaspoon of dry for the "for two" amount in my recipe.
Others add some thyme. Try what you like. I'm sticking to garlic and salt.
📖Oven Potato Recipes
Crispy Parmesan Baked Potatoes
Old Fashion Scalloped Potatoes

🖼️Step-by-Step Instructions
Start by preheating an oven. I use 400° convection but combine in the oven with other dishes and adjust the cooking time accordingly.
Scrub your potatoes and cut into quarters if using small red potatoes. If using bigger potatoes, keep the size about 1 inch or less.
In a mixing bowl, combine the potatoes, 1 tablespoon olive oil, 2 teaspoons of crushed or minced garlic (2 medium cloves of fresh), and 1 teaspoon kosher salt.
Spread evenly over a non-stick baking pan. Keep them separated some so they can brown well. If you don't have a non-stick tray then an oiled tray. I like to do cut sides up.
Bake for about 30 minutes until nicely browned. The internal temperature should be 200° plus.


Do you want more recipes from 101 Cooking for Two? Sign up for the newsletter and get all posts delivered straight to your inbox!
📖 Recipe
Editor note: This recipe which I consider wonderful and simple was first published April 10, 2012. The blog was not very busy yet and not very many visitors saw it. I have re-edited the text and pictures. I have added a couple of new dog photos.