Just like grandma made, this easy banana nut bread is so moist and tasty you will do this over and over. Just follow these simple step by step photo instructions.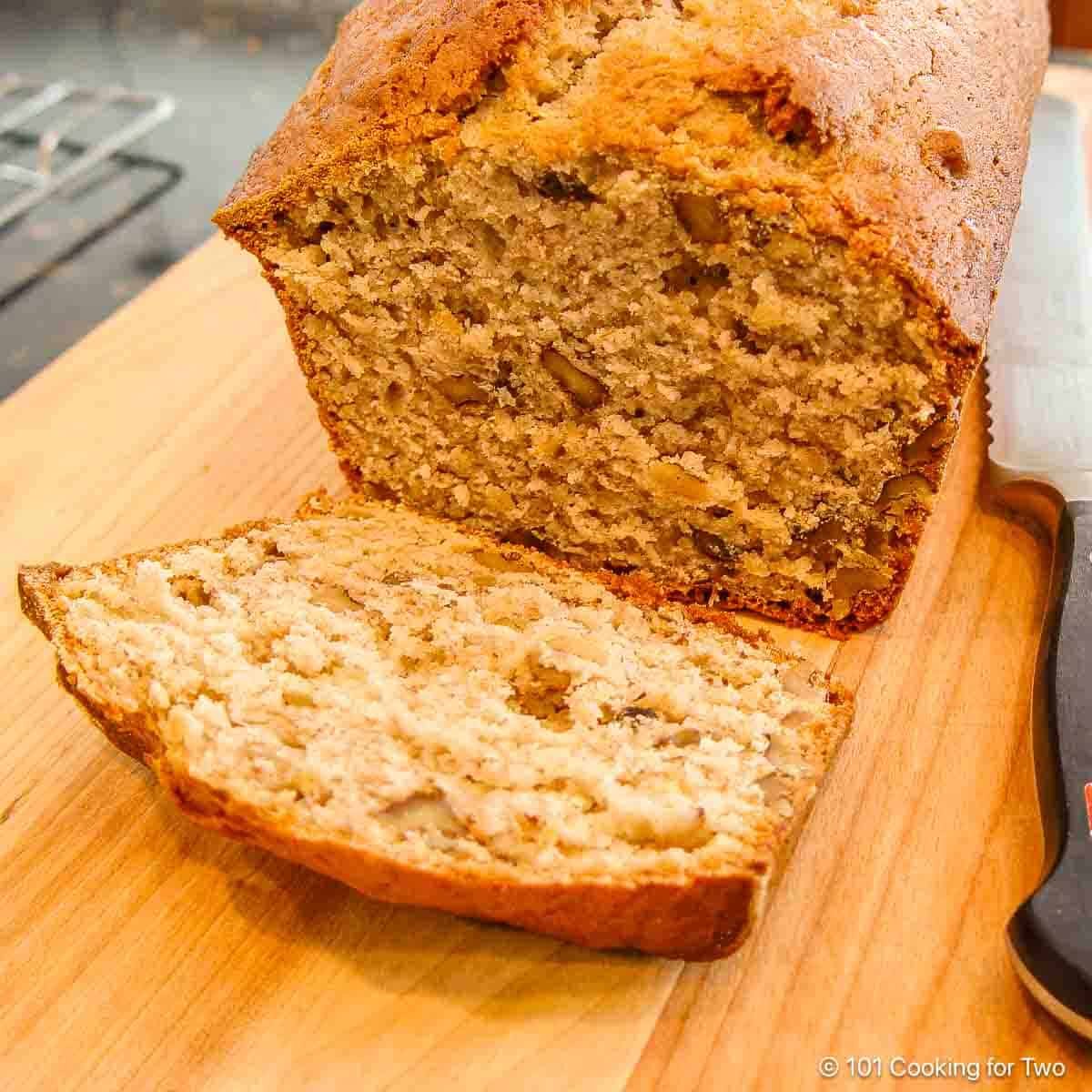 Introduction
Sometimes the best recipes are the old recipes. From the 1972 Betty Crocker Cookbook, this moist banana nut bread is the recipe your grandmother probably used.
This is a recipe I have used for years, but to publish this post I looked far and wide at other recipes.
I went to Cooks Illustrated but was rejected. They needed six bananas. What do they do, plan ahead, or something?
Others needed lots of butter and tons of ingredients. I just wanted old fashion banana bread. What was so hard about that?
I really couldn't find anything even close to better than what I had been using. Yep, I had just what I wanted, and it came out great.
My Rating

This is just the best banana nut bread ever. Moist with great banana taste.
🍌The Bananas
You can use anywhere from 2 to 4 bananas. They need to be "overripe" which really converts some of the starches to sugar and makes the bananas and hence the banana bread sweat.
The Nuts
This is a personal taste question. I grew up with walnuts and I believe is the most often used. But pecans are a great choice. Or you can skip the nuts.
The Pans
This is not one of those little bricks of banana bread. As you can see in the pictures, it is a large loaf so use a larger loaf pan.
If you want that thinner loaf, split the batter into two smaller loaf pans and decrease the baking time by a little.
"Standard" loaf pan size is 8-½ x 4-½ x 2-½ inches. But the length varies between 8 to 9 inches and width between 4-5 inches and the height between 2 ½ to 3 ½. There are also some even larger and many much smaller.
You have what you have in size. Remember that thicker takes longer to cook. The images are done in the "standard" size and took right at 1 hour but sometimes will take an extra 5 minutes. But I usually use a 9X5 for this recipe.
📖Banana Nut Recipes
Really Good Banana Nut Muffins

🖼️Step-by-Step Instructions
Preheat the oven to 350°, not convection. Use 2-3 overripe bananas.
Grease and flour a loaf pan with a tablespoon of butter and a little flour. Use two loaf pans if you want thin loaves.
Mash 2-3 overripe bananas.
In a large mixing bowl combine: 2 ½ cup AP flour, 1 cup sugar, 4 teaspoon baking powder, 1 teaspoon salt, 3 tablespoons oil, ¾ cup milk, 1 egg, 1 cup chopped walnuts. Beat at medium speed with a hand mixer for 1-2 minutes occasionally stopping to scrape sides to be sure to incorporate all the ingredients.
Transfer to the floured pan and bake for about one hour. Until a toothpick comes out clean.
Remove from pan and cool on a rack.


Do you want more recipes from 101 Cooking for Two? Sign up for the newsletter and get all posts delivered straight to your inbox!
📖 Recipe
Originally published January 26, 2012. Updated with expanded options, refreshed photos, and a table of contents to help navigation.