This is the easiest Chicken Enchilada Casserole you will ever make. Using fresh chicken and your own homemade sauce, you get some of the best Mexican you will ever enjoy. Plus it is healthy with 7 gr of fat and less than 300 calories per serving.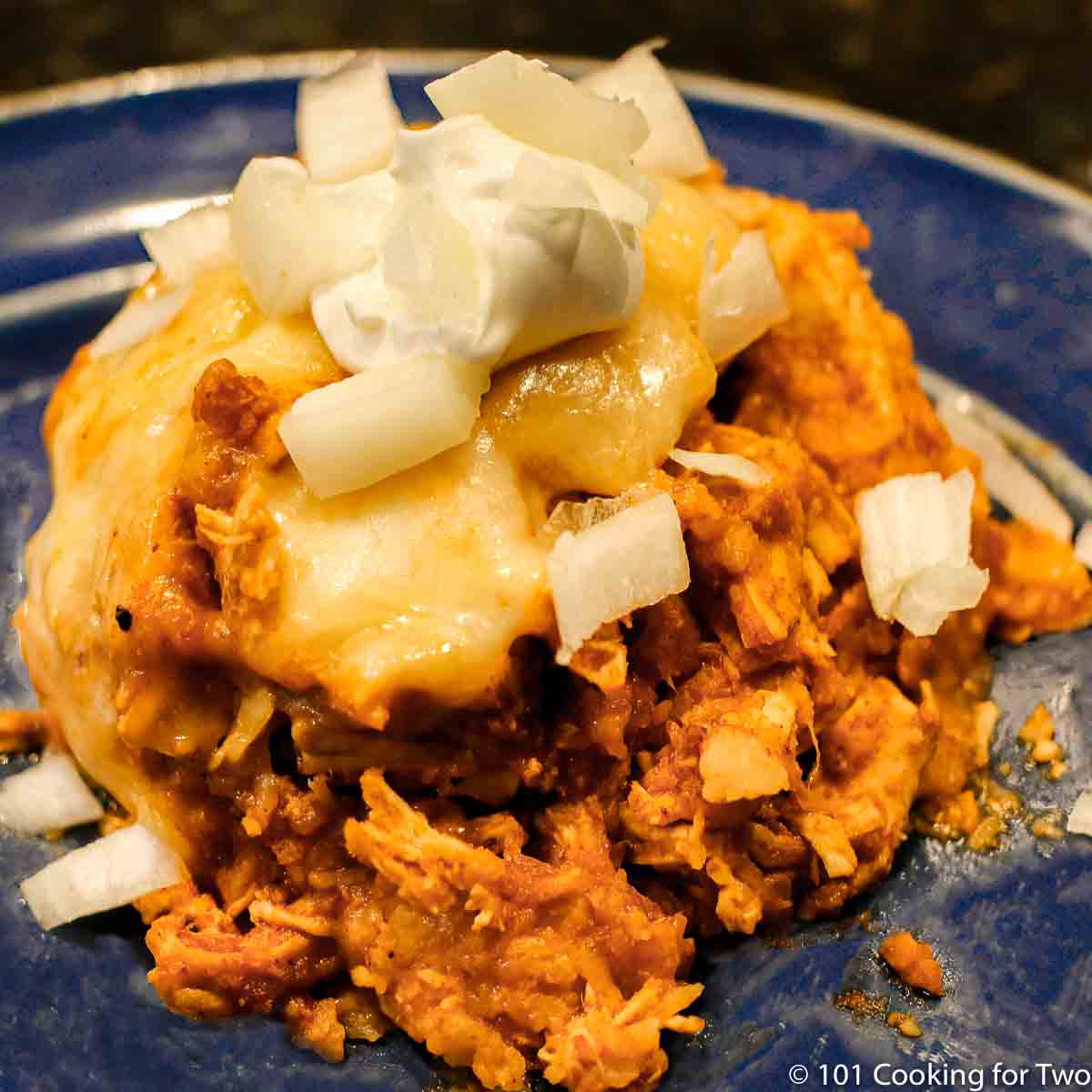 Introduction
I love it when my wife suggests a recipe, and that hap,pened with this recipe, but this is not even close to that inspiration recipe. I will not name that recipe due to some issues I have with it.
I ended up with a crock pot variation of my Healthier Chicken Enchilada Casserole in 60 Minutes which is a stovetop/oven recipe.
I do love that recipe. I use fresh chicken and make my own enchilada sauce (which I love) to braise the chicken in before shredding.
And by using lower fat cheese, corn tortillas, and well-trimmed chicken, that recipe had under 300 calories and 7 grams of fat per serving.
Before I made enchiladas with a rolled method. It was much fussier and messier. The oven recipe recipe solved that issue, but this version is half the work.
My Rating

A lower five from my wife first and then I joined in. I would really say high 4 or low 5. I prefer the oven version slightly but this is minimum work.
🐓The Chicken
I suggest skinless boneless chicken breasts. Anywhere from 1 to 2 pounds will do.
If you want to use skinless thighs, it will work, but you need to get to the 180° internal temperature range to shred well. Probably about 3 to 3 ½ hours before shredding.
You can use pre-cooked chicken. You need about 3 cups, which will be about 1 ½ pounds. The sauce needs to cook a bit (about 1 hour should do) before adding the pre-cooked chicken.
⏰Cooking Time
This is the biggest issue with most of the online crock pot recipes with chicken. Those recipes typically cook the chicken for 8 hours before shredding on low and 4 hours on high. Well, I have been around the block a few times, and I see no reason to kill the chicken a second time. Generally, chicken breast in chunks will take 2 ½ to 3 hours on low.
While a whole breast may take a bit longer, it won't be that different. Mine are generally done in 2 ½ hours, but some pots may run a bit cooler and need 3 hours.
The thing about casseroles is that most people what some browned cheese on top, and think you can't do that in a crock pot. But cheese browns fairly well in a crock pot. It takes about an hour.
✔️Tips
You could also use can sauce, but really do you want to do that?
You can use ½ of a smaller onion for the onion powder. 2 cloves of fresh crushed garlic for the garlic powder.
I used a lower fat but not fat-free cheese to stay on the lower fat theme. You can use full fat.
This is not spicy, and you could add a touch of cayenne pepper.
Some green chilis and black beans would be good additions.
Toppings of your choice, but we just use sour cream and some chopped onions.
Chicken thighs would be fine but would need 15-30 minutes more cooking time since they should be at about 180° to shred well.
Good refrigerated for 3-4 days and frozen for 3-4 months.
📖Tex-Mex Casseroles
Easy Sour Cream Chicken Enchiladas
Healthier Chicken Enchilada Casserole in 60 Minutes
Excellent Chicken Enchilada Casserole
Crock Pot Southwest Chicken Casserole

🖼️Step-by-Step Instructions
I suggest raw chicken breast but you can use thighs. You can use pre-cooked chicken. You need about 3 cups which will be about 1 ½ pounds. The sauce needs to cook a bit (about 1 hour should do) before adding the pre-cooked chicken.
Trim two skinless boneless chicken breast and cut into three pieces each. Aim for about 1 ½ pound, but anywhere from 1 to 2 pounds total should be fine.
In a 2 ½ to 4 quart crock pot add one 15 oz. can tomato sauce, 1 tablespoon chili powder, 1 teaspoon paprika, 1 teaspoon onion powder, ½ teaspoon garlic powder, ½ teaspoon cumin, 1 teaspoon salt, ½ teaspoon pepper. Mix well.
Add the chicken pushing into the sauce to cover a little. Cook on low for 2 ½ to 3 hours. Internal temperature needs to be about 165° to shred well. 180° if using thighs.
Chop 6 corn tortillas (6-inches) into bite-size pieces. Stir into crock pot when you remove the chicken for shredding. Mix well to coat all sides and break apart any that stick together.
Remove the chicken to cutting board and shred.
Return the shredded chicken to crock pot, add ½ cup shredded cheese and mix well. Smooth top.
Top with 1 ½ cup of the same cheese.
Cook one additional hour then serve with toppings of choice.


Do you want more recipes from 101 Cooking for Two? Sign up for the newsletter and get all posts delivered straight to your inbox!
📖 Recipe
Originally Published April 22, 2018. Updated with expanded options, refreshed photos, and a table of contents to help navigation.