Let's learn how to set up your gas grill for great low and slow cooking with smoking. A useful technique you need to master your gas grill.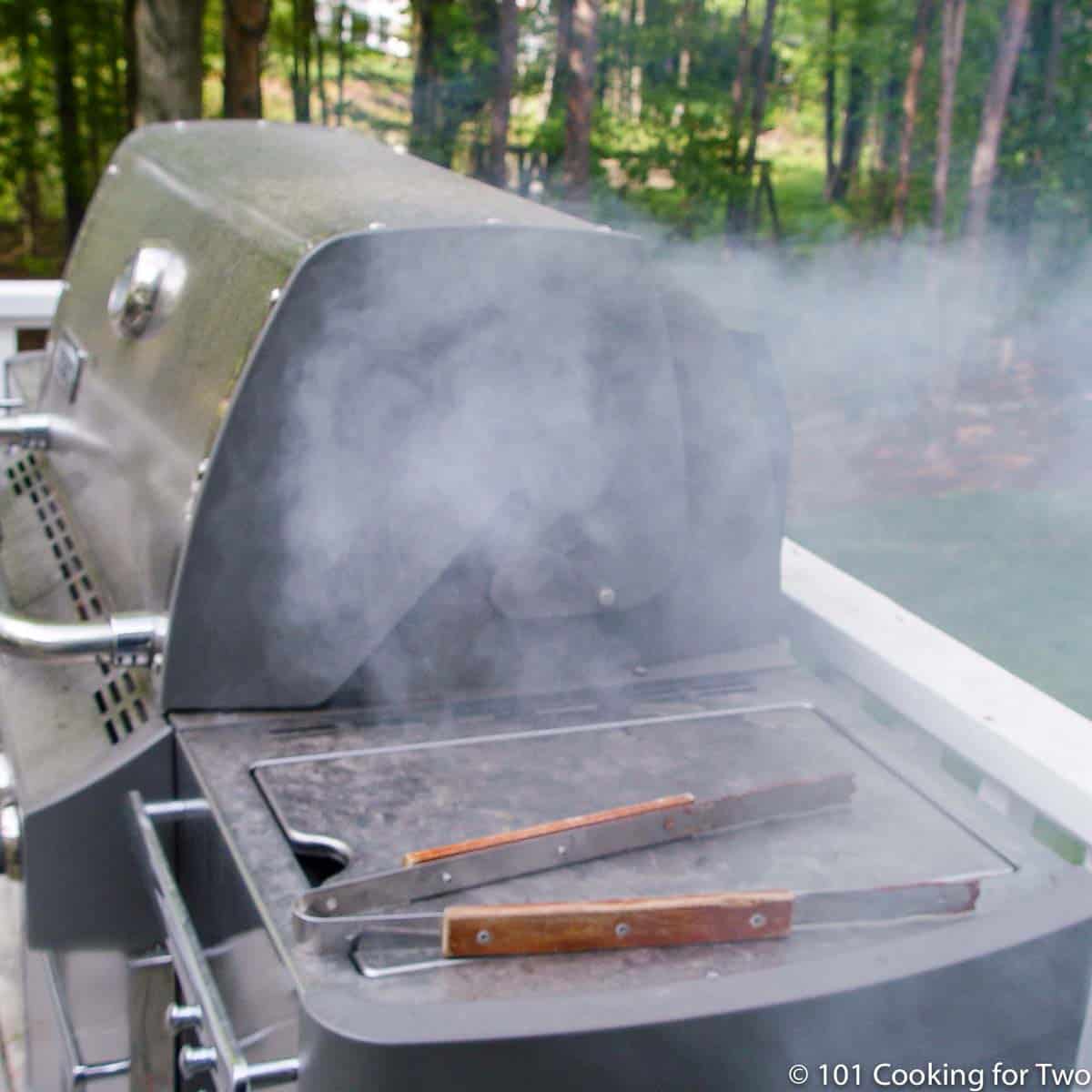 This is an excerpt from my How to Grill Baby Back Ribs but I broke it out so I could refer to is for other recipes. While I use a Weber Summit that is very hot and versatile, I tried to generalize the instructions.
So let's talk about your grill. You must know your grill. If you can get or have the instructions for your grill from the manufacturer, follow those instructions.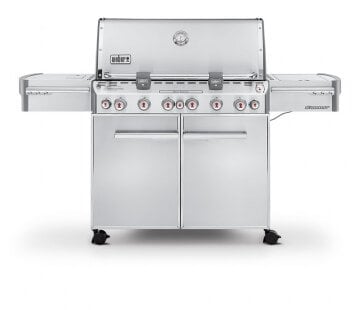 First Grill Temperature
You are going to experiment a little with your grill set up. You need to know how to get a steady low grill surface temperature in an area reserved for indirect heat. Also, be sure you have enough gas. I have natural gas, so I'm good.
If you are a beginner please check A Beginners Guide to Grill Temperature on a Gas Grill
I used grill surface thermometers for years. They only cost about $10 and will last most of grill season until you can't read it anymore. Amazon, Home Depot or Lowes will have them. I now use a fancy Theromoworks remote monitor.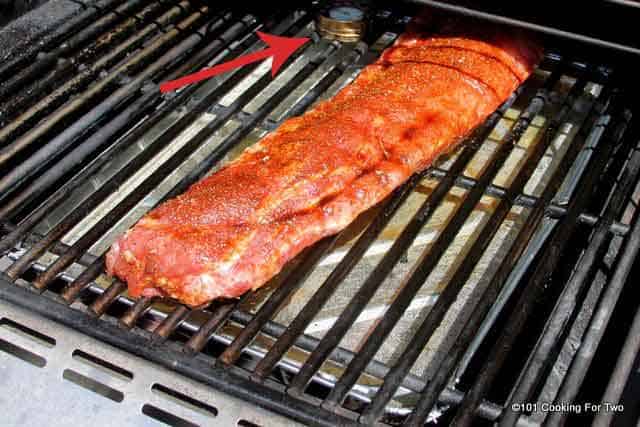 For me, I have four main burners that run front to back. If I only turn one burner on high, the grill surface temperature in the indirect (not over the burner that is turned on) is right at 225.
With the two outside burners at medium, I have a steady 250. Turning on the smoker side burner kicks the temperature up about 50 degrees while on.
So how do I know these things? I played with it. If you have 2 or 3 burners, start with one burner on high and see what you get in the indirect area. Some grills will have vents, and you can experiment with them too.
If you have a one burner, you're going to set a large pan on top of your grates and cover it with a rack of some type. Do not put any weight on top of your burners directly with the rack and meat. Ever....
So now you have played with your grill enough to know it, Doesn't it feel good already?
Next, you need a drip pan.
Things you cook indirectly usually are full of fat and can make a mess of your grill.
Usually, you will just place a thin disposable aluminum pan under the grates on the indirect side. If there is no room between the grill grates and the burners for a thin aluminum pan, then you will put the pan on top of the grates in the indirect area with a rack or grate on top of that.
I needed to notch the pan a little to get it to fit. Do NOT allow the pan to support the grill rack and put pressure on the things below. This would be dangerous.
Mine are on top of burner guards called flavor bars. You may have lava rocks or something similar. Usually, you should add water to the drip pan for added moisture in the grill. Again, if you can get the instructions for your grill from the manufacturer, follow those instructions. Let's be careful and safe here.
Next smoke.
You want to smoke, right? If you're lucky, your grill has built in a smoke box like I do. If not, you have a couple of choices.
If you just want to try it once, you can make a pouch of heavy duty aluminum foil with some holes and place it on a burner on high until it starts to smoke and then turn it back down. Here is a YouTube video.
If you are going to do this more than once or twice, pick up a cast iron smoker box (again Home Depot, Lowe's or Amazon) for about $15.
Here is an affiliate link to one similar to ones I used for 20 years (it should last that long). An affiliate link is one where I get paid a small amount if you buy through that link. My opinion of this product is not influenced by that small amount. It is provided for your convenience. We are a participant in the Amazon Services LLC Associates Program, an affiliate advertising program designed to provide a means for us to earn fees by linking to Amazon.com and affiliated sites. As an amazon associate I earn from qualifying purchases.

A note about wood chips. I have become unconvinced about soaking wood chips. I haven't noticed any significant difference and have stopped soaking. I'm not alone in giving up on the time-honored tradition.
Happy Smokin'
DrDan
Last Updated
July 4, 2016