Are you pancake impaired? Or just don't want the mess? Try this foolproof method for great pancakes. Super easy, just mix and bake. No skill needed.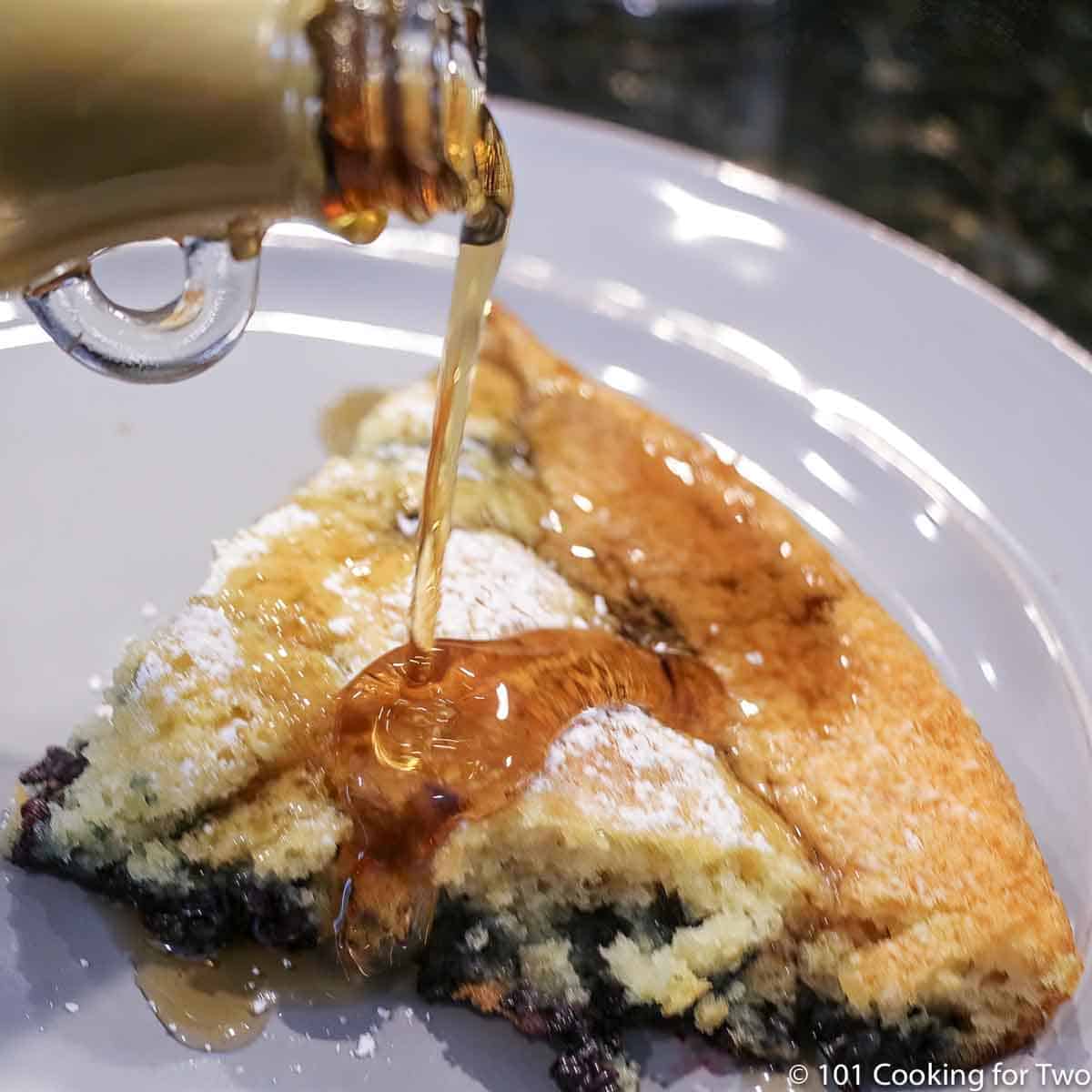 Introduction
I cook fairly well, but I can make a mess of pancakes. I have had good days but the bad days are still frequent. I under-cook or over-cook, or I mess up the flip.
The pancake gods have not been kind to me. I tried to overcome this with a version called a "Dutch baby" but still had an issue. I needed pancakes for dummies. Well, this is it.
My wife is a "blueberry-hound," so I decide on a blueberry version, but any fruit could be used. Or plain would be just fine. I now have carrot cake and banana nut versions, too.
Carrot Cake Pancakes – Oven Baked
I based this on a Martha Stewart baked pancake recipe, but I simplified it. The original seemed a little heavy on the blueberries and was a little flat. Pump up the baking powder a little and cut back the berries a tiny amount and you have my wife repeatedly saying 5 and wanting this for Valentine's Day breakfast.
My Rating

Rating from my wife and I won't disagree.
✔️Tips
I used 10-inch cast iron, but a 9-inch pie pan or another pan should be fine.
This recipe makes a large breakfast for 2. If you want more, increase the amount by 50% and use two eggs and bake in a 12-inch pan.
Don't be afraid to turn the broiler on near the end to increase the browning.
📖Breakfast Recipes
How to Cook Bacon in the Oven

How To Cook Sausage in the Oven

Cinnamon Roll Cake

Raspberry Scones with Cream Cheese

🖼️Step-by-Step Instructions
Preheat oven to 375° with a rack about ⅔ of thirds of the way up the oven. Place an oven-safe pan into heat also. I used a 10 inch cast iron pan. A pie pan or fry pan would work also.
Mix wet ingredients. ¾ cup milk, one egg, two tablespoons melted butter. Whisk.
Mix dry ingredients. One cup flour, three tablespoons sugar, two teaspoons baking powder and ½ teaspoon coarse salt. Whisk. Mix wet into dry. Whisk until just combined. Do not overdo it.
When the oven is hot, remove the pan and melt one tablespoon butter being sure to get sides.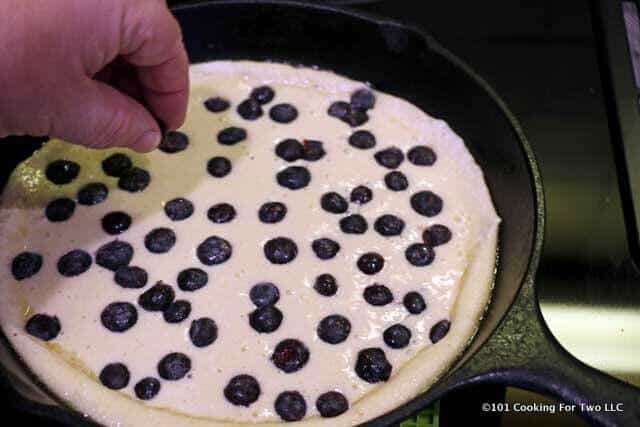 Pour batter into the heated buttered pan. Sprinkle ¾ cup blueberries into the batter then sprinkle with 1-2 teaspoon sugar. Berries may be fresh or frozen (do not thaw).
Bake until browning nicely. 25 minutes for me. A toothpick should come out clean if you want to double check. You may want to turn on the broiler for 1-2 minutes to get more browning.
Remove from oven, allow to cool for a few minutes then sprinkle with powdered sugar (optional) to serve with syrup.


Do you want more recipes from 101 Cooking for Two? Sign up for the newsletter and get all posts delivered straight to your inbox!
📖 Recipe
Originally published February 9, 2015. Updated with expanded options, refreshed photos, and a table of contents to help navigation.