A tasty, healthy recipe for baked salmon infused with lemon, garlic, and butter. This 20-minute weeknight recipe is so juicy and tasty you can serve company anytime.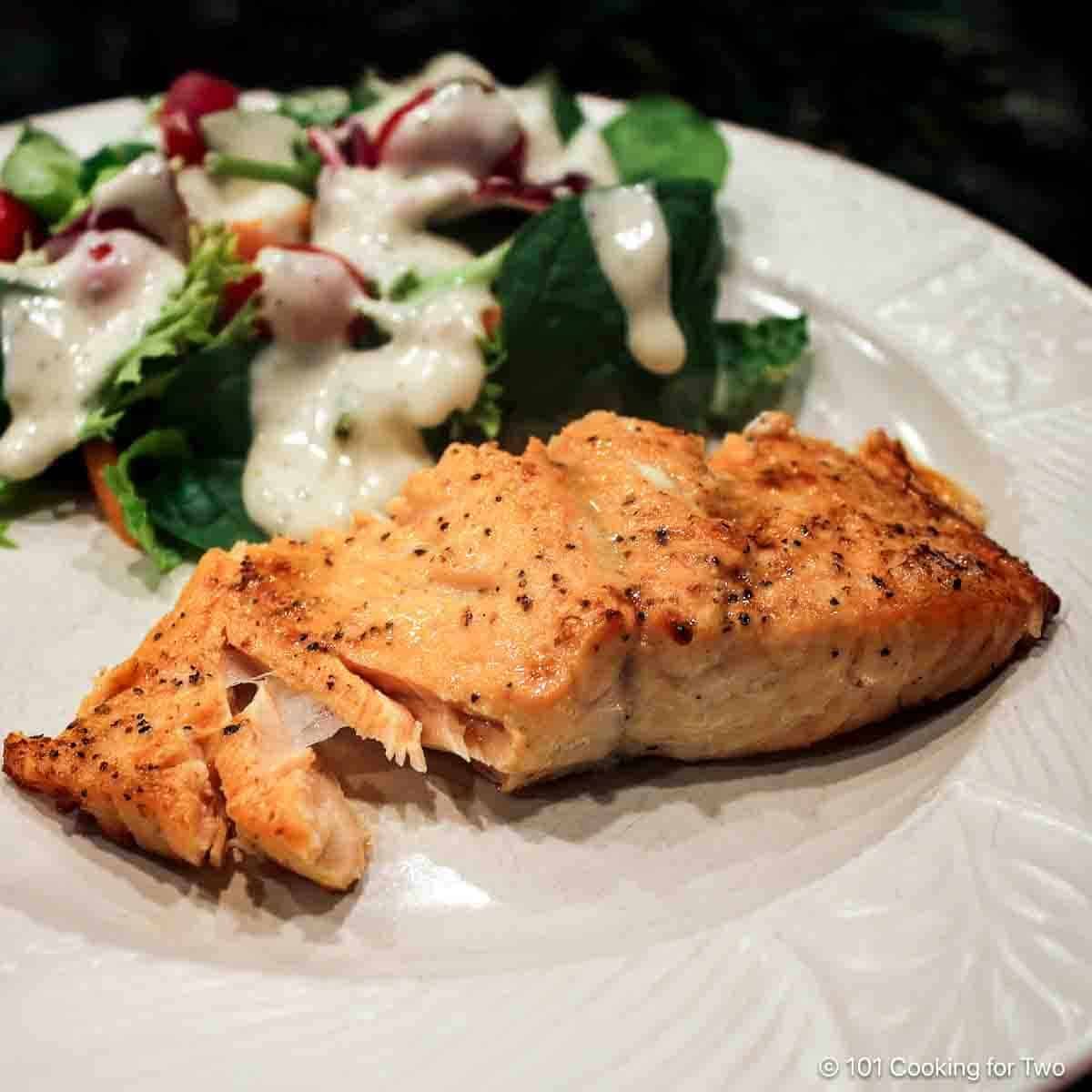 Introduction
For some reason, people don't think of salmon to cook at home. But it is so simple with just a few ingredients and these easy step by step photo instructions.
Salmon is tied with tuna for the most widely consumed fish in the United States. And having an easy go-to salmon recipe is a must for the well-rounded home cook.
There are millions of recipes out there. I didn't want a plank, to smoke nor anything with aluminum foil, yuck.
I'm a simple guy with simple tastes. I want to taste the salmon and not spend all day getting things ready. A little lemon, a bit of garlic, and a little butter, and I'm good with lots of things, especially fish.
My Rating

It is excellent, and I need to eat this frequently.
🐟The Salmon
Wild-caught salmon has a deeper, richer flavor but is significantly more expensive but has a deeper color and a bit more nutrition. The farm-raised version is a good choice and is what most people buy.
You can get a skin on or off. Most believe skin on is a better choice for moisture, and if you have skin on, then seasoning the skin side is useless, and you should cook with the skin side down.
Most will buy full filets, but this recipe works for smaller pieces since we are cooking to a final internal temperature and not (never) by time alone.
Frozen salmon is commonly available and extremely convenient to have for a quick dinner. I suggest cooking it still frozen. See the next section.
♨️Baking
The suggested oven temperature is 400° convection. Or if you don't have convection, then 425° conventional.
You can vary the cooking temperature and still get great results since we are cooking to a final internal temperature, but lower temperatures will tend to dry a bit more.
The safe internal temperature of the salmon is 145°F. That is the suggested endpoint of cooking. The fish should be opaque and flake easily.
The time will vary by your salmon, especially the thickness, the pan, and the oven. So pay attention and watch for the final internal temperature of 145°.
Cooking Frozen Salmon
You can just thaw the frozen salmon and cook per this recipe. But it is relatively simple to cook while still frozen, and it is perhaps the best way to avoid drying it too much. The instructions are the same with one major addition.
Tightly seal the entire tray with foil before going into the oven. This will trap any steam. Cook for about 15 minutes at the suggested temperature and then remove the covering foil.
It will probably take another 8-10 minutes of cooking to reach the required 145° internal temperature. Remember that thickness is a huge variable with cooking times.
✔️Tips
Skip the rack if you don't have one. Just a well-oiled pan.
You can use fresh garlic, but this cooks fast so the fresh garlic could be a bit "raw." So you probably should cook it a bit ahead of time. I went with just some good powder.
You can cut the salmon into serving size pieces before cooking. Cooking time will decrease some. And if you do this, put the thicker pieces on the outside end of the rack and thinner pieces in the center. That will help even out the cooking.
Storage and reheating: Fish is always better fresh cooked. But some times there are leftovers. Good in the refrigerator for only a day. It will dry out rapidly if you reheat so better cold on salad.
📖Other Fish Recipes
Oven Baked Parmesan Crusted Tilapia

🖼️Step-by-Step Instructions
Start with about a 1 pound salmon fillet. Preheat oven to 400° convection or 425° conventional.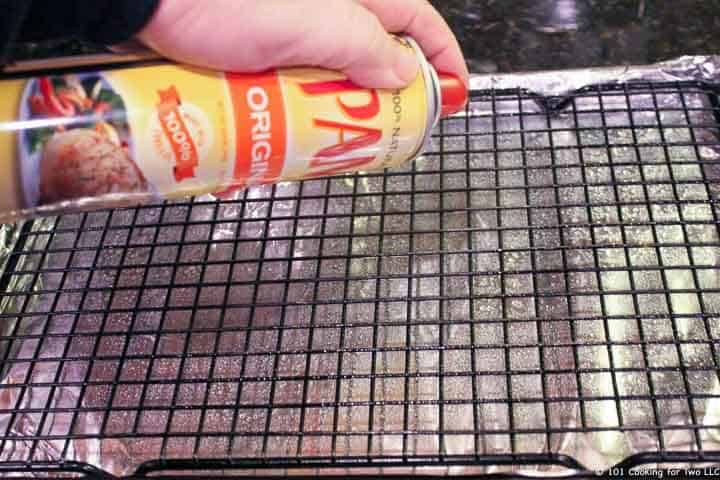 Prep a baking sheet with aluminum foil and a rack. Give it a good spray of PAM. If you don't have a rack, just use the foil and spray that.
In a small microwave-safe bowl, combine 2 tablespoons butter, 1 tablespoon lemon juice, ½ teaspoon kosher salt, ⅛ teaspoon garlic powder, and ¼ teaspoon pepper.
Microwave the butter mixture until melted (about 20 seconds). Then brush both sides.
Place on the baking rack.
Bake until flaky with an internal temp of 145°. About 14-15 minutes in my oven but yours may vary some.


Do you want more recipes from 101 Cooking for Two? Sign up for the newsletter and get all posts delivered straight to your inbox!
📖 Recipe
Editor's Note: Originally Published February 25, 2013. The text has been re-edited and expanded, the photos updated, and a table of contents added.