Blackened Tilapia is a great way to have healthy baked tilapia that is bursting with taste and spicy goodness. With a great flavor profile, you can easily adjust or eliminate most of the heat.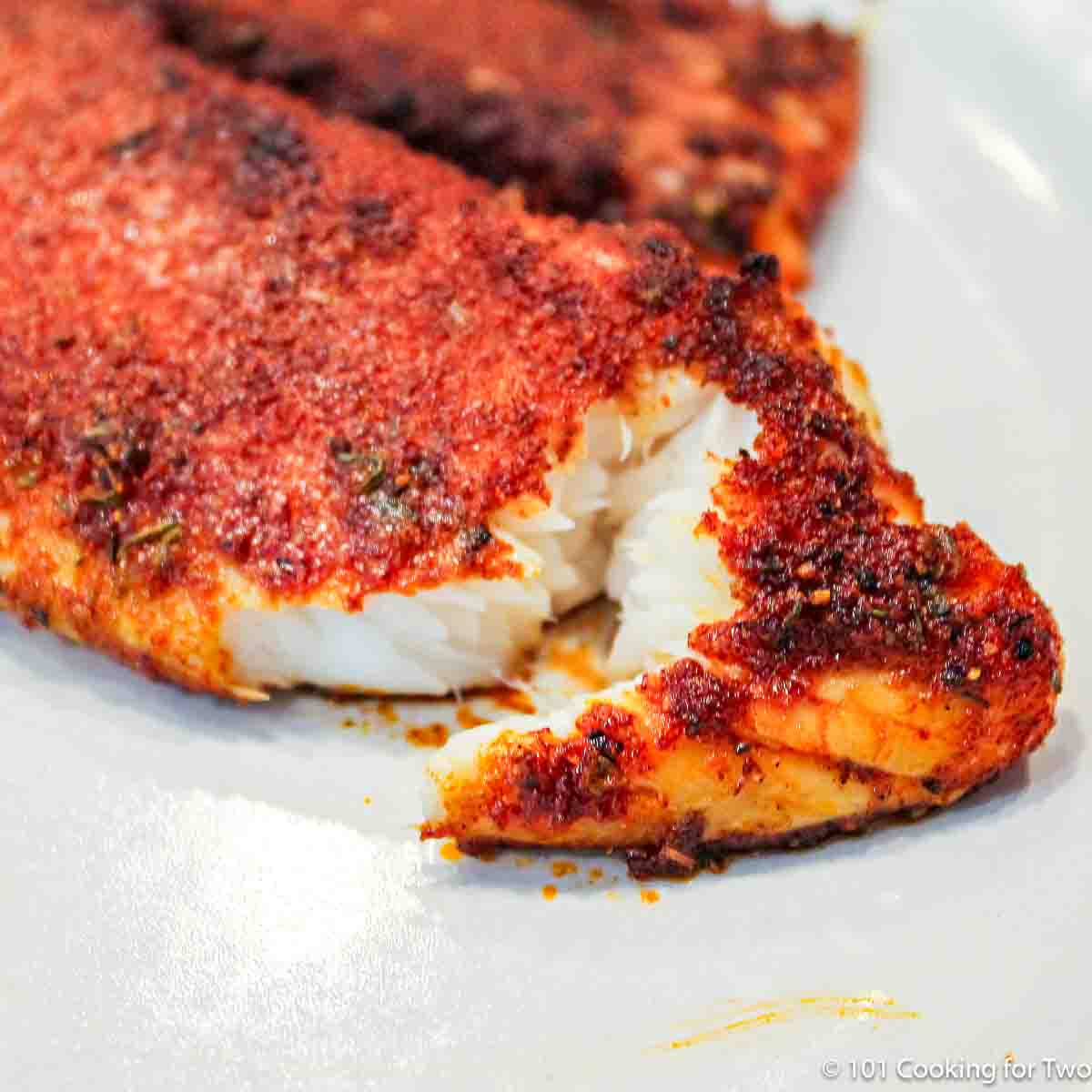 Introduction
Baked blackened tilapia is an easy dinner recipe, or you can use it for some great fish tacos. So simple with these step by step photo instructions.
Baking is much healthier than frying. I find frying fish in a pan a "pain." You have to do multiple batches, keep it warm in the oven, and stand there all the time. And the mess, oh the mess, oven baking is just so much easier.
I ended up with an Aaron MaCorgo Jr (Food Networks "Big Daddy") recipe. This man can cook and is a joy to watch, highly recommended.
The big change was going from fry pan to oven. This was not that hard. Just spice it up and cook with a little oil, including a light spray of PAM, so the top is not dry. I also adjusted the spicing some.
Do you want the grilled version? Try my Grilled Blackened Tilapia
My Rating

Wonderful. Spice it up to your desire. Just give it a try.
🐟The Tilapia
Tilapia is a mild-tasting fish that is commonly available around the world since it is easily farmed. There are hundreds of different varieties, but they are all about the same for us consumers.
Tilapia is native to Africa and the Middle East that is generally freshwater inhabiting shallow streams, ponds, rivers, and lakes. However, they've been distributed around the world, and they're farmed almost everywhere since they can tolerate a wide range of temperatures and are very hardy.
Use a Different Fish?
So, can you do this with a different fish? Sure, other fish can be used and will generally cook about the same just adjust for the thickness.
The 10-Minute Rule for Cooking Fish
Originally published in the "Canadian Fish Cook Book" 1959 from Canadian Department of Fisheries, the 10-minute rule is not perfect, but it is very good. It works for any cooking method - frying, baking, and sautéing. For baking, it generally if for oven temperatures of 400 to 450 degrees.
Measure the fish at its thickest point. If the fish is stuffed or rolled, measure it after stuffing or rolling and then time it accordingly.
Cook fish 10 minutes per inch, turning it halfway through the cooking time. For example, a one-inch fish steak should be cooked 5 minutes on each side for a total of 10 minutes. Pieces of fish less than ½-inch thick do not need to be turned over.
Add 5 minutes to the total cooking time if you are cooking the fish in foil, or if the fish is cooked in a sauce.
Double the cooking time for frozen fish that has not been defrosted.
Let's thank our Canadian neighbors.
♨️ Seasoning
The Blackening Seasoning
First, a brief discussion about blackening, Cajun, and Creole seasoning. All have a base of paprika, pepper, along with some garlic and onion powder. But Creole tends to add more herbs and is milder while Cajun is generally very hot. So depending on how you vary your spice choices, you can change the term.
The Paprika: The original recipe specified "smoked paprika". I find my standard Spanish paprika works well but use the paprika you like.
The Cayenne pepper and the heat level: The heat level is generally determined by the cayenne. For my suggested mixture of other spices.
1 teaspoon will be 9/10
½ teaspoon will be 7/10
¼ teaspoon will be 3-4/10 - my usual level
none then it will depend on other ingredients but generally about 1/10
This makes more than you need and save tightly sealed for another cooking. It is very handy to have around and goes well with other fish or chicken.
Can I use a totally different seasoning?
Sure, if you have a favorite season or just want to experiment, season as you wish. The basic cooking method will still work well.
🌡️⏰Temperature and Time
What oven temperature to use?
Generally, bake fish at higher temperatures. That will get better browning without overcooking the interior. You can find recommended ranging from 350 to 450 degrees. For tilapia, I suggest 400 or 425 degrees.
How long will it bake tilapia?
The first thing to say is it varies by the oven temperature and thickness of the fish. To be safe, fish needs to be cooked to an internal temperature of 145 by FDA rules. Also, it should be flaky.
Generally 4-6 minutes cooking time for ½ inch thick fish at 400 to 450 degrees oven. Measure the thickest area, and it needs to be thawed. There is also some variability due to the individual oven and starting temperature of the fish.
So 1-inch thick will be about 10 minutes. Always check the fish a minute or two early.
Other Tips
I was oven baking but did not want dry, so I use some oil on the tray and even sprayed the top with some oil in the form of PAM.
I did an easy tartar sauce that went well with this. This is included in the recipe to use if you wish.
📖Other Tilapia Recipes
Oven Baked Parmesan Crusted Tilapia
Easy Grilled Tilapia with Paprika

🖼️Step-by-Step Instructions
Combine 3 tablespoon paprika, 1 teaspoon salt, 1 tablespoon onion powder, one teaspoon black pepper, ¼ to 1 teaspoon cayenne pepper, 1 teaspoon dry thyme, one teaspoon dry oregano, and ½ teaspoon garlic powder. This makes more than you need and save it for another cooking. The cayenne heat level will be 9/10 at 1 teaspoon, 7/10 at ½ teaspoon, and 3-4/10 at ¼ teaspoon.
Preheat oven to 425 degrees. Line a sheet pan with foil and add 2 tablespoons of olive oil. Brush it over the foil in an area that will have fish.
Rinse and pat dry 1 pound of tilapia.
Brush the tilapia with olive oil.
Cover the fillets with the spices and rub it in (both sides). You will only need about ⅓ to ½ of the spice mix you made.
Place on the oiled pan and give the fish a light spray of PAM. Place in the preheated oven.
If you want a homemade tartar sauce, combine ⅓ cup mayo, 2 teaspoon lemon juice, 1 teaspoon sweet pickle relish and ¼ teaspoon onion powder. Mix well.
Cook until nicely brown and flaky. This is 9-10 minutes for big fillets and a minute or two less for small to medium fillets.


Do you want more recipes from 101 Cooking for Two? Sign up for the newsletter and get all posts delivered straight to your inbox!
📖 Recipe
Editor note: Originally published August 3, 2012. Updated with expanded options, refreshed photos, and a table of contents to help navigation.