From scratch cheesy chicken, broccoli, and rice casserole with no cans of soup needed. Homemade with a great buttery Parmesan topping, this will become one of your favorite comfort foods. Easy enough for a great weeknight dinner.

Introduction
I was suffering blogger block, so a wife consult was needed. I discussed Italian or maybe some pork chops. But she had several broccoli, chicken, and rice recipes saved. Now our history with this dish has not been the best.
My best effort for this type of recipe was several years ago for Thanksgivings but way too much work for the return and a ton of ingredients. I have had several attempts of modifications of that recipe, but really nothing hit the mark.
If you have been around this blog for a while, you know I'm "allergic" to using cans of soup for cooking. I will do almost anything to avoid it. While I know what all those chemicals in the can are and I'm not "afraid" but it is like fingernails on a blackboard.
So having said all that, my "inspiration" recipe came is from Food.com. It had most of the right stuff—no can of soup and not too many ingredients. It needed some changes. It needed to include the cooking of the chicken and some more specific instructions. It also lacked to crispy topping my wife craved. I can add that.
My Rating

A very strong 4. Not a 5 just because of what it is—an excellent recipe. My wife gave a 4.5 and said I could make it anytime I want.
🐓Chicken
I'm using skinless boneless chicken breast here, but almost any chicken will do. Thighs will work fine.
You can use pre-cooked chicken like a rotisserie chicken. You will need about 4 cups. More or less should be OK. If you use pre-cooked chicken, cook the onion and garlic in the skillet without the chicken. Then add the chicken with the rice.
🥦Broccoli
I generally like to use fresh broccoli. One large head will cleanout to be about 2+ cups of florets. But it is fine to be a little over or under on the amount of broccoli.
I do chop up the medium size stems but skip the large thick trunk.
Can I use Frozen Broccoli?
Yep, just measure by volume. A good size head of broccoli will make about 2 cups. So use 2 cups, but more or less is fine; it is a casserole. A standard 12 oz frozen bag will be about 3 cups but varies some.
✔️Tips
The original recipe used bouillon cubes and water to cook the rice. I just went with broth. I cooked the chicken with the onion and garlic.
I topped with Panko bread crumbs combined with butter and some grated Parmesan. Great addition and entirely my wife's idea.
Cheese choice is next. Every recipe I reviewed used cheddar cheese. I prefer Monterey Jack for this sort of dish. But use what you wish. I think Jack was just right.
This is an easy recipe to cut in half. Use a 6 by 9 or 8-inch square dish.
Good refrigerated for 3-4 days and should freeze OK for 3-4 months. Like all rice dishes, the quality will be a bit less after freezing.
This casserole is a great make-ahead recipe. Assemble and refrigerate for up to 2 days. Add a few minutes to the cooking time if you are cooking a cold casserole.
📖Comfort Food Recipes
Classic Tuna Noodle Casserole with Parmesan Topping

🖼️Step-by-Step Instructions
Preheat oven to 375°.
Chop one head of broccoli into bite-size pieces. See the discussion above for frozen.
Bring 3 cups of low sodium chicken broth to a boil. Add 1 ½ cup long-grain rice and the broccoli. Cover and lower heat to low. Cook for about 15 minutes until fluid is absorbed.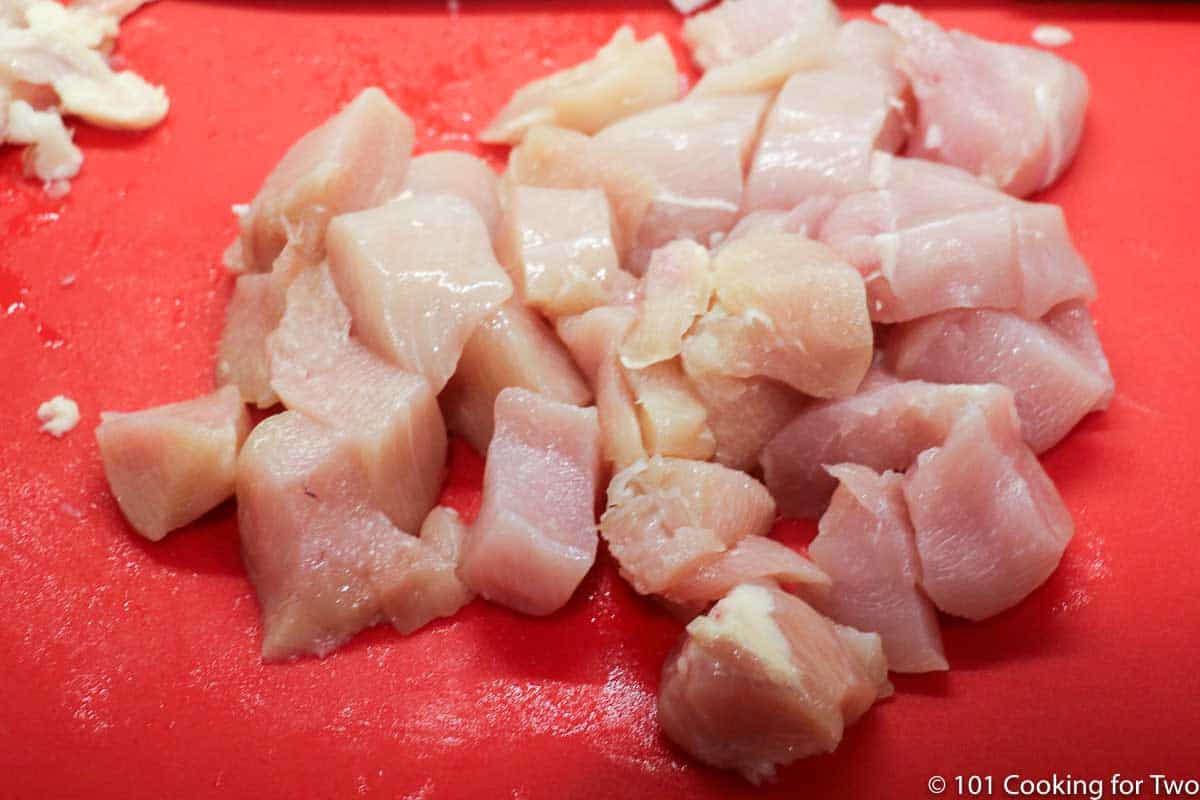 While rice is cooking, chop one small onion and cube two skinless boneless chicken breasts into ½ inch pieces.
Over medium-high heat, melt 1 tablespoon butter in a large skillet, then add the chicken and onions. Cook until onion is translucent and chicken is 165° internally. About 1 minute before the endpoint, add 3-4 cloves crushed garlic—about 9-10 minutes total.
Remove the chicken from heat and wait for the rice to finish. Then combine rice with the chicken, add ½ cup milk, 3 tablespoons mayonnaise, ½ teaspoon salt, ¼ teaspoon pepper, 1 ½ cups of shredded cheese of choice. Mix well.
Mix crumble top. 1 cup Panko bread crumbs, 3 tablespoons melted butter, and ¼ cup grated Parmesan cheese.
Spray a 9 X 13 casserole dish with PAM and add mixture. Top with ½ cup of shredded cheese of choice. Then add the bread crumb topping.
Bake for 30 minutes until golden brown and bubbling.
Allow to rest for 10 minutes before serving to absorb fluid.


Do you want more recipes from 101 Cooking for Two? Sign up for the newsletter and get all posts delivered straight to your inbox!
📖 Recipe
Editor's Note: Originally Published October 23, 2016. Updated with expanded options, refreshed photos, and a table of contents to help navigation.