Use that leftover turkey to make this easy from-scratch turkey tetrazzini casserole—a classic creamy pasta comfort food with a great parmesan topping.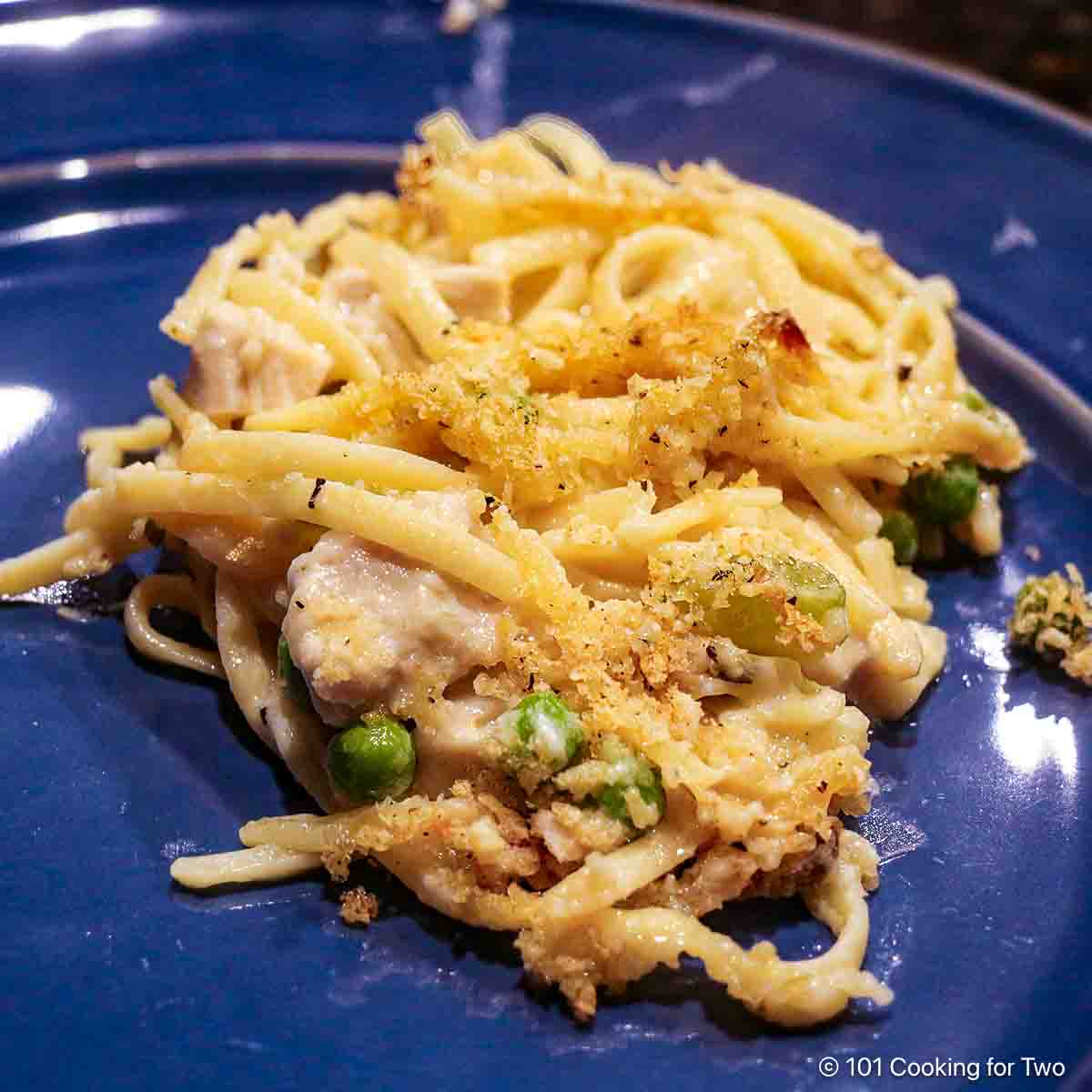 Introduction
Many of us (me usually) end up with too much turkey, and you can only do so many turkey sandwiches. So let's do something great with it. Turkey Tetrazzini is a great choice for those leftovers haunting you.
I try not to use a "can of soup" on recipes, and it is not really needed here. Fresh from scratch is better.
I loosely based this recipe on Turkey Tetrazzini on Allrecipes.com. There were issues: no salt, no pepper, no taste. These and others were pointed out by over 600 comments, which fixed the issues and gave it 5 stars anyway.
My Rating

A 4.5 from the wife, and a straight four from me.
What is Tetrazzini?
While we Americans think of this as a classic Italian dish, it is all American. Named after Italian opera star Luisa Tetrazzini, it first appeared in San Francisco in the early 20th century, where Tetrazzini was a long-time resident.
There is no exact definition, so the recipes do vary a lot. It is usually poultry or seafood with a Parmesan sauce, and usually, mushrooms served over linguine or spaghetti. There can be some wine involved in the cooking, and it is frequently baked as a casserole.
SO... I'm still calling it Italian.
📋Ingredients
Turkey
Use dark or light meat. I to use cubes but shredded would be ok but harder to eat. You can vary the amount of turkey to use up what you have.
You can also make this with leftover ham or rotisserie chicken.
Vegetables
We celery and onion, along with peas, are very typical. The celery and the onion need some precooking since the casserole doesn't cook that long. The peas are better if added frozen.
Most people like mushrooms, but there are food allergies and just not a taste we normally add. Toss about 1 cup in with the celery if you wish.
The Topping
We love a Parmesan bread crumb topping on most of our casseroles. I have accused my wife of using a bigger pan so there could be more topping.
❄️Storage
Once cooked, this casserole is good refrigerated for 3-4 days or frozen for 3-4 months.
You can make this ahead in an oven-safe pan. Prepare up to the cooking point but seal well and freeze for up to 3-4 months. Be sure to defrost the frozen casserole overnight in the refrigerator before cooking.
👨‍🍳Make It Half Size
This is an easy recipe to cut in half, but I was cooking for leftovers and company, so I always do full size.
You can adjust the number of servings in the recipe card below. It will calculate the ingredient adjustments for you but not change the instructions. You will need to do those yourself.
A half-size recipe fits in a 6 by 9 or an 8 by 8 baking dish. Cooking time will only be slightly less. You are cooking to a nicely browned topping. All the ingredients are already cooked and safe.
📖Leftover Recipes
Crock Pot Ham Bone and Bean Soup
Old Fashion Scalloped Potatoes and Ham
What to Do With Leftover Beef Tenderloin? Philly Sandwiches

🖼️Step-by-Step Instructions
Preheat oven to 350° convection or 375° conventional.
Cook 1 pound of pasta to al dente per package instructions—used Linguine or spaghetti. Cube about 4 cups of leftover turkey.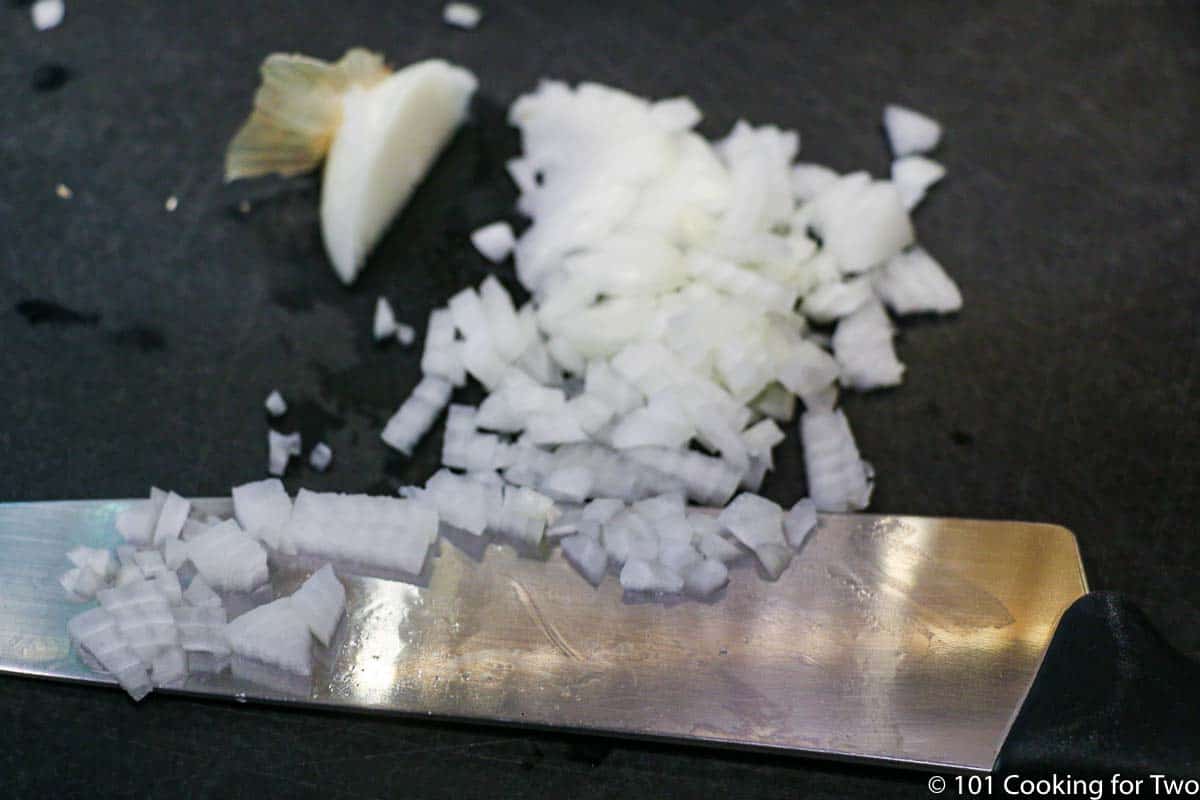 Dice 1 small onion, crush four cloves garlic, dice two stalks celery.
Melt one stick butter (½ cup) over medium heat. Add onion, celery, and mushrooms if using. Cook about 3-4 minutes until the celery is clearing. Add the four cloves of crushed garlic and cook one more minute. Add one teaspoon salt, ½ teaspoon pepper.
Add ½ cup flour. Stir until browning some about 2 minutes.
Add one 14 oz can chicken broth while continuously stirring. Bring to a boil, and when starting to thicken, add three cups of milk and one cup of shredded or grated Parmesan cheese. Continue a light boil and stirring while thickening — about three more minutes.
Remove from heat, add four cups cubed turkey, one pound cooked pasta, one cup of frozen peas. Mix well and transfer to a 9 by 13-inch baking dish that has been coated with PAM or butter.
Mix one cup of Italian Panko breadcrumbs with ½ cup of shredded or grated Parmesan cheese and sprinkle over the top of the casserole.
Bake for about 35 minutes until golden brown and bubbling.


Do you want more recipes from 101 Cooking for Two? Sign up for the newsletter and get all posts delivered straight to your inbox!
📖 Recipe
Publisher's Note: Originally published November 29, 2015. Updated with expanded options, refreshed photos, and a table of contents to help navigation.