Classic American ground beef goulash casserole with a cheesy kick like the lunchroom ladies made—great comfort food. Also known as American Chop Suey, chili mac, or just goulash, this easy dinner recipe will become a standard at your home.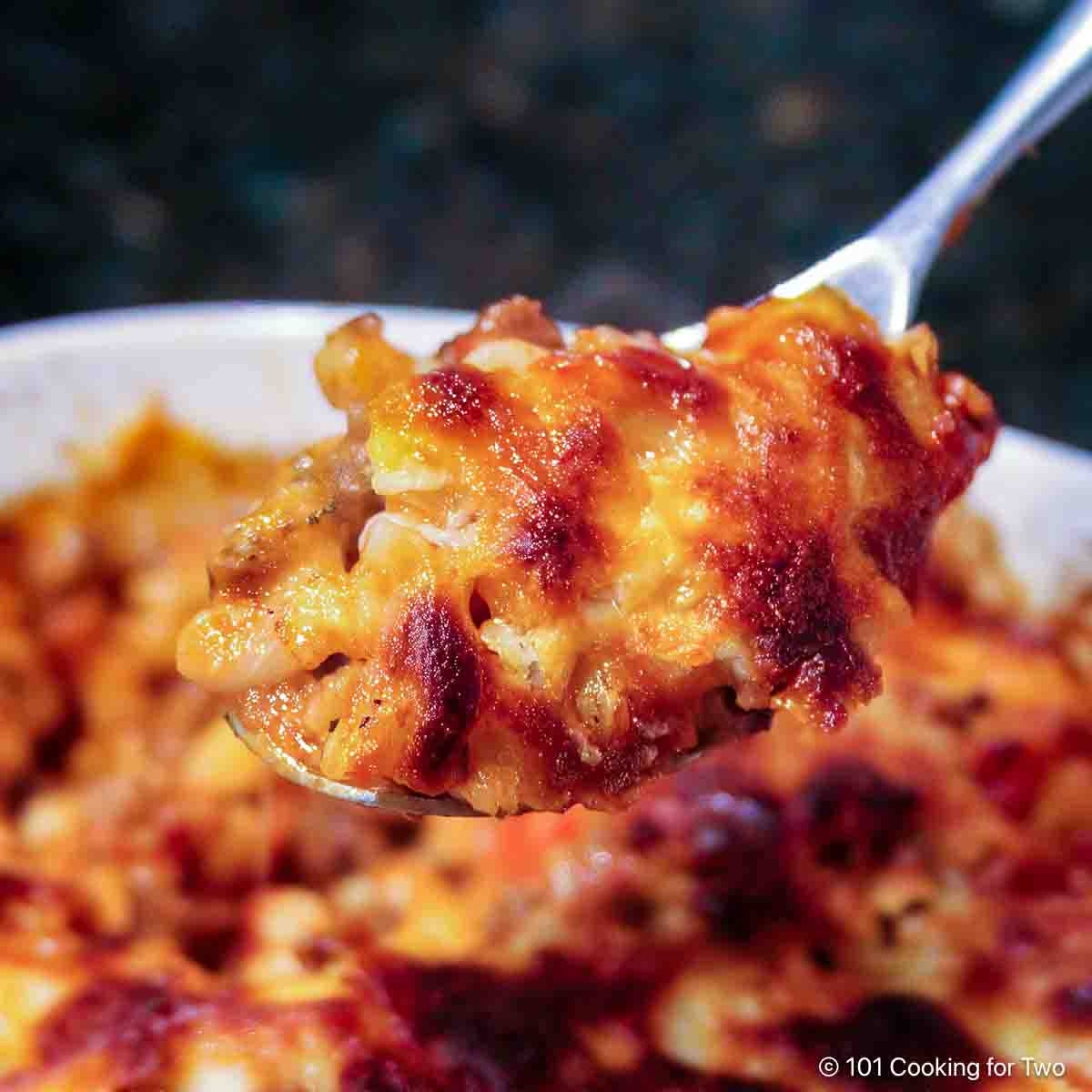 Introduction
Most of my generation will remember the old school lunch goulash. It was one of the things they could do right. Add a lot of cheesy topping; I'm in lunchroom heaven.
While I'm told this is more of a Midwest thing, I suspect other regions (I'm looking south) have similar dishes. Other names such as American Chop Suey, chili mac, beef with macaroni, or just goulash. I was searching for chili mac when it dawned on me it was goulash.
Give it a try today, and you'll have an easy, tasty everyday dish that will be a favorite of kids and the whole family.
My Rating

A nice solid 4 for this everyday type recipe.
♨️What is Goulash?
If you think of this as a cheesy tomato hamburger casserole, you will be about right. And it is great comfort food, especially with the added cheese.
Some feel that the term goulash needs some heavy paprika. There is some in the seasoning salt, and feel free to add a teaspoon or two of paprika if you wish, but to me, the taste is just right, lunchroom goulash with lots of cheese.
American goulash is more "freestyle" while Hungarian goulash has multiple specific variations and lots of opinions of what is right or wrong. I'm more of a freestyle guy.
👨‍🍳Ingredients
There is enough spicing in this dish that you can use the ground meat of your choice, like turkey or chicken.
Pick the cheeses of your choice. I added cheddar to the casserole and topped it with mozzarella. But all cheddar is more when I had in the 60s.
Add 1 to 2 teaspoons of paprika you want more of a Hungarian type taste.
You can skip the whole cheese thing and make it a stovetop dish. Cook the macaroni a little longer and just mix it all in one pot. I prefer cheese and oven-baked.
Any pasta can be used, but elbow macaroni is traditional.
This is just a casserole. Add what you want or have hanging around. Some will add green pepper, corn, or other things.
❄️Storage
Many think it is much better warmed up the next day, and I think that may be true if served straight up without the baking.
This is good refrigerated for 3-4 days or frozen for 3-4 months.
📖Comfort Food Recipes
Classic Tuna Noodle Casserole with Parmesan Topping
Cheesy Chicken, Broccoli and Rice Casserole

🖼️Step-by-Step Instructions
Preheat oven to 350° convection or 375° conventional. And heat water and start cooking 1 pound of pasta.
Start brown 1 pound of ground beef over medium-high heat.
Chop one small or ½ medium onion. Add the onion to the ground beef about 5 minutes into cooking, and add two cloves of minced or crushed garlic to the burger the last few minutes of cooking the ground beef. Drain when done cooking.
Prep a 2 ½ quart baking dish with PAM.
To the baking dish, add one 15 oz can tomato sauce, 14 ½ oz diced tomatoes, one teaspoon basil, two teaspoon seasoning salt (I used Lowery's), ½ teaspoon pepper. Mix well.
Add the ground beef along with the pasta and mix well.
Stir in 1 cup shredded cheddar cheese.
Top with ½ cup mozzarella.
Bake until golden brown. About 30 minutes.


Do you want more recipes from 101 Cooking for Two? Sign up for the newsletter and get all posts delivered straight to your inbox!
📖 Recipe
Editor's Note: Originally published November 16, 2013. Updated with expanded options, refreshed photos, and a table of contents to help navigation.