Super easy chocolate pretzel candies are a great sweet and salty combo. They are perfect for "take a treat" to school, an office party, or even give them as gifts. Just three ingredients and no skill will get you these delicious candies.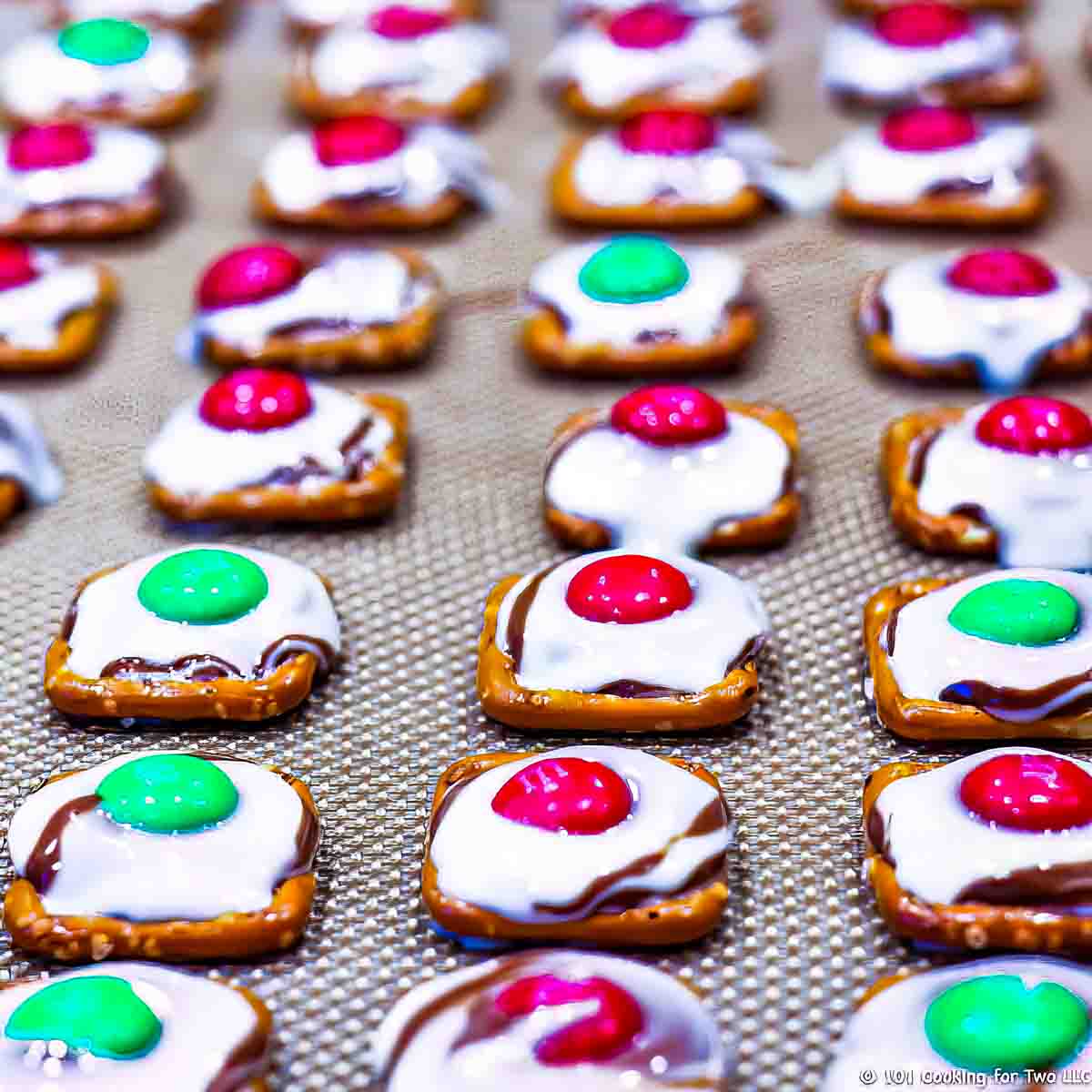 Introduction
I call this holiday cooking for the non-cook. Spread some pretzels on a cookie sheet, top with a chocolate kiss. Soften the chocolate in a low oven for a few minutes and press in an M and M and allow.
While several blogs have done variations, I'm going with Chocolate Pretzel Treats at allrecipes.com as the inspiration piece.
Skill level 1/10. If you can't do this one, you need to stop reading food blogs.
My Rating

5-ish. I really can't live on them but good.
🥨 Pretzels and Candy
The Pretzels: A small pretzel is mandatory to get this right. The square pretzels are an excellent choice, but a more traditional shape will work fine since we are going to let the candies cool before moving them.
The Candies: I am using "hugs," but regular candy kisses will work fine. Hershey Kisses are brown chocolate and Hugs are white with stripes.
Hugs are a little more interesting and add some holiday cheer. There were 78 Hugs in the package.
Then top with an M & M candy. Again regular, but I'm using the holiday colors here.
🌡️Oven Temperature
Oven temp recommendations vary some from 175 to 300, with the most common being 200. I'm going with that. I feel higher temps will melt the outside before the inside of the hug is soft.
You are NOT trying to melt the chocolate. Just soften it. Bake for a few minutes and as soon as they kisses are shiny, remove them and press in the M&M's.
If not soft enough, pop them back in for 30-60 seconds. When done, they can firm up at room temperature or faster in a freezer.
Equipment Notes
Non-Stick is Needed; Use parchment paper or oven baking mats. These candies will stick to trays.
A storage note: Good covered at room temperature for 3-4 days.
📖Candy Recipes
Crock Pot Chocolate Peanut Clusters

This recipe is part of Christmas Candy Recipes. Check out other easy candy recipes.

🖼️Step-by-Step Instructions
Preheat oven to 200°.
Cover a baking sheet with parchment paper or a baking mat. Spread pretzels on the sheet spaced not to touch. Top with an unwrapped chocolate kiss or hug.
Bake until chocolate is shiny but not melted. Watch continuously, and it should be about 4 minutes. Remove from the oven and press M&M into the kiss. If not soft enough, then place back in the oven for 30-60 seconds.
Allow to cool. Room temperature is alright, but the freezer is faster.


Do you want more recipes from 101 Cooking for Two? Sign up for the newsletter and get all posts delivered straight to your inbox!
📖 Recipe
Originally published December 7, 2014. Updated with expanded options, refreshed photos, and a table of contents to help navigation.