Have a classic treat with these wonderful old-fashioned popcorn balls for Betty Crocker's 1972 Cookbook. You can't get more classic than this. Easy to follow step-by-step photo instructions.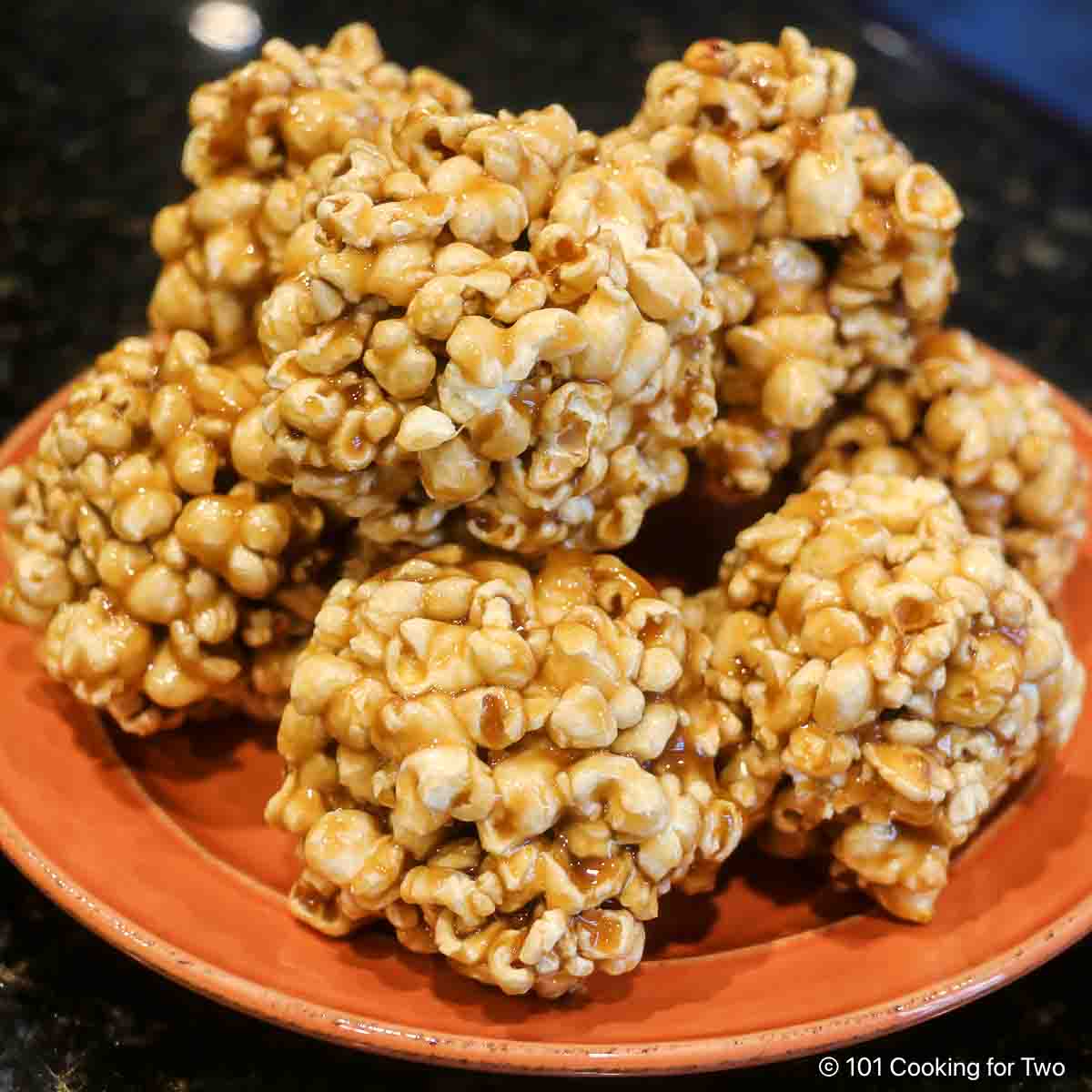 Introduction
Popcorn balls are an American classic. They started in the mid-1800s and probably peaked in the 1950s when I was trick or treating.
We all have certain things associated with certain holidays. Well, for me, Halloween means a popcorn ball from Martha Cackler. I grew up in a town of 25 people, so Halloween had 4 or 5 stops and that was it. Mrs. Cackler made the popcorn balls... I loved them so.
So I went in search of a classic popcorn ball recipe. But there appeared to be multiple variations and ratios. Very confusing. So off to the authority, Betty herself.
So what were the variations you may ask? Some used marshmallows... not classic to me. There were some variations in the syrup, but the biggest difference was in the amount of popcorn-related to the amount of syrup, up to 100% variation.
It took me three trial runs to get this right. The first time I'm sure I misread the candy thermometer. The second, I added some Paula Deen into Betty. Not good. Way too much popcorn to syrup ratio. And I think it is the first Paula Deen recipe I found without butter... really. The third and successful run stuck very close to the book, and I added a little vanilla.
My Rating

Ok, maybe a four, but the memories kick it up a notch.
🍿The Popcorn
This is the old-fashioned stovetop method for popping the corn. It seems right for this recipe. It is more specific then is probably needed, but that is to keep the number of unpopped kernels to a minimum.
You can use an air popper, microwave, or any other way to get your popcorn, but it needs to be fresh and shifted well for unpopped kernels.
👨‍🍳Additives
These are "plain" popcorn balls. You can add about 1 cup of extras like nuts or candy. But please remember your audience may have allergies and do not hand out homemade or unsealed treats to strangers on Halloween.
✔️Tips
This recipe requires a candy thermometer. Do not try it without one.
This is HOT, so be careful!!!! You need to form the balls by hand while still hot. Please be very, very careful, and if you don't feel safe, don't do it.
You are responsible for not getting burnt here, and I can't help you.
Do not let children do this.
It is very important to check the popcorn carefully for unpopped kernels. You may be preventing a dental injury.
Storage: Best consumed in 24 hours but still good for 3-4 days wrapped airtight at room temperature. And no, it is not a thing to freeze.
📖Sweet Treat Recipes

🖼️Step-by-Step Instructions
Start by popping the corn.
Place ¼ cup oil over medium-high heat with three kernels of corn. As soon as the corn pops, remove from heat, add ½ cup of unpopped corn and cover with a lid. Allow to set for 20-30 seconds for the kernels to come up close to popping temperature. Place back over medium-high heat and pop the corn shaking the pan occasionally.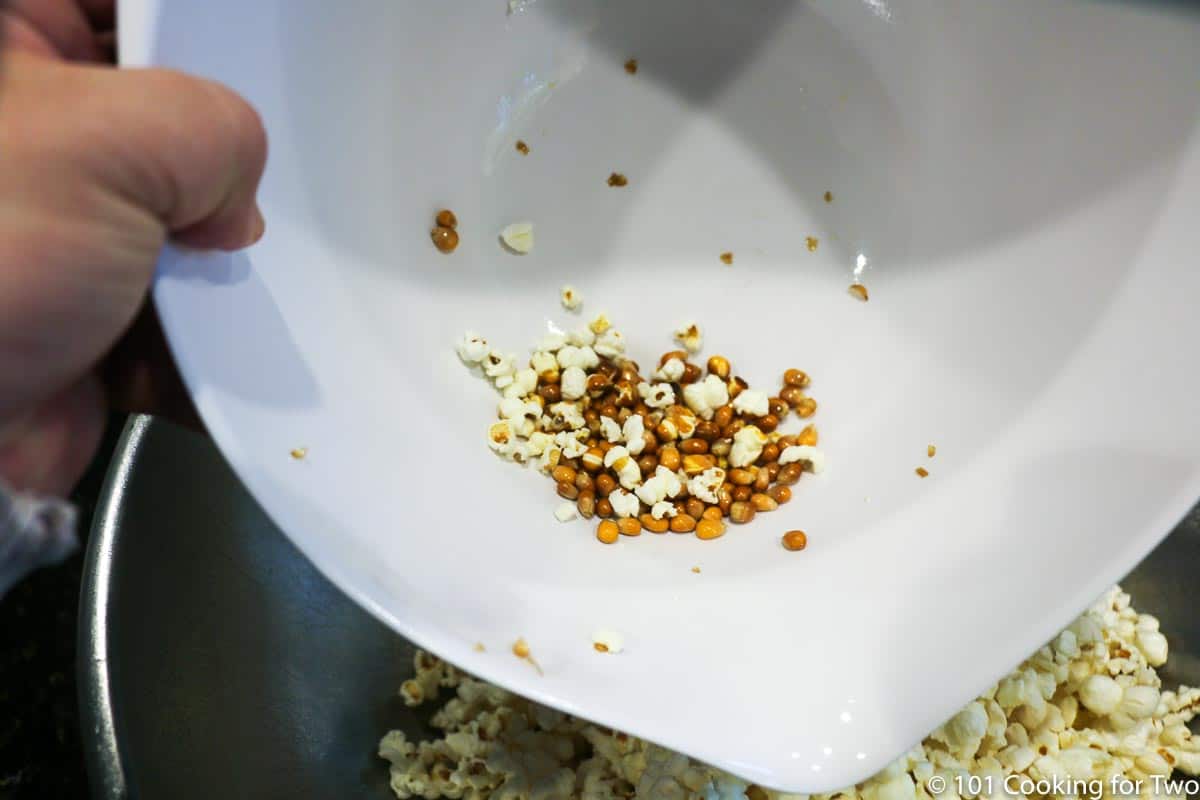 You need 8 cups of popped corn. Spend little time getting rid of un-popped kernels. The easiest way is to shake the container and moving the top layer to another pan.
Prep a large pan and a wooden spoon or rubber spatula with PAM and transfer popcorn to the pan. This is the point to add nuts or candy if desired—about 1 cup and mix in well.
In a non-stick pan, add ¾ cup white sugar, ¾ cup brown sugar (light or dark), ½ cup light Karo corn syrup, ½ cup water, one teaspoon white vinegar, and ½ teaspoon salt.
Place over medium-high heat with a candy thermometer and cook to 260 degrees stirring frequently. Remove from heat and add ¾ cup butter, ½ teaspoon vanilla and place back over low heat until butter melted.
Now for the hot part. Slowly pour the hot syrup over the popcorn while mixing with the PAM coated spoon.
Continue to stir for a few minutes until cooled some. Spray your hands with PAM. Be VERY CAREFUL since you can get burnt so test very carefully before proceeding and only proceed if you feel it is safe. I kept the cold water running in the sink but didn't need it.
Form the popcorn into balls of about 1 cup each by scooping with a measuring cup that has a heavy coat of PAM. Place on wax paper or cooking mat to shape. Work quickly and use more PAM as needed - about every two balls for me. So scoop, dump, shape, cold water on hands if needed, a spray of PAM if needed (cup and hands), then repeat QUICKLY until done.
Allow to finish cooling. You can wrap with plastic wrap, and they should keep 3-4 days.


Do you want more recipes from 101 Cooking for Two? Sign up for the newsletter and get all posts delivered straight to your inbox!
📖 Recipe
Editor's Note: Originally Published October 28, 2015. Updated with expanded options, refreshed photos, and a table of contents to help navigation.