Learn how to cook sausage in the oven with this easy oven "fried" method. Make great breakfast sausage, but the same method works just as well for larger sausages like brats, Italian, kielbasa, and other sausages.
Introduction
Why are you standing at the stove and making a mess? I have been cooking bacon in the oven for several years, but everybody still stands at the stove and makes a mess with sausage.
Well, let's put a stop to that now. Just pop it in the oven, flip once, and done. That is a recipe?
My Rating

I love sausage.
🐖The Sausage
For breakfast sausage, I use patties or links, and both work fine. We love Bob Evans but use your favorite brand, but I digress.
With minor cooking time adjustments, the same simple technique that works for breakfast sausage will work for any ground meat like larger sausage like Italian sausage, brats, kielbasa, or other larger sausage.
If you are cooking patties, dimple the center by ¼ inch and about ¾ inch diameter to prevent puffing.
The Pan
Almost any over-safe pan will do, but a ¼ sheet pan works great. Whatever pan you use, it needs some sides to prevent a mess.
I would try to avoid something with high sides that might interfere with the cooking. A larger sheet pan would be preferred to a cake pan.
There is no need for a rack, and I don't use foil since it cleans up well.
While my sheet pan is "non-stick" and there is minimal sticking, if you have sticking on your chosen pan, then a piece of parchment paper would be a good idea.
🌡️Oven Temperature
If I'm just doing the sausage by itself, I use 400° convection or 425° in a conventional oven. But I have done this as low as 350° conventional and as high as 425° convection. Just adjust the time and use your thermometer.
So use the temperature you are using for your other dishes. I frequently do this with my Oven Baked Blueberry Pancakes to may my wife's favorite breakfast for special days.
A lower temperature will take a few minutes more, and of course, higher will cook a little faster.
⏰Time
Cooking time is generally about 18-20 minutes for breakfast sausage. But it is dependent on the oven temperature you choose and the thickness of the sausage.
If you are cooking bigger sausage, cooking time may be closer to 30-40 minutes, like a brat. But always check the internal temperature, never by time only.
Like any ground meat, the minimum safe internal temperature is 165°. Please use a meat thermometer to tell. Do not cook by color or time, please. Use that thermometer for safety.
Due to oven temperature variables and sausage variables, they may not be nicely brown. If you want, turn on the broiler for a few minutes at the endpoint to get the color you want if needed.
✔️Three Tips
If cooking patties, dimple the center to prevent puffing. A depression of ¼ inch and ¾ inch diameter will prevent puffing up of the meat as it cooks and will help more even cooking.
Flip patties or rotate links every 10 minutes through cooking.
Cook to 165° internal temperature and use a few minutes under the broiler if you want more color. Secret tip—the bottom of the sausage is browner when you reach 165°.
📖Breakfast Recipes
How to Cook Bacon in the Oven

Oven Baked Blueberry Pancakes

Cinnamon Roll Cake

🖼️Step-by-Step Instructions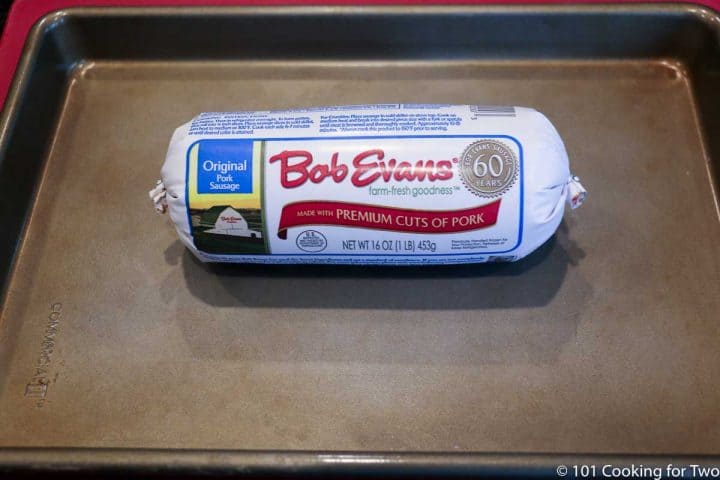 Preheat the oven at 400°convection. Anything from 350° to 425° with or without convection should be fine, but you will need to adjust time and perhaps need a couple of minutes under a broiler at the end to brown up some.
If cooking patties of sausage, dimple the patty center by about ¼ inch deep and ¾ inch diameter. This will prevent puffing of the meat during cooking.
Spread sausage over a rimmed baking tray, so they don't touch. I'm using a non-stick baking pan. A spray of PAM doesn't hurt. You could use parchment paper or non-stick foil also.
Bake for 10 minutes then flip the sausage. If using links, rotate them.
Finish cooking to an internal temp of 165°. You can do a few minutes under the broiler if you want more browning.


Do you want more recipes from 101 Cooking for Two? Sign up for the newsletter and get all posts delivered straight to your inbox!
📖 Recipe
Originally Published February 14, 2015. Updated with expanded options, refreshed photos, and a table of contents to help navigation.