Learn to cook perfectly crispy bacon in the oven that everybody will love. Nothing is better than great bacon, and now you can have it with no splattering mess to clean up with these easy step by step instructions.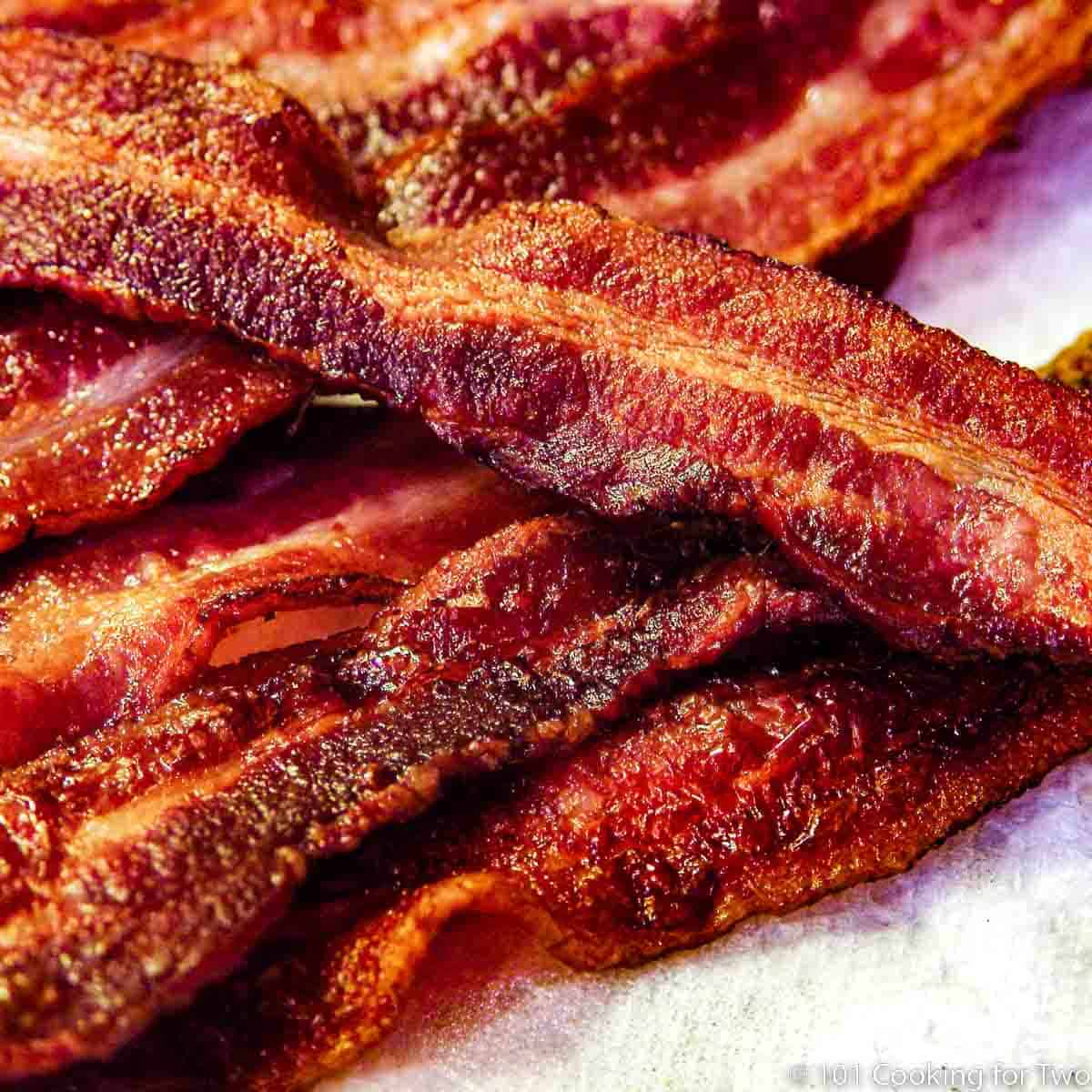 Introduction
How many times have you stood at the stove cooking bacon? You splatter everything, including those annoying "burns" on your hands. It wrinkles and rolls up. You have a hard time getting the ends to uncurl and cook. And if you're cooking for company, you are missing all the action.
Well, I here to tell you, it is not necessary, just put it on a tray and bake it in the oven. You can preheat or not preheat. It will be done in about 20 minutes.
I initially thought the taste would be different if oven baked. Nope, it tastes the same. Your days for frying bacon are now gone.
My Rating

A very high five. How could great bacon be anything else?
🐖Bacon
Bacon is salt-cured meat that is from pigs. That "curing" is done by soaking in salt, nitrates, and occasionally with some sugar and smoke.
Various cuts of pork are used for bacon around the world, but in the USA, it is mostly the belly or side belly.
Generally, the bacon will have about 50% fat and needs to be cooked at a higher temperature to render the fat.
I usually use thick-sliced Hormel Black Label bacon from Sam's Club. I highly recommend this as one of the top bacon commonly available. But this will work with the bacon of your choice. Just get the bacon you love.
Thinner bacon will cook faster and does tend to stick more, so parchment paper may be preferred to foil. Bacon with more sugar will also tend to stick more.
♨️The Oven
400° convection or 425° conventional oven is a good starting point, but you may use anywhere from 350° to 450° if doing other cooking. The general rule, of course, is convection runs 25° "hotter" than conventional. So 400° convection is considered equivalent to 425° conventional. Of course, adjust your time a little.
If cooking other things in the same oven at the same time, I use the temperature recommended for the other dish I'm cooking: a coffee cake, an oven-baked pancake, etc.
⏰How Long
Generally, about 20 minutes for thick bacon in a preheated 400° convection or 425° conventional oven. Your variables are the oven, the bacon, and finally, the crispiness you want.
Thinner bacon will take about 16 to 18 minutes in the same oven. Very thick bacon will take a few minutes more.
If you don't preheat the oven, it will take a few minutes longer.
Your done point is that it "looks done." Don't expect it to look different from pan-fried. I like my bacon very crispy, so I use 20-22 minutes depending on the oven and the bacon.
👨‍🍳Variations
To use a rack or not.
Many feel it will make the bacon crisper. I don't seem to have a problem getting crispy, so I don't use a rack. They are a pain to clean vs. folding up the foil.
Foil vs. parchment paper.
Parchment paper will be less likely to stick—another problem I don't have. I like the foil since it will contain the fat and make cleanup a breeze. One suggestion is a sheet of parchment paper on the foil.
As I have already said, thinner bacon tends to stick more to me, and parchment paper is probably preferred for thinner bacon. But "non-stick" foil is another option.
Some methods "wrinkled" the aluminum foil to get more waves in the bacon. I tried both methods, and I will stay "flat" since it still had some waves in it.
For comparison of several of these methods, please check The Pioneer Woman.
❄️Storage
Raw uncooked bacon vacuum packed will have a best if used by date. It is usually good a few days past that, but if I'm approaching it, I like to freeze the bacon.
Sealed raw bacon is usually really quality frozen about one month but usually safe for 3-4 months but can vary some by type. See the USDA Recommendations if in doubt.
Once cooked, bacon is good refrigerated for 4-5 days and frozen for one month if sealed well.
To reheat leftover bacon, cover with a paper towel and microwave for 8-10 seconds per slice.
📖Breakfast Recipes
How To Cook Sausage in the Oven
Smaller French Toast Casserole

🖼️Step-by-Step Instructions
Preheat oven to 400° convection or 425° conventional. Or start with a cold oven and add a few minutes. You can use a lower or higher temperature if needed.
Line an 18-inch × 13-inch rimmed sheet pan with a large sheet of aluminum foil (heavy-duty preferred) and turn up edges. Place bacon on sheet close together but not touching. 8-10 pieces, about ½ pound, will usually fit. If you are doing thinner bacon or have issues with sticking, then parchment paper may be a better choice for you.
Place in the middle of the oven for 18 minutes and come back to check. Time will vary with the thickness of the bacon and your taste.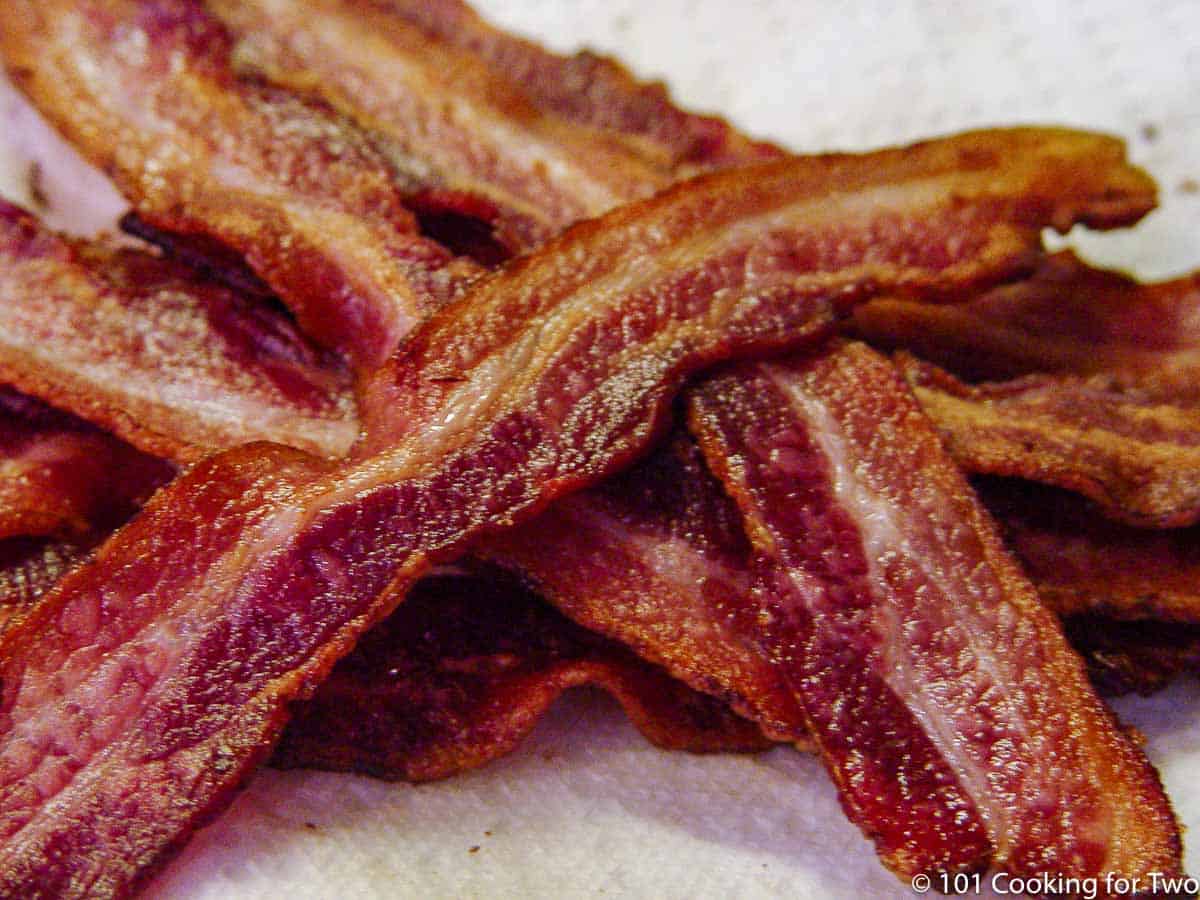 It is done when it looks done. I like my bacon very crispy, so I use 20-22 minutes with thick bacon. Drain on paper towels. Thinner bacon will usually be 16-18 minutes but be alert.


Do you want more recipes from 101 Cooking for Two? Sign up for the newsletter and get all posts delivered straight to your inbox!
📖 Recipe
Editor's Note: Originally published October 8, 2011 and updated with expanded options, refreshed photos, and a table of contents to help navigation.