Absolutely awesome "REAL" cheesecake. Not one of those "no-cook" pie pan things. And it is easy... so easy with only six ingredients. This will be your new "take to the party" signature dessert.
Introduction
It is "impress the family and friends" time with this easy make-at-home cheesecake that will leave them asking for the recipe. It is about as foolproof and simple as a cheesecake recipe can get.
This recipe has been floating in our pantry for many years and used when we remember it. We always say we will do it again, but it goes back in the pantry.
The recipe was also on my original recipe site but again buried in the list. It just got no love. But now you can help give it some love.
No water bath, no aluminum foil, and no handling like it is going to break. This recipe was originally was passed around the grade school where my wife was the librarian about 20 years ago.
The batter is cream cheese, eggs, and sweated condensed milk. The crust is mushed up Oreo cookies with butter. Add in some mini chocolate chips in the batter and on top, and you will be the talk of the party.
This is a Philadelphia-style cheesecake which means mainly cream cheese with additives. New York-style cheesecake will usually have sour cream or heavy cream mixed in the batter.
My Rating

Any thought of less than a five would be risking death from my wife who is in love with this. But I must agree.
🥣The Crust
The crust will seem like it is not enough, but it is. If you want it to go up the side more, increase the amount by about 25%.
A graham cracker crust could also be used. I won't cover how here.
👨‍🍳How to Prevent Cracks in Cheesecake
First, cracks in cheesecake happen. I have rarely had many issues, and it is not the end of the world if it does happen. Here are some tips if you want to avoid them.
1) The cheesecake will shrink a bit when it cools. If it sticks to the side while that happens, it will crack. So be sure to grease the pan well. You might also run a knife around the edge of the cake before cooling.
2) Air in the batter can cause cracks, so don't over mix. Be sure the cream cheese is warm so you can mix it easier and have no lumps. Mostly though, add the eggs last and don't over mix since the eggs trap air easily.
3) Use a water bath. Humidity can help avoid cracks. I don't usually do this. Just set the springform pan in a large pan of water.
4) Avoid opening the oven door to keep checking the cake. The drafts and temperature changes can lead to cracking.
5) Overcooking is probably the most common cause of cracking. A few hints to avoid overcooking:
The edges will be slightly puffed and a little bit brown (see the last image). There will still be a 2-inch to 3-inch wobbly spot in the center.
In general, an oven temperature for cheesecake should never be over 325°. This recipe uses 300° and if you are unsure of your oven's accuracy, check it with an oven thermometer.
If you don't mind a hole in the surface, the internal temperature should be 150° when done. Never over 160°, or it will definitely crack.
✔️Tips
You could take out the chocolate chips and substitute other things if you want.
The springform pan is a MUST. Sorry about that, but you cannot be digging a slice out of a pan and expect it to be anything other than a mess.
Comment Note: This is not a "for two" recipe and will not scale down. It is a full-size 9-inch cheesecake.
📖Cheesecake Recipes
sBlueberry Cream Cheese Coffee Cake

🖼️Step-by-Step Instructions
Only six common ingredients. Allow the cream cheese and eggs to rest for about 30 minutes at room temperature if you have time.
Preheat oven to 300°. Crush 18 standard Oreo cookies (about 1 ½ cups).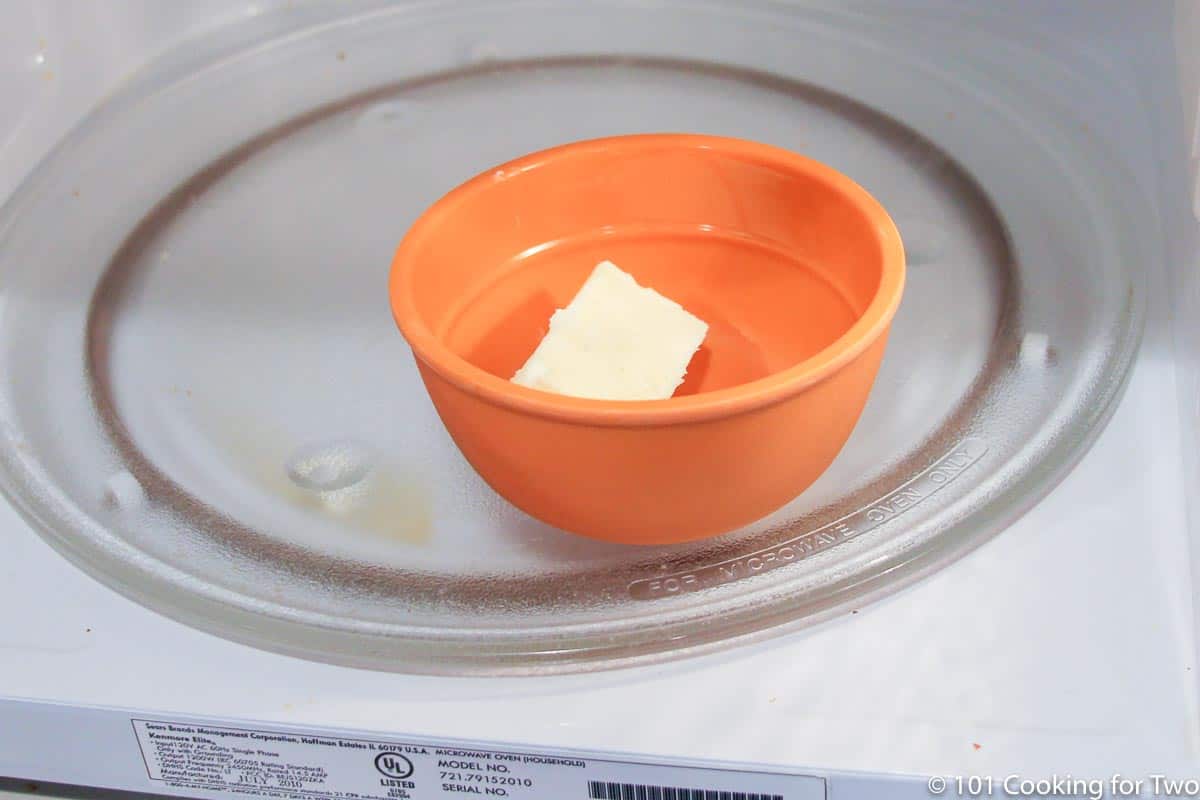 Melt ½ stick of butter (4 tablespoons) in a microwave for about 20 seconds until liquefied.
Mix the melted butter into crushed cookies and mix well.
Grease a 9-inch springform pan. I like to use a small ziplock bag and about one tablespoon of butter.
Crush the cookie/butter combo into the bottom of the pan using a fork. Break up any remaining larger pieces, and be sure to get complete coverage. It will not look like enough, but it is. Now set this aside.
Start with three 8 oz packages of cream cheese. Beat at a moderate speed (4 on a stand mixer) for 2-3 minutes to make it a little fluffy.
Add one 14 oz can sweeten condensed milk. Mix on slower speed until combined. And now beat in the eggs one at a time until smooth but do not overbeat. Now fold in ½ of the 12oz pack of mini chocolate chips.
Pour batter into prepared pan.
Top with remaining chocolate chips. Bake for 1 hour until edges are browning some, but the center may not look set. Do not go poking it with toothpicks or anything else to check for done.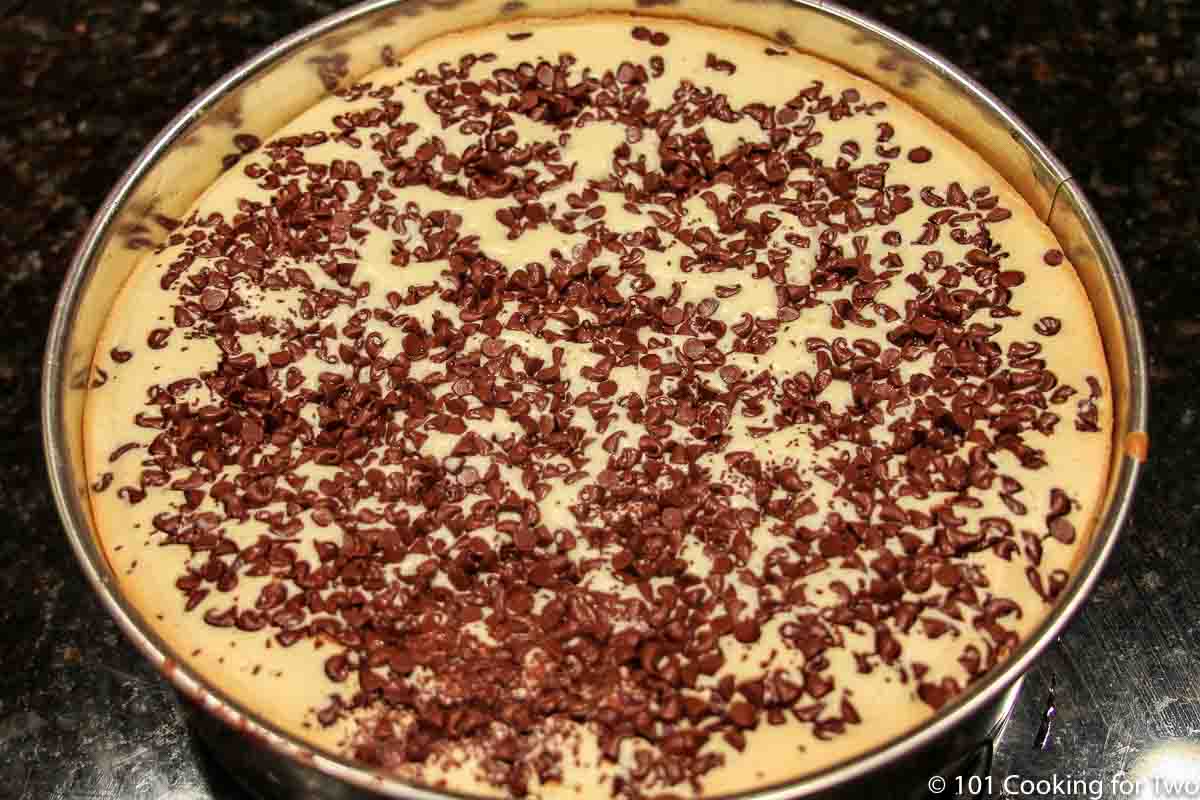 Cool in pan for 1 hour before refrigerating for 2-3 hours. About 15 minutes into cooling, run a knife around the edge to help release the pan later. You may cool in the oven with the door partly open and turned off or just at room temperature.


Do you want more recipes from 101 Cooking for Two? Sign up for the newsletter and get all posts delivered straight to your inbox!
📖 Recipe
Editor's Note: Originally Published December 20, 2013. Updated with expanded options, refreshed photos, and a table of contents to help navigation.