A high-end restaurant dessert, this super easy flourless chocolate cake makes the perfect dessert for a special meal or someone special. Even the beginner can bake this wonderful cake. Make this your special signature dessert.
Introduction
Rich, dark, moist, and delicious are the best terms to describe this cake. I have had this cake as a grand finally to a great meal. I have had it cut into 1-inch squares at parties. I even had it at our local cooking school. It screams decadence, it screams chocolate, and it screams my name. If you have never had it, you must do this recipe today.
Recipe Story
Now the story. Last week I got my year-end "yearbook" from Cooks Country (part of Cooks Illustrated if you don't know). I like Cooks Country more than Cooks Illustrated anymore. It is just more me. A little more down to earth, so to speak. There in the April issue was their version. It was doable but still fussy, plus seem to make more cake than I wanted.
Now the research started. Lots of choices. Lots of reading recipes. What I wanted:
Not too big. Some of the recipes used a dozen eggs. Just massive. We are cooking for smaller households.
Common ingredients. I want to do it without running around, and I want you to be able to do it easily at home.
Not fussy. Picking at bubbles in the batter before baking is just not me. Lots of egg whipping is going on. And water baths. I just don't do that.
Safe. There was actually one recipe cooked to only 140 degrees. Dangerous with eggs.
Great taste and ratings.
The winning recipe was at King Authur Flour. I love the ingredients, but I simplified the instructions a little to my level and a few other minor adjustments—now I love the results.
My Rating

A top recipe. So easy. So good. You must do this recipe.
👨‍🍳The Chocolate
Since this cake is all about the chocolate flavor, you must use quality chocolate. So an upper-end chip or baking chocolate bar (Ghirardelli or Baker's brands) will have more cocoa butter. Choose semisweet or bittersweet variety.
This recipe uses one cup of chips, which is 6 oz. of weight. So if you want to use bakers chocolate, go by weight.
Cocoa Powder
Dutch-process cocoa has a neutral pH, where other cocoa is acidy. Dutch should be used here. Get a dark variety for more taste.
I feel that you should run the cocoa powder through a sifter or strainer before using it in this recipe. Clumped up powder is hard to deal with in the thick melted chocolate; it will make your life easier.
The Pan
You can use an 8-inch round baking pan or an 8-inch springform pan. They will be prepped the same way.
This is the type of cake that you can destroy trying to get out of the pan, so be forewarned, and let's prepare for that. Just coating the pan with butter will not be enough.
The first step is to cover the bottom of the pan with parchment paper cut to fit. I still like to butter the whole pan and let the parchment stick to the butter on the bottom.
The second area of sticking is the side of the pan. A butter coating dusted with cocoa powder will help. After baking and a few minutes of cooling, loosen the sides with a spatula or dull knife.
♨️Baking
The endpoint of baking is important for final quality. If you over bake this cake, your results will suffer greatly.
All ovens vary some. We all use different pans, which can also affect the final cooking time. Assume 20 to 25 minutes. The endpoint is an internal temperature in the center of 200°. You must use a thermometer to get this right. Start checking at about 20 minutes into baking.
✔️Tips
Just using good chocolate is enough to make this scream chocolate. But coffee flavor will make the chocolate pop even more. You can add 1 to 2 teaspoons of espresso powder. Instant coffee would also work, but I feel it is disgusting and should not be used.
Be sure to melt the chocolate slowly over low heat while giving it direct attention, then stop as soon as it is melted. Do not leave unattended or turn up the heat.
The cake should be removed from the pan after about 10 minutes. Just flip it onto a rack or serving platter to cool completely.
You can top with whipping cream or just a dusting of powder sugar, but the ganache glaze is wonderful and simple to do. It needs to cool for a few hours in the refrigerator after coating the cake to firm up for cutting.
Use a warm knife to cut; it will work a lot better. Dip a sharp knife; it hot water, then wipe dry. Repeat every few cuts.
Good stored in the refrigerator for about 3 days or frozen for 3-4 months.
Yes, of course, it is gluten-free unless you added something odd.
📖Dessert Recipes
Easy Chocolate Chip Cheesecake

🖼️Step-by-Step Instructions
Preheat oven to 375°.
Prepare an 8-inch cake pan with a round of parchment paper. Use the pan as a template, draw a circle, and cut a bit smaller than the line. Coat the pan with butter and dust the sides with cocoa powder—place parchment in the pan's bottom.
Sift ½ cup Dutch-processed cocoa powder with a sifter or strainer. If you skip this, your cake may be a bit grainy.
Over very low heat, using a non-stick larger saucepan, melt 1 cup of semi-sweet chocolate chips with 1 stick (8 tablespoons) butter. While melting, add 1 teaspoon vanilla and ¼ teaspoon of salt if using unsalted butter only. Stir frequently until smooth—about 5 minutes.
Remove from heat, add ¾ cup sugar and mix quickly until minimal grainy. Add 3 eggs and mix well.
Finally, add ½ cup sifted cocoa powder and whisk until smooth. It will be thick.
Pour into prepared pan and bake until the internal temperature of 200° or a little more—usually 20 to 25 minutes. Time will vary some by the oven, and the pan used—22 minutes for me with a dark pan. Please go by temperature, NOT by time only. Start checking the temperature at about 20 minutes.
Remove from oven and allow to cool in the pan for 5-10 minutes. Loosen the sides with a spatula or dull knife.
Place your serving dish on the pan and flip over onto the plate. The bottom will be up, but that is ok. Remove parchment paper. Allow to cool to room temperature.
For the glaze, using a larger non-stick saucepan over very low heat, melt 1 cup semisweet chocolate chips, and ½ cup cream. Milk should be OK here, but use cream is available.
Pour into the center of the cake and spread to the edge smoothly. Some will drizzle down the side and look great. Cool for several hours in the refrigerator before serving.


Do you want more recipes from 101 Cooking for Two? Sign up for the newsletter and get all posts delivered straight to your inbox!
📖 Recipe
Editor's Note: Originally Published December 14, 2016. Updated with expanded options, refreshed photos, and a table of contents to help navigation.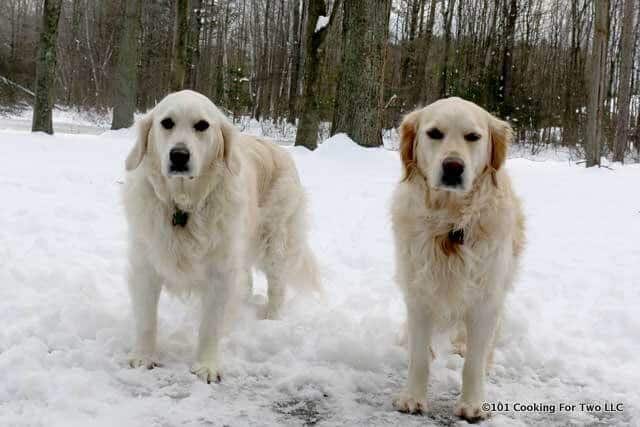 Featured in: