Make this delicious lighter General Tso's Chicken at home in only 30 minutes. Just follow these easy step by step photo instructions.
Introduction
Quick, easy, and tasty. My absolute favorite Chinese dish. This is now a weeknight 30-minute recipe. And as a bonus, this version is much healthier.
The Story
I have worked on this recipe for almost a month. Most recipes are easy, but the workflow and the taste of model recipes just didn't work for me.
I started with an American Test Kitchen version that was an absolute disaster. Yes, I do have those. Over an hour of hard cooking, I created the biggest mess I have ever made in the kitchen.
Plus we hated it, way too much vinegar and poor results overall. With that much work, it needs to be great. I was very disappointed. My wife was likewise unimpressed. It went to the garbage.
Several more recipe trials and it was starting to get really old. What others thought was great and wonderful just wasn't. All had too much vinegar and too many unusual ingredients. Plus, they all took too much work for my "cooking for two" world.
Ultimately, I used a Martha Stewart recipe which was the inspiration for Lighter General Tso's Chicken from Tracey's Culinary Adventure. I used a little of both and simplified it.
My Rating

Yep, a five but a lower five. There is some room for improvement but not much. I will be doing this over and over.
General Tso's Chicken
General Tso's chicken is generally a sweet and somewhat spicy deep-fried chicken dish served in most North American Chinese restaurants.
It is not a traditional Chinese dish, although it is probably some basis in traditional Chinese fare. Most likely what we now know as General Tso's Chicken originated in New York City in the 1970s, but there are lots of conflicting claims about who and where.
Wherever it started, it is now standard fare on almost every North American Chinese restaurant. And always one of the most popular dishes.
🐓The Chicken
This is a "lighter" version so skinless boneless chicken breasts are my choice here but thighs will work fine.
If you use thighs, the cooking temperature should be 180°-185° instead of 165°. This is a texture suggestion. Thighs are safe at 165°, but you will like the texture much better at 180°.
👨‍🍳Coating and Cooking the Chicken
The chicken is coated with some egg white and corn starch than pan-fried. So healthier than deep-frying and easier at home
The Martha method of cooking the chicken is a little fussy with turning each little piece to brown over and over. Plus doing it in two batches. This involves standing there continuously for about 20 minutes.
I put it all in at once and stirred occasionally. A little of the coating came off (some even came off in the Martha method also), but most stayed on, and your sin is hidden by the sauce anyways.
🥣The Sauce
I don't usually cook with things you may not have in your kitchen, but I did use Hoisin sauce which is commonly available and good to have around. It is worth buying just for this recipe but has many uses.
Ultimately, I took the vinegar out completely of the recipe. There is some vinegar in the Hoisin sauce, and that was enough.
I left in some dry ginger, but many recipes call for fresh ginger which I don't usually have and we don't really like. Adjust if you want.
A heat note. The red pepper is "to taste". ¼ teaspoon has minimal heat (1/10) but some nice taste. ½ teaspoon is about what you would normally have in a restaurant (3/10) but 1 teaspoon is more for the heat lover (7/10).
I have more brown sugar in this than may be needed, and I will be cutting that down some in futures cookings. I really think it can cut in half without much effect.
📖Chinese Recipes

🖼️Step-by-Step Instructions
The only "special" thing is Hoisin sauce. I'm now going to stock it in my refrigerator.
Start by patting dry and trimming two skinless boneless chicken breast. Then cube into about 1-inch pieces.
Heat 2 teaspoons oil over medium-high heat in a large nonstick skillet or a wok. Whisk together 2 egg whites or one whole egg, corn starch, salt, and pepper.
Add chicken to the egg mixture and stir to coat.
Shake excess coating off the chicken and add one piece at a time to the hot oil. You can be a perfectionist and do half-turning them nicely for 8 to 10 minutes and repeat. OR put them all in and occasionally stir like lazy me for about 12-14 minutes. Be sure the internal temp gets to 165° by checking multiple pieces. Use 180° as your endpoint if using thighs.
While the chicken is cooking, start the sauce — Whisk corn starch into ½ cup water. Then add brown sugar, Hoisin sauce, ketchup, soy sauce, dry ginger and crushed red pepper.
When the chicken is done, transfer to a bowl and decrease the heat to medium-low. Add the sauce and whisk continuously while boiling until well thickened 2-3 minutes.
Add the chicken back in and stir to coat.
Transfer to serving dish and top with toasted sesame seeds you want.


Do you want more recipes from 101 Cooking for Two? Sign up for the newsletter and get all posts delivered straight to your inbox!
📖 Recipe
Editor's Note: Originally Published October 17, 2012. Updated with expanded options, refreshed photos, and a table of contents to help navigation.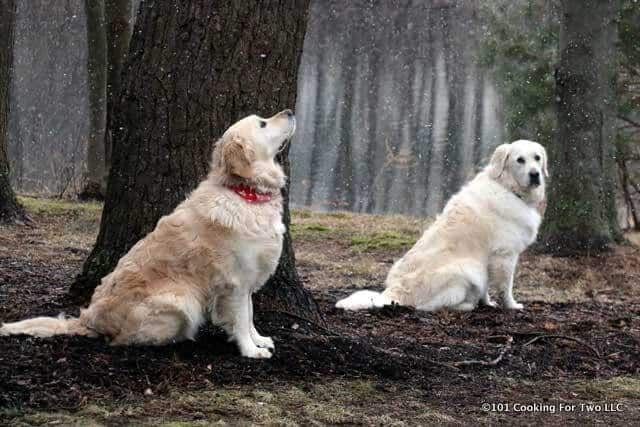 Originally Published October 17, 2012.