An amazing slow cooker Chinese meal that is better than takeout! Tender breaded chicken in a sauce loaded with great flavor. And the cashews to top off this Chinese classic.
Introduction
It's "take-out at home" time. Cashew Chicken is one of the most popular Chinese-American dishes that everybody loves. Now you can make it at home with this easy crock pot recipe.
While we Americans think of this as Chinese, it is from Missouri about 50 years ago. See Wikipedia if you're interested.
I love chicken, but I really love nuts. I also love Chinese as a great change of pace. So here we have a recipe with everything going for it. But I do have some requirements.
First, I wanted breaded chicken. Odd that I might say that for a crock pot recipe, but I (and you) can have breaded chicken in a crock pot. Second, enough sauce for some rice. And third, as with all my recipes, I wanted common ingredients and easy to do.
My inspiration recipe is from Epicurious, but I did several nips and tucks. Cornstarch for the flour and some adjustments to the sauce. The discussion is below.
My Rating

A low 5. Pop in some optional veggies, and it would move up a smidge.
📋Ingredients
While I wrote this for skinless boneless chicken breasts, you can use thigh meat if you want. I suggest cooking to a higher internal temperature like 175°-180° if you elect thighs instead of 165° for breasts.
I elected to use corn starch for the breading on the chicken. It works well but needs a short browning before going in the crock pot. You can also make this without the corn starch coating and skip the browning but it is much better with it.
You can add other vegetables like broccoli, bell peppers, celery, or carrots. Add them at the start of cooking.
The cashews can be raw or already roasted but try to use unsalted or low salt nuts. If you want your cashews firm and crunchy, add them near the end of cooking, but at the beginning works well for me since I like a softer texture.
🥣The Sauce
There are many recipes out there. Some had ingredients like sweet chili sauce I just don't have and don't want to stock.
All seemed a bit heavy on vinegar and ginger. I learned long ago that our taste is different in these areas. In fact, if I cook Chinese with these things cranked up, I will be flushing it and ordering pizza. So both the ginger and vinegar are a little lower in this recipe than others.
The last comment is about the sauce—I doubled the sauce. The cornstarch on the chicken seems to thicken the sauce some also.
A Sodium Note
Like most Chinese cooking, there is a lot of sodium around. Use low sodium soy sauce. And the cashews should be unsalted or only lightly salted.
♨️The Crock Pot
This fits in a 3 quart or larger crock pot and still have room for some vegetables. As written, it is about 2 quarts volume. You try to run most crock pots between 25% and 66% of capacity, so this will still work in a large crock pot.
I feel most recipes frequently overcook chicken with crock pot recipes. Many of the other recipes suggest 4 hours, which I feel is too long. The chicken will usually reach 165° in about 2 ½ hours, give or take a bit depending on your crock pot and other ingredients.
This is not a recipe to cook on high for a shorter time.
Last crock pot note, you will notice a range of time. I suggest a thermometer to tell when the meat is done. If you don't have that, your vegetables and meat need to be tender.
📖Chinese Recipes
Crock Pot Honey Garlic Chicken Breast

🖼️Step-by-Step Instructions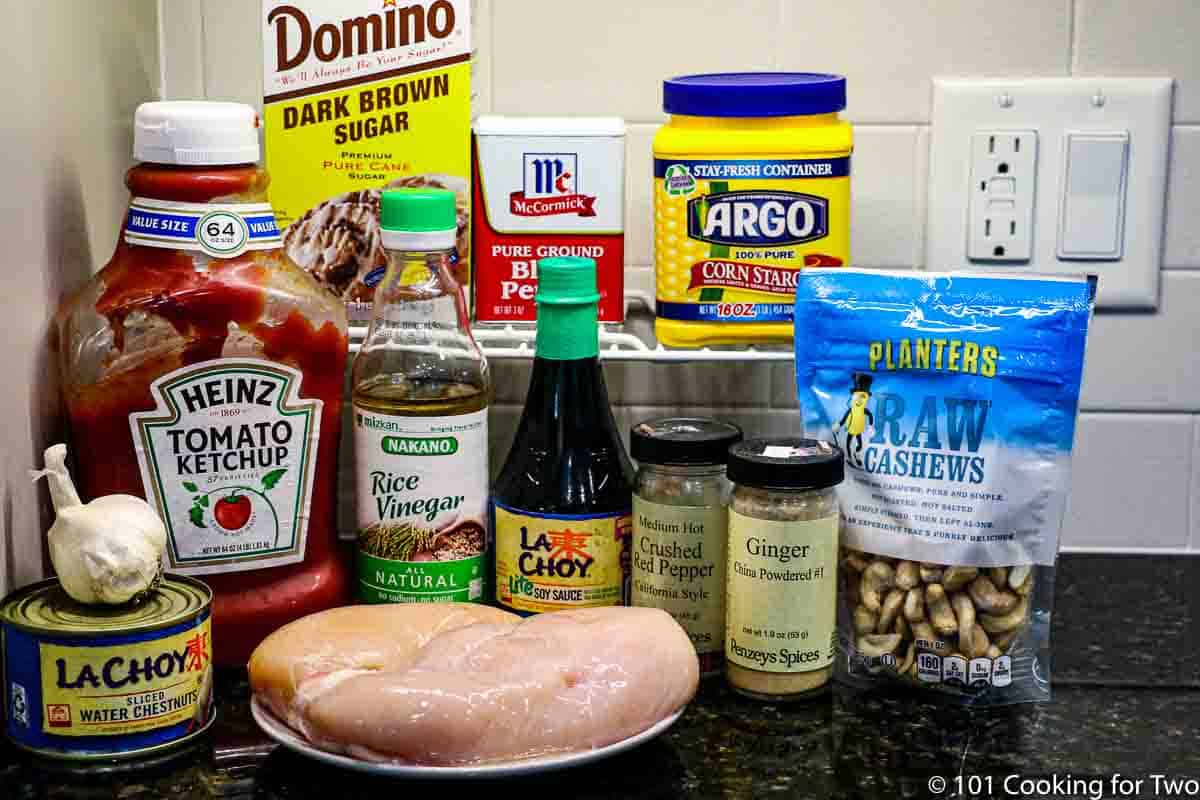 Chop 1 ½ to 2 pounds chicken into 1-inch chunks. I used skinless boneless chicken breast, but thighs should do nicely also.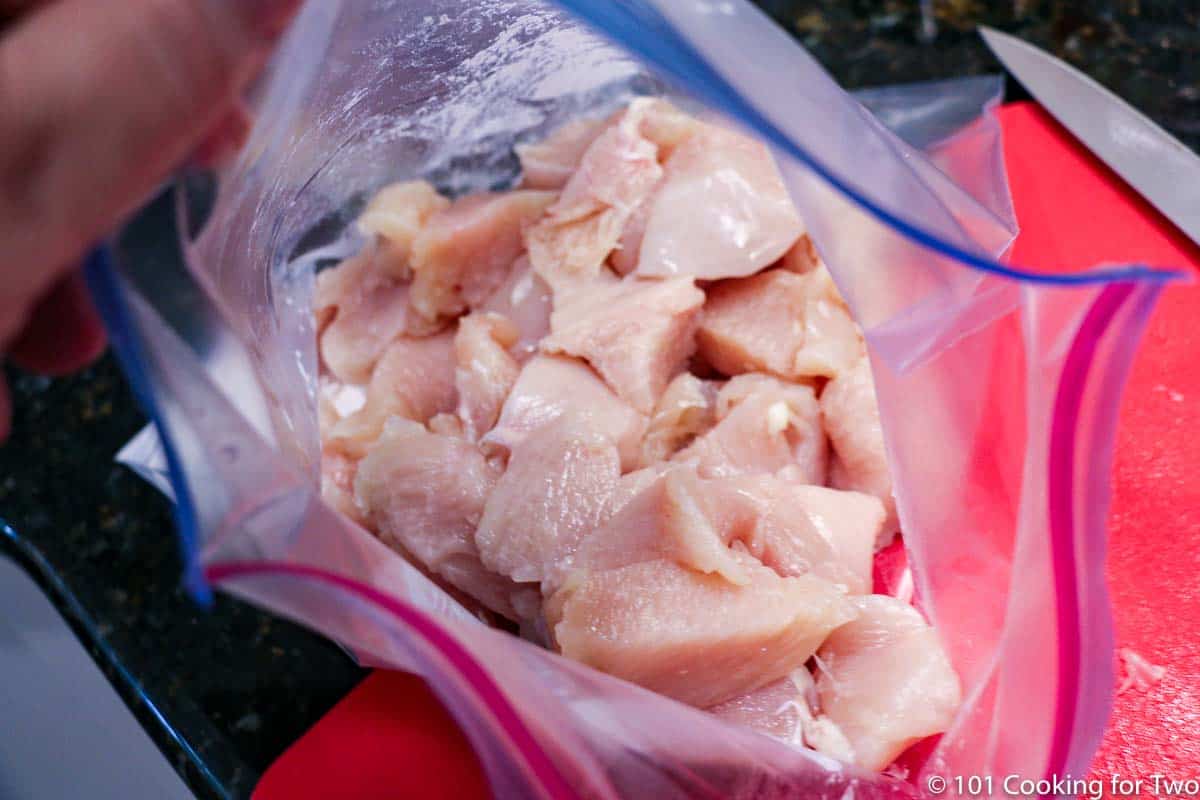 To a 1-gallon food storage bag, add 3 tablespoons cornstarch and ½ teaspoon pepper. Add chicken and shake well to coat.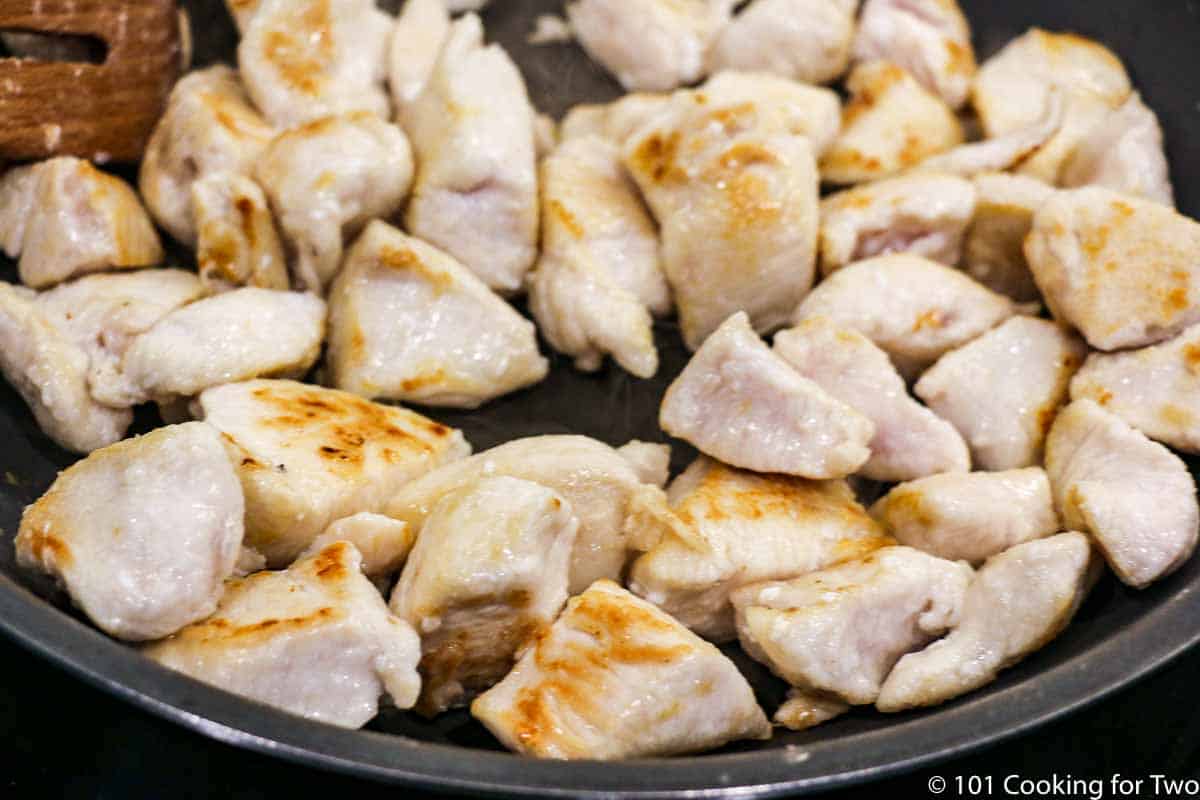 Heat 2 teaspoon oil over medium-high heat and add chicken. Gently stir every few minutes until browning nicely—about 6 minutes.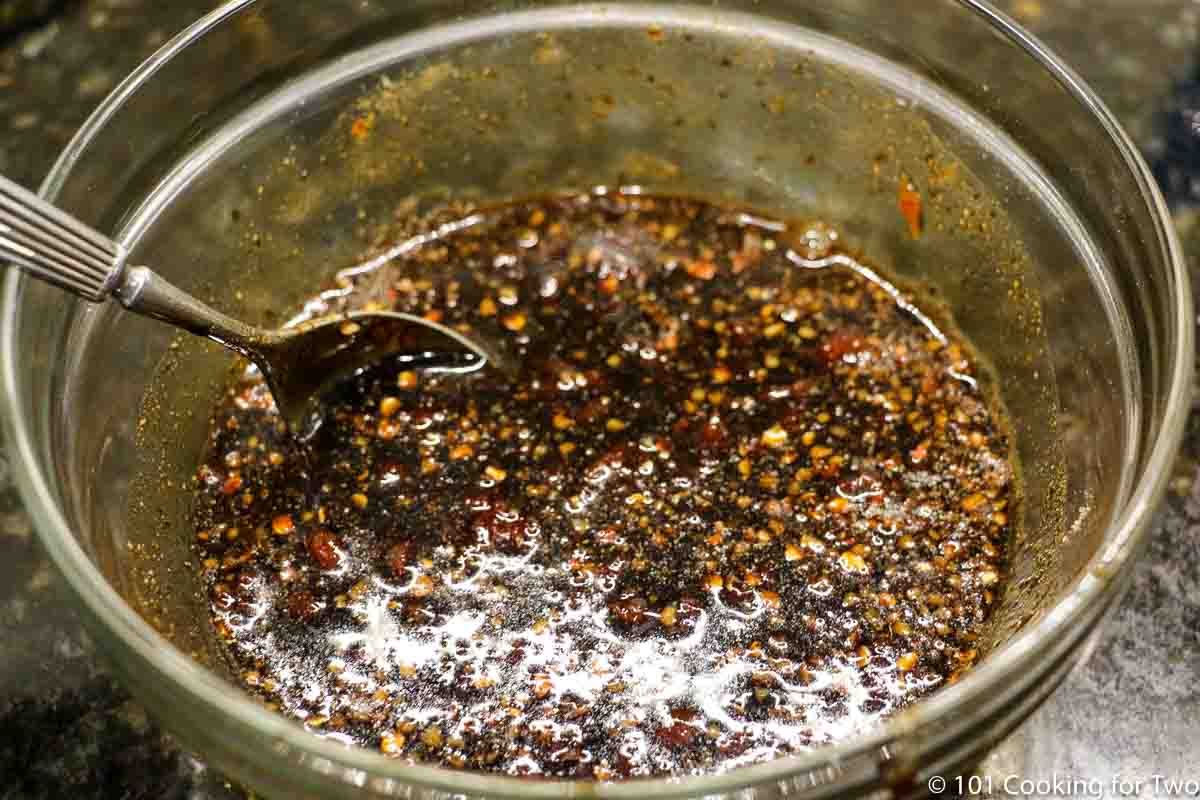 Combine ½ cup low sodium soy sauce, 2 tablespoons rice wine vinegar, 4 tablespoons ketchup, 1 tablespoon brown sugar, 4 cloves minced garlic, ¼ teaspoon dry ginger, and ¼ teaspoon red pepper flakes (optional.)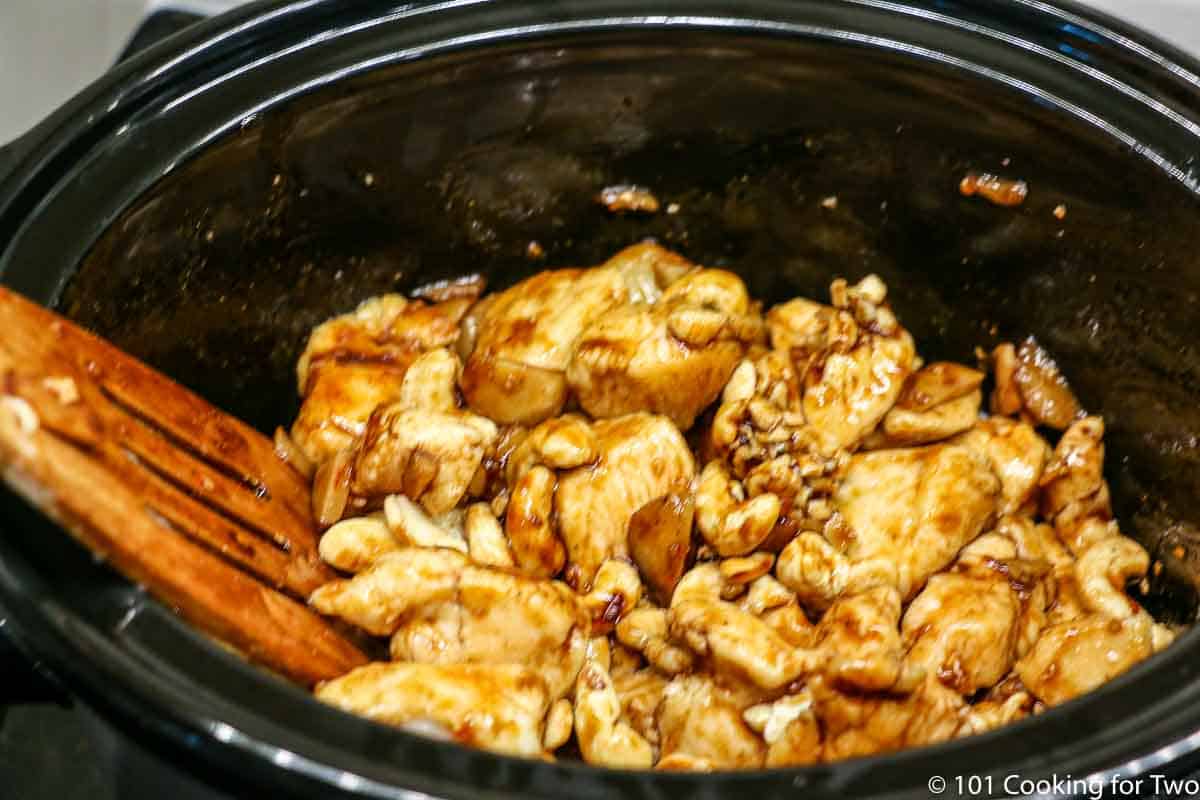 Add chicken, one 8 oz sliced water chestnuts drained and the sauce to the crock pot. If you like softer cashews, add them now. Other vegetables can be added at this point also. If you like more crunch, then add the nuts near the end of cooking.
Cook on low for 2 ½ to 3 hours or a bit more until chicken is 165°. Try to stir it about halfway through.
Serve over rice and trim as you wish.


Do you want more recipes from 101 Cooking for Two? Sign up for the newsletter and get all posts delivered straight to your inbox!
📖 Recipe
Editors Note: Originally Published October 2, 2016. Updated with expanded options, refreshed photos, and a table of contents to help navigation.