In 10 minutes, you can have this easy fried rice customized to your needs and tastes. There perfect side dish for your Chinese dinner, or add some of the optional ingredients and make it a complete meal.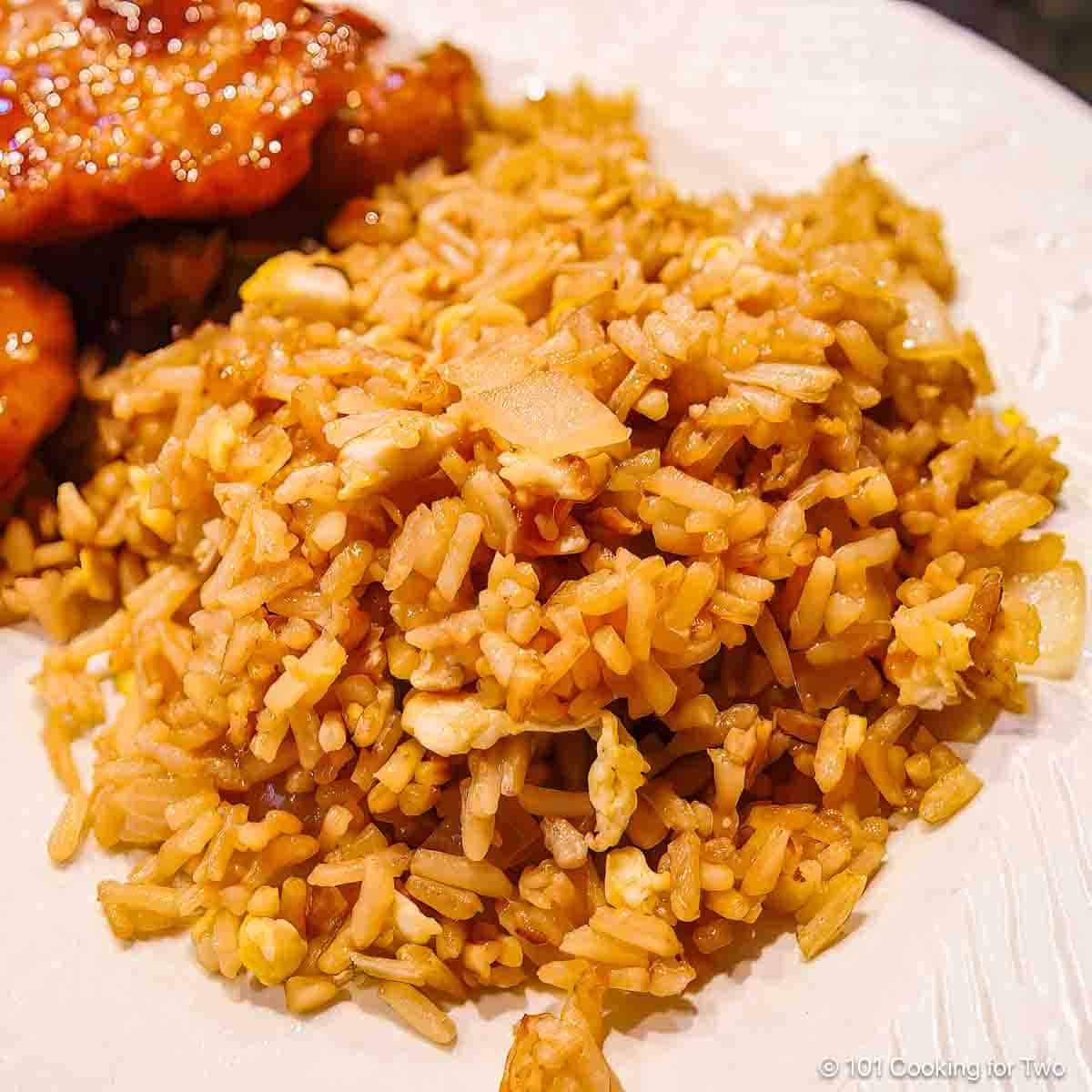 Introduction
Most fried rice recipes need planning, but we all know how that goes. So instead of leftover rice, we are starting with just pantry ingredients you probably already have on hand.
I admit to "cheating" sometimes. This recipe is an example. By using Minute Rice, you can have a tasty freshly-made Chinese side dish at home.
We like fried rice with Chinese dishes. White minute rice is OK but not what we want. We have tried package mixes. The results have been tasteless mush. Except for the one package which was moldy already. No second chance for that brand.
I started with the premise of using Minute Rice. Why? It is a side dish for a prepared meal. A 30-minute dish just would not do for me.
I used a recipe on Food.com as a model. With a few changes, I had what I wanted.
My Rating

This is great, almost a 5. I'm presenting this as just the basic recipe. So change things to fit your needs. Fry a little pork here or add some sesame oil there if you want. Or just use it as it stands—a very nice side dish.
🍚The Rice
I'm using Minute Rice which is a brand of instant rice that has been precooked and dehydrated so that it cooks more rapidly.
Normally with Minute Rice, the ratio of water to rice is 1:1. The model recipe was 3:4 making dryer rice which was just what we need here.
👨‍🍳Modifications and Options
I used chicken broth not water for the liquid, and I skipped some additional water at the end of the model recipe.
Vegetables
Most recipes for fried rice, including this one suggest peas and carrots are almost mandatory.
Other vegetables like broccoli, cauliflower, cabbage, asparagus, snow peas and bell pepper are commonly used. However, they will not have time to cook, so they need to be precooked and fully thawed if frozen,
Meat
To make a more complete meal, just add some protein. Shrimp are commonly suggested but ham, fried pork, chicken, or even bacon are sometimes suggested.
Other Additions
You can add other flavors with some oyster sauce or toasted sesame oil.
Don't be afraid to just add what you have and want to try.
❄️Storage and Reheating
Good stored airtight in the refrigerator for about 3-4 days. I do not suggest freezing rice usually but if you must for a couple of months but the quality if frozen rice in not the best.
A microwave is my usual reheating method. A splash of water and a short time covered to prevent drying in the microwave.
You can also reheat rice in a skillet by stir-frying it to rewarm completely.
📖Chinese Recipes

🖼️Step-by-Step Instructions
Simple everyday ingredients. Optional ingredients in the recipe card.
In a saucepan, bring the chicken broth to a boil. If using frozen veggies, add now and bring back to boil. Add the Minute Rice, remove from heat, and cover for 5 minutes.
Chop a small onion while heating 1 tablespoon butter over medium-high heat in a large nonstick pan. Add the egg and break it up to scramble it and add the onion right away also. Cook until the egg is done and onion clearing. About 3 minutes.
Add the rice to the egg/onion along with soy sauce.
"Fry" for 3-4 minutes over medium-high heat.
Done in 10 minutes.


Do you want more recipes from 101 Cooking for Two? Sign up for the newsletter and get all posts delivered straight to your inbox!
📖 Recipe
Editor's Note: Originally Published May 14, 2012. Updated with expanded options, refreshed photos, and a table of contents to help navigation.