This easy Crock Pot Beef and Broccoli recipe is perfect for the busy household. Now you can have a great Chinese dish the whole family will enjoy with only 10 minutes of preparation.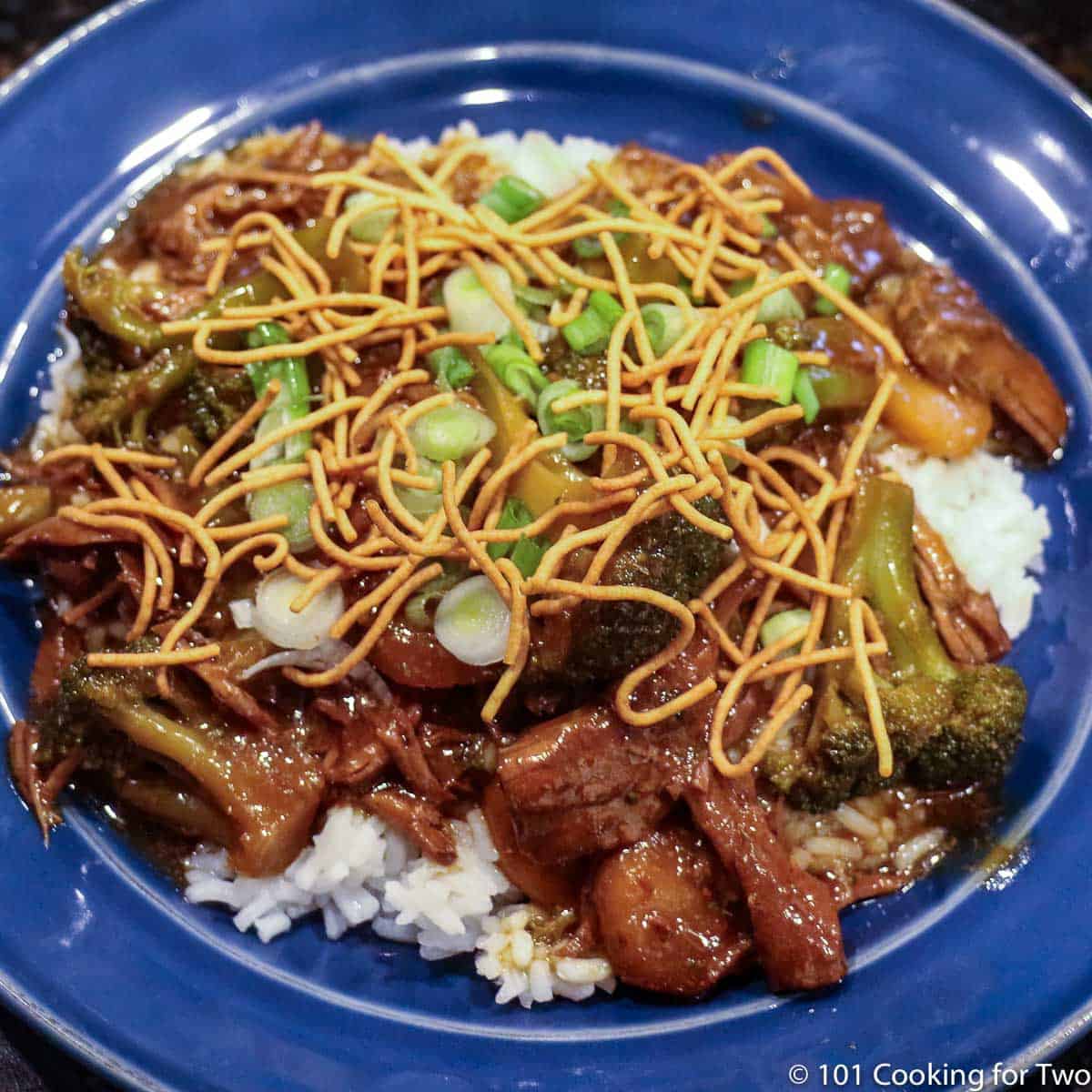 Introduction
Beef and broccoli is a popular Chinese favorite that we all love in every Chinese restaurant. But it is super easy to make at home with these simple step by step photo instructions.
Google will give you lots of examples, most of which are nearly identical, but this Food.com Crock Pot Beef and Broccoli recipe will do as the inspiration piece.
A few minor adjustments for more sauce, taste, and options for you.
My Rating

A very nice middle of the road four.
🐄Beef
The most important thing for the meat is to cut your beef thinly across the grain. ⅛ inch or a bit more is a good thickness. Your beef roast needs to be nicely trimmed, so you don't have to pick out uneatable things.
The beef needs to have some marbling, but otherwise fairly lean. Sirloin roast is the preferred cut, but I also find an English cut roast is great here. It is related to a chuck roast but leaner.
🥦Broccoli
Frozen broccoli will work fine, but you can use fresh.
Frozen broccoli in the old days always came in a one-pound bag. Not any more. Most are 12 to 14 oz. But really with this dish, anywhere from 12 to 16 oz is just fine.
Fresh broccoli will work for this recipe, also. One medium to a large bunch of broccoli will produce approximately 3 cups when cleans and cut up.
♨️The Crock Pot
This recipe fits in a 4 quart or larger crock pot. It might do ok in a 3 ½ quart, but that is marginal. For a double batch, at least 6 ½ quarts but bigger is better.
Crock pots can vary some so the end point is when the vegetables are tender and not the time.
✔️Tips
This is easy to adjust. A bit more meat or broccoli doesn't matter.
Add a can of drained water chestnuts or some snap peas.
It will refrigerate well for about 3 days. Will not freeze well due to the corn starch.
I suggest low sodium ingredients and removed added salt. There is lots of sodium in soy sauce, and more is generally not needed. Add some if you think you need it.
📖Chinese Recipes
Sesame Pork Ribs in the Crock Pot
Crock Pot Honey Garlic Chicken Breast

🖼️Step-by-Step Instructions
No special sauces needed.
Trim 1 to 1 ½ pound beef roast and slice into ⅛ inch slices across the grain.
In a larger crock pot (4 quarts or larger), add one 14 ounces can low sodium beef broth, ½ cup low sodium soy sauce, ⅓ cup brown sugar, 1 tablespoon sesame oil, ¼ teaspoon crushed red pepper and 4 cloves crushed or minced garlic. Mix well. Add the beef to the crock pot and cook for 6 hours.
At the 5-hour mark, mix two tablespoons cornstarch with ¼ cup cold water. Add the cornstarch mixture and mix well.
Add about 2-3 cups of broccoli. You can add other vegetables at this point, also.
Increase crock pot to high and cook for the final hour. Be sure the broccoli is tender before ending. If not, extend the cooking time.
Serve over rice and garnish as you wish.


Do you want more recipes from 101 Cooking for Two? Sign up for the newsletter and get all posts delivered straight to your inbox!
📖 Recipe
Originally Published April 18, 2016. Updated with expanded options, refreshed photos, and a table of contents to help navigation.