This easy basic sugar cookie recipe is a delicious classic that every home cook needs. Once you have the basic sugar cookie dough, the possibilities are endless for holiday treats. Just follow these simple step by step photo instructions.
Introduction
'Tis the season for... COOKIES. So here is an excellent quick and easy basic sugar cookie recipe that even the cookie rookie can handle.
I love a good sugar cookie with icing, so I'm suggesting a starting spot for that but use your skill and imagination for creative shapes and decorations.
All sugar cookie recipes are similar, not identical, but just very similar. The inspiration recipe is The Best Rolled Sugar Cookies from All Recipes. I cut the recipe in half, expanded the discussion/options, and added an optional glaze to get you started
My Rating:

🧂Ingredients
Sugar cookies are not and can not be made into health food. Don't even try.
The butter needs to be the best butter you have. So real butter, not fake. A few recipes will suggest salt-free, but your normal butter with salt will be fine.
The last butter note is it needs to be soft. Room temperature is fine or even a little softer with a few seconds in a microwave. This soft butter will whip better with the sugar and give a nice soft texture.
This recipe has two eggs, so it holds together better than some recipes.
The two other ingredients of note are the baking powder needs to be aluminum-free to avoid any aftertaste, and the real vanilla will make a real difference.
The Dough
The final dough should have a texture close to Play-Doh. Not sticky and wet but also not hard.
If the dough is sticky and wet, add a little flour. If dry, than a touch of milk.
Flour is usually recommended to help roll out the dough. Use powdered sugar instead. It will just blend into your cookies.
⏰Cooking Time
Plain baking pans will work fine, but I like to add some parchment paper or baking mats. Use the baking sheets you have but the thickness, material, and even the color can affect the cooking time some.
Cooking time will vary. The usual thickness cookie will be about 8 minutes while if you go thicker, it may take a minute or two more.
Other variables are your baking trays and your oven.
Do not overcook sugar cookies. Look for the edge of the cookies turning a bit brown, and they are done.
Allow the cookies to sit on the baking sheet for a few minutes before moving to the cooling rack.
🍪Storage of cookies and dough
The dough can be refrigerated for 2-3 days before use. It should be sealed tightly since it can pick up flavors from other foods easily. Raw dough can also be frozen for 2-3 months.
After cooking, the cookies are really good for about three days. Sealed airtight, they are very good for a week. After that, they will start to dry some. Two weeks is about the maximum time.
Cookies will freeze well for 3-4 months.
Other easy sweet recipes
Christmas Candy Recipes

New York Cheesecake Bars

Easy Cheesecake Cupcakes

Berry Crisp for Two

🖼️Step-by-Step Instructions
Start with ¾ cup (1 ½ sticks) butter. Soften a little either by resting at room temperature or 10-15 seconds in a microwave.
Add one cup sugar to the butter in a larger bowl. Cream together with a mixer.
Add two eggs and ½ teaspoon vanilla. Mix well.
Add 2 ½ cup flour, one teaspoon baking powder, and ½ teaspoon salt. Mix well, cover, and refrigerate for at least one hour. Preheat oven to 400°. Prep baking sheets. I suggest covering with parchment paper or a baking mat.
Dust a prep area with some powdered sugar. I used a larger baking mat for my area. Form the dough into a ball and place it on the mat. Flatten and then roll out with a rolling pin. Use lots of powder sugar on the mat and top of the dough to prevent sticking. Roll to a thickness of about ¼ inch or a bit thicker.
Cut with a cookie cutter.
Layout on a cookie sheet, keeping them about one inch apart. They will spread out during cooking. Work quickly reusing the scraps and keep dusting the surface and dough with the powdered sugar to prevent sticking. Continue to cut cookies until done.
Bake until the edge of the cookies is starting brown a little. About 7-8 minutes. Do not over bake.
Remove from oven and allow to sit for a few minutes then move to a cooling rack.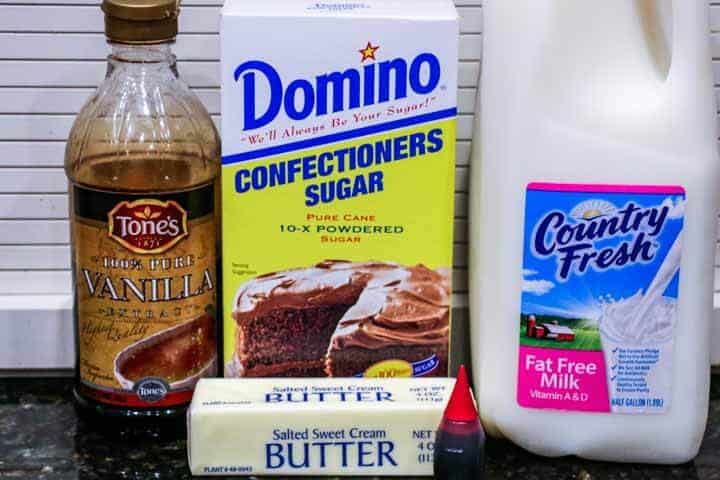 After cooled, it is time for decoration. I went with a simple glaze. Mix one cup powdered sugar, one tablespoon butter, two drops vanilla, and 3-4 teaspoon milk. Add a few drops of food coloring of choice. Mix well.


Do you want more recipes from 101 Cooking for Two? Sign up for the newsletter and get all posts delivered straight to your inbox!
📖 Recipe
Originally Published December 3, 2014. Updated with expanded options, refreshed photos, and a table of contents to help navigation.