If you want a lower-carb diet, it just got a lot easier with this wonderful mashed cauliflower recipe. Great for any low-carb diet. So quick and easy with a microwave and blender.
Introduction
Just for that time you must have a "potato" fix. The secret to great-tasting mashed cauliflower lies in how you flavor them. Some butter, garlic, and some sour cream go a long way in making you forget mashed potatoes.
Cauliflower is a great way to cut down carbs but also calories. Just cooked raw potato vs. cauliflower is about a 4:1 ratio in calories. But considering what you then do to them with butter, heavy cream, and other things, your nutritional savings will vary by what you are comparing.
I can't tell it from real garlic mashed potatoes, and really good ones at that — a good and very healthy side dish. Well, maybe you should cut the butter a little to call it healthy.
My Rating

A nice solid 4. But a nice 5 if you are on a keto diet and need a potato fix.
The Cauliflower
You can get your cauliflower any way you want. Frozen, fresh, or riced.
If using fresh cauliflower, one medium head will weigh about 1 ½ to 2 pounds and will yield about 75% of that in weight after trimming and cooking. So adjust accordingly. I think of it about the same as two 12 oz package of frozen.
You may steam the fresh cauliflower for about 15 minutes or boil for about 10 minutes. You need to get to tender by fork, so it will vary some. You can also microwave with a bit of water, usually for 4-5 minutes.
Frozen Cauliflower is very convenient for me. The packages were 1 pound, but now in 2021 are usually only 12 oz. Cook according to package instructions and can vary a bit due to microwave strength. Again you are looking for tender.
There are also proceeded types of cauliflower now available (2019) and cook according to their instructions.
🥘Make It Special
I think a little dairy is needed. In mashed potatoes, I add milk and butter. You can do that here also.
But I feel that the cauliflower needs a bit more flavor. For a special touch, you need some garlic, more butter, a touch of sour cream, and perhaps some cheese of your choice.
The garlic is somewhat a to-taste thing like the salt. I suggest two cloves of minced or crushed garlic /pound of cauliflower, but my wife will double that amount.
You can add some Parmesan cheese for a special taste. 2-3 tablespoons grated per pound of cauliflower. Or a half teaspoon of thyme or rosemary.
🖊️Storage and other notes
A Blender is Required
Cooked cauliflower just will not get smooth by hand. That is fine if that is your taste, but we are tying for that creamy texture.
Storage
You can cook this ahead and reheat. Refrigerated, it should be good for 3-4 days and frozen for several months.
📖Cauliflower Recipes
Cheesy Cauliflower Casserole A personal favorite of ours. This is my version of Crack Mashed Cauliflower.

🖼️Step-by-Step Instructions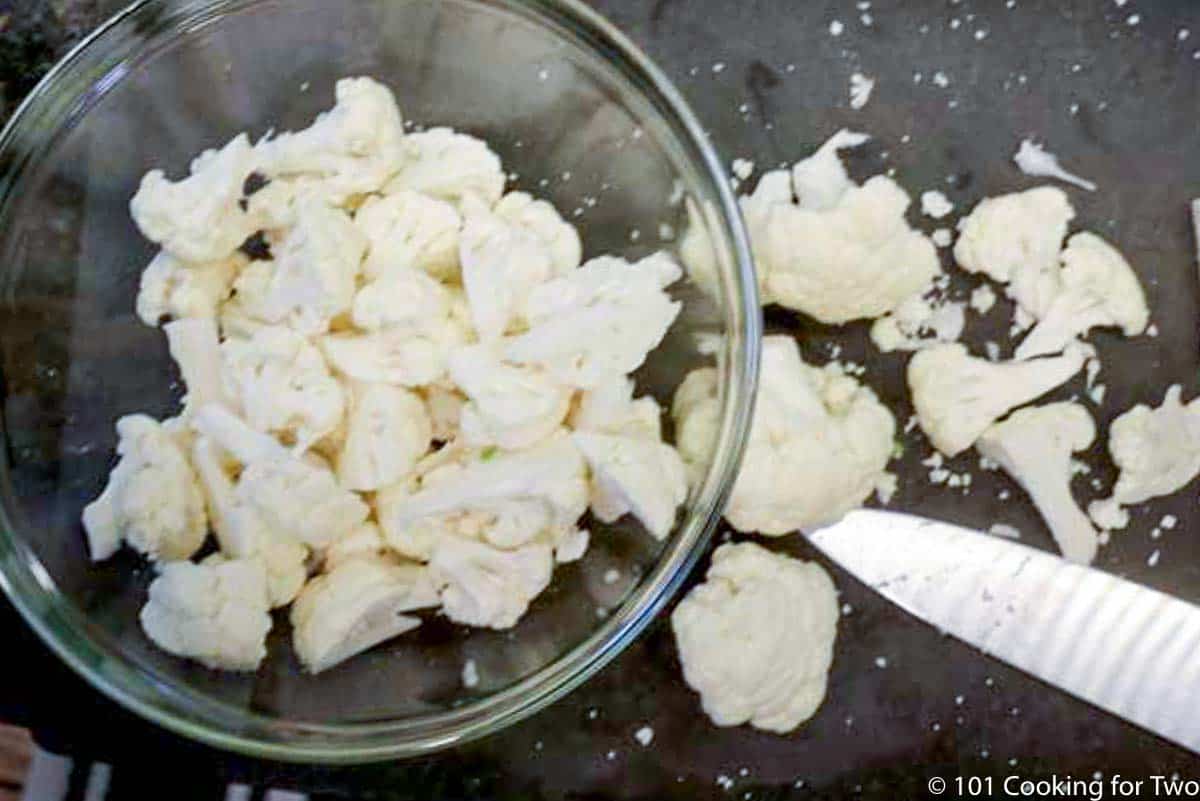 Get your cauliflower either by trimming a medium head or frozen. A bag of frozen is about ¾ pounds now, and a trimmed medium head of raw cauliflower will be about 1 ½ pounds.
Cook the cauliflower to being tender by a fork. For fresh, you can boil or steam for about 15 minutes. Or microwave covered with a bit of water for 4-5 minutes. For frozen, cook according to package instructions but usually 4-5 minutes in the microwave.
Put all remaining ingredients in the large food processor. Place hot cauliflower in the processor and puree. Open occasionally check to be sure the stems are incorporated.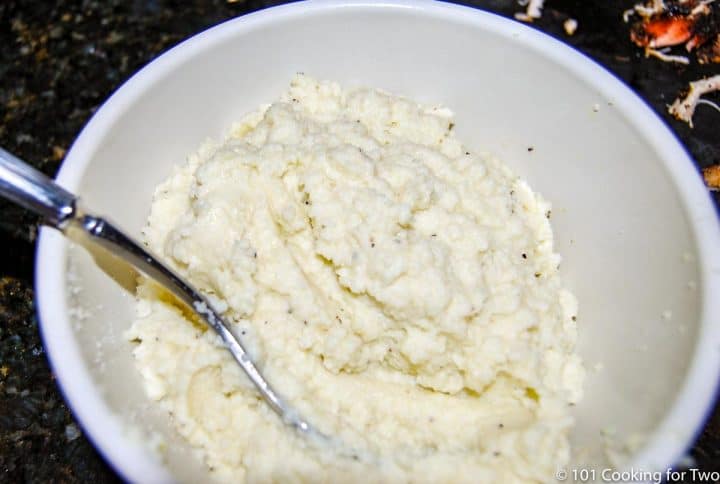 Do you want more recipes from 101 Cooking for Two? Sign up for the newsletter and get all posts delivered straight to your inbox!
📖 Recipe
Editor's Note: Originally posted May 5, 2010. Updated with expanded options, refreshed photos, and a table of contents to help navigation.