What could go wrong with bacon, sugar, and spices? Cubes of chicken wrapped in bacon and coated with brown sugar, chili powder, and cumin? Great finger food for that "bring a dish" party.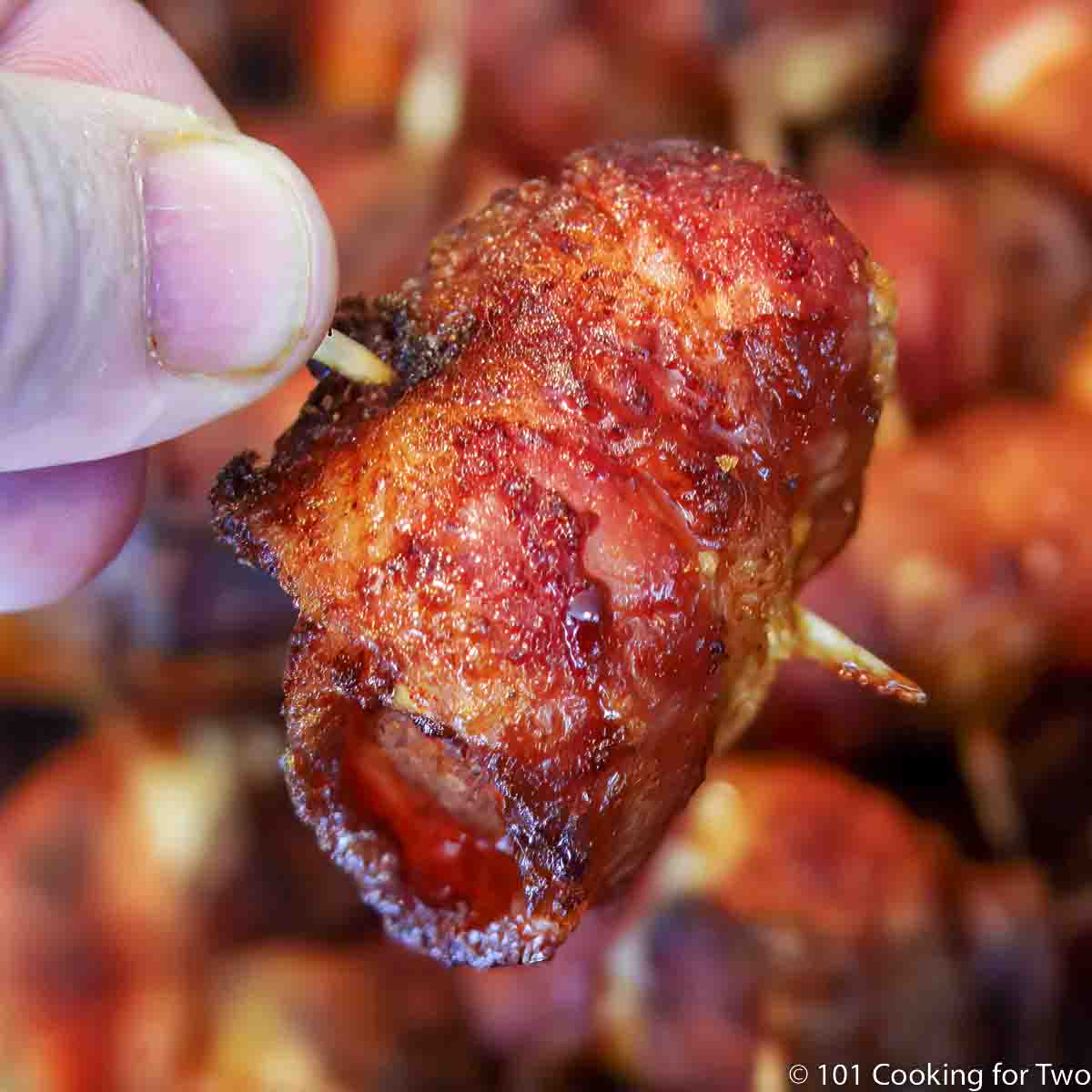 Introduction
Great finger food for that "bring a dish" party. These Sweet and Spicy Chicken Bacon wraps have a skill level of 3/10 (easy). Plus, it is easy to double or triple if needed.
Adapted from a Food Network Paula Deen recipe. I looked at it and thought it needed a little cumin and more bacon, so I did a test cooking the day before the big party and taste-tested with my wife. The cumin stayed.
My Rating

Excellent. Always the first dishes to be finished off at the party. Take copies of the recipe with you.
🐓The Chicken
I use skinless boneless chicken breasts for this recipe. But chicken thighs would work.
The chicken should be raw, not precooked. It will fully cook with the bacon. If precooked, it will be way overcooked.
🐖The Bacon
The original recipe called for ⅓ pieces of bacon, but ½ pieces were better sticking together, and I like bacon.
If you are using thicker bacon, you will need to flatten it a bit with the flat edge of a knife. Thinner bacon is up to you.
👨‍🍳Spicing
The cumin is optional. It adds only a little heat, but I think it makes these wraps something special. Cumin is always so good with chicken.
♨️Serving
Keeping them warm for serving could be a challenge. Electric griddles usually have a warm setting and will work well.
A large crock pot will work but put a bunch of wadded up aluminum foil balls in the bottom so the bottom layer does not set in drained liquid. Use a low setting.
We have a 40-year-old porcelain electric serving tray that we use. I don't believe they make these anymore.
Food Safety
Lastly, I'm a chicken about chicken. I checked the internal temps of many pieces, and all were in the 180 range—no food safety issues.
Serving wise, keep the temperature above 140° if they are out for more than 2 hours (they will not last that long).
📖Party Recipes
Crispy Oven Baked Chicken Wings

🖼️Step-by-Step Instructions
Note: Images are for a triple batch. The discussion and recipe are for a single batch.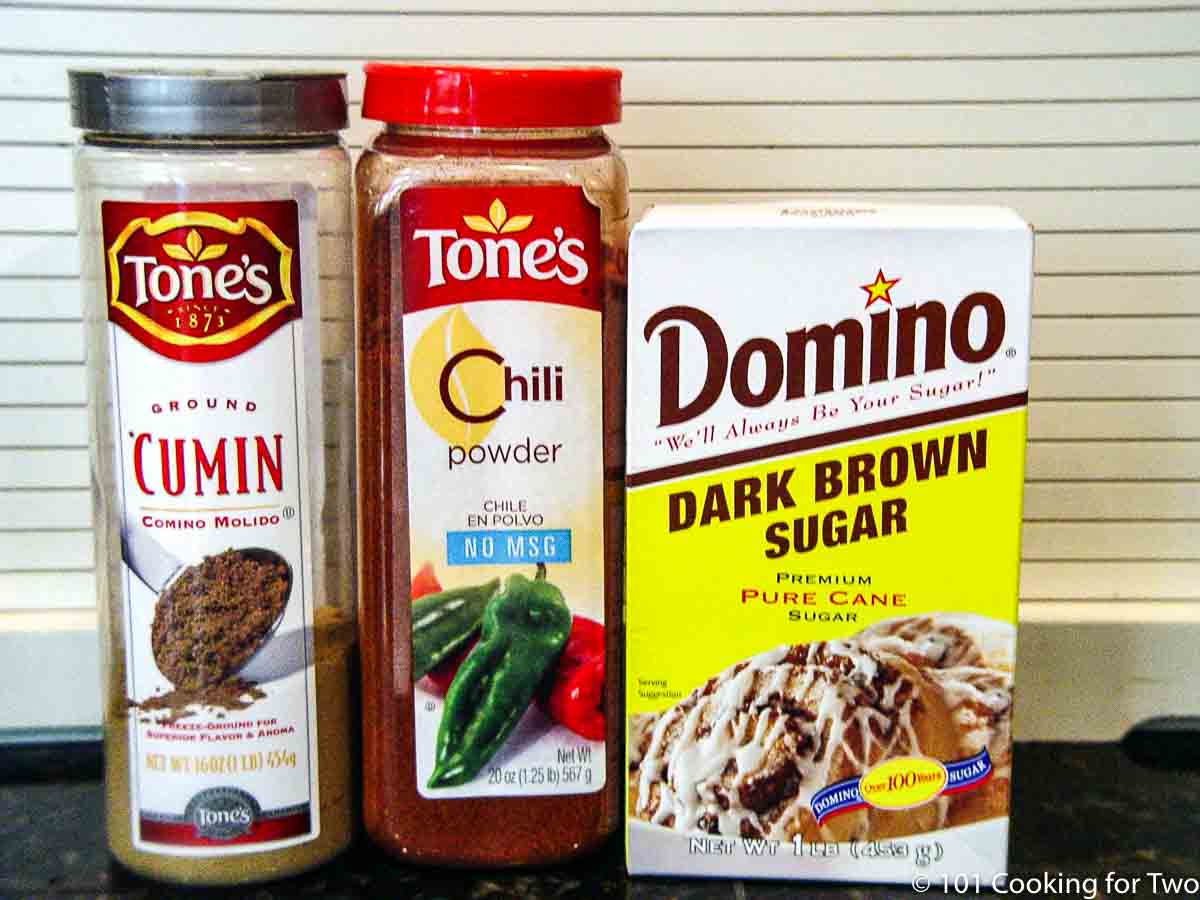 Preheat oven to 350° convection. In a large mixing bowl, combine ⅔ cup dark brown sugar, 2 tablespoons chili powder, and ½ teaspoon cumin. Mix well.
Clean and trim about 1 ¼ pounds of skinless boneless chicken breast. Cut into approx 1-inch cubes.
If using thick bacon, thin out with the back edge of a chef knife.
Cut the bacon in half, roll around the chicken cubes, and secure with a toothpick. This is the point to cover and refrigerate for better timing. You can keep tightly covered refrigerated for up to a day.
Prep baking sheet with aluminum foil and a rack–spray with PAM.
Roll the pieces in the brown sugar mixture. Be sure to pack some in the ends. Place on the rack.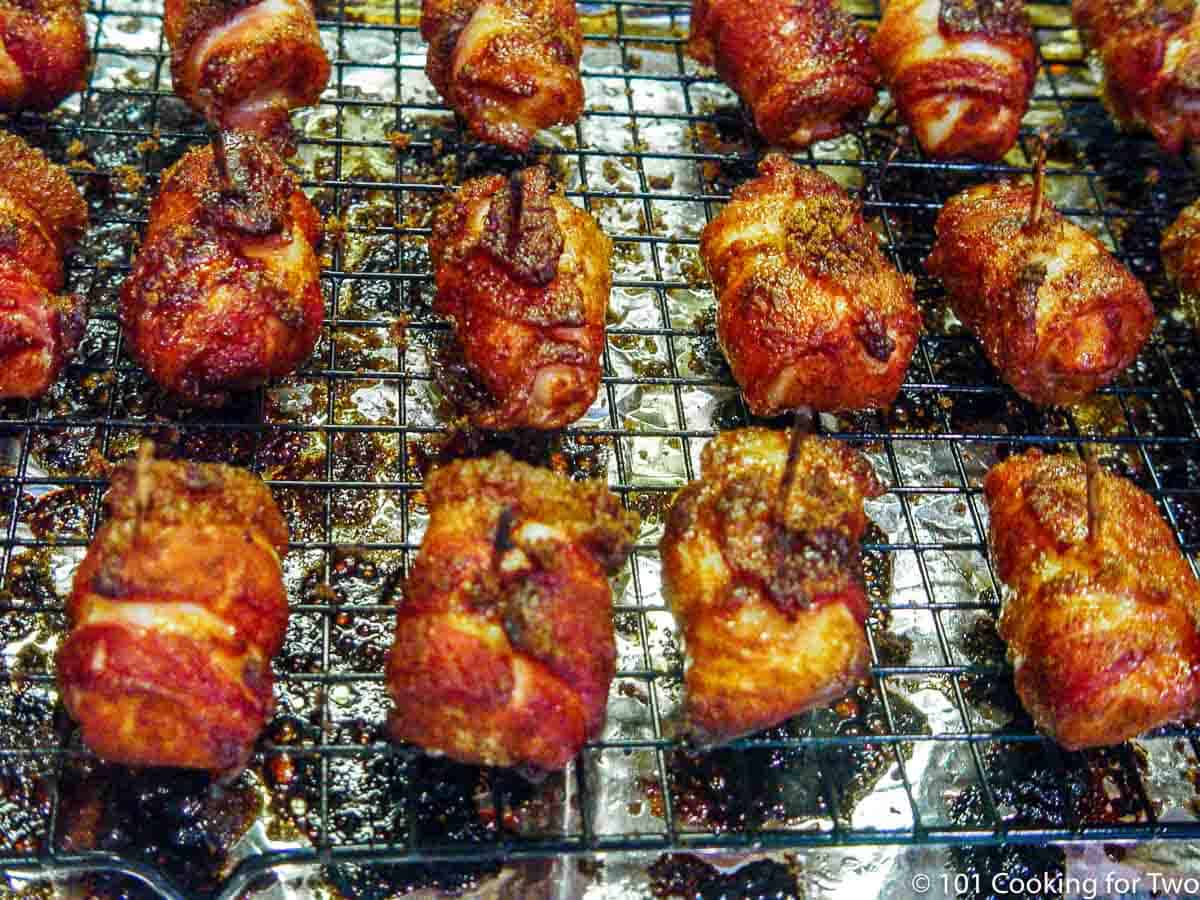 Bake until golden brown. About 35 minutes for me.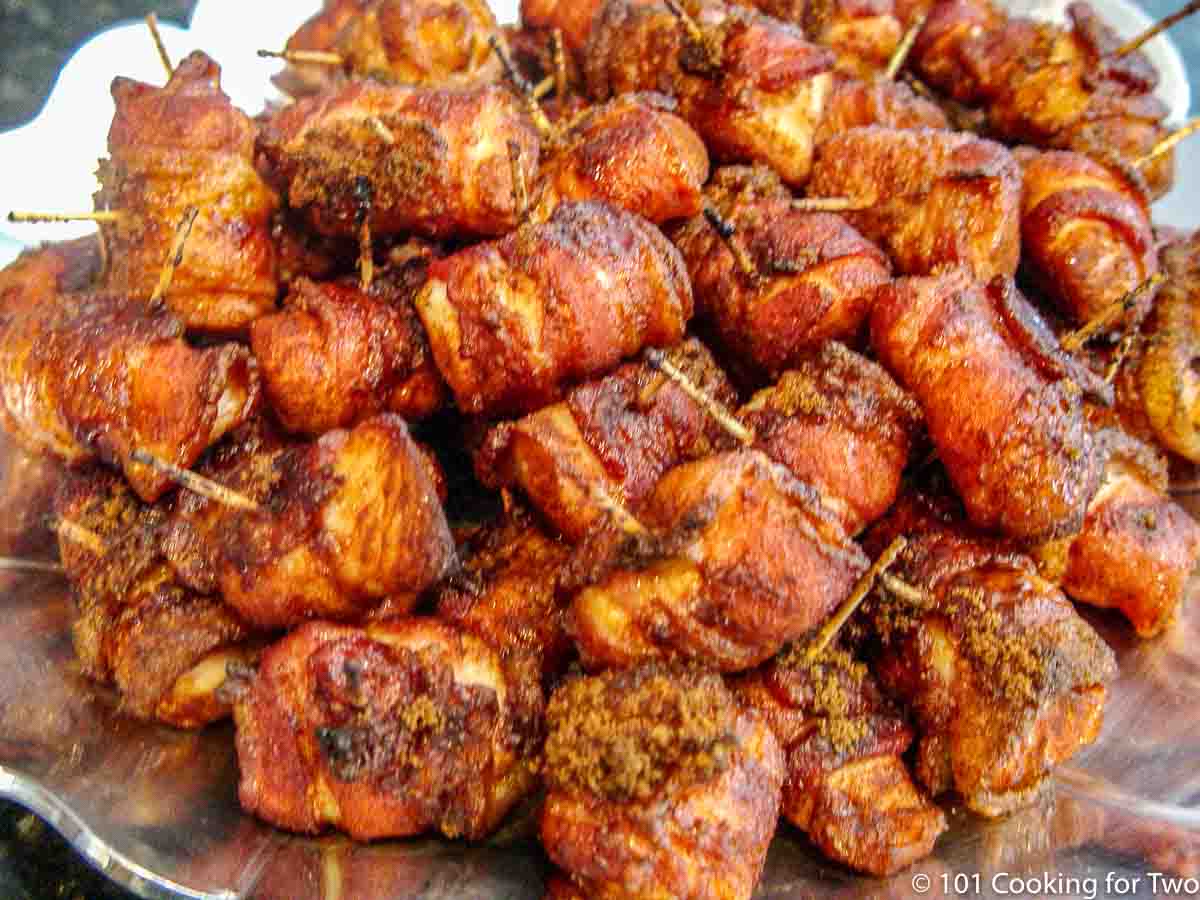 Cover with foil on a heavy dish to keep warm until served. See the above discussion about options to keep warm.


Do you want more recipes from 101 Cooking for Two? Sign up for the newsletter and get all posts delivered straight to your inbox!
📖 Recipe
Editor note: Originally published June 15, 2012. This is my most pinned recipe on Pinterest and is one of our go-to recipes for gatherings. Updated with expanded options, refreshed photos, and a table of contents to help navigation.