Cheesy cauliflower casserole is perfect for low-carb and keto diets. Or just a great veggie dish. Make this today with these easy step-by-step photo instructions.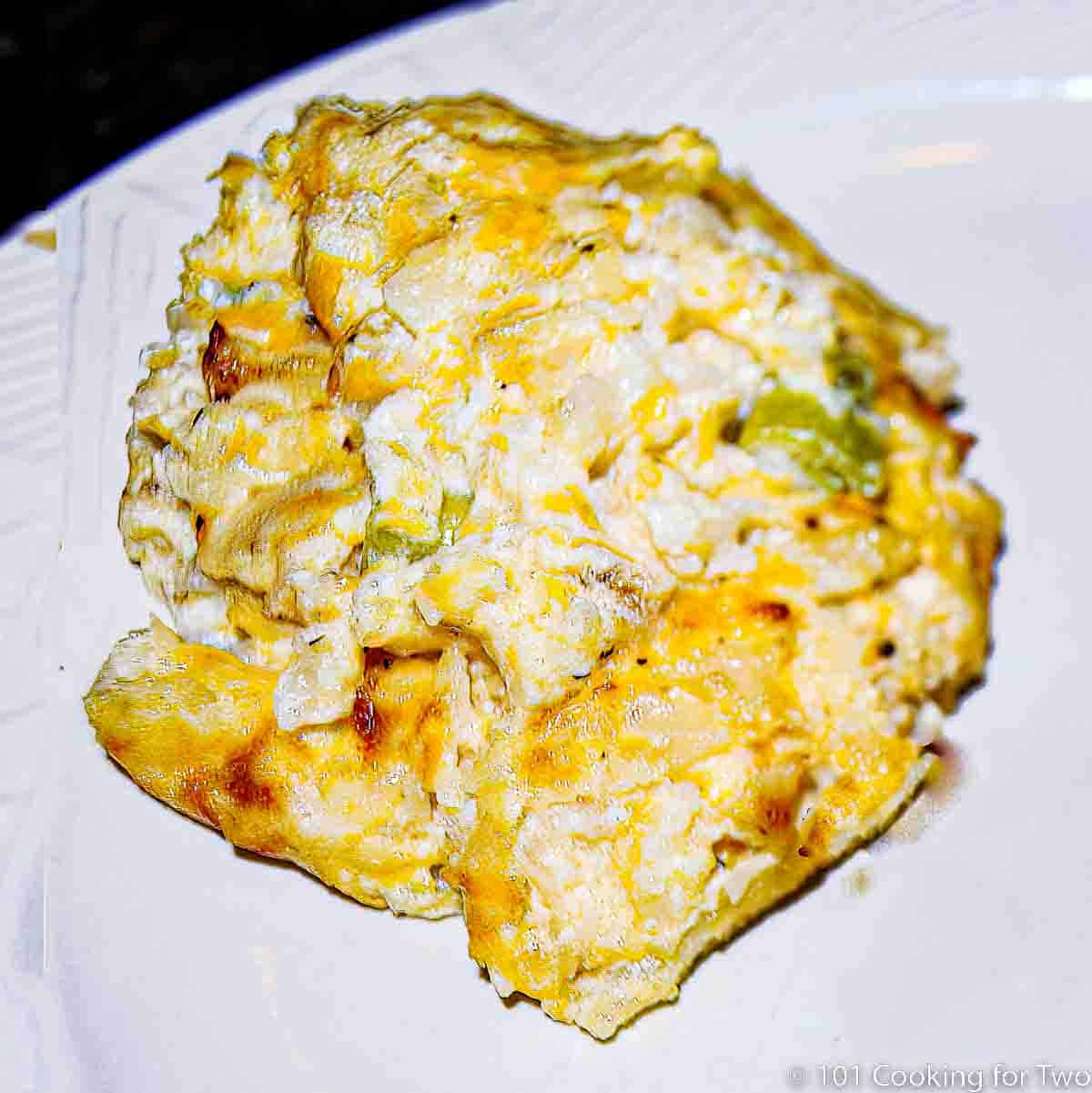 Introduction
An easy lower-carb healthier version of "Cheesy Potatoes" using cauliflower. So now you can have "Crack Cauliflower Casserole." This really is a great side dish if you are doing any lower-carb diet for any reason.
This is one of those recipes I have done so many times that I never measure anything. But to write it down, I did measure tonight. It was the best one in a long time. Maybe I don't measure well just by sight.
In our old high carb days, we made "cheesy potatoes." This is the low-carb version of that. It's fast and easy. It also is made with things we usually have on hand.
My Rating

Always excellent and tasty. Makes 4 servings and great for leftovers.
The Cauliflower
I have done this recipe for years. I usually buy frozen cauliflower in 1 pound bags and cook in the microwave per package instructions.
However, it is now hard to find one-pound bags. They are mostly 12 oz. So you may use that and decrease the other ingredients.
Can I use fresh cauliflower?
Yes. One medium head of cauliflower (about 2 pounds) will trim out to about 1 pound of well-trimmed florets.
You should precook the fresh cauliflower in a microwave. Place the cauliflower florets in a large microwave-safe bowl with a couple of tablespoons of water. Cover bowl loosely but not tightly. Cook on high until tender, 4 to 5 minutes, then drain.
Make it "Crack Cheesy Cauliflower Casserole"
Bacon is a great addition to this but not really necessary. Just cook 2-3 slices of bacon, crumble, and add to the casserole during mixing.
📖Low Carb Recipes
Low Carb Parmesan-Sesame Crackers

🖼️Step-by-Step Instructions
Use frozen cauliflower. See discussion for using fresh cauliflower.
Cook the entire bag of cauliflower in the microwave. I use a covered dish with about a tablespoon of water on the "frozen vegetable" setting. Or follow instructions on the package. You can use fresh cauliflower. One medium head should yield about one pound and cook in a microwave in 4-5 minutes with a bit of water.
Slice 3 green onions.
Move cauliflower to the mixing bowl and mash with a potato masher. You could also use a mixer or food processor, but you are NOT trying to cream this. Add cheddar cheese, sour cream, scallions, salt, and pepper. Bacon is optional.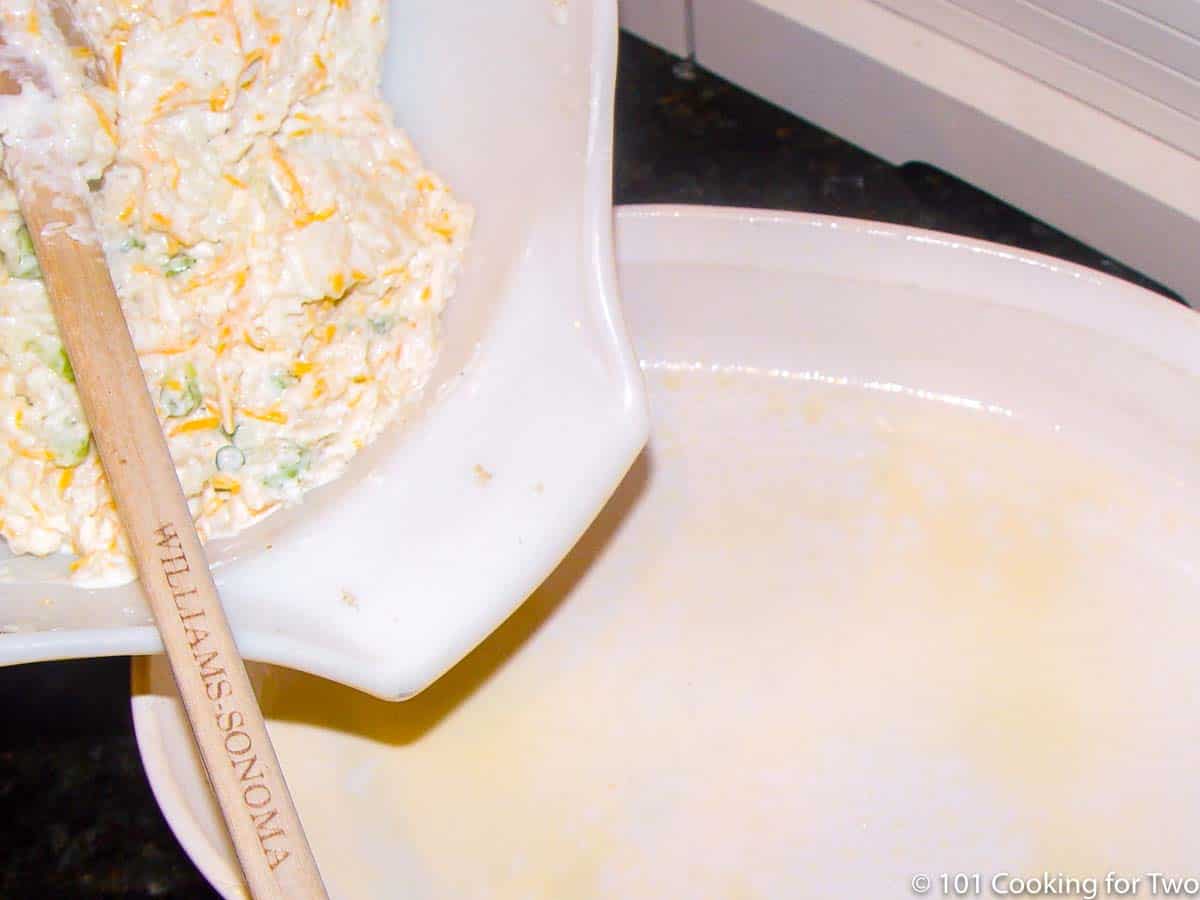 Mix well and move to a baking pan. I usually use a 7 X 10 Corning Ware dish. It may be refrigerated or cooked now. Cook in preheated oven 375° convection until the top is browned. About 20 minutes. (you may adjust the temp depending on your needs for timing or cooking with other foods)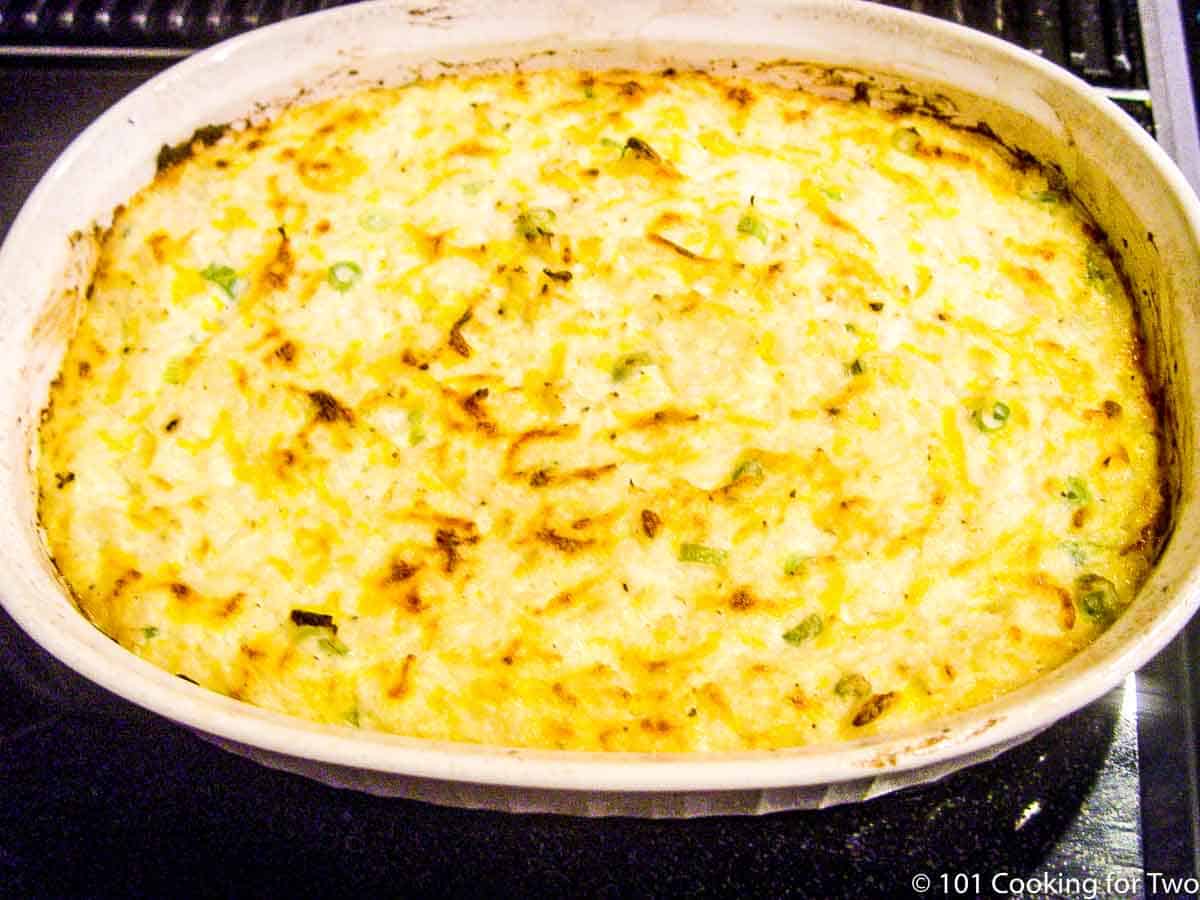 Try to let sit for 5 minutes before serving. Heat leftovers in the oven. Much better than microwaved.


Do you want more recipes from 101 Cooking for Two? Sign up for the newsletter and get all posts delivered straight to your inbox!
📖 Recipe
Editor's Note: Originally Published February 25, 2010. Updated with expanded options, refreshed photos, and a table of contents to help navigation.