Now you can enjoy a great green bean casserole without the mandatory cream of mushroom soup. Just follow these easy step by step photo instructions.
Introduction
With the holidays approaching, one of the mandatory dishes is a green bean casserole. Now understand I hate cooking with cans of soup. Just a general principle I follow if possible. So I went on the hunt for a substitute without the can of soup.
Adapted from Allrecipe's Grandma's Green Bean Casserole, I made a few adjustments after reading the comments. I went with swiss cheese instead of cheddar. I used fresh green beans when canned were recommended along with a few other modifications.
My Rating
It's a nice 4. Grandpa and wifo had two servings each.
The Beans
The model recipe suggested three cans of green beans drained, which is fine. Or two pounds of frozen beans, also fine.
Those would be fine for "everyday cooking," but usually green bean casserole is presented as a "special" treat at a holiday gathering. Let's kick it up a notch.
I blanched fresh beans to the point of just shy of done then the ice bath to stop the cooking. Fresh is always better and not much additional work for a special dish.
🧀The Cheese
This is a classic dish. And most will want to use a nice sharp cheddar for this dish which is a great classic taste.
But again in the kick it up a notch mode, try Swiss cheese which is great for this dish.
👨‍🍳The Topping
Now we are into the passionate part of green bean casserole. Everybody has their favorite.
I suggest a topping of crushed butter crackers (Ritz) mixed with butter. Again, a break from tradition for many but a great and easy topping.
If you want the traditional can of onion rings that should work fine. Leave off the crackers, cook as directed but add the onion rings for the last five minutes of cooking.
📖Holiday Side Dishes:
Traditional Sweet Potato Casserole

🖼️Step-by-Step Instructions
Preheat oven to 350° convection or 375° conventional. Your green beans can be fresh but blanched to almost done, three cans drained or 2 pounds frozen.
If you are using fresh green beans, clean and trim. Then 2 minutes in boiling water with some salt. Then immediately into an ice bath to stop cooking.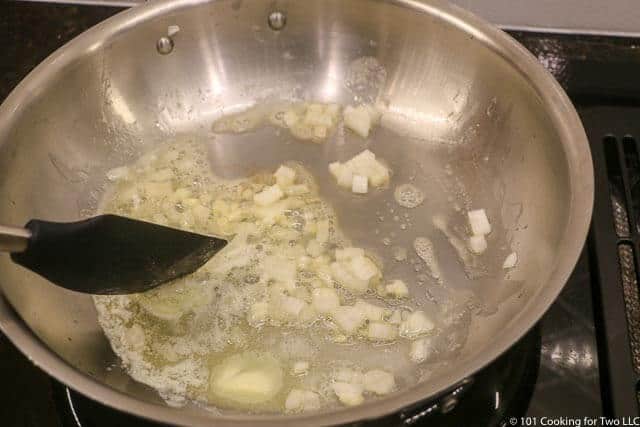 Chop one small onion. Add two tablespoons butter to a large skillet over medium-high heat. Add onion and cook until clearing some, about 2-3 minutes.
Stir in two tablespoons flour until smooth and cook for one minute. Remove from heat.
Add one teaspoon salt, one teaspoon sugar, and one cup sour cream. Mix well. Stir in about two pounds of green beans and one cup of shredded cheese of your choice. I used swiss, but cheddar would be a good choice also.
Transfer the bean mixture to a 2 ½ quart casserole dish. Top with the remaining 1 cup of cheese. You can cover at this point and refrigerate to cook in 1-3 days. Do the topping at that time.
Crush 12 Ritz crackers to make ½ cup of crumbs. Melt 1 tablespoon butter in a microwave and then mix the butter with the crushed crackers.
Sprinkle over the casserole.
Bake for about 35-40 minutes until the top is golden and casserole is bubbly.


Do you want more recipes from 101 Cooking for Two? Sign up for the newsletter and get all posts delivered straight to your inbox!
📖 Recipe
Originally Published November 21, 2015. Updated with expanded options, refreshed photos, and a table of contents to help navigation.