Make these wonderful homemade honey whole wheat rolls for dinner using your stand mixer and these easy step by step photo instructions.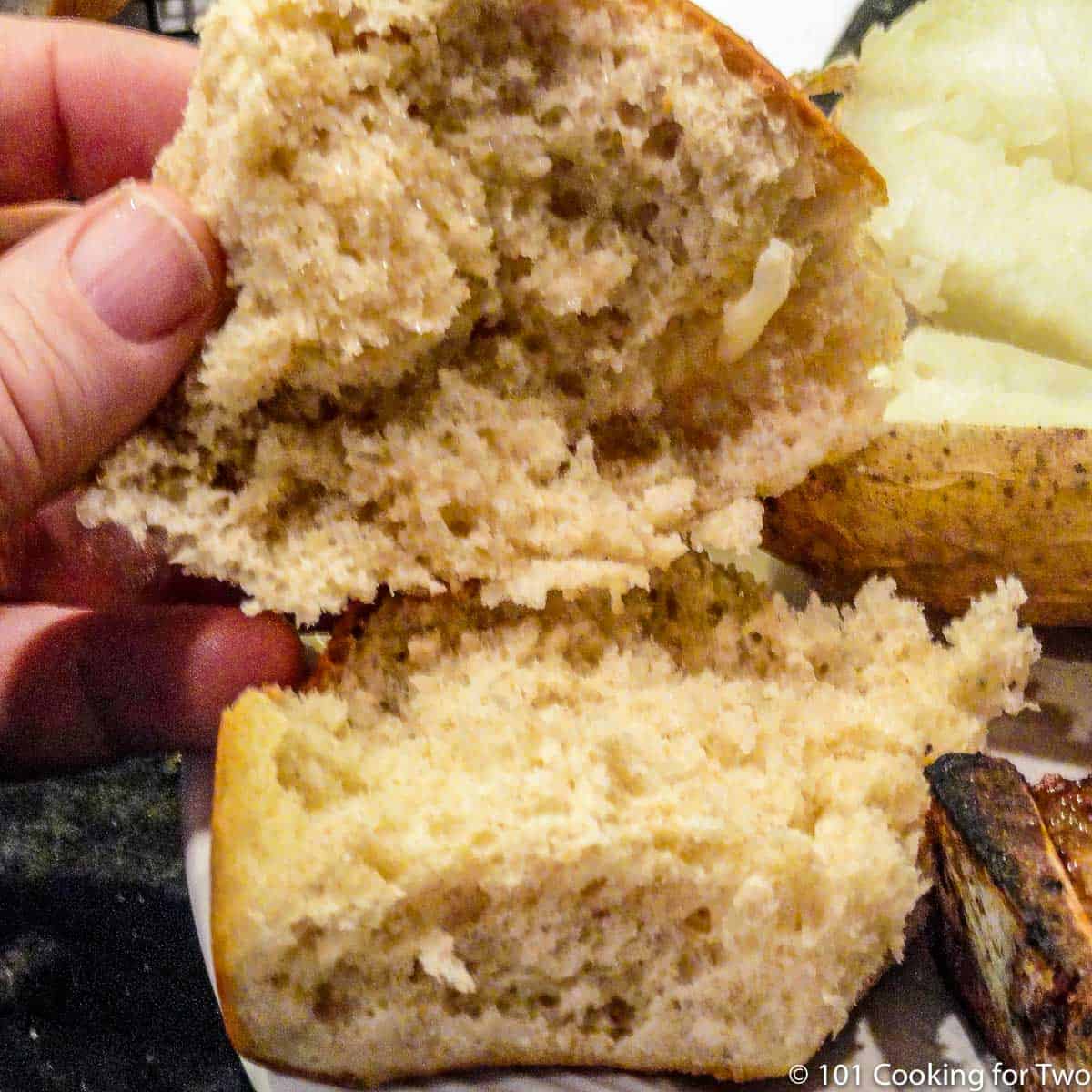 Introduction
What good is that KitchenAid stand mixer that sits on your counter? Yes, it impresses your friends and family but really when was the last time you cracked it open and fired it up. Well, do it tonight and make this healthy dinner rolls.
I simplified other recipes and made it a single rise for less fuss. So fire that thing up, and in 80 minutes you can be eating wonderful homemade honey-wheat dinner rolls.
My Rating

Yep, really that good. Moist with great taste and tender. Not that dry whole wheat taste.
🌾Flour Ratios
I originally did a 3:1 ratio of white to wheat flour, which is what I recommend for most people. 1:1 ratio also works well.
If you want 75-100% whole wheat, you may need a few teaspoons more of water and they will not rise quite as much. Wheat flour just needs more water.
This dough is very wet so use flour on your hands and surface. I let the stand mixer do the work of kneading.
👨‍🍳Yeast
All baker yeast is the same organism (Saccharomyces cerevisiae). Old fashion active dry yeast is processed differently and has less live yeast so it will work slower. Otherwise consider quick, cake, fast or any other adjective use approximately the same.
The amount of yeast in a packet is about 2 ¼ teaspoons. I use bulk yeast usually and use a light tablespoon (3 teaspoons minus a little) as the same thing.
I like to "proof" my yeast by letting is set a few minutes to form some bubbles to "prove" to me it is good. I have had new yeast that was dead. Also, the water will distribute yeast equally across the dough.
✔️Tips
Can I Do This Without a Mixer?
Sure. Do some hand kneading. 4-5 minutes should do it. But if you have the stand mixer, let it do the work.
Recipe and Pan Size
This only makes six rolls and fits nicely in a 9 inch round or an 8 or 9-inch pan. Double for 12 rolls and use a cake pan,
Other Notes
You could vary this recipe in many ways. Do all white, add some onion flakes, top with sesame seeds.
I tend to make things like this without eggs or milk that I don't see as really needed. You can look at other recipes if you want that.
📖Bread and Roll Recipes
Julia Childs French Bread; Simplified

🖼️Step-by-Step Instructions
Place butter and honey in small bowl and microwave for 20 seconds to melt butter.
Measure ⅔ cup of warm water (about 105°) and add the yeast.
Add flours and salt to stand mixer bowl and mix. After yeast mixture starts to foam (about 5 minutes) add all ingredients to stand mixer. Mix on 2 with the dough hook for about 8 minutes. After 2 minutes, stop and scrape down sides if all dry is not mixed in. The dough should be very wet and sticky. You may need a few teaspoons of water.
Turn dough onto floured surface and roll into a 2-inch diameter roll.
Cut into six even pieces and roll into balls. Lightly dust with flour.
Place into a 9-inch cake pan sprayed with PAM. Cover with plastic wrap — pre-heat oven to 375°.
Place in the slightly heated over or another warm spot to rise. 30 to 40 minutes.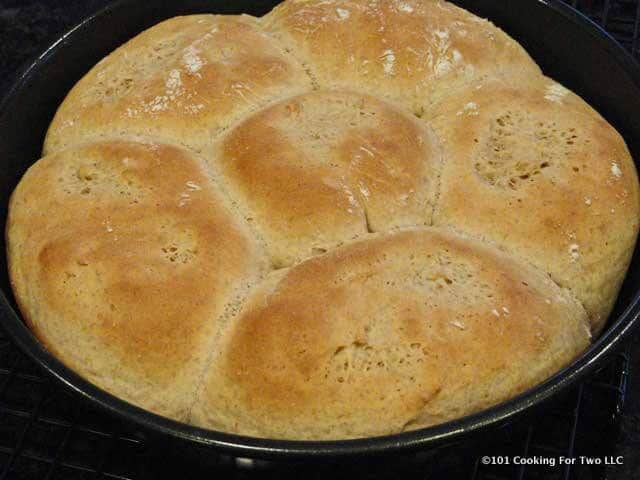 Bake until golden brown. 16 to 18 minutes.


Do you want more recipes from 101 Cooking for Two? Sign up for the newsletter and get all posts delivered straight to your inbox!
📖 Recipe
Editor's Note: Originally Published February 8, 2011. Updated with expanded options, refreshed photos, and a table of contents to help navigation.