Almost zero-fat, these delicious non-guilt biscuits are tender and fluffy. I have for years called these Zero Fat Biscuits but, due to an insignificant amount of fat in the flour, they are now called Almost Zero Low-Fat Biscuits. Just follow these easy step-by-step photo instructions.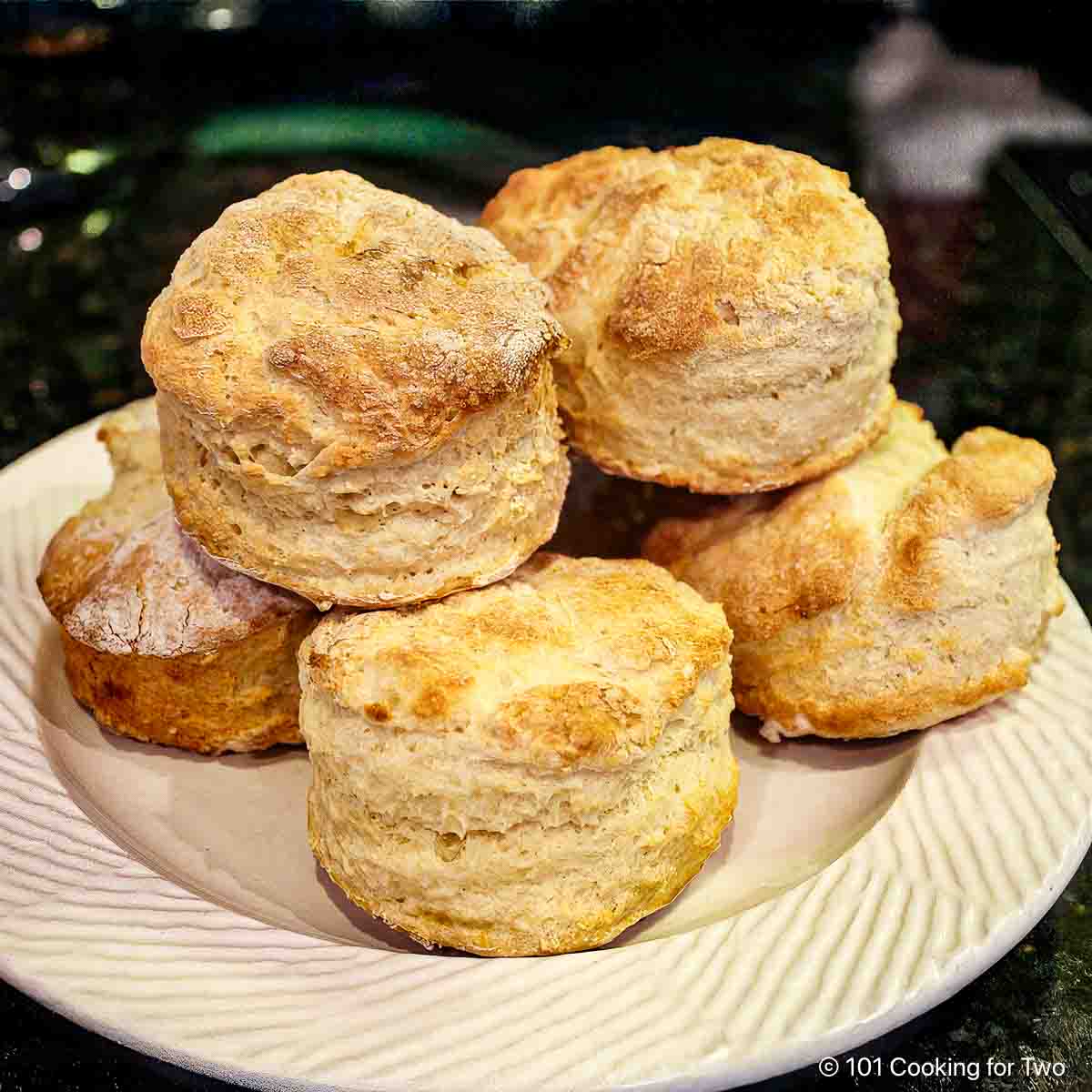 Introduction
Some recipes are for low-fat, but this one is as low as they go—under 0.5 grams per serving due to a minimal amount of fat in flour. Using nonfat yogurt to replace the butter and milk, you still get great rise and texture. Plus, just a few ingredients will get you there.
The Story
For some unknown reason, I bought a large container of nonfat yogurt. I think I was going to make a low-fat carrot cake, but I ended up not using the yogurt.
So, time to experiment. I decided biscuits were a great place to start. With a little looking around, I found some guidance but not exactly what I wanted. So I modified my normal drop biscuit recipe with great results.
That surprised my wife with cut instead of drop biscuits. She wanted to know what was different other than the shape. So really the taste is very good and after being told about the yogurt, so was not sure she could taste it.
My Rating

A high 4 or low 5. I love biscuits, but I don't usually have yogurt.
🐄The Yogurt
While I suggest using nonfat plain yogurt, many people want to use Greek yogurt.
Greek yogurt will add a bit more of a "twang" to the taste. But it is also generally a bit dryer. To use Greek yogurt, you may need to add a bit of milk, 1-2 tablespoons, usually depending on the brand.
👨‍🍳Nutrition
There is a trace (read that as <0.5 gms) of fat per serving. Flour has about 1 gram of fat per cup (who would have known) and a touch from the zero fat yogurt (depending on the brand.)
Total, with my ingredients, is 3 grams of fat in 8 biscuits. Each biscuit has about 0.37 gm per serving. But FDA rules, there is 0.65 gms of fat per 100 gms, so low fat even though less than 0.5 gm per biscuit.
The exact nutrition values depend entirely on the ingredients you choose. Different brands may have different nutritional values, and they may change their product over time.
About 137 calories per biscuit at eight biscuits. However, if you op tor 6 larger biscuits, so they are 184 calories each.
How Are They Different?
First, the slight yogurt tang. Not very noticeable, except if you know, it has the yogurt. Not a bad thing.
Second, they are fluffy but not flaky. If you want flaky, you should cut in some butter. I miss the flaky a little, but for almost zero fat, I will live with it.
Third, the outside is a little firmer.
📖Variations on Low-Fat Biscuits
Healthier Sausage Gravy and Biscuits

🖼️Step-by-Step Instructions
Note: Pictures are from various times cooking, so may not match.
Preheat oven to 400° convection or 425° regular.
Combine 2 cups AP flour, 1 tablespoon baking powder, ½ teaspoon baking soda, ½ teaspoon salt. Mix well.
Add 1 ¼ cup nonfat yogurt. Fold in until all dry is incorporated. If you use Greek yogurt, you may need a tablespoon or so of milk.
The easiest is to do 8 drop biscuits. If you want to cut biscuits, spread the dough on a floured surface about ¾ inches thick. You can cut six 2 ½ inch biscuits or eight 2 inch biscuits.
Place your biscuits on a PAM sprayed baking pan.
Bake until golden brown. About 12-15 minutes.


Do you want more recipes from 101 Cooking for Two? Sign up for the newsletter and get all posts delivered straight to your inbox!
📖 Recipe
Editor's Note: Originally Published March 16, 2013. Updated with expanded options, refreshed photos, and a table of contents to help navigation.