Red Lobster's Cheddar Bay Biscuits are pure evil. Make them from scratch with these easy to follow step by step photo instructions. Quick enough to be a weeknight recipe.
Introduction
Oh so tender and moist and just exploding with flavor, these biscuits are everybody's favorite. This is my own take on these garlic-cheddar fat loaded devils. Simplified for easy weeknight use.
Some recipes you just have to do. One of my daughters emailed a link to a recipe that looked great, but it used Bisquick as does most copycat recipes like Allrecipes Cheddar Bay Biscuits. I don't usually use mixes, and prefer from scratch anyways.
I did cut the recipes down a little to make just six good size biscuits. This is "cooking for two" if you haven't noticed. Double if you need to.
My Rating

An easy five. This is basically what I have done for years but with more butter. It is so close to the Red Lobster taste and texture I can't tell the difference.
📋Ingredient
The Butter: I originally used unsalted butter whenever baking. Not anymore. I will use unsalted butter in recipes that are butter dominate like butter cookies but not otherwise. If you use unsalted butter, it will probably be fine or you can add a pinch of salt.
The Baking Powder: Be sure to only buy baking powder without aluminum. The aluminum can give a metallic after taste that many people can detect. Just buy the right type of baking powder.
The Milk: I generally have non-fat milk around. Really, you are adding a lot of fat with the butter and cheese in this recipe. Use what you have. Substitute milk like soy or almond will be fine, also.
Many biscuit recipes use buttermilk. The acid, when combined with baking powder, will give a higher rise. I tend to push the baking powder to increase the rise.
If you want to use buttermilk, you will have a bit of extra rise. You can make a buttermilk substitute by adding one tablespoon of white vinegar or lemon juice to a cup of milk and let it set for 5 minutes before using. Also, powdered buttermilk is a good thing to keep around.
The Cheese: A mild cheddar cheese will give that Red Lobster taste. But use the cheese you want.
📖Biscuit Recipes
Healthier Sausage Gravy and Biscuits

🖼️Step-by-Step Instructions
Preheat oven to 400° convection or 425° conventional oven.
Add 1 ½ cups AP flour to a medium size mixing bowl. Add 3 tablespoons of butter and cut in with a large fork or crust cutter.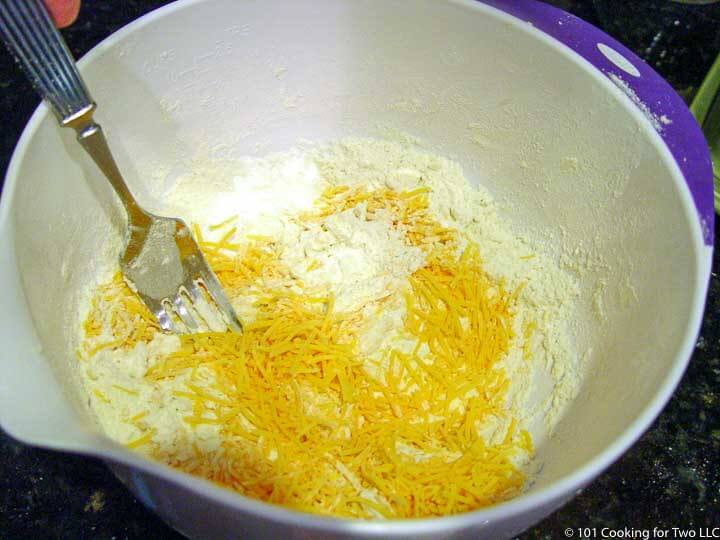 Add 1 tablespoon baking powder, ½ teaspoon garlic powder, ½ teaspoon salt. Add ¾ cup shredded cheddar cheese. I like mild cheddar here. Mix well.
Add ¾ cup milk. Mix well but you don't need to over mix.
Spray a baking pan with PAM and make six even mounds (a heaping ¼ cup). Bake for 14-15 minutes.
Just before the biscuits are done, combine 1 ½ tablespoons butter, ¼ teaspoon parsley flakes, and ½ teaspoon garlic powder.


Do you want more recipes from 101 Cooking for Two? Sign up for the newsletter and get all posts delivered straight to your inbox!
📖 Recipe
Originally Published September 24, 2011. Updated with expanded options, refreshed photos, and a table of contents to help navigation.