Great old fashion school lunch lady rolls you loved with your cafeteria lunch—if you are old like me. But everybody will love these tasty rolls. This smaller recipe now makes these classic rolls homemade-friendly.
Introduction
This is a much smaller recipe that is now home-friendly so you can make this classic roll for your family and friends.
Sometimes the old ways are the best. We all remember those wonderful yeast lunch lady rolls.
I have no idea how every school in America had the same rolls, and they were all made by the lunch ladies themselves. How did they all do the same recipe? There was no internet to help coordinate all those schools. Maybe it was embedded in their genome?
My Rating

A strong five. The extra buttery taste was great, and the salt just right. A better Lunch Lady Roll thanks to the extra gluten formation and the butter.
🔪Size of the Recipe
The usual recipe around the internet is School Lunchroom Cafeteria Rolls from Allrecipes.com or variations of the same recipe. But none are even close to "cooking for two" friendly. The model recipe produced 44 rolls.
The model recipes all seem to be a cut-down version of a few other huge versions (cafeteria size.) Not good for most households.
So, let's take it down to the lowest common denominator. The logical division of this recipe was one-third due to three packages of yeast.
The original recipe had two eggs that are not divisible by 3, so the one whole egg stayed.
I kept the same approximate size of roll, making 16. This dough would make great buns for sliders, sub sandwiches, or even perhaps cinnamon rolls. So use the dough as you wish. The rolls could easily be made a little bigger and make 12.
If you need a smaller recipe, check the roll recipes below.
🐄More Butter is Better
Remember, those rolls were a little greasy. It was the lard/shortening that was added.
There was already butter in the recipe, so the shortening becomes more butter (better taste). The extra butter adds a little extra fluid, and so does the whole egg thing, so a little more flour to compensate.
Lastly, one of the most common comments on the original recipe was too little salt, so I upped the salt a bit and sugar a tad.
🥣Is a Stand Mixer Required?
No, but I think it helps. The original recipes did very little kneading. But kneading adds texture and gluten development.
So not required but the extra kneading adds a lot.
❄️Storage
Store airtight at room temperature. But, there are no preservatives so at 3-4 days, you will start seeing mold.
If you want to freeze after baking, seal tight and freeze for up to 3 months.
If the raw dough is frozen, do it before the final rise. Form little balls and initially freeze separated on a cookie sheet then store airtight. They should be good for about 3 months. To bake, remove and thaw, let rise and bake.
📖Roll Recipes

🖼️Step-by-Step Instructions
To the stand mixer add 3 ½ cup all-purpose flour, ¼ cup sugar, 1 ½ teaspoon salt. Mix well.
Start with one cup of 105°-110° water. Add one package of rapid rise yeast and one teaspoon of sugar. Allow to set for a few minutes until foaming.
Add the yeast mixture, two tablespoon milk, and one egg. Melt ¼ cup butter in a microwave and add that also.
Knead on two for 5 minutes. Form into a ball, cover and allow to rise in warm spot until doubled in size. About 45 minutes.
Place dough on floured surface and hand knead for 2 minutes. Form into a roll and cut into 16 equal pieces. Preheat oven to 400°.
Prep a baking sheet with a baking mat or parchment paper. Roll into balls and place on the baking tray. Cover with plastic wrap sprayed with PAM to prevent sticking and allow to rise again for 40-45 minutes until almost double size.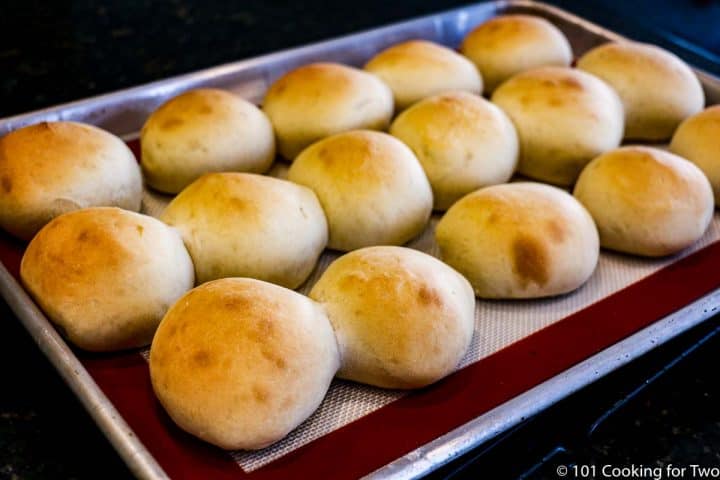 Bake until golden brown. About 15 minutes.


Do you want more recipes from 101 Cooking for Two? Sign up for the newsletter and get all posts delivered straight to your inbox!
📖 Recipe
Originally Published March 26, 2016. Updated with expanded options, refreshed photos, and a table of contents to help navigation.